If you own a business, it is important to prepare and file your federal 1099s with QuickBooks Desktop.
1099s are nothing but tax forms which you need to file with the IRS when the contractors are paid in cash, direct deposit, or checks. Know how to set up 1099s form in QuickBooks Desktop.
Save Time, Reduce Errors, and Improve Accuracy
Dancing Numbers helps small businesses, entrepreneurs, and CPAs to do smart transferring of data to and from QuickBooks Desktop. Utilize import, export, and delete services of Dancing Numbers software.
The importance of tax forms can be surmised by the fact that every successful business venture always meets its tax criteria on time. This not only helps them to build credibility but also helps them avoid any legal restrictions from doing business.
1099s forms in QuickBooks is one of those essential forms that are required to be set up and filled properly for the smooth functioning of your enterprise.
What is 1099s forms in QuickBooks all about?
1099s are identical to W-2 forms but are typically for non-employees. It is necessary for business to issue 1099s to the particular non-corporate service providers for the payments made during the specific year.
This form differentiates between different types of income which may not be classified under a regular job of the particular applicant.
Note: Employees who are not given the W-2 forms are typically issued the 1099 form. They comprise of different types of forms depending on the transactions like Social Security Benefits, Government Payments, etc.
Why do You Need to Set up 1099s Forms in QuickBooks?
It is mandatory for all business owners to file Forms 1099 for specific payments that are made during the year. Such payments include:
Payment for services like contract employees, unincorporated maintenance people, bookkeepers, accountants, etc.
Legal counseling fees
Rent
Interest paid
How to Set up 1099s Form in QuickBooks?
Here is how you set up 1099s forms in QuickBooks.
Prepare the vendor account or edit it in case it is already created.
In the menu bar, select the Vendor and then choose vendor Center.
Choose the vendor from the vendor's list or select the drop-down button near the New Vendor left side of the screen and click it.
In the new window for Address Info, add the Vendor's contact details and name.
Select the Tax Settings on the left of the screen and add the vendor's tax ID number in the Vendor Tax ID.
Check-mark the particular box that says vendor eligible for 1099.
Select OK.
How to Prepare 1099 Tax Forms with QuickBooks Desktop?
To start the procedure to prepare 1099 tax forms then you have to follow the steps that are mentioned below:
First, You have to start with QuickBooks and then you have to go to Vendors.
After that choose 1099 Forms.
Then click on Print/E-file 1099 Forms.
After that click on Get started and then select 1099-NEC or 1099-MISC that depending upon the type of your contractors.
Choose the vendors who require 1099s, then click Continue.
Verify that the vendor information is accurate. Any section can be updated by double-clicking it and editing the incorrect fields. After checking, click Continue.
Then click on the Apply payments to this 1099 box from the dropdown menu. The vendor accounts you want to map should be selected. A box that is grey indicates that it is mapped to the other 1099 form. One 1099 form can be assigned to each vendor account.
Click Continue once you're finished.
After that click on Show IRS 1099-MISC filing thresholds and choose Reset to IRS Thresholds if you receive an error message informing you that your settings don't match the most recent IRS thresholds.
Check your payment information for exclusions, and then click Continue.
Then you review the vendor and the transactions you intend to report. Then select Continue.
How to E-File 1099 with QuickBooks Desktop?
Through a connection called Tax1099, QuickBooks Desktop makes it possible to E-filing forms. You will require importing your data into Tax1099 after creating your 1099 forms in QuickBooks Desktop. You have to go to 1099 E-File Services in QuickBooks Desktop. It will redirect you to the Tax1099 landing page. Log into your Tax1099 account or sign up if you don't currently have an account. As soon as you log in, Tax1099 offers assistance in deciding how to import your data from QuickBooks Desktop. To import your data, simply follow the instructions. You will find that the Tax1099 dashboard is displaying the list of vendors, amounts, and boxes once you have successfully imported your data. Follow the steps that are mentioned below to e-file your 1099s.
Select the vendor name or click the Edit button to make changes to the information.
Fill out the information under the appropriate state boxes if you want to e-file 1099s with your state.
By selecting the box, choose the vendors you need to e-file for, and then click Next.
By checking the box next to the Date column, you can select the vendors.
Depending on how you wish to send copies to the recipients, choose the box next to USPS Mail or Email Recipient. But there is an additional fee if you choose USPS Mail.
Downloading PDFs is an alternative if you want to provide vendors with their copies yourself.
Select the 1099s you need to file with your state here, and then click next.
You are directed to the Payment page after entering all the appropriate options and filling out the required information on the Select Forms screen.
Select Pay & Submit to e-File and enter your payment details.
Steps to Print Your 1099 Forms
You must have pre-printed 1099 and 1096 forms to print forms in the single-user mode. Another option is to e-file your 1099 forms to the IRS.
Use the QuickBooks Desktop 1099 wizard to check your 1099 information.
In step 6 of the wizard, choose a filing method, then click Print 1099s. After reading the message, click OK to print it.
Click OK after choosing the date range from which the 1099s were paid.
Then select the form 1099(s) if you wish to print and after that click the button of Print.
Click on Preview 1099 and then check the alignment. In case you want to align the form then:

Start by clicking the File that is on the top menu bar
After that click on Printer Setup.
After that, from the list in Form Name close 1099s/1096
To adjust the alignment that you need click on the Align button
Click on OK, again click on OK, and then save your changes

Choose the 1099s you want to print, then click Print 1099. (s).
To print 1096, use the Print 1096 button.
Few Important Tips to use While Printing 1099
Use a page-oriented printer to separate copies rather than all at one.
Your pre-printed forms cannot be collected properly prior to placing them in your printer. You can load all of the Copy 1 forms first. Once every copy of the Copy 1 forms has been printed for every vendor, load and print the Copy 2 forms.
The vendors/suppliers should receive copy B (perforated), whereas the IRS should receive copy A (non-perforated). Only two vendors can be printed on a page at once.
You can choose -1 for alignment to move the print down or +1 for alignment to move it up.
This option has the power to improve or reduce 1/100-inch prints.
This blog will provide you with all the details related to 1099 Tax Forms. In case you need any further assistance then you can connect with the Dancing Numbers experts via LIVE CHAT. Experts is available for their users round the clock so you can further call them at any time when you are in problem without any hassle.
Accounting Professionals, CPA, Enterprises, Owners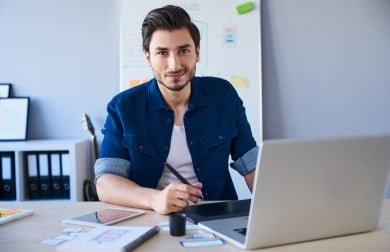 Looking for a professional expert to get the right assistance for your problems? Here, we have a team of professional and experienced team members to fix your technical, functional, data transfer, installation, update, upgrade, or data migrations errors. We are here at Dancing Numbers available to assist you with all your queries. To fix these queries you can get in touch with us via a toll-free number
+1-347-428-6831 or chat with experts.
---
---
Frequently Asked Questions (Faqs)
How to Process 1099s in QuickBooks Online?
To process, you have to go to Vendors or Contractors. Choose Let's get started, then choose Prepare 1099s. Verify that the information on tax notices or letters from the IRS matches the information for your company's name, address, and tax ID. Next, after choosing the boxes that correspond to the different types of payments made to all of your contractors this year, then click next.
How to Correct 1099s Forms?
To correct them, you need to strictly follow the steps mentioned above.
Is there a New 1099 Form for 2022?
According to a representative of the Internal Revenue Service, new federal forms in the 1099 series that provide miscellaneous information and nonemployee compensation will be used beginning in the tax year 2022 rather than 2021.
What are the Deductions that You can Claim Without Receipts?
In case you don't have the original receipts, you may also be able to use canceled checks, credit card or debit card statements, written records you make, calendar notations, and photos as acceptable records. Go back through your bank statements to find the purchase of the item you're trying to deduct as your first step.
What Happens if You don't Report Self-Employment Income?
In addition to the taxes you owe, the Internal Revenue Service may impose severe fines and penalties for failure to record cash income or payments received for contract work. Get your tax situation under control as soon as you can, even if you are years behind as the purposeful evasion might even land you in jail.