For those who have been using QuickBooks accounting software, It is quite evident that you have come across this error that has disrupted your workflow. For example, While operating on the QuickBooks Desktop program, users often experience QuickBooks error code C=47.
Save Time, Reduce Errors, and Improve Accuracy
Dancing Numbers helps small businesses, entrepreneurs, and CPAs to do smart transferring of data to and from QuickBooks Desktop. Utilize import, export, and delete services of Dancing Numbers software.
Let's learn in detail what is QuickBooks Error Code C=47.
What is QuickBooks Error Code C=47?
Error Code C=47 arises when a particular QuickBooks Desktop program fails to locate a transaction when running a report. This instance can also arise while opening a QuickBooks Company (.qbw) File.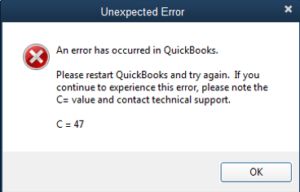 Some other cases that can give rise to the error code C=47 include:
Editing a Particular Transaction
Attempting to Register Changes on the given Transaction in the Particular Company File
Deleting a report-like Feature or Transaction from a Particular Report
What are the occurrences of QuickBooks Error Code C=47?
Here are some of the occurrences of the QuickBooks Error Code C=47, as stated by a few forums of QuickBooks:
Occurrence 1: I Receive the Following Error Message, Whenever I attempt to Email a Particular Payment Receipt.
"An error has occurred in QuickBooks. Kindly restart QuickBooks and attempt again. If you keep experiencing this error, kindly note the C=value and connect technical support."
Occurrence 2: I get the Following Error Code C=47 Whenever I Attempt to Post Payments to Customers.
"Error has occurred in QuickBooks, kindly restart the system, however, even after restarting it does not go away."
Occurrence 3: I am Receiving this Error in the 2018 Version of QuickBooks Payroll. I Experience the QuickBooks Error Code C=47 Whenever I Access my QuickBooks.
What Gives Rise to QuickBooks Error Code C=47 and How to Resolve this Issue?
Here is the list of the possible causes that may give rise to the error code C=47 and its plausible solutions that are stated below:
Note: Often just closing and then opening QuickBooks accounting software can solve the QuickBooks error code C=47. In case it does not help your problem, keep reading this article.
Reason 1: Issue with the Settings of Internet Explorer for all Sites that are Secured
The settings of Internet Explorer may restrict you from updating your payroll or conducting payroll-related tasks.
Solution: Change the settings of Internet Explorer to operate with the QuickBooks application.
Reason 2: Virus or Malware Attack
Solution: In case the window of your computer displays a certain error message that states, "Error while loading of \3\LXCRtime.dll", then you must scan your system for any kind of virus infection. You can also run an anti-virus scan that will assist you to get rid of all the junk from your device and eventually assist you to solve the QuickBooks error code C=47.
Reason 3: The QuickBooks Company File Data is Damaged
Corrupt or damaged data can help you to avoid performing unwanted actions on the particular transaction in your given QuickBooks Company File.
Note: Prior to troubleshooting QuickBooks Company File, do the following:
In case there is damage in your particular QuickBooks company file, prior to troubleshooting the company file, you need to make sure that the QuickBooks Desktop program is functioning or not. In order to do, attempt to subdue the present QuickBooks Desktop installation. Performing so will analyze you to analyze if the issue has occurred because of the company file or QuickBooks.
In order to subdue the program, follow the steps below:
Press right-click the icon for the QuickBooks Desktop program.
Click and then hold the key, Ctrl till the screen, No Company Open comes up.
In the screen for No Company Open, select the company file.
On your particular keyboard, press the Alt key and keep holding it.
Select Open.
Now leave the Alt key when you are asked to log in. Now add your username along with the password.
Press and then keep holding the Alt key once more. Now click OK. Do not leave the key as long as the company file is not opened completely.
Solution: Authenticate and then Build Data on your Company File again
If you think you have issues with the data in your company file, you need to perform the steps given below:
1st Step: Run the Utility, Rebuild the Data
Press the File menu. Now press Utilities and then press Rebuild Data.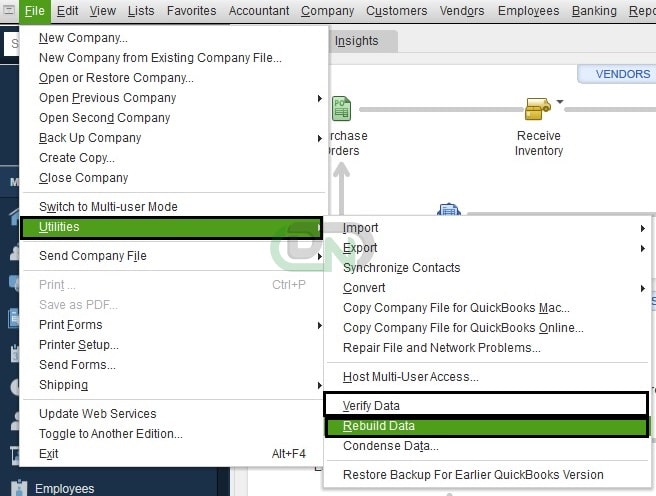 In the screen for QuickBooks Information that comes up, Press OK.
When it asks you to take a Backup of Your Company File, Press OK.
Click OK when you witness the message, Rebuild has finished.
Note: While taking a backup, your computer system will show, 'QuickBooks is not replying to the message. But, if you see the mouse cursor move, the Rebuild has not finished. You need to wait for it to finish.
2nd Step: Now Run the Utility, Verify
After you have fixed the damaged or corrupted data with the help of the Rebuild Data utility, now you need to run the utility, Verify:
Press the File menu. Now choose Utilities and then press Verify Data.
In case no problem has been noticed by QuickBooks concerning your data, press OK. You now may need to keep using your particular company file.
If Verify utility-located data issues, you will be asked to View Errors or Rebuild Now.
Substitute Solution: Software to Recreate Data on Your Particular Company File
In case the Rebuild Data utility could not fix the data corruption on your particular company file, using the QuickBooks Repair Software may solve the problem. The QuickBooks repair software is now particularly created to fix highly damaged or corrupted QuickBooks Data files. Not to mention, it also assists to fix all components of the QuickBooks File. Add to it, the software enables reviewing the data recovered prior to restoring it.
Reason 4: QuickBooks Desktop Application is outdated
Often the company file that has been opened in the previous QuickBooks versions cannot be read by the current version.
Solution: Update the QuickBooks App to its latest version and recourse the list.
Ensure that the QuickBooks you are using is updated. After QuickBooks is updated, It is advised to practice to recourse the lists.
Resorting the QuickBooks Lists can help fix various kinds of problems that appear with a QuickBooks file. You need to perform the steps given below in order to Update the QuickBooks Software and then resort the lists:
Look for the Lists option and then press on it.
Choose Chart of Accounts.
Navigate to the View menu. Now Press Re-sort List.
On your particular QuickBooks Desktop window, you will see Item Lists.
Do the changes and Check the particular Item List.
For the customer list, Follow the same process.
Navigate to the Customer Center.
Press the tab for Customers and Job.
Now, Press the View option in the menu and choose Resort List.
When Resorting is complete, Close QuickBooks.
Now you need to Start Your PC. Now open Your Particular QuickBooks Software once more.
Now check once whether the particular QuickBooks error code C=47 is fixed or not.
Often while registering a charge on a particular transaction or editing a particular transaction in your QuickBooks Company File, you may experience the Error Code C=47. Try fixing the issue by opening or reopening QuickBooks. In case this method fails to work, it is compulsory to comprehend the causes leading to the problem.
In this article, we have highlighted some of the common reasons behind the occurrence of the QuickBooks Error Code C=47, and ways to fix it.
Still, if the issue is not fixed, It is suggested that you reach out to our Dancing Number team of specialists.
Accounting Professionals, CPA, Enterprises, Owners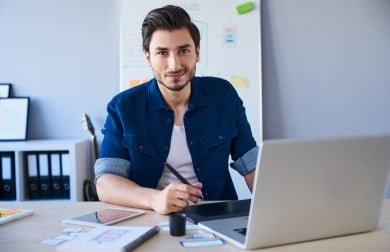 Looking for a professional expert to get the right assistance for your problems? Here, we have a team of professional and experienced team members to fix your technical, functional, data transfer, installation, update, upgrade, or data migrations errors. We are here at Dancing Numbers available to assist you with all your queries. To fix these queries you can get in touch with us via a toll-free number
+1-800-596-0806 or chat with experts.
---
Frequently Asked Questions
What kind of Files can be Recovered from the C=47 issue?
It is suggested to review such files prior to starting the troubleshooting methods to make sure they are present:
• Any kind of backup file in QuickBooks Data like .QBM, .QBW, or .QBB
• Damaged file with QuickBooks Data
• Transaction log file
Which Operating System of Windows is more likely to Experience the QuickBooks C=47 issue?
QuickBooks C=47 issue generally appears in Windows XP, 7, 8, etc.
Download Our QuickBooks Online Bad Debts Cheat Sheet!
Quick reference for writing off bad
debts in QuickBooks Online
Easy-to-follow, step-by-step guide
Save time and minimize losses
Keep your books clean and organized
Get the CHEAT SHEET delivered to your INBOX!