QuickBooks is an on-premise accounting application as well as cloud based. It performs function of accepting business payments, managing bills, paying of bill and payroll. QuickBooks is used by both small and medium size business.
With QuickBooks advantages there are some disadvantages also. Sometimes, while performing their job user faces some error. There are different series of error for different functions. From all the error, one of the prevalent errors is QuickBooks 15107. QuickBooks Error 15107 occur when user fails to obtain payroll updates. Intuit introduces new QuickBooks payroll updates in order to improve stability. The most common reason is corrupted or damaged file which user is trying to access.
Save Time, Reduce Errors, and Improve Accuracy
Dancing Numbers helps small businesses, entrepreneurs, and CPAs to do smart transferring of data to and from QuickBooks Desktop. Utilize import, export, and delete services of Dancing Numbers software.
Payroll is the process of paying peoples working in the company for their job or task they perform. It includes list of distributing salary, employs to be paid, record of hours they work, calculating the amount which have to be paid to employees. Payroll is calculated in the end of financial year to access annual wages of the employees. It also keep records of paying tax and payments on the behalf of the employees. Payroll is important for companies to pay their employees at fix period of time.
In this article, you will learn all about QuickBooks error 15107. We ensure that it helps you resolve the error without any loss to company. Make sure that you study full article in order to troubleshoot error 15107.
What is QuickBooks Error Code 15107?
QuickBooks Error 15107 occurs when the user is not able to download and install payroll updates. Intuit launched new version of payroll in QuickBooks. Sometimes this update download and installed properly But sometime this payroll update causes error on the system when users is trying to download and install payroll update. The message flash on screen is "The payroll can't be initialized".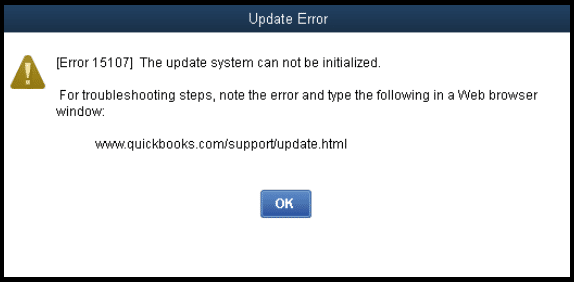 Causes Behind QuickBooks Error Code 15107
Now you understand that one of the most common causes of Error 15107 is fail in downloading of payroll update. There are also some other causes due to which QuickBooks Error 15107 arises. Causes are:
Window of the system might be corrupted.
QuickBooks software is not updated properly.
Wrong QuickBooks is updated.
Windows registry file is corrupted or damaged.
QuickBooks software is not properly installed or incomplete installation of QuickBooks.
The Files of payroll which we are trying to access is damaged or corrupted.
Firewall is blocking the connection as its setting is not properly configured.
Network connection is affected by the malware attack or viruses.
Symptoms of QuickBooks Error 15107
QuickBooks Error 15107 is the error which user can identify early. Due to its signs and symptoms user can identify it and save its data from losing. Some common symptoms of QuickBooks Error 15107 are:
Error message will flashes on screen.
User is not able to update the software completely.
The user is not able to retrieve updated file.
QuickBooks is not able to download the new version of software.
The accounting system of the company becomes inefficient.
Payroll software stops working in between.
System automatically restart or shutdown itself.
Troubleshooting Method to Fix QuickBooks Error 15107
There are number of methods to troubleshoot QuickBooks Error 15107 out of which some are highly helpful in resolving the error. Following are some solutions to troubleshoot the error.
Method 1: Restart Your System
When you confront error the first restart your system because if there is a small bug then it can be solve with restarting the system. Then there is no need of performing any other step.
Click on the window icon on bottom left side of your system.
Then click on power and select restart option from it, it will take few seconds and your system restart automatically.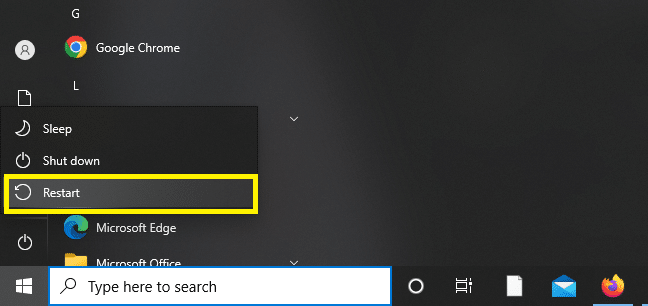 Method 2: Download The QuickBooks Update Again
By cleaning or uninstall the updates reinstall the QuickBooks updates again. Following are the steps in order to download update again:
Firstly user has to close QuickBooks Software.
Open Documents and setting in C drive.
Then click on All users.
Select Application data and then intuit.
Click on QuickBooks (Version) and then select components in it.
Search the folder with name "Download QBxx". In this xx stands for the version of QuickBooks running on your system.
Select Help from the menu.
Select Update QuickBooks Desktop from help dropdown menu.
Click on Update know.
Reset the updates by selecting on reset updates tab.
Tick all the boxes to update the roll back.
Click on get updates tab in order to get new update again.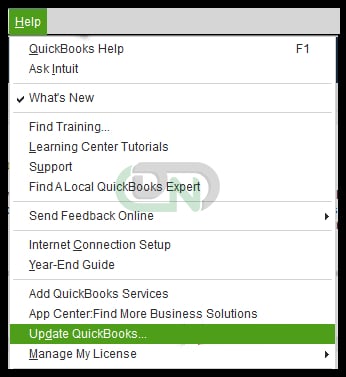 Now wait for sometime in order to finish the download.
Once it finishes the download, Install updates by clicking on Install now button.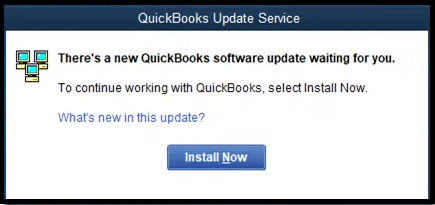 Method 3: Run Reboot.bat File
After running reboot.bat file the user can recover the lost data and also maintain your system also. Following are the steps in order to run Reboot.bat file:
Click on window on the bottom left of your desktop.
In search bar type "reboot.bat".
Now press enter key in order to search the reboot.bat file.
Once you find the folder which contain reboot.bat file in it, then click on QuickBooks program icon.
Right click on QuickBooks Program icon.
Select properties from the dropdown of right click menu.
In properties click on open file location tab in order to get file location.
Right click on reboot.bat file. You will find different file names.
Now run the reboot.bat file with admin rights by clicking on "Run as System Administrator".
In last black window will display on screen with scrolling names, so just wait to end it. Then restart your system.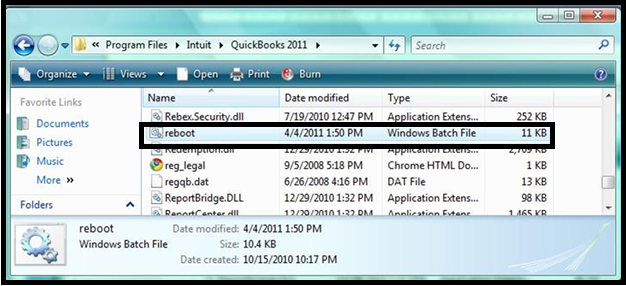 Method 4: QuickBooks Clean Installation
The most effective tool in order to get rid of QuickBooks Error 15107 is QuickBooks Clean Installation tool. The following are the steps for running QuickBooks Clean Installation tool.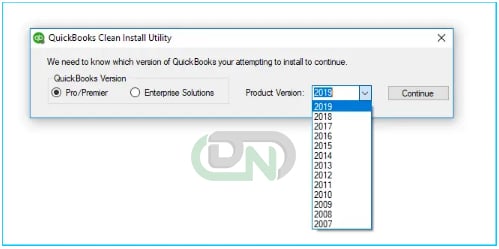 First you have to download the tool named as QuickBooks Clean Installation Tool.
After downloading it install and save it on desktop.
Accept the license agreement by click on I accept column.
New box will appear on your screen, now you have to click on continue button in order to complete installation.
In last Click on OK button.
Method 5: Download and Install QuickBooks Tool Hub
QuickBooks tool hub is a platform where all the tools are stored in order to troubleshoot errors that occur in QuickBooks. Following are the steps for the setup of QuickBooks Tool Hub. Steps which are to be followed are:
Follow the instruction on your screen for downloading and installing of QuickBooks Tool Hub.
After installing Tool Hub select the program problem tab.
Select and run the Quick fix my program option.
Wait while it completes its task, it will take some time.
Once work is completed then just restart your system.
Method 6: Use of QuickBooks File Doctor
The QuickBooks File Doctor helps in troubleshoot the error, it restore firewall and antivirus settings automatically which helps in preventing QuickBooks Error 15107. Following are the steps to use QuickBooks File Doctor: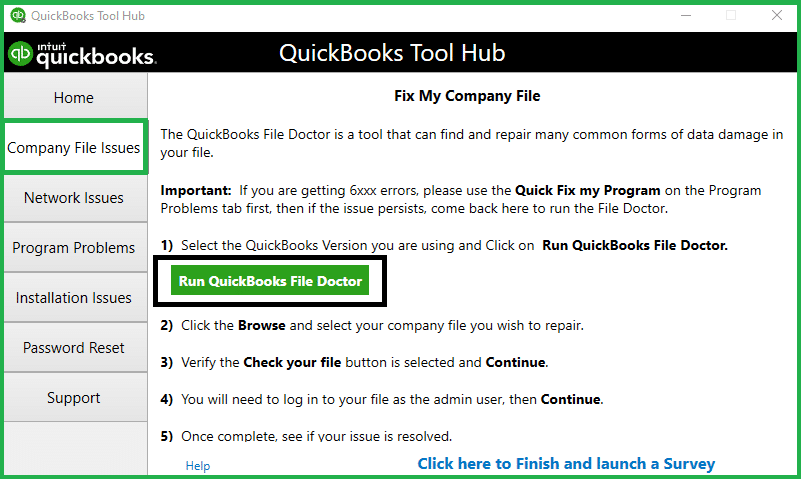 In QuickBooks tool hub, select company files issue tab.
Click on QuickBooks File Doctor program and run the program.
Select the name of the company in which error occurs from the list.
Now check your file and network.
Press continue button.
Enter Admin Password.
Scanning of folder which contains company file starts automatically after performing above step.
Wait for the scanning to be completed.
After scanning issue is rectified.
Method 7: Troubleshooting of Internet Explorer and Internet Security
It is important to check internet setting as it may cause issue in updates of QuickBooks. Following are some steps to check internet setting.
Open internet explorer on your system.
On top right click on settings.
Select tool option in settings.
In tools dropdown menu click on internet options.
Click on security tab.
In internet option check the website zone. Website zone must set up to medium – high level.
Check the System data and time.
Check cipher strength.
First Update some settings of Internet explorer.
Method 8: Download and install Digital Signature Certificate
Follow the path C:/Program files (x86)/Intuit/QuickBooks xx(xx stands for the version of QuickBooks used on your system).
In search bar insert QBE.exe and click on QBW32 from the options.
In QBW32 click on properties tab.
Now you can look for digital Signature.
Now select intuit from the list.
Click on details tab.
View certificate by choosing it and now install the certificates from the options.
Now follow the instruction as shown on your screen and the click finish tab.
Now restart the system.
After restart of system try Downloading of update again.
Method 9: In Selective Startup Uninstall and Reinstall QuickBooks
Press window+R key in order to open run box.
Enter MSCONFIG in run window and click ok.
Click on General Tab on the current window.
Select Selective startup mode on it.
Look for the Load Startup items options that they are unmarked.
Click on Ok and the restart you system.
Now user can Uninstall and reinstall QuickBooks Desktop.
Method 10: Normal Startup Mode
Press Window + R in order to open run box and enter MSCONFIG in run window and hit Ok.
Click on Normal Startup mode.
Now apply it and click OK.
Restart the system in order to save changes.
We have tried to give you deep understanding of QuickBooks Error 15107. With Symptoms and causes, You will have clear picture of QuickBooks error 15107 so that you can troubleshoot this error more effectively and effortlessly.
There can be some circumstances that you won't be able to troubleshoot the error, in that case, we recommend you to connect with our Dancing Numbers experts. Our adept technical team is available 24*7 to assist you in better way they can.
Accounting Professionals, CPA, Enterprises, Owners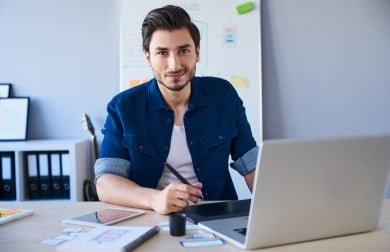 Looking for a professional expert to get the right assistance for your problems? Here, we have a team of professional and experienced team members to fix your technical, functional, data transfer, installation, update, upgrade, or data migrations errors. We are here at Dancing Numbers available to assist you with all your queries. To fix these queries you can get in touch with us via a toll-free number
+1-800-596-0806 or chat with experts.
---
What User Observer When he faces QuickBooks Error 15107?
It may shut down your system, pauses payroll, accounting process may become inefficient.
Is Restarting System can solve the QuickBooks Error 15107?
If QuickBooks error 15107 occurs due to minor issues then it can be resolve automatically after restarting the system.
How can I Verify Internet Explorer Setting of My System?
Open internet explorer settings, check for the date and time if it is correct then check for the cipher strength. Cipher strength will be high to medium not medium to high. After checking cipher strength open tools in internet options to update internet settings.
Why am I Getting Error Message in QuickBooks?
The error message occurs due to corrupted file or damage file.
How can I Fix Corrupted File in QuickBooks?
Repair the file by selecting utilities and rebuild data in file menu. Then Follow all instruction in order to save backup and hit OK. Now you have to go back to file menu and utilities. In utilities menu you have to verify the data.
How can I Know that my QuickBooks File is Corrupted?
It can be found by comparing the balances of all reports. If the amount doesn't match then the file is corrupted otherwise it is corrupted.
How long QuickBooks Doctor File take to Troubleshoot the Error?
It can take around 5 minutes, once scanning is done then you can open QuickBooks and company data file.
What is the Meaning of QuickBooks File Doctor?
It is the tool that is designed to recover damaged and corrupted file of the company. It also helps in solving Network Issues.
How can I Update my QuickBooks File Doctor?
In QuickBooks tool hub select on the company file issue option. Now you have to run QuickBooks file doctor. Now select required company file and press continue. Open QuickBooks in admin profile by login with typing and password and click Ok.
What does QuickBooks Tool Hub do?
The QuickBooks tool hub is the launch pad for the tools which are useful in fix error that arises in QuickBooks.
How can I Clean Installation of QuickBooks?
First you have to remove QuickBooks from the control panel. Then you can reinstall it and check if error is removed.
Is user Loses his Data After Removing and Reinstall QuickBooks?
No user will not lose his data as it will only remove QuickBooks application after reinstalling it you will recover all the data.