When you are using QuickBooks to update the finance along with the accounting data of a business or company, it is quite possible that a user may receive the QuickBooks Utility Application pop-up issue.
It is the result of these pop-ups that slow down the productivity of the business and hampers progress significantly.
Save Time, Reduce Errors, and Improve Accuracy
Dancing Numbers helps small businesses, entrepreneurs, and CPAs to do smart transferring of data to and from QuickBooks Desktop. Utilize import, export, and delete services of Dancing Numbers software.
QuickBooks has emerged as one of the most crucial tools for companies and businesses to run their organization in a hassle-free manner since this accounting software helps its users to maintain the records precisely and efficiently. However, often users encounter glitches that impede the progress in utilizing QuickBooks.
QuickBooks Utility Application
Numerous faults and problems that impede window operation arise as a result of this utility application.
When using the QuickBooks utility application, you are prohibited from executing any action or job on the open window. Errors that later negatively impact your business accounts are also the fault of the program. The specific type of error message that concerns your utility application.
Program Location: C;/program files...DBManagerExe.exe"Startserver1028
Why is QuickBooks Utility Application Required
Smooth and organized accounting is the outcome of implementing QuickBooks in every small or medium-sized business. By automating functions that produce high-quality output, the program makes the duties simpler.
Through the use of this financial program's sophisticated tools, the business owner can simply address ongoing faults and problems. The software has a wealth of modern features and cutting-edge capabilities that simplify company management for organizations. Additionally, it increases the company's profitability faster. QuickBooks gives its users quick access to online customer support. To learn about all the features and applications of a Utility application, get in touch with the QuickBooks Enterprise specialist.
What is the QuickBooks Utility Application Pop-up issue?
QuickBooks Utility Application pop-up issue is mostly faced by those users who have installed the accounting software and the particular utility tool on different servers or systems or workstations. Users who have recently installed the particular R7 for QuickBooks are also likely to face this problem.
The utility tool pop-up gets its authorization from the users prior to allowing any program/feature to run with QuickBooks.
With the help of the user control setting, the Utility application pop-up can be fixed.
Issues Related to QuickBooks Utility Application
Here are some of the common problems and complaints related to the QuickBooks Utility Application:
What Causes the QuickBooks Utility Application Pop-up issue?
Here are the top three reasons that cause QuickBooks Utility Application pop-up issue:
The Utility tool and QuickBooks are installed on two different systems
The R7 update is installed in QuickBooks
User account control settings
How to Get Rid of QuickBooks Utility Application (UAC) Pop-Up?
It is quite unpleasant when the QuickBooks Utility Application pops up. The QuickBooks Utility Application pop-up window comes each time you start or restart the computer and asks if you want to give the following program permission to modify this computer. After clicking OK, you may need to wait a while. The Windows User Account Controls are responsible for producing such a notification. By adjusting Windows User Account Controls, this problem can be fixed.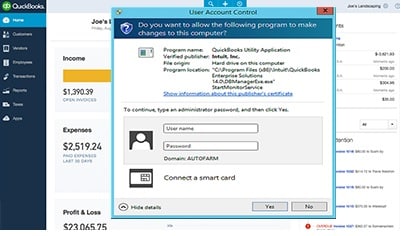 Steps to Fix the QuickBooks Utility Pop up
You must disable Windows User Accounts Controls because they have a security feature that stops any unauthorized programs or applications from being automatically installed. This is why the QuickBooks Utility Application pop-up appears. By turning off Windows User Account Controls, you can remove this pop-up as described below:
On your computer, click the Windows symbol in the lower left corner, or press Windows and E keys together on your keyboard.
Click to launch the Control Panel.
To find large icons, click View by and then Navigate down the drop-down menu.
User Accounts can be found by selecting Large icons from the menu.
Decide on Change User Account Settings.
Slider motion is to disable UAC, set it to Never Notify.
Hit OK button.
The issue is now fixed, you can restart your system. The QuickBooks Utility Application won't more frequently appear.
Steps to Fix QuickBooks Utility Application Issue
You can follow the below mentioned solution steps to resolve the QuickBooks Utility Application issue:
First you have to Log off your QuickBooks account.
Restart your computer.
Restart the computer once again.
Your QuickBooks account is required to log in.
Select the start-up menu item from the desktop screen.
Click on the accounts tab under the Control Panel icon.
Under the account tab, modify your user account's control settings.
Set do not Notify and UAC Off by using the slider. When you are finished with it, click Ok button.
Once you have saved your selections, shut off your computer.
Restart your computer one again.
You won't encounter the problem after restarting your system with the modified settings.
Step to Fix QuickBooks Utility Application Permission Issue
Here are the solutions to fix the QuickBooks utility application pop-up issue:
Either the user can try starting the computer again
Or the user can navigate to the control settings and edit the user account.
Note: In case the two methods do not work properly and resolve the issue, the user can try the following solutions:
Solution 1: Via Use the Temporary User Profile
The user is required to use the temporary user profile in order to log in. This prevents the user from using the data the very first time and a pop-up box will appear and open which will state, Do you want the following program to make changes to this computer?
The user now needs to go to the program
The user is required to search for the utility application option
Authenticate the publisher
Select the OK option
Now the program will keep working for a few minutes.
The user needs to log off from the particular computer and then restart it.
The QuickBooks program will run smoothly, without any glitch and the profile of the particular user can be used with company data.
Solution 2: Via Change User Account Settings
Navigate to the Run command and press Win+R keys
Type Control Panel and then press Enter
Select View and then choose large icons
Choose the User account and then select Change User Account Settings
Press on Yes in order to continue and then restart your particular system to save the changes permanently
Enable/Disable the particular Utility Application in QuickBooks as needed.
How to Turn Off Product and Service Pop-Up Messages in QuickBooks Desktop
A company file should be opened
Select Edit > Preferences
Select General from the left column of the Preferences window
Select My Preferences from the menu
Select the "Turn off popup messages for products and services" checkbox.
How to Turn off the Pop-up Advertisements in Your QuickBooks Desktop
In case if you are referring to the messages that are appearing when you hover your mouse over the products and services and it creating problem for you. Then the methods below will help you in understanding that how to disable pop-up adverts in your QuickBooks Desktop (QBDT) account.
First navigate to the Edit menu, preferences can be found under the Edit menu.
Now you have to select the General menu.
Navigate and click on the My Preferences tab.
Select the checkbox next to Turn off pop-up messages for products and services.
Press the OK button.
Once you are finished with above steps, Now sign out of your QBDT account and then login again to see if the pop-up ads still appear.
Why QuickBooks Utility Application Asks for Admin Password
Start by selecting the Company menu.
Select Passwords and Set Up Users.
Now you have to select Manage Login Settings.
Manage Login Settings allows you to select 1, 7, 30, 60, or 90 days.
In last press OK button.
We hope that you are completely clear on this particular problem. If you fail to comprehend how to solve the QuickBooks Utility Application pop-up issue, then connect with a professional immediately. Kindly call for expert help, if popup message appears and continues to ask for an admin password. Only with expert help can you then get rid of the problem easily.
Accounting Professionals, CPA, Enterprises, Owners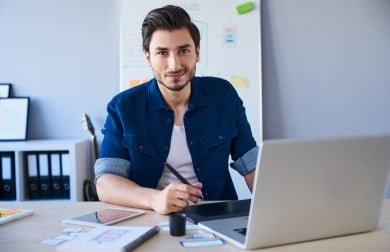 Looking for a professional expert to get the right assistance for your problems? Here, we have a team of professional and experienced team members to fix your technical, functional, data transfer, installation, update, upgrade, or data migrations errors. We are here at Dancing Numbers available to assist you with all your queries. To fix these queries you can get in touch with us via a toll-free number
+1-800-596-0806 or chat with experts.
---
Frequently Asked Questions
What is the QuickBooks Utility Application Error?
QuickBooks Utility Application error is a type of warning that is visible with a screen alert. This is a Windows error problem and because of this utility application many issues and problems arise. This prevents Windows from functioning properly.
Add to it, because of the utility application error, a number of problems are expected to arise that may impact business accounts adversely.
What are the issues that are Expected to arise in QuickBooks Utility Application?
There are many issues that can arise in QuickBooks Utility Application, some of which may include:
• You might experience permission associated error
• You may also experience the Administrator Permissions QuickBooks error
• It may ask for a Windows Admin password
• QuickBooks Utility Application pop-up error
Why Customers need QuickBooks Utility Application?
QuickBooks makes the accounting processes of business easy and hassle-free. Although the software may have errors and issues, it has advanced tools and online customer support to fix it. The utility application helps small and mid-sized businesses increase the profitability of their organization significantly.