Small businesses have various demands. The QuickBooks software scales up nicely, but it doesn't provide backward compatibility, so it's crucial to pick the program that works best for your needs.
When in question about the software you need, choose a program that supports the features you want, and only upgrade to the new version if your present program isn't working properly. For goods purchased through the Intuit website, QuickBooks offers a comprehensive 60-day return policy.
Save Time, Reduce Errors, and Improve Accuracy
Dancing Numbers helps small businesses, entrepreneurs, and CPAs to do smart transferring of data to and from QuickBooks Desktop. Utilize import, export, and delete services of Dancing Numbers software.
In this article, we will delve into the QuickBooks version that is apt for small businesses.
What are the Various QuickBooks Accounting Products Available?
Let us quickly compare the various QuickBooks Accounting applications that are available:
| | Price | No. of Users | Accessibility | Purpose |
| --- | --- | --- | --- | --- |
| QuickBooks Online | Begins at $30/month | 25 | Cloud | Small Business |
| QuickBooks Self-Employed | Begins at $15/month | 1 | Cloud | Freelancers and Independent Contractors |
| QuickBooks Pro Plus | Begins at $349.99/Year for a Single User | 3 | Desktop | Small enterprises that use a PC and prefer locally Installed Software |
| QuickBooks Premier Plus | Begins at $549.99/Year for a Single User | 5 | Desktop | Small and medium-sized Companies that require Tools relevant to their Sector. |
| QuickBooks Enterprise | Begins at $1,340/Year for a Single User | 40 | Desktop, But Cloud Access is available | Larger Companies with complex Inventory, Reporting, and Accounting Requirements. |
| QuickBooks Mac Plus | Begins at $349.99/Year for a Single User | 3 | Desktop | Small Enterprises that use a Mac and prefer locally Installed Software |
QuickBooks Online
For professionals that want access while traveling, QuickBooks started to provide online versions. Small company owners are starting to favour these QuickBooks Online options for smaller operations. The fact that QuickBooks Online doesn't require installation is one of the main points in its favour.
Businesses who like the simplicity of not having software to update, backup, or administer can benefit from using QuickBooks online version.
Since everything is housed online, there is nothing to download. All you need to access and update your books is a reliable internet connection. In addition, whenever QuickBooks makes an update, the app immediately receives it.
Simple Start
This very basic plan, as its name would imply, is only appropriate for a single user. So, you should generally skip this plan and upgrade to the next tier if you have more employees and want additional user access.
In addition to the functions stated above, Simple Start has the ability to issue estimates, track sales, and sales tax, and manage 1099 contractors. For the first three months, single-user access is $12.50 per month; thereafter, it costs $25 per month.
Essentials
Compared to Simple Start, this bundle offers a slight improvement. Along with advanced bill payment options including tracking payment statuses and paying numerous vendors at once, it includes all the features of Simple Start and everything else.
For the first three months of an Essentials subscription, the price is $20 per month, rising to $40 for the following three. Access to QuickBooks Online is provided for three users by Essentials.
Plus
According to Intuit, QuickBooks Online Plus is the most widely used edition and is generally regarded as the finest QuickBooks for small companies so far. The elements of Essentials and Simple Start are also included in Plus, along with more sophisticated functions like time tracking, bill management, inventory management, and project profitability.
QuickBooks Online is accessible to five users through Plus, which has a three-month introductory price of $35 and a normal monthly price of $70.
QuickBooks Premier
For the majority of small enterprises, QuickBooks Premier offers sophisticated choices. Viewing customizable sales and profitability statistics gives you the choice to keep tabs on your primary revenue sources.
Accessing, editing, deleting, and managing all of your inventory in one area is made simple with the Inventory Center. Additionally, balance sheet monitoring by class enables you to track your data by the office, department, or service type using classes.
The ability to track costs by task phase is offered across a variety of invoicing mechanisms. Finally, you are able to effectively manage and keep track of your time and costs by categories, such as employee, project, client, or service.
QuickBooks Self-Employed
Independent contractors and freelancers can use QuickBooks Self-Employed to segregate their personal and company spending and file their taxes. It features a receipt-capturing tool, rudimentary billing capabilities, and mileage monitoring. Top-tier plans also provide direct assistance for filing taxes.
QuickBooks Pro Plus
The most basic version of QuickBooks Desktop is Pro Plus. It is necessary to download and install this desktop product on your computer. A comprehensive set of functions are available in QuickBooks Pro Plus, including invoicing, inventory monitoring, reporting, billing, and tracking revenue and expenses.
QuickBooks Mac Plus
The only desktop version of QuickBooks that works with Mac computers is QuickBooks Mac Plus, which is comparable to QuickBooks Pro Plus.
QuickBooks Desktop
As opposed to online cloud access, the desktop versions of QuickBooks for small companies are installed on your computer. Each user's computer requires a user license, which must be purchased.
Multiple people can use QuickBooks desktop; however, each user will require a license, which will cost money. A yearly membership cost is required to purchase the Plus edition, and software updates are not included.
Desktop Pro, Pro Plus, and Mac are available in the desktop version. Furthermore, you have Premier Plus and Desktop Premier.
The article highlights the best version of QuickBooks intended for small businesses. You get to know about the different versions and choose the one best fit your organization.
However, if you are unable to understand the versions, then it is wise if you take the help of a professional QuickBooks expert. He or she will explain the various features involved in the versions.
If you have further queries related to the best version of QuickBooks fit for small businesses, then you can connect with Dancing Numbers team via LIVE CHAT.
Accounting Professionals, CPA, Enterprises, Owners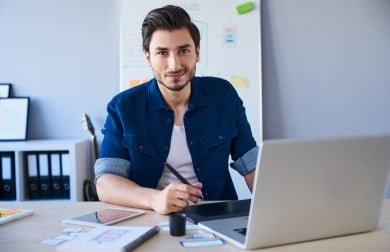 Looking for a professional expert to get the right assistance for your problems? Here, we have a team of professional and experienced team members to fix your technical, functional, data transfer, installation, update, upgrade, or data migrations errors. We are here at Dancing Numbers available to assist you with all your queries. To fix these queries you can get in touch with us via a toll-free number
+1-800-596-0806 or chat with experts.
---
Frequently Asked Questions (Faqs)
What Features will You Miss out on if You opt for QuickBooks Online?
The Collections Center, Inventory Center, and Lead Center are absent from the online edition. The Calendar view to display invoices, bills, and other features is also absent, as well as QuickBooks Search. You will also not find multiple client billing, batch billing, and check scanning and depositing in QuickBooks online.
Setting inventory to reorder points is not supported by QuickBooks Online. Only one currency is allowed for sales and costs, therefore business strategies, sales projections, or spending forecasting are not supported.
The online version could work for companies with simple accounting requirements. When picking a version, consider carefully whether you require the missing functionality.
What Features do You Miss out on in QuickBooks Pro?
Although online backup is not a feature offered by QuickBooks Pro, it is available for purchase. The application supports up to three user licenses to provide multiple user access. However, the Inventory Center is not included and you can only work with one company file at a time.
You won't be able to make business plans, keep track of balance sheets by class, anticipate revenues and costs, or use sophisticated inventory monitoring tools that are only offered in the Enterprise Solutions package.
What is the QuickBooks Enterprise Version?
The most sophisticated and customized version of all QuickBooks products, QuickBooks Enterprise is best suited for bigger companies with intricate financial systems. With QuickBooks most comprehensive inventory, reporting, and pricing features, it improves on Premier Plus.
Enterprise has four subscriptions and the choice to add remote access, making it easier to scale up than other QuickBooks Desktop offerings.
QuickBooks Enterprise is perfect for businesses that require support for up to 30 concurrent users, and sophisticated access control for multi-user setups. You also get the ability to integrate reports from different files seamlessly.