Pipedrive CRM is a top-notch CRM system that supports effective and cautious management of your client relationships. You may create new client relationships and give customer service with the aid of this CRM supplier. Small sales teams can use Pipedrive, a well-known sales management tool, to manage laborious and complex sales procedures.
Save Time, Reduce Errors, and Improve Accuracy
Dancing Numbers helps small businesses, entrepreneurs, and CPAs to do smart transferring of data to and from QuickBooks Desktop. Utilize import, export, and delete services of Dancing Numbers software.
It enables team members to concentrate on work those results in deal closure. It offers many potent features, including goal monitoring, forecasting, reporting, and email integration. Over 95000+ businesses globally, including Amazon, Vimeo, Festo, and many others, trust Pipedrive. It runs on three different processes: Setup Pipedrive, Track development and Grow automatically.
Pipedrive is a top-tier leading pipeline CRM solution provider that aims to increase the effectiveness of operations that improve relationships and sales. It helps generate and import new leads, assign them to team members, and move them through the sales cycle. Additionally, it incorporates Sales panel, which makes records with essential sales intelligence and marketing data available. Because all of Pipedrive's tools and features can be completely customized, you may develop your own distinctive sales strategies without compromising any established norms. The benefits of Pipedrive's adaptability are tremendous.
Users are reminded and given reports by Pipedrive on pipeline stages. Most sales professionals use Pipedrive to transform unprocessed data clusters and spreadsheets into information that can be used. Pipedrive's main goal is to clean and process data for your sales representatives. For teamwork and large projects, other CRMs are preferable, but Pipeline manages your sales from beginning to end.
About QuickBooks Desktop & Online
QuickBooks Desktop
QuickBooks is the most widely used small business accounting tool for keeping track of earnings, outlays, and a business's financial health. It can be used to generate reports, settle accounts, submit tax returns, and invoice clients. Everyone will find numerous options in the QuickBooks product range to be exceptional, from small businesses to independent contractors.
QuickBooks is frequently used by small business owners to handle their invoices, pay their bills, and monitor their cash flow. They also use it to prepare for quarterly or yearly business taxes as well as to publish monthly and annual financial reports. While some business owners prefer to utilize an internal or external bookkeeper, others run QuickBooks themselves.
QuickBooks Online
A subscription-based program called QuickBooks Online allows you the flexibility to work anywhere. Data is accessible and synchronized between your computer, tablet, and smart phone. You have immediate access to the most recent product and feature upgrades, and your data is safely backed up. In order to save even more time, you can link QuickBooks Online to over 300 existing apps.
A cloud-based accounting program called QuickBooks Online is made to assist small business owners in managing their bookkeeping and accounting. QuickBooks Online allows you to access your accounting platform from any location with an internet connection as well as on a mobile device. Both the downloaded QuickBooks Mac or Windows program and QuickBooks Online are accessible through a wide variety of online browsers.
Four distinct pricing tiers for QuickBooks Online are available on a monthly subscription basis. Each QuickBooks Online subscription comes with additional features, and as a result, more functionality. Without having to commit to a lengthy contract, you can automate your procedures and carry out necessary accounting duties using this platform.
Need of Pipedrive QuickBooks Integration
There is a need of integration because of its unique features that are detailed below:
Without having to copy and paste data between the two applications, you can produce invoices from the deal detail view and send them directly to your QuickBooks account with the Pipedrive-QuickBooks integration software.
Invoices generated through Pipedrive can also receive updated status updates, letting you know when they are accepted, paid, or past due without having to leave the Pipedrive app.
Your personalized pipelines and process phases are managed, created, and labeled by Pipedrive.
It keeps track of all of your past sales transactions.
Leads can be gathered using chat bots and email forms.
Your sales communications are tracked in full sight.
It provides total control over your personal and professional data.
It facilitates relationship development and automates lead sourcing.
The CRM Pipedrive is very simple to use.
There are more than 350 platforms, applications, and services that Pipedrive is integrated with.
It offers a selection of apps for several platforms, including iOS, Android, and the web.
Pipedrive offers 24/7 customer service by email, phone, and live chat.
Pipedrive was created specifically for marketing and sales. Your firm will progressively expand and scale.
Benefits of Integration with Pipedrive
There are many functions offered by Pipedrive. Below are the top characteristics that make its integration advantageous:
Visual Sales Pipeline: This tool lets you see your whole pipeline at once and refreshes the deals in place using a drag-and-drop function.
Customizable Pipeline: This feature enables you to configure the pipeline to meet your requirements. Custom fields and stages can be added.
Activity Notifications: It help you remain on top of your deals by scheduling all of your sales activity.
Contact Past: Views every contact and deal in your history, including emails, calls, notes, and meeting participants.
Segmenting Leads: It can help you create lists for your individualized follow-up by categorizing, filtering, sorting, and segmenting leads.
Team Management: It assists in coordinating tasks and dealings with team members as well as sharing sales accomplishments.
Revenue Forecasting: Recalculate deals for updates and anticipate sales and revenue depending on your pipeline.
Web Forms: design adaptable web forms for your website to produce leads for your lead pipeline.
Reporting and Dashboards: helps to receive in-depth information on your sales and crucial activities and analyze processes against your goals on dashboards.
Email Integration: lets you easily send, receive, and track emails while syncing with platforms like Outlook, Gmail, and others.
Automation Enabled: by AI helps the AI engine create leads and gives a target list of prospects.
280+ Integrations: Pipedrive provides excellent integrations with many different systems, including HubSpot, Trello, Asana, G Suite, Outlook, Slack, and Zoom.
Privacy and Security: controls your security by establishing alerts and permissions. A central security dashboard with GDPR complaints is also included.
Steps for Pipedrive Integration with QuickBooks
Select QuickBooks under Tools and applications > Invoicing to link your QuickBooks account to Pipedrive. The Pipedrive marketplace will be opened so you can finish the installation process and give the app access to your account. Under Tools and applications > Marketplace apps, you can uninstall the software.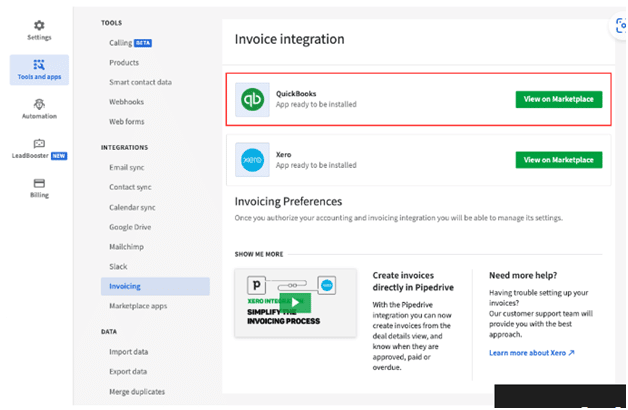 After your legitimate QuickBooks login credentials have been verified, you will be sent to your Pipedrive settings where you may specify your options for the QuickBooks integration.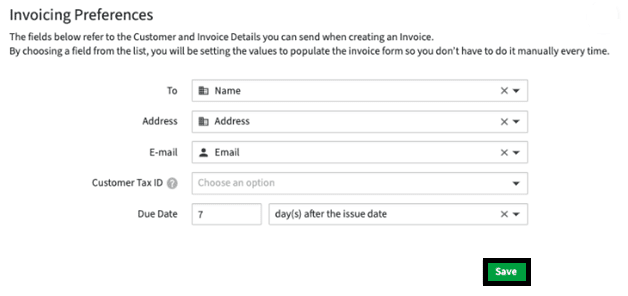 You must select the Pipedrive fields and the due date that will be pre-filled once an invoice is prepared in Pipedrive when configuring your QuickBooks integration.

Whom you wish to address the invoice to is indicated in the TO field. We advise using Pipedrive's Organization – Name option because a company's accounts payable division frequently pays bills. Other organizations, individual's contacts, and deal fields are also available for selection.
The physical address of the invoice's receiver should be entered here. We advise using Pipedrive's organization – Address field because a company's accounts payable division often pays bills. Other organizations, individual's contacts, and deal fields are also available for selection.
The email address of the invoice's receiver is contained in this field. We advise using Pipedrive's Person-Email field since the email field is a person-type field. Other organizations, individual's contacts, and deal fields are also available for selection.
Although not all invoices call for it, if you have a custom field in Pipedrive set up to store your customer's tax ID number, we advise applying it here.
The payment deadline can be set up here. An invoice created on March 13th will have a due date of March 20th if the due date is set for seven days following the issuance date.

Click the Save button to save your integration preferences for your business's Pipedrive account if you are pleased with your selections for the Pipedrive fields to populate your QuickBooks invoices.
Using the Integration with QuickBooks
After setting up your QuickBooks integration, you can make your first invoice by going to the detail page of any contract. Select the Invoice tab > + Invoice to begin.

You will be asked to provide the information for your invoice. When the invoice is saved, the data entered here will be transferred to your QuickBooks account.

Customer Information – Based on the fields you selected when configuring your QuickBooks invoicing options, this information will automatically be filled in.
Details for the invoice must be filled out according to your company's requirements. For instance, if you want to change the tax settings for this invoice, decide what currency to use, or utilize any of the QuickBooks Invoice Templates. For QuickBooks, the currency field is required.
The things that make up the charges on your invoice, such as goods or services, are reflected in this field. The products associated with your offer will immediately appear here.

You must either establish a new client or link an existing one to the invoice under Customer data in your QuickBooks account.
You will have the chance to change client information on the provider's end after a contact has been linked. If you have this enabled, QuickBooks will use the information entered under Address, Email, and Tax ID if it differs from the information saved.
Once you've input all of your invoice information, click the "Create invoice" button.
Looking at Your Bills
In your detail view, your new invoice will be listed under the Changelog. Based on their statuses, the invoices in Pipedrive will display the following flags: Open\Paid, a payment is pending, voided/ Overdue/Deleted and paid partially.
When you choose more, you have the following options:

Any unpaid or paid invoices should be void. Unavoidable bills have already been void.
Remove the invoice.
Send all invoices to your customer by email, whether they are paid or overdue. QuickBooks will email you the invoices you send via email.
Download the PDF version of your invoice to send it directly to your customers.
By selecting, open in QuickBooks option, you will be taken to your QuickBooks account where you may update, send, and receive payments for your invoice.

Your invoice history will also be included in the sidebar of the detail view. Refreshing this page will bring up any recent updates from QuickBooks. You may also click View all invoices option to access the settings or unlink a contact.
We hope that the information in the aforementioned post will assist you for the integration of Pipedrive with QuickBooks Desktop and QuickBooks Online. But still, if you would face any type of problem while the process of integration. You can contact us in order to get help from our Dancing Numbers team of specialists who can address your problem and will provide you the appropriate solution in the best possible manner.
Accounting Professionals, CPA, Enterprises, Owners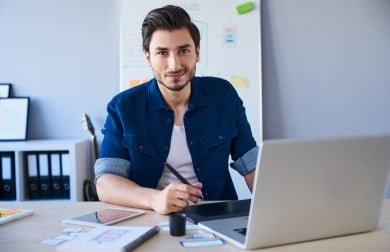 Looking for a professional expert to get the right assistance for your problems? Here, we have a team of professional and experienced team members to fix your technical, functional, data transfer, installation, update, upgrade, or data migrations errors. We are here at Dancing Numbers available to assist you with all your queries. To fix these queries you can get in touch with us via a toll-free number
+1-800-596-0806 or chat with experts.
---
Frequently Asked Questions
Is Billing Available on Pipedrive?
Yes. There is a feature of Invoicing. You may simplify this procedure by using Pipedrive's invoicing feature to create, view, and submit invoices to your invoicing app right from the Pipedrive interface.
Why Integrating Pipedrive CRM with QuickBooks is a Right Choice?
Organizations can efficiently manage business processes in real time by integrating data connection, for example, between Pipedrive's CRM and QuickBooks Desktop.
To improve decision-making, decrease time and increase decision-making accuracy across departments, real-time data integration is now required. Some of these factors necessitate the integration of Pipedrive CRM and QuickBooks Desktop/Online inside your company in order to boost productivity across the two key divisions of accounting and customer relations.
Do Pipedrive and QuickBooks Online Integrate?
Yes, You can easily import to Pipedrive all of your QuickBooks customers, vendors, products, estimates, and invoices.
How may an Invoice be created in QuickBooks?
• Choose Create Invoices from the Customer menu or the QuickBooks Home page.
• From the Customer Job drop-down menu, select a customer or customer job.
• Select a single or a few sales orders that contain the items you want to include in the invoice.
• Make the required adjustments to the invoice.
• Choose Save & Close option