In the last couple of years, small and mid-sized companies have been completely dependent on QuickBooks, making it the best accounting software at present. And the good part is, this software is compatible with browsers like Internet Explorer, Safari, Firefox, and Google Chrome.
While Google has been the favorite for most of the QuickBooks users, at times login problems and errors have surfaced when someone has tried to sign in.
Read on to know how to fix the QuickBooks login problem in Google Chrome easily so that it does not interrupt your business.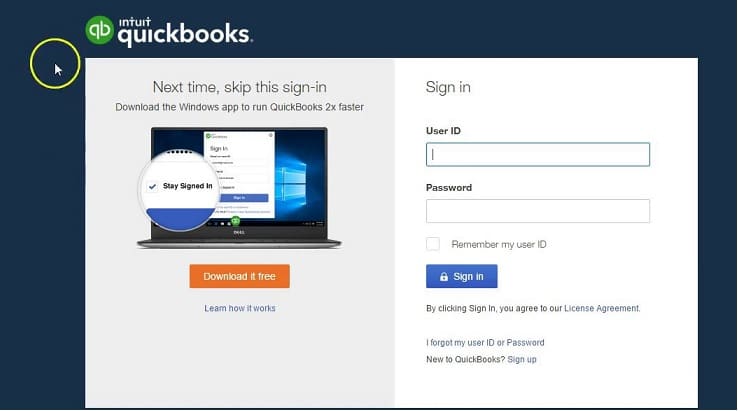 What are QuickBooks Online Login Problems on Chrome?
There can be many reasons which can give rise to issues in QuickBooks Online. Often, the errors arise due to the browser or sometimes the error is created by QuickBooks itself. You need to check if the error that has been caused is from your end or the QuickBooks server is down, and whether other users have reported the same problem.
Why Users Face QuickBooks Online Login Problems?
Here are a few examples of when this login error might appear while signing into QuickBooks via Google Chrome Browser:
User will receive a message that will notify that the services required are, 'Not Available'.
QuickBooks has failed to work with Chrome.
A message will appear on the screen that will say, 'Loading' but will fail to load.
When you sign in and then choose My Company, you may be directed back to the same sign-in screen.
QuickBooks Online is not at all responding after user have logged into the account.
Users can face this issue when they do not log out from the earlier QuickBooks online session.
When someone logs into your QuickBooks account from a different system.
The error can also be visible when the firewall or antivirus restricts access.
How to Fix Login Problems of QuickBooks Online on Chrome?
It is very irritating when users are not able to login into QuickBooks Online or the activation is consuming more than usual time. However, unlike any other problem, even these can be dealt with:
Here are the solutions to the QuickBooks login problem on Chrome:
Solution 1: Another Web Browser
As stated before, QuickBooks is quite compatible with different browsers like Internet Explorer, Firefox, Safari, etc. Hence, if you are having issues with Google Chrome, then you can use these other web browsers and see if the issue is fixed or still exists. In the Internet Explorer browser, you can export the data back to your particular QuickBooks Desktop login.
Solution 2: Try using Google Chrome in the Incognito Mode
The login problem in QuickBooks in Google Chrome can be fixed via the Incognito mode. The Incognito mode opens up a window that does not save the history, which includes downloading and browsing. Additionally, it never saves any cookies permanently.
Using this mode is very easy. Here are the steps mentioned below:
Step 1: Open your Google Chrome browser and then select the Customize and Control icon.

Step 2: Once this is done, you need to select the New Incognito Window. For this, you can also use the shortcut keys – Ctrl+Shift+N.

Step 3: It will take you to a different window in the Incognito mode.
Solution 3: Delete the Cache or History
In case you are trying a different web browser or shifting to Google Chrome Incognito mode does not solve the issue, then the best approach is to delete the Old History or Cache. As per users, it is often the Cache or History that is the real reason for the slow performance of QuickBooks login issues.
Here are the steps to clear your Cache or History:
Step 1: At first, you need to select the Customize and Control icon in your particular Google Chrome browser.
Step 2: Now select the Setting option.
Step 3: Then you need to select the Advanced tab which is present on the page below.
Step 4: Now look for Privacy and Security.
Step 5: In the Privacy and Security category, select clear browsing data.
Step 6: In the particular browsing data screen, select on Advanced tab.
Step 7: Now go over the list and choose the right boxes to delete the cookies and related data of different sites, cached images, browsing history, files, etc.
Once all the steps are followed, select Customize and Control Icon and then click on History and you will not see anything.
Fixing this problem is not as difficult as some users have presumed. All you need to do is follow the instructions given above and your issue will be resolved in no time. It is not mandatory that every solution given above will be possible for you to implement properly.
---
What are the Types of Login Errors QuickBooks users Encounter while using Google Chrome?
QuickBooks users experience three types of errors when they try to log in via Google chrome.
Here are the types of errors:
• QuickBooks Online is currently unavailable, please try again later
• Error 404: File not found
• Webpage cannot be found
These errors are not permanent and can be fixed in several ways.
Can a weak Internet Connection Lead to a QuickBooks login Error on Chrome?
Yes. Often unstable or weak Internet Connection leads to QuickBooks login error problems on Chrome.
Does the Wrong Time and Date Set Impact Internet Connectivity in any way?
No. Time and Date settings do not impact the internet connectivity directly. But, if you have not set it properly, you will receive browser warnings.