Facing IIF import errors in QuickBooks Desktop? Need not worry we are here to help you in fixing those errors with the help of the below writeup.
First, let us discuss the meaning and relevance of IIF files. The full form of IIF is Intuit Interchange format. Intuit is prefixed because it is an Intuit product and the remaining two words define the characteristic of the IIF files. IIF files are used by QuickBooks desktop to import or export the list of transactions between different platforms. In a nutshell, it helps in better managing the company's transaction records in QuickBooks.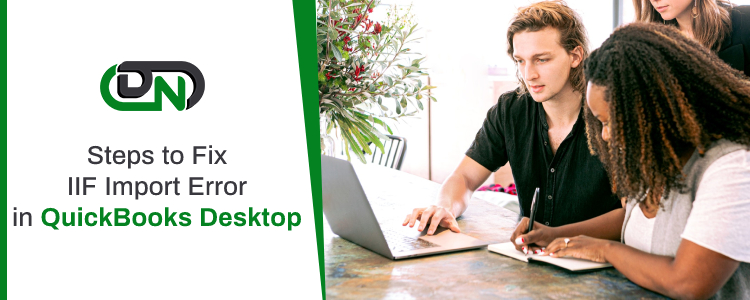 There is also not much hassle involved in the import and export process of IIF files as QuickBooks Desktop will format the file for you from its end only. So, it is recommended that you do not start creating the IIF file from the scratch (except when the data is too large) because it a very technically complex process and you will need the knowledge of delimited text files.
For importing the IIF files to the QuickBooks desktop, you will need to first download the IIF import kit. IIF import kit is nothing but a reference guide for creating and working with the IIF files, it is comprised of IIF import manual, IIF header help, and IIF example files. If you import the IIF files using the right steps and process you can avoid any import errors, but sometimes you can come across the errors like file not imported error, IIF line error, IIF import error, etc.
We will try to cover the fix of each type of import error in the below section.
Steps to Fix IIF Import Errors in QuickBooks Desktop
Before we move on to the process of fixing the IIF files import errors in QuickBooks Desktop, let us first understand the correct way to import these kinds of files in QuickBooks desktop:
Step 1. First of all, open your QuickBooks company data file and login as an administrator.
Step 2. Now in this step, you need to switch to the single- user mode and then click on File.
Step 3. After, clicking on File, go to Utilities, then import and then IIF files.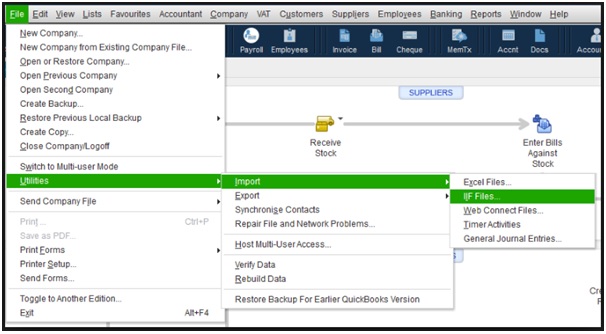 Step 4. In this step, click on browse search and find your IIF file and click on open.
Step 5. After sometime, QuickBooks will send you a confirmation pop-up that your data has been imported, you need to click on Ok.
This is how the IIF files are imported in QuickBooks, let us now move towards the different kinds of errors and steps to fix them.
Steps to Fix IIF file Import Error
Step 1. First of all, when the error pops up you should click on 'Review now'
Step 2. Now review the list and analyze where the error lies, if you are able to find and can resolve it on your own correct it and save the file.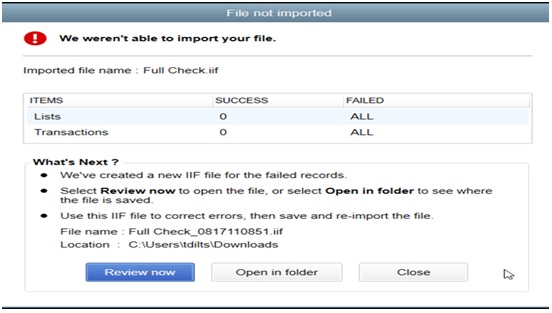 Step 3. In this step, close the 'File not imported' window and import the correct QuickBooks IIF file.
Steps to Fix IIF Line Error
Step 1. First of all, make a copy of your IIF file and right-click on it and then rename it.
Step 2. For renaming it change the extension to XLSX and then open the file in excel.
Step 3. Now you can navigate to the IIF line error and correct it in QuickBooks.
Changing the Extension of Journal Entries to fix IIF file Import Error
Step 1. At first, click on the File menu and then select utilities, not select general journal entries after clicking on Import.
Step 2. Now choose the journal entry file (.QBJ), you can download it from your previous accounting software. And then click on Add GJE.
Step 3. Once the GJE summary opens up click on OK.
This is the process to fix the import error when you are trying to import the Journal entry from your previous software.
Using alternate Import Process
Step 1. First go to the file and then utilities and then click on Imports.
Step 2. Now choose the IIF file and when pop-up appears click on the 'Import it for me I'll fix it later' option on the bottom of the screen.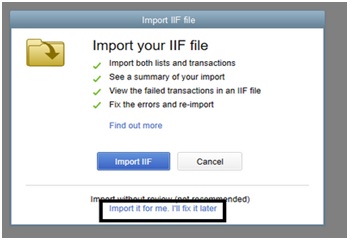 ---
Need Some one on one QuickBooks Assistance?
---
Can you Please help me in finding out the Basic Steps to fix Errors that you come Across while Converting QBDT to QBO?
First, you need to sign in to the QBO, and go to the settings. Now select the company settings and go to the company tab. After that you need to click on edit (pen icon) the address section and click on save and then click on Done. Now the file is ready to be imported again in QuickBooks desktop.
What all Data is not Converted when you Transfer the Data from QuickBooks Desktop to QuickBooks Online?
A few things like Bank account numbers and notes will not convert when you transfer the data to QuickBooks Online, also QBO has an additional level in account type i.e., detail type. This level will be assigned to the accounts like undeposited funds in QuickBooks Online.
Can you let me know the Process of Importing Bank Transactions in QBDT 2020?
You need to first click on Banking menu at the top and choose the downloaded transactions. Now on the downloaded transaction window, choose the account you wish to import the transactions for or you can also click on download the transactions. After clicking on download, you will be directed towards the financial institutions website and import your transaction file.
Can you List down the steps to Enable Bank Feeds in QuickBooks desktop?
You can connect your bank accounts to the bank feeds in QBDT by first going to the Banking and then going to the bank feeds. Now you need to choose set up Bank feeds for an account and enter your Bank's name and details. This is how you can connect or enable your bank feeds in QBDT.