QuickBooks accounting software has multiple characteristics which makes the life easy for the user. Multi currency is one of those character which helps you to track overseas transactions and assign a particular currency to an overseas seller. However, you can only assign one currency to one customer. To assign International currency, you are required to create new profiles. Once you turn on QuickBooks Multiple Currency, you cannot turn it off.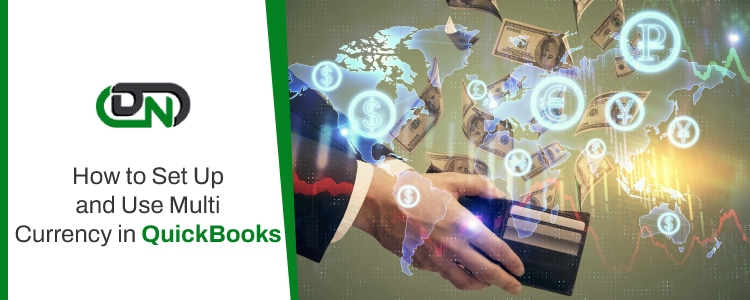 With the help of this article you can set up QuickBooks Multi currency and enable it. We have tried to cover all the steps of setting up and enabling this function in this article blog. However, if you feel stuck to perform any of the steps, please feel free to talk to the experts.
To begin with, we are going to begin with some crucial points that you are required to review prior to set up QuickBooks Multi-currency.
Points Prior to Turn on QuickBooks Multi Currency
Review the below-mentioned points prior to turn on QuickBooks Multi Currency.
Once you turn on the multiple currency function, you are not allowed to turn it off. So, it is required to know the terms and conditions prior to turn on this function. You have to that you have taken the backup already for your company's file. Please go through to the following points too:
Fixed Asset Manager and Statement Writer only utilize U.S. currency. They won't be affected by turning on the multiple currency function.
Once turning on this feature, the user will be unable to use income tracker, insights and bill tracker. You cannot enter the batch invoices or delete transactions either.
The user will be unable to choose multiple customers in the Invoices.
The information will not be exchanged with QuickBooks desktop for Mac or the user is not able to copy the company file.
In invoices, online payment will stop working for multiple currencies.
How to Set up QuickBooks Multi Currency?
The multiple currency allows you to allocate a specific currency type to the accounts such as Accounts receivable (A/R), Accounts payable, bank accounts, vendors, customers, credit card accounts, and price levels.
Here are mentioned few steps to turn on Multi-currency in QuickBooks:
Step No. 1:

Turn on Multi Currency
In the Edit menu, choose Preference.
Choose QuickBooks Multiple Currencies.
After that, you are required to select the Company Preferences tab and select h option Yes, I use more than one currency.
And at the last step, you are required to click on home currency.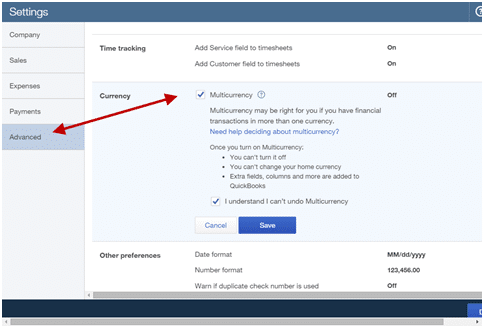 Step No. 2:

Add customers and Vendors (Foreign Currency)

Firstly, you are required to know that only single currency can be assigned to single supplier or vendor profile. If you wish to allocate a new currency, then you are required to make new profiles.
In the Supplier menu, select the supplier Center.
After that, just hit on the New supplier: job or New Vendor.
Once it's done then, you are required to assign a Currency and a Supplier Name.
Choose OK.

Step No. 3:

Add Accounts (Foreign Currency)

Just remember that for each account you can only allocate single currency. You are required to create a new account if you wish to assign the international currency. Current account will be allocated to home currency once this function is on. You cannot change the currency for accounts with previously added transactions. Here, just adhere the steps mentioned below to add accounts:

• Among the Lists menu, you need to select the Chart of Accounts.
• After that, you are required to select New by right-clicking anywhere.
• Select the proper account Type.
• Assign a name.

Step No. 4:

Update Exchange Rates

You can download rates for active currency only. You can download rates only if home currency is the US dollar.
Steps to Download Exchange Rate
In the initial step, you are required to open the Lists menu and choose the Currency List.
After that, you are required to choose the task and later, hit on Download Latest Exchange Rates.
Steps to Enter Exchange Rates
Choose the Lists menu and select the Currency List.
Double-tap on currency.
Choose the Edit Currency window option & click on the update the currency exchange rates.
Step No. 5:

Make Foreign Currency Transactions

You are required to utilize the international currency accounts or names which are included for new international transactions.

You should not utilize the new foreign currency variant of the client to get installment against that receipt if, you already have an open receipt for a current client that has your home money. Preferably, continue make use of the home currency variant of the client to complete the transaction.
You do not assign cash to purchase & sales transactions since they are allocated the currency of the client or seller that have been entered by you in the form.
Select the home money estimation of the exchange.
Aggregate deals & buy exchanges are in the supplier's currency and the home cash proportional is recorded for the exchange complete.
All of the reports will consistently reflect the home currency.
How to use QuickBooks Multi Currency?
If there is customer who has home currency in US dollar and base currency is the Canadian dollar. According to this illustration, foreign currency is the Canadian dollar. Please adhere the steps mentioned below to use QuickBooks multi currency:
Choose Customers > New Customers.
Now, select the Payment and Billing
Once it's done, begin with the list like Customer Pays Me & select the Customer's currency.
Save the Customer.
Later click on save option, examine the supplier list page, the supplier name and overseas currency will appear on this list.
The domestic currency supplier appear domestic currency.
Open the Invoice window, Select overseas transaction
Later, QuickBooks naturally shows the supplier's name and two currencies (the first one is overseas currency and other is the domestic currency) connected to the transaction.
Make an addition of item to the invoice.
After that, suppliers are able to know how much to pay when the Balance Due to entry shows in the overseas currency.
QuickBooks Multi Currency is a useful feature for its users. The above blog will help you in knowing the steps to set up and enable this feature in QuickBooks. In case, you face any challenge to understand about multi-currency in QuickBooks or required some more guidance for the same, then do not hesitate to get in touch with us at get a free consultation.
---
Need Some One on One QuickBooks Assistance?
---