The Chart of Accounts in QuickBooks is simply a list of all the accounts that help in classifying the assets, income, and owner's equity amount. In other words, it is the list of the accounts and balances of the organization. This, in turn, assists in comprehending how much fund the company has, how much it actually owns and how much it needs to pay, by delivering a complete and reliable financial report. Know steps to set up chart of accounts in QuickBooks.
In a true sense, an organized Chart of Accounts offer an overview of how your business is doing and thus it is considered a significant aspect of the accounting system. Hence, it is vital to know the right method to set up a chart of accounts in QuickBooks.
How Many Categories are there in the Chart of Accounts?
The Chart of Accounts is simply a list of account numbers along with names that are important to the company. Normally, the chart of accounts has four different categories. The four groups in a standard Chart of Accounts include:
Asset accounts
Liability accounts
Income accounts
Expense accounts
Steps to Set Up Chart of Accounts in QuickBooks
Here are the right steps to set up a Chart of Accounts in QuickBooks: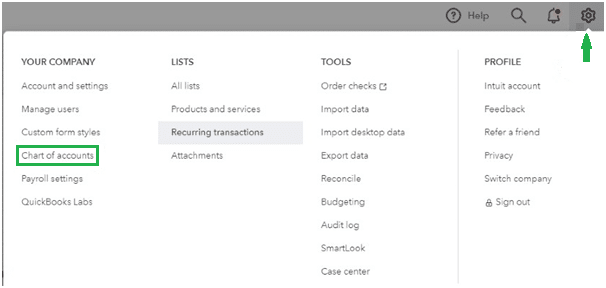 Step 1: Choose the Lists that says Chart of Accounts, as displayed on the computer screen.
Step 2: On the computer screen, QuickBooks will show the Accounts menu. When you press click on the tab, the Account Menu Options New will be displayed on your particular computer system screen.
Step 3: Now add a new account. QuickBooks will display Add New Account option on the computer screen.
Step 4: Utilize the Account Type buttons. QuickBooks offers various account types such as Fixed Asset, Credit Card, Accounts Payable, Cost of Goods sold, Income loan, Expenses, Accounts Payable, Accounts Receivable, Long-term liability, Other Assets, Other Expenses, etc.
Also, with the help of the accounts, you will be able to know about the place where your particular data is reported.
Step 5: Hit on Continue. Now QuickBooks will display the second Add Account screen on your particular computer system. Notice the account name that will be displayed in the financial statements. Now, you need to make use of the particular Account Name Box.
Step 6: Review the sub-account. After you have chosen the sub-account of the check box, you must provide a name to the particular Parent account.
Step 7: If QuickBooks comprehends that you have access to other currencies, then it will notify you to search for such customers, vendors, bank accounts, etc., who utilize diverse currencies.
Step 8: New Account Description is not needed. There is no need to define the new account. QuickBooks uses only definite account names in the particular financial statements and hence no description is needed as such.
Step 9: In the Add New Account screen, there will be a credit card account type version. It will help in saving all the necessary credit card details and account information.
Step 10: Identify the Tax Line. On the Tax Return of the corporation, the cash account balances will be registered. If you still need to add a bank account, then it is highly recommended to use the drop-down list in Tax-Line mapping.
Step 11: Lastly, you need to hit the Next tab to save the New Account details and then you will show the Add New Account window. After both the accounts are set up, new accounts will display in the chart of accounts list.
How to Use QuickBooks Chart of Accounts?
Here is how you access the QuickBooks Chart of Accounts for QuickBooks Desktop:
Step 1: Start by selecting the Chart of Accounts from the QuickBooks menu.
Step 2: Navigate to the Company option and then press on Accountant or Lists.
Here is how you access the QuickBooks Chart of Accounts for QuickBooks Desktop:
In QuickBooks Online, press on the Settings icon and then select Chart of Accounts.
All the steps mentioned above will assist you in monitoring your business activities on a regular basis and will help you to Set up the Chart of Accounts in your particular QuickBooks software.
However, for those, who are new to this accounting software, it may seem difficult to incorporate those steps on their own.
But don't worry. For all such users who are performing these tasks or have different questions, you can always connect with our customer support team. Our professionals are skilled and offer extensive services 24/7.
---
What are Asset Accounts?
Asset accounts normally contain things that have some real value like vehicles, inventory, building, land, valuables, etc. In a general sense, such a type of Chart of Account aids in monitoring how much has been invested in property. Furthermore, in the Chart of Accounts, other things are also included like cheques, bank accounts, etc.
What are Liability Accounts?
The Liability Account comprises items like payroll taxes, mortgages, credit card balances, promissory notes, personal loans, bank loans, and income tax payable. When the loan is added to this account, do make sure the sum of the loan is added.
What are the Important Pointers for Organizing the Chart of Accounts?
Before you start with the steps to arrange the chart of accounts, the points below should be considered significantly:

Make sure to keep the line items are not complicated in the first step. Also, make sure that the line items have specific titles, which the accountant can make sense of. It is highly recommended to use straightforward titles.


One important point that you must consider is to dodge making a new line item for every transaction since it would confuse the overall chart of accounts. Rather, make sure that you use the accounting software's sub-headings.