It is a given fact that when you merge vendors into accounting software, you essentially monitor all the transactions. QuickBooks accounting software is no exception.
One of the primary reasons why this software is a hot favorite among the entrepreneurs is its manifold constructive functionalities, and merging vendors tops the list.
As per the latest update in QuickBooks desktop, users are allowed to merge as many as four vendors at a time, without any hassle.
Know all About the Merging of Vendors in QuickBooks Desktop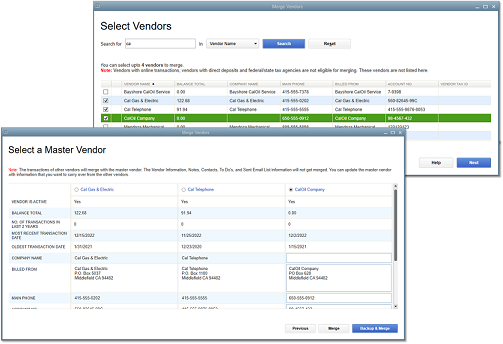 If you have been using QuickBooks for quite some time now and have been handling online banking from a QuickBooks Desktop application, you must be aware of the fact that you need to merge your vendors at a point in time.
This is because, when you merge multiple vendors in QuickBooks Desktop, you prevent duplicate entries in your vendors' list.
However, in order to merge vendors in QuickBooks Desktop, there are certain aspects you need to take into consideration, some of which are mentioned below:
Taking a completely secure backup of QuickBooks file is one the most crucial points to take care, in order to prevent any form of data loss.
Always ensure that you never turn on the Multi-currency feature.
One of the crucial things to consider is that the merging process is irreversible and permanent. Hence, it is highly recommended to double-check before the vendor accounts are merged to prevent merging any other account that was not required to be merged.
Make sure that you are in a single-user mode and not in multi-user mode. In case you are using the multi-user mode, just change into single-user mode immediately.
The user is also needed to make sure that he/she is not merging vendors who have paid through online banking, tax authorities, or direct deposit vendors.
If you require undoing any merge, restore the backup of the particular data file.
Why do you need to Merge Vendors in QuickBooks Desktop?
The merging of vendors in QuickBooks is like a boon for users who have given an extra edge to the business. When you merge vendors in QuickBooks, it enables the users to combine all the transactions.
In this whole scenario, the best thing is users are not required to add the transactions, again and again, one after one. When you merge your vendors, you delete a vendor and simultaneously, assign the entire data that is relevant to other vendors.
Once all the steps are over, it must be duly noted that the process cannot be reversed. This signifies that the merger is permanent just like the deletion of one vendor's data to another.
How to Merge Vendors in QuickBooks Desktop?
Here are the steps to merge vendors in QuickBooks Desktop 2018. Make sure you follow them accordingly:
Step 1: In your QuickBooks account, go to the Vendor Center and select Vendors.
Step 2: Take a note of the vendor which you need to merge.
Step 3: Find that vendor which needs merging and then right-click on it.
Step 4: Select Edit and add the name of the vendor with whom you want to merge it with.
Step 5: Select OK and then when you see the confirmation screen, select the Yes button.
Steps to Merge Vendors in QuickBooks Desktop in 2019
Step 1: In your QuickBooks 2019, go to the Merge Vendors window.
Step 2: For your particular Accountant version, open the Accountant section and choose Client Data Review and then select Merge Windows.
Step 3: The QuickBooks Desktop Enterprise users navigate to the Company tab, select Accounting Tools, and then choose Merge Windows.
Step 4: Now choose the vendors that you wish to merge with and then select Next.
Step 5: Now choose the vendor where you wish to merge the other vendor and then choose Merge.
Step 6: When you receive the confirmation, a window will pop up and select Yes and then click OK on the particular Merge Complete message.
---
Do QuickBooks Desktop Enterprise and Accountant 2018 allow Merging of Duplicate Vendor Names in a hassle-free manner?
QuickBooks Desktop Enterprise and Accountant 2018 enable the merger of duplicate vendor names very conveniently.
What is the benefit of Merging Vendors in QuickBooks Desktop?
It allows the consolidation of all the transactions by vendors without entering them time and again.
Does the Merger of Vendors in QuickBooks Desktop re-assigns Data to the new Vendor?
Yes. This process assists you to delete any one particular vendor and then re-assigns that data to a new vendor.
Can the Process of Merger be Reversed or Delete?
No. The process of merger cannot be reversed or deleted and the transfer is absolutely permanent.
How many Vendors QuickBooks for Accountant 2019 allows users to Merge?
QuickBooks for Accountant 2019 allows users to merge 4 vendors at any point in time.