When you send business invoices, transactions, receipts, etc. utilizing the email account directly via QuickBooks, it can save up a lot of time. However, certain errors because of issues with settings can come up, cutting down the pace.
Save Time, Reduce Errors, and Improve Accuracy
Dancing Numbers helps small businesses, entrepreneurs, and CPAs to do smart transferring of data to and from QuickBooks Desktop. Utilize import, export, and delete services of Dancing Numbers software.
Putting in an incorrect password is one of them.
Incorrect passwords error because of numerous reasons can be dealt with by adhering to certain simple steps. In this piece of content, we will highlight how to fix the QuickBooks email or password incorrect issue. In case QuickBooks is rejecting the password or is moving you to a security question page, you can apply the fixes mentioned below.
What is Fixing of QuickBooks Email or Password Incorrect issue is all about?
Webmail or Outlook is usually connected with QuickBooks to send transactions directly since this procedure speeds up the process of delivering invoices and reports.
When you link your email to QuickBooks, it fixes the problem of you re-typing your password every time an email is received. Hence you should link your webmail account to set up secure webmail. However, when there is an error, it hinders the process of QuickBooks to save the password for email and disrupts operational efficiency.
Why this QuickBooks Email or Password incorrect Error Arises?
Password issues may arise due to the following reasons and can cause stress and anxiety. Here are the top reasons what are exactly blocking the messages from going to vendors and customers:
In few instances, the passwords are case sensitive
Spaces have been considered a part of the password
Some accessibility settings are absent
Wrong keyboard function
Wrong login screen
How to Fix QuickBooks Email or Password Incorrect Issue?
Here are the steps to fix QuickBooks Email or Password incorrect error.
Step 1: Up-to-date Your QuickBooks Software: If you have not updated QuickBooks to the latest release, do it and then email a test transaction to your account to check if you are still receiving the error message. If yes move to step 2.
Step 2: Verify Your Email Settings: Click open your specific online email service and then evaluate your settings and adjust the preferences. These may accidentally be restricting your emails from QuickBooks.
For your email service, please follow the steps below:
Gmail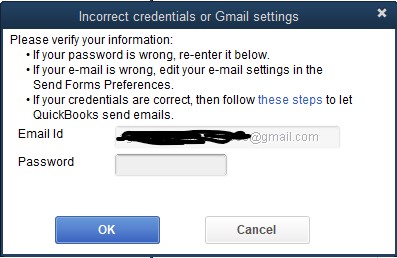 Select your particular app preferences, since something may be restricting the connection to your particular Google account.
Pursue the steps to allow access to less secure apps.
You can preset access for only preferred and secured apps just like QuickBooks
Open QuickBooks again and then email a test transaction to yourself just to be sure.
If you are still not able to send emails, you can switch off the 2-step verification process in your Gmail account
Yahoo
Yahoo mail has a 2-step verification process. You are required to check the security settings.
Move to your Yahoo Account Security page.
Switch on the two-step verification process and enable the apps that have a less secure sign-in element.
Go to QuickBooks and email a test transaction to yourself just to be sure.
In case you still can't send emails, Yahoo's generate third-party app password tool should be used. It makes a password that is random which can be utilized to connect with QuickBooks. You need to do this just once.
Note: In case you are batch sending emails, after sending 12 transactions or invoices the password will become invalid. You will be required to generate a new third-party app password in order to carry on.
Other Email Services (AOL, Hotmail, etc.)
Review your security and then filter your settings. Make certain rules or exceptions so that QuickBooks is not restricted or blocked.
QuickBooks in RightNetworks
Finish a multi-factor authentication request with Right Networks. In case you fail to log in to RightNetworks from any browser, connect with them in order to set it up.
Step 3: If an Anti-virus Application is in use. Often, QuickBooks email or password incorrect error occurs due to blocking of the anti-virus. In such a scenario, you need to enable communication via the following ports:
Yahoo port 465
Hotmail, Gmail, and others
Then add the QuickBooks process below to the process list that is excluded.
QBW32.exe – C:\Program Files\Intuit\QuickBooks [year]\QBW32.exe
QBDBMGRN.exe – C:\Program Files\Intuit\QuickBooks [year]\QBDBMgrN.exe
QBDBMGR.exe – C:\Program Files\Intuit\QuickBooks [year]\QBDBMgr.exe
Select OK and finish the Access protection Properties
Click Close Virus Scan too
Useful- QBDBMGRN not running on this computer
Now launch your QuickBooks and then send an email within QuickBooks to find out if the QuickBooks email or password is incorrect issue resolved or not.
Accounting Professionals, CPA, Enterprises, Owners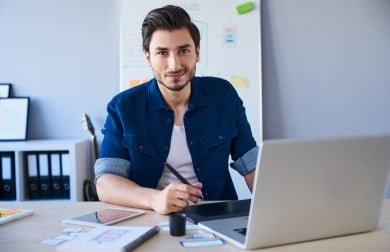 Looking for a professional expert to get the right assistance for your problems? Here, we have a team of professional and experienced team members to fix your technical, functional, data transfer, installation, update, upgrade, or data migrations errors. We are here at Dancing Numbers available to assist you with all your queries. To fix these queries you can get in touch with us via a toll-free number
+1-800-596-0806 or chat with experts.
---
Frequently Asked Questions (Faqs)
How to Resolve the Problem of re-Entering the Password Every Time you Send an Email?
By linking your particular email account to QuickBooks, you can deal with the problem of re-entering your password every time an email is sent.
How Incorrect Password issues can be deal with in Gmail?
Google switches off access to apps that are less secure. Enabling less secure apps can deal with incorrect password problem on Gmail.