Jobber was created in 2011 to make it simpler for businesses to track and manage field service operations. Businesses may easily manage all daily activities from billing to customer service through the Jobber platform. Jobber also provides a client centre that enables you to better manage client relationships. As a result, customers can use the hub to directly pay their bills, make appointments, or request a call. A basic bookkeeping tool with a variety of reporting options is Jobber.
Save Time, Reduce Errors, and Improve Accuracy
Dancing Numbers helps small businesses, entrepreneurs, and CPAs to do smart transferring of data to and from QuickBooks Online. Utilize import, export, and delete services of Dancing Numbers software.
Jobber is an online field service management tool created to help small enterprises grow their capabilities. It satisfies the needs of thousands of field service providers and their office managers by being dependable and simple to use. Small businesses will be able to provide top-notch service without significantly compromising their normally restricted budget and limited resources thanks to Jobber's vast assortment of powerful tools.
Jobber was created to assist professional service companies in managing their teams of service specialists, including plumbers, landscapers, domestic cleaners, general contractors, and many more. You can send invoices more rapidly with Jobber, which means you'll get paid more quickly. Additionally, the vendor's dedicated customer service team is easily available for assistance around-the-clock.
This platform provides a wide range of advantages. Your customers can approve quotations, verify appointment information, pay past-due payments, print receipts, or request additional work at any time using Jobber's client centre, a self-serve platform. Due to Jobber's extreme flexibility, you can quickly and easily create invoices using either a desktop computer or a mobile device, arrange work schedules, and estimate jobs. Additionally, it makes it easier for you to plan task routes, keep an eye on individuals and teams, and deploy them than usual.
While its QuickBooks Integration features enable users to benefit from features like automated syncing with accounting apps and other solutions that you and your team are already familiar with, its effective communication tools deliver timely notifications and dialogues with your clients. To keep you connected when you're on the go, Jobber syncs with QuickBooks. View work data, monitor time, generate an invoice, and more. Sync customer, invoice, and payment data between Jobber and QuickBooks online without difficulty. When you sync Jobber with QuickBooks online, you can avoid double entering and keep your data up to date. Because if you adhere to the Jobber process, it keeps you on track with your obligations, Jobber has helped you stay in your lane.
Short Overview of QuickBooks Desktop and Online
QuickBooks Online
For your business, QuickBooks Online provides online accounting and billing software. They are actually among the most well-known accounting platforms. However, this online accounting software enables organizations to take care of every area of accounting independently. Everything from billing to payroll and taxes As a result, companies may manage and keep track of payments, inventory, and other expenses as needed.
The first user's monthly fee for QuickBooks Online is $12.50. However, when your firm expands, there are frequently more TCO factors to take into account. These factors include data migration, software customization, training, and added features. QuickBooks Online has a stronger emphasis on accounting than team management. As a result, organizations may need to integrate project management tools with QuickBooks Online in order to obtain the same flexibility.
QuickBooks Desktop
You can buy and Install QuickBooks Desktop accounting software on your desktop work computer. Learn more about Pro Plus and Premier Plus if you're thinking about buying QuickBooks Desktop. And regardless of whether they use QuickBooks Desktop Pro, QuickBooks Desktop Premier, or QuickBooks Desktop Enterprise, QuickBooks Desktop will probably continue to be the solution that small business owners and mid-sized businesses turn to in the future due to its feature set that is unmatched by that of its rivals and the addition of new features every year.
Users of QuickBooks Desktop have always been able to alter a variety of forms, such as invoices, statements, and purchase orders. To optimize payment processing, you can now easily customize payment receipts in QuickBooks 2022.
Need for Jobber Integration with QuickBooks
Jobber is intended to serve as your company's management hub. Customer support, operations, and sales may all be efficiently managed using its user-friendly features from a single location. Below are some unique features of Jobber due to which Integration of Jobber with QuickBooks is essential.
Jobber keeps track of all the information about your customers so you and your staff can provide individualized service that makes each client feel like they are your top priority.
To ensure that you never lose contact with the foundation of your business-your clients-Jobber helps you maintain a clear and organized client history.
You may find clients, jobs, and bills using Jobber's robust search function or you can sort by custom fields. To each project you do for a client, you can add notes and attachments.
With Jobber's increased sales process tools, you can manage leads and keep up with the competition.
By comprehending and responding to leads more quickly than your rivals, you can land more jobs. To view, manage, and take action on leads so you can close jobs quickly and expand your business, the automatic leads label interacts with Jobber reporting.
With just a few clicks, create a job and assign it to your team. You have the flexibility you need to book work more quickly when you schedule on Jobber.
Easily change the date or time of a job, or allocate it to a different crew or team member. Literally, all you have to do is click, drag, and drop.
When a new job is posted, you may quickly verify your availability with the Jobber app.
You can give (or reassign) tasks to the appropriate team members by using the progress indicator, which displays how much each team member has on their plate for the day.
Employees will receive a reminder on their phone when you make a schedule change to their current workday, including all the specifics.
Jobber transforms job information into customer-friendly invoices and automatically contacts clients regarding unpaid invoices.
With just a few clicks, you can choose the jobs for which you want to generate invoices and email them to clients. Alternatively, Jobber can put invoices and envelope labels in the printing queue if your clients prefer snail mail.
Receive payment without doing anything. The jobber charges the customer's credit card on file automatically and mails a receipt to them for their records.
Knowing the status of all your invoices at a glance is made simple by Jobber. Receive reminders to send invoices for projects you've recently completed and be able to see which ones are outstanding or sent.
Give up looking for payments. Customers who have unpaid invoices receive an automated follow-up email or text from Jobber urging them to do so.
You can track your staff, communicate with customers, or simply keep an eye on the health of your company with the Jobber mobile app by your side at all times.
Your team's most recent schedule can be found on the Jobber mobile app.
Allow customers to pay invoices through your client hub by using Jobber's credit card processing.
Jobber notifies your company through email whenever a client makes a fresh task request. In Jobber, you can analyze any fresh requests and convert them into a quote or task with just two clicks.
View the anticipated margin on your quotes and make an immediate change to your pricing. Every time you construct a quote, Jobber will assist you in setting the ideal pricing if you only enter your costs and markups once.
Make your reports more specific so that you only see the data that matters to you. View complete Jobber reports online or export to an Excel or CSV file.
Use Jobber's Card Reader to accept credit and debit card payments in person.
Receive payment without doing anything. A receipt is automatically charged to the customer's credit card and sent to them for their records by the jobber.
Key Benefits of Jobber Integration
1. Superior Customer Service
You will have quick access to essential tools with Jobber so that you can give your customers a high-caliber service. Because it eliminates tedious paperwork, repeated data entry labor, and manual procedures, this platform is well-known among its users for helping to save time and money. You may concentrate on more vital responsibilities, such as guiding your company's future growth, now that all the tedious tasks have been eliminated.
2. Effective Billing
Although business owners and managers are frequently busy, this is not a valid justification for neglecting to bill your clients. Your invoicing may be made simpler with Jobber's configurable invoicing procedure, resulting in faster payment. Users can take advantage of its additional features, which include payment tracking, batch invoicing, invoice templates, and past due reminders, in addition to the fact that it reminds you when to create and send bills.
3. Secure & Convenient Jobber Payments
With Jobber Payments, which is easy to set up, you can collect credit card payments anywhere-at the office or even out in the field. Clients have the choice to pay through your client hub when you send them invoices. Using this technology, you may securely store customer information and charge them once the task is finished.
4. Simple Cost Monitoring
Because Jobber makes it simple to track expenses at any time and from any location, you and your team will have total control over every project cost. Even when you make purchases while you're out in the field, you can just take a picture of the receipt and submit it using the Jobber app to keep all of your records up to date and with the appropriate attachments.
5. Client Relationship Management that is Seamless
Businesses can closely monitor key clients wherever they are due to their CRM tools: in the office, on the road, or out in the field. It assists companies in becoming more structured and professional, particularly when interacting with customers. The CRM capabilities offered by Jobber include note linking, notes with attachments, client search, and comprehensive client history.
6. GPS and Time Tracking
You may have total control over your project teams using Jobber, and you can even follow their varied locations in real time using GPS and waypoints. Every time they clock in, create an invoice, or change or update work data, a pin is instantly put in the app's in-app map so you can quickly track the specific locations of their activities. Among its many advantages are how much it helps with work, HR management, and financial tracking and documenting of your initiatives.
7. Simple & Quick Job Management
With Jobber, you can easily establish jobs, turn job bids or requests into completed work, or make last-minute arrangements for new job assignments. Since this system connects service notes and goods with customer and property information, comprehensive job needs can be quickly determined. Utilize the Jobber calendar to quickly check ongoing jobs and assign or modify tasks for your team members. Through their mobile app, you can immediately inform your team members of any schedule modifications or additions.
How to Setup Jobber Integration with QuickBooks Online
On a few plans, QuickBooks Online connectivity is an option. Accounting program QuickBooks can be connected with Jobber. Based on data from your connected Jobber account, QuickBooks can help with payroll and bookkeeping. Both the US and the international versions of QuickBooks Online support jobber sync. You need to follow the below steps:
Click the QuickBooks card under the Gear icon in the App Marketplace.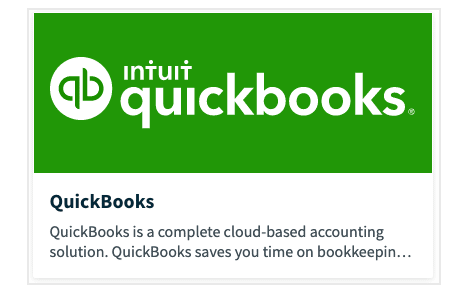 Click QuickBooks Connect. If you haven't previously, Jobber will ask you to log in to your QuickBooks Online account and authorize the connection. You will be asked to create a QuickBooks Online account if you don't already have one.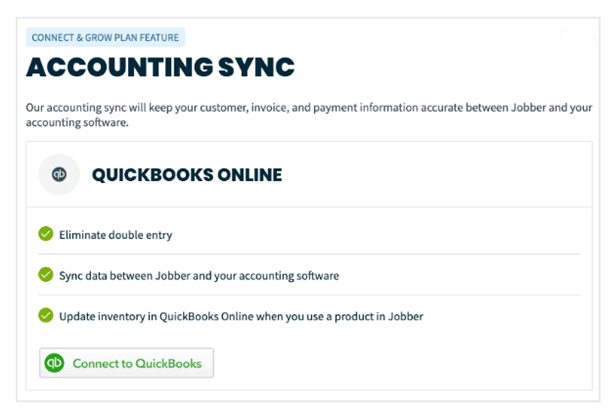 You'll be redirected to Jobber once you've given permission for the connection. Here, you can select your QuickBooks version. This is a crucial step since QuickBooks US, the default version, needs to be adjusted if you live somewhere else to avoid sync issues.

The last step is to set your sync preferences by deciding what data you wish to sync with QuickBooks Online. Check out how these goods sync to QuickBooks if you haven't before so you can prepare for the future. Your preferences will be stored for further syncs after your initial sync.
Because syncing is actively initiated, you have total control over the data about your company in both systems. We don't advise performing numerous syncs simultaneously; for many Jobber customers, sync is often performed at the end of the day. All the data that has been marked for syncing between Jobber and QuickBooks will be sent in a single sync.
In your Jobber account, there are two places where you can go to the QuickBooks Sync & Settings page.
Select Sync & Settings by clicking the QuickBooks icon in the upper right corner of your screen.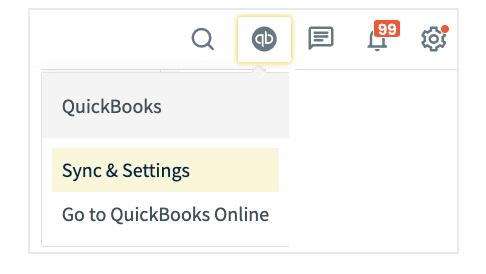 Alternately, choose QuickBooks from the Connected Apps menu by clicking the Gear icon > Settings.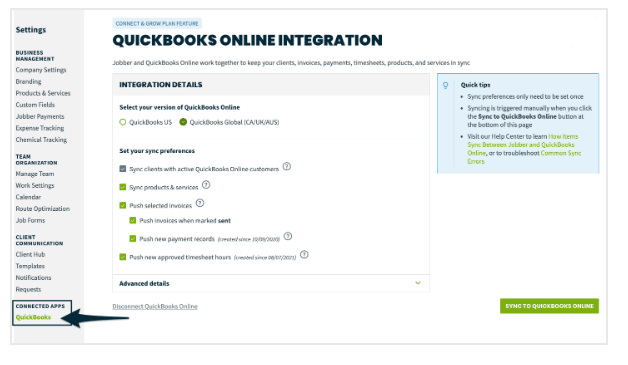 This post introduced you to Jobber and QuickBooks and provided a step-by-step explanation for setting up the Jobber QuickBooks interface. Additionally, it listed the many benefits and features of this connection. If you experience any issues integrating Jobber with QuickBooks on a Cloud Desktop, get in touch with our Dancing Numbers experts via LIVE CHAT or CALL.
Accounting Professionals, CPA, Enterprises, Owners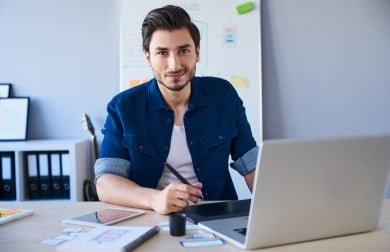 Looking for a professional expert to get the right assistance for your problems? Here, we have a team of professional and experienced team members to fix your technical, functional, data transfer, installation, update, upgrade, or data migrations errors. We are here at Dancing Numbers available to assist you with all your queries. To fix these queries you can get in touch with us via a toll-free number
+1-800-596-0806 or chat with experts.
---
Frequently Asked Questions (Faqs)
How do QuickBooks and a Jobber Interact?
To keep you connected when you're on the go, Jobber syncs with QuickBooks. View work data, monitor time, generate an invoice, and more. Sync customer, invoice, and payment data between Jobber and QuickBooks online without difficulty. When you sync Jobber with QuickBooks online, you can avoid double entering and keep your data up to date.
How does QuickBooks Update my Inventory When I buy Jobber Products?
Products in Jobber that are added in QuickBooks as inventory products will update your inventory in QuickBooks. When an invoice syncs to QuickBooks and a product is used on the invoice, QuickBooks will deduct the quantity of the product from your inventory.
Does QuickBooks Sync Jobber Payments Fees?
Not the option under "Jobber Payments" that charges a credit card), bank transfer, money order, or other will show up as Unapplied Funds or un deposited Funds and need to be reconciled to your accurate Chart of Accounts within QuickBooks. It is possible to configure Jobber Payments payouts to sync with QuickBooks costs included.