QuickBooks has become a very commonly famous name nowadays. The very first name pops in your mind when it comes to record maintenance, bookkeeping or managing finance. This QuickBooks also comes in two variations which entails QuickBooks Desktop and QuickBooks Online. Today, we will talk about the more basic idea of accounting which means QuickBooks Desktop. It is known to be the best for traditional and complex accounting. Learn how to Install QuickBooks Desktop on Your Computer and how to setup in your computer system.
Save Time, Reduce Errors, and Improve Accuracy
Dancing Numbers helps small businesses, entrepreneurs, and CPAs to do smart transferring of data to and from QuickBooks Desktop. Utilize import, export, and delete services of Dancing Numbers software.
Accounting and bookkeeping software is the backbone of every business in the present era, as it provides a lot of help and flexibility when it comes to data management. QuickBooks Desktop is an appropriate accounting program that contains a cloud-based subscription service. It indicates that anyone who is using QuickBooks Desktop software can view the complete database from anywhere and at any time with no difficulties.
You have already downloaded the software and want to install and set up QuickBooks Desktop then here you are at the right place. Here, you get to know how you can download, install, and then activate the software to start working. The features are also explained and system requirements are mentioned to make it compatible with your windows system.
QuickBooks Desktop is a program that can be locally-installed and considered to be a top choice among small and big businesses and accountants. QuickBooks Desktop products also have three variations:
The main difference between the three is that their type is designed as per the capacity. For example QuickBooks Pro is mostly best suited for small businesses, QuickBooks Desktop Premier is for medium scale businesses. The Enterprise version is recommended for large businesses. As such, each plan progresses in terms of available users and features.
Each desktop version of QuickBooks is laced with incredible accounting tools and extensive features. These may include expense tracking, budgeting, and job costing, more than 240 integrations, and positive customer reviews. Following are the advantage listed for the QuickBooks Desktop:
Strong Features
Traditional Accounting
Advanced Reporting
Potentially more Secure
240+ Integrations
Features of QuickBooks Desktop
Features that you experienced in QuickBooks Desktop and it varies from version to version or edition to edition. Here are a few features that you can use in QuickBooks Desktop software:
Search in Chart of Accounts: Now there is a search feature available that helps you to search your accounts or sub-accounts by their name, account number, or any partial words.
Customized Inventory Report: You can easily customize your reports of inventory such as inventory stock status by item, assembly shortage by item, and Inventory valuation summary or detail. It has an option for customization.
Add PO of a Customer in the Email Automatically: Now the PO is automatically added to the subject line while sending emails to customers and combine the emails in one. With this, you can modify the template of email for your customer invoices.
Multi-monitor Support: You can connect with up-to 3 monitors using the top menu into your QuickBooks software. Click on the View menu option then further, select the multi-monitor mode and follow the instructions to add a monitor.
Cash Toggle: You can toggle the displayed reports in between the Accrual or Cash basis.
Expand or Collapse Columns: If you have a long report so instead of scrolling you can collapse the column to make it view in short. For anything to be done, you can expand the column easily.
Update Email Security: You can easily send the email from your QuickBooks account securely. You can send email using Outlook, Windows Live accounts, Gmail, etc. You have to sign in with your Intuit ID and set it up. After that, you won't be required to enter the password again and again into QuickBooks.
Sales Order Fulfillment Workflow: On the mobile device, you can easily get access to the details. The mobile is connected wirelessly with a QuickBooks Enterprise file with an advanced inventory. You also get real-time access to sales order fulfillment.
Payroll Liability and Payment Reminder: This helps you and your clients to remember about the payments that are due so that you do pay and receive payments on time.
Mobile Inventory Scanning: Inventory recording is easy by using a mobile device. You have to pick the product and scan the barcode using the android phone or device.
Merge Vendor Record: This shows you a consolidated window so that you can easily find and combine the vendor records that are duplicates.
Past Due Stamps on QuickBooks: It is a kind of visual confirmation for the invoice of the customer that is due and display on the screen in case of past due balance.
Smart Help: For help press the F1 key from the Keyboard to access Customer assistance experts to fix problems or queries.
Steps to Download the latest version of QuickBooks Desktop
For Downloading QuickBooks Desktop software into your system, you have to follow the process that to download the software completely. Also, take care that which software you are required so that you can fill in the details accordingly. Then it downloads the software that you required for your business. Steps to follow are mentioned here:
Visit the QuickBooks Intuit website and open its download page
When it comes to downloading then before that you get a form to fill
In the form, there are 3 options to fill and then it provides you the software you want to download
The 3 options to fill are:

Choose the Country in which you are using the software
After that choose the QuickBooks Desktop Product Version you want to download such as Pro, Premier, and Enterprise
Then choose the version that you want to download.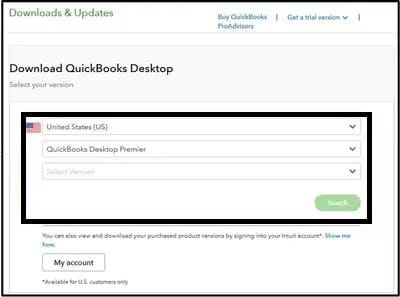 When you are done with it then the below button is no more grayed out so click on that Search button
The download page opens up where you have to click on the Download button
The installation file starts downloading then save it in the location you want to or download it in the default location
When the download is done, open the File Explorer
Go to the Download folder and search for the installation file that is having .exe extension
The file must be complete without having any issues or problems.
Downloading the QuickBooks via CD
To download QuickBooks via CD, follow these steps:
Insert the QuickBooks CD into your computer's CD drive.
If the installation process does not start automatically, navigate to the CD drive on your computer and double-click the QuickBooks setup file.
Follow the on-screen instructions to install QuickBooks on your computer. During the installation process, you may be asked to agree to the license agreement and specify the location where you would like QuickBooks to be installed.
Once the installation is complete, follow the on-screen instructions to activate QuickBooks and set up your company file.
Once the setup is complete, you can Start using QuickBooks.
Note: If you are upgrading from a previous version of QuickBooks, make sure to back up your data before installing the new version.
Read Also: Fixing the QuickBooks Error 1911: Could Not Register Type Library for File
Check System Requirement of QuickBooks Desktop 2022
You have to make sure that all the system requirements are fulfilled whether it is related to software or hardware. The system requirements also vary according to the version you are using. It also helps you to avoid the errors and issues that you may face if the requirements are incomplete. The system requirements are as follows: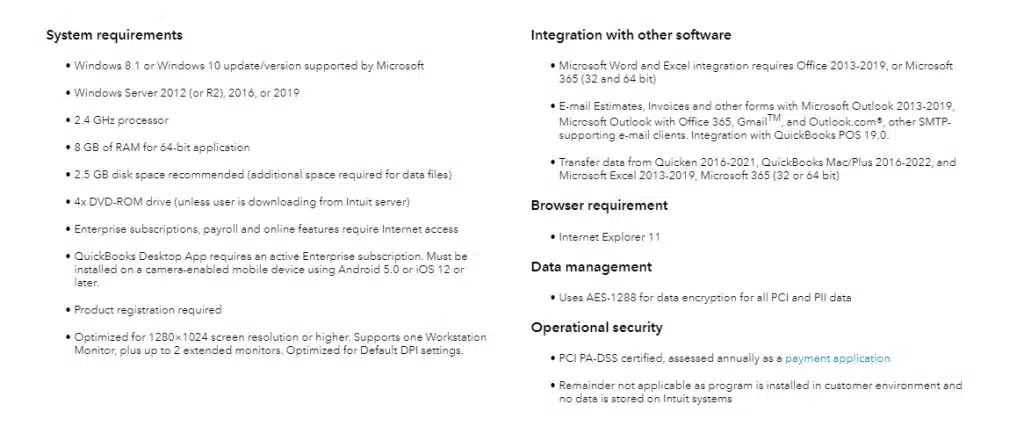 1. Operating System
All editions including 64-bit installed natively.
2. Database Servers
Windows Server 2019, 2016, 2012, 2012 R2, and 2011.
Linux OpenSuse 42.3, Red Hat Enterprise 7 (RHEL 7.4), and Fedora 29.
3. Browser Requirements
Internet Explorer 11 (32-bit)
4. Hardware and Operating System Requirements
RAM- Minimum 4 GB required and recommended is 8 GB
Processor- 2.4 GHz
Screen Resolution- 1280 x 1024
Optical Drive- 4 x DVD-ROM
Disk Space- 2.5 GB
5. Software Compatibility
Adobe Acrobat Reader
Microsoft Office 2019 compatible with R3, 2016, Office 2013, 2010 SP2, Office 365
Pro-Series Tax years 2018, 2019, 2020
QuickBooks POS V12.0 and V18.0
Turbo Tax 2018 and 2019
Lacerte 2018 and 2019
Quicken 2016, 2017, 2018, 2019
Internet speed required 56 Kbps and recommended is 1 MBPS.
6. Firewall and Antivirus Software Compatibility
Avast
AVG
Avira
Bitdefender
ESET
Kaspersky
Malwarebytes
McAfee
Microsoft Security Essentials
Norton LifeLock
Windows 8.1 Firewall
Windows Server Firewall.
Process to Set up and Install QuickBooks Desktop for the First Time
Follow the below-mentioned detailed process to install QuickBooks Desktop software into your system. In this process, first, prepare yourself and then start the installation process. After installation does activation and then you are done. For this, the process is as follows:
Step #1: Preparation for the Software Install
The very first step is to ensure that your computer is compatible as per the given system requirements.
The next step is to download your version of QuickBooks Desktop, if you have not done it already. Then you need to Save the file somewhere so you can easily locate it (like your Windows desktop).
You should have your product and license number handy at the time of requirement. You can find this information about license and product details in the original purchase email sent by the retail store. Other places you can look for this are:
Label in the Original Package
Customer Account Management Portal
If you lost the license or product number, you can recover them as well.
Step #2: Installation of QuickBooks Desktop
The first step is to open the file named QuickBooks.exe.
Then you should follow the onscreen instructions which will be prompted to you.
Then you should accept the Software License Agreement and select the Next button.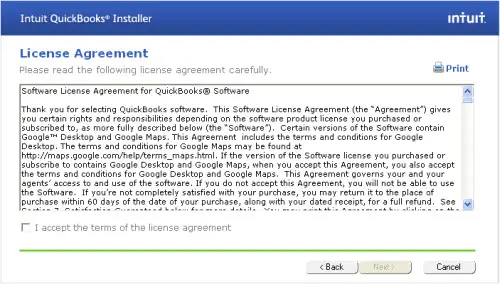 Read this also: How do I turn on advanced inventory in QuickBooks Enterprise?
Step 3: Choose Which Install Version is Right for Your Business
After downloading the file successfully, you have to do the installation process and here you are prepared and going to start with the installation. The steps for installation are as follows:
Open the File Explorer, Locate the downloaded QuickBooks installation file
Double-click on it to start the installation process
The window of installation opens up on your screen
Follow the instructions that you saw i=on the window of installation that opened up on your screen
Also, accept the license agreement for proceeding with the software installation
Proceed by clicking on the Next button after every step
When it asks to enter the product and license key then enter it correctly
Proceed further by clicking on the Next button
It asks you the type of installation you want to do so, choose the option that you can do. The type of installation and its detail steps are as follows:
Express Install:
This installation type is done when you are-

Installing QuickBooks on a single system
New user to QuickBooks
Again, install the software into your system.

You have to select the type of installation named Express Install
To proceed further, hit on the next button
Click on the Install button to start the installation
When the installation is done, click on the Open QuickBooks option
In the end, Click on the Finish button
Then it opens up the QuickBooks Desktop as you choose to Open QuickBooks after complete installation.
Custom and Network Install:
This installation is done when you are-

Hosting your file on Server
Set up a Multi-user network
Installing QuickBooks in any other location instead of the default location.

Choose this installation type named Custom and network install
Click on the Next button to continue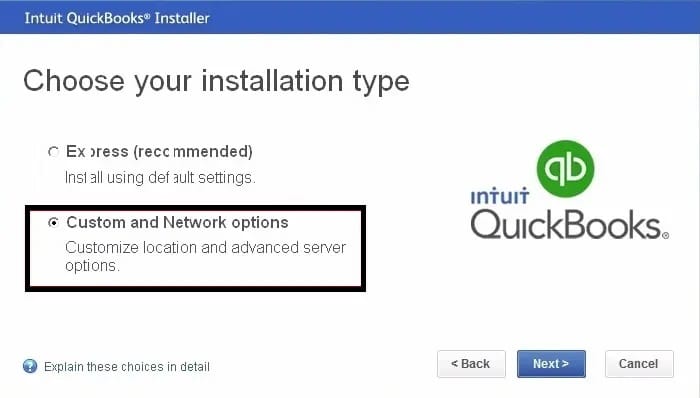 Tap on the option How you use the QuickBooks
On the open up screen click on change installation location
Select the browse option to start the search for a location and choose it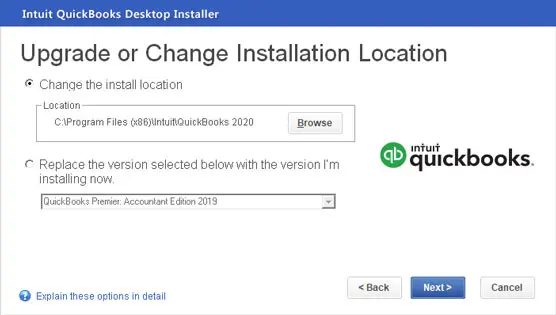 Hit on the Next button and then it starts the installation
When it is done, tick mark the check box says to open the QuickBooks software after completing the installation
In the end, Click on the Finish button to close this window.
The QuickBooks software opens up automatically.
Step #4: Activation of QuickBooks Desktop
After the program installation is done, QuickBooks will ask you to activate and update it. Here is the prescribed process for the same:
Word of advice: You should activate it before you start the launch. QuickBooks will prompt you to activate. In case you missed it, then you can also activate it manually with these steps to activate QuickBooks.
After installation, if QuickBooks opens up then its good if not then no worry just open it
Click on the Help menu from the top menu options in QuickBooks software
Choose option Activate QuickBooks Desktop
It shows you some steps that you have to follow to activate the software
Also, check the details shown to you
After that, you are done and the software is activated and ready to use.
Download or Update the Latest Version of QuickBooks Desktop to complete the Activation process.
After you finish these above mentioned steps, QuickBooks gets activated and you're all ready to go.
Silent Install QuickBooks
First, Go here to Download QuickBooks 2022.
Once downloaded, Then right-click the file and choose the Unblock checkbox before clicking on OK.

Next, You have to download 7zip and then install it.
From earlier right-click QuickBooks and then you have to select 7zip> then Extract to QuickBooksEnterprise21.
After that, You must download and Set up Orca.
Installing orca requires you to first download the Windows SDK from C:Program FilesMicrosoft SDKsWindowsv6.0bin.
If you don't want to go through that, Here is the install file for simply Orca to go through that.
Select QuickBooks from the extracted folder in Orca after opening it. Then you have to select QuickBooks.Msi from the QuickBooksEnterprise21\QBooks\location.
After that, You can use transform file: QuickbooksNoLicense if you think you can (license info has been removed)
After unzipping the file, Open the msi file in Orca and select Transform then Apply Transform. In green, You should see what has been added.
Make sure your licensing information is entered for QB LICENSENUM and QB PRODUCTNUM.
If the file does not function, You will need to manually create the transform file from the menu up top click Transform, and then click on New Transform.
Adjust or create a new row as necessary.
How to Set up a QuickBooks Desktop for the First Time?
The first time steps following can be very nauseating. Do not worry, we got you the perfect knowledge base guide for the same. Here are the steps mentioned that will enable you to setup QuickBooks desktop for the first time:
Step 1: Is to register for the QuickBooks program.
Step 2: Then you should customize your Company Preferences as well as the Account Settings.
Step 3: Import Business Data to QuickBooks.
Step 4: Also you should sync QuickBooks with your Bank Accounts.
Step 5: Sync your Business credit cards.
How to Install QuickBooks on my Computer Without a CD Drive?
3 Ways to install QuickBooks without a CD drive:
The first way is to directly download the QuickBooks from an internet connection.
Another workaround can be to use the CD Drive of another networked computer and use the installation setup from that computer.
The third solution to this situation can be to use a USB drive.
How to Install QuickBooks without The CD?
You should install QuickBooks Desktop Pro 2021 on your laptop. In order to move your QuickBooks Desktop, you'll want to install it on your laptop and Restore a Backup Copy of Your Company File.
At some point, you may need the support of experts. We do have a team of such experts who have stayed well versed with upcoming trends and latest updates. All you need to do is to dial our toll free number and get connected with us. We will ensure to look into the matter and resolve your unique query. You can also fill out our lead form as it will give us some query details and we will come up with the best possible solution for you.
In the above article, everything is instructed properly to install and set up QuickBooks desktop conveniently. Also, the features of the QuickBooks Desktop are explained. Proceed with all the detailed information that is mentioned to help you with an easy and fast process. Get connected with Dancing Numbers expert team members whenever required.
Accounting Professionals, CPA, Enterprises, Owners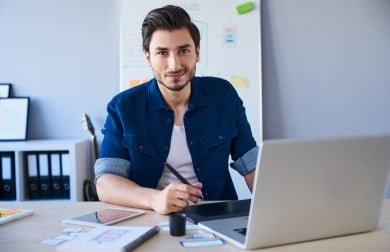 Looking for a professional expert to get the right assistance for your problems? Here, we have a team of professional and experienced team members to fix your technical, functional, data transfer, installation, update, upgrade, or data migrations errors. We are here at Dancing Numbers available to assist you with all your queries. To fix these queries you can get in touch with us via a toll-free number
+1-800-596-0806 or chat with experts.
---
Frequently Asked Questions (Faqs)
When I am done Installing and Setting up QuickBooks Desktop but it won't open automatically.
You have to open the File Manager and then locate the installed file where you saved it. After that double-click on it to open it up manually.
What kind of Installation is Good to Install and Set up QuickBooks Desktop?
If you are new to this QuickBooks accounting software then you are recommended to do the Express Install so that it is done easily and you won't have to do much.
Do I have to Create a Backup Before and after Installing and Setting up QuickBooks Desktop?
If you are an existing user then you have to create the backup before going to the new QuickBooks product. If you are a new user then you have to take the backup or schedule the backup after using the software so that you have the recent backup in case of any data damage or data loss.
Can I Merge the QuickBooks Files after Installing and Setting up QuickBooks Desktop if I have a File from Another Person?
No, you cannot merge the QuickBooks Company File.