Businesses can contract QuickBooks Live Bookkeeping, a full bookkeeping service, properly categorize expenses, contract to maintain their books, and perform reporting. Through the subscription, a dedicated bookkeeper is made available to the small business to work on the account virtually. To get started and get your books in order, there is a cleaning fee. After that, pricing decreases to a monthly fee of $200 to $400. Read comprehensive QuickBooks Live Bookkeeping to determine if this well-known managed service is appropriate for your company.
Save Time, Reduce Errors, and Improve Accuracy
Dancing Numbers helps small businesses, entrepreneurs, and CPAs to do smart transferring of data to and from QuickBooks Desktop. Utilize import, export, and delete services of Dancing Numbers software.
QuickBooks Live is Recommended For
Top-rated online bookkeeping service for businesses using QuickBooks Online is QuickBooks Live. For small to midsize businesses (SMBs) without an in-house bookkeeper, it's a fantastic choice. QuickBooks Live can help you save time and money while also providing you with peace of mind.
QuickBooks Live is Best For
New QuickBooks Users: You can get assistance installing and learning QuickBooks so you can do all of your daily tasks with ease. After that, you can handle your ongoing daily bookkeeping on your own.
QuickBooks Users: If you are not experienced with QuickBooks, Live bookkeepers will make sure that your books are accurate and can also make you perfect on day-to-day bookkeeping tasks. QuickBooks suite of products that can help you in focusing on important business tasks that will help in your business growth, it doesn't matter if you are inexperienced or not.
For those that want a Personal Connection: The dedicated bookkeeping team serves as a point of contact and promptly responds to all questions in a timely manner.
To Whom QuickBooks Live is Not a Good Fit For
Businesses using Xero or Searching for Services other than Bookkeeping will find: Bookkeeper360 to be a great choice for Xero users because it offers easy interaction with the Xero app. In addition, Bookkeeper360 provides back-office assistance, payroll and human resources services, tax preparation, and CFO advisory services. These services are available for an additional monthly cost.
Businesses using FreshBooks: For users of FreshBooks, Bench Accounting is the best option for assisted bookkeeping. In addition, Bench offers catch-up bookkeeping services that can go back as far back as 10 years as part of its services.
Businesses Looking for the Lowest Price for Basic Services: For those who only need basic services and would prefer a more budget-friendly option, Merritt Bookkeeping is a fantastic solution. You may get unlimited transaction bookkeeping for just $190 per month. Additionally, you can receive a monthly fee discount for catch-up bookkeeping.
Businesses that Want a Local Accountant: A local QuickBooks ProAdvisor who isn't directly connected with QuickBooks can be hired if you'd want to have a local bookkeeper.
Pros and Cons of QuickBooks Live
You will be given your own dedicated bookkeeper who is knowledgeable to speed up your business.
It consists of monthly reports that will give you a financial overview of your business.
With QuickBooks Online and other QuickBooks products, QuickBooks Live integrates perfectly.
Categorization simplifies tax preparation and accurate bookkeeping.
You are always welcome to ask for a free audit of your bookkeeper's work thanks to the 100% Accurate Books Guarantee.
Invoicing, bill payment, inventory management, accounts receivable, and accounts payable are not included with QuickBooks Live.
It will not include tax filing services or payroll.
Those companies who are using accrual method accounting are not supported.
Free trial is not offered.
QuickBooks Live needs a subscription to QuickBooks Online, which has an extra cost.
Pricing of QuickBooks Live
It costs $500 for the first month of service with QuickBooks Live, which is dedicated to setup and bookkeeping. Depending on your company's typical monthly expenses over three consecutive months, the continued live service is offered in three different pricing tiers after the initial month. There is no contract, and cancellation is always free.
| | | | |
| --- | --- | --- | --- |
| | Low Volume | Medium Volume | High Volume |
| Monthly Cost | $200 | $300 | $400 |
| Monthly Expense Cap | Up to $10,000 | $10,000 to $50,000 | More than $50,000 |
Features of QuickBooks Live
QuickBooks Live includes features that can assist your monthly bookkeeping needs. Know more about the service by reading this article
Chart of Accounts Setup: Make changes to your Chart of Accounts to make future tax preparation easier.
Assistance with Connecting Credit Card and Bank Accounts: Your transactions will be downloaded immediately as soon as they become available once your bank and credit card accounts are connected, ensuring that you have the most accurate financial data.
Importing of Historical Data: With the help of your Live Bookkeeper, any previous transactions can be imported.
Month-end Close: Your bookkeeper will close your books each month and create a trial balance to ensure their accuracy.
Ongoing Assistance with Bookkeeping Practices: Your bookkeeper will categorize your transactions and reconcile your accounts as part of routine bookkeeping. You can also ask for help with bookkeeping procedures and troubleshooting transactions.
When using QuickBooks Online, you can activate your QuickBooks Live account by selecting Live Bookkeeping from the left navigation bar, as shown below. Soon after signing up, QuickBooks will match you with a bookkeeper who has experience in your field after receiving information about your company.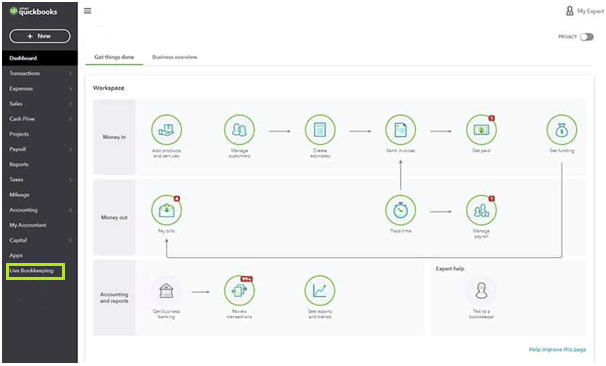 Working with Your Bookkeeper: QuickBooks Live
When you enroll, you will be given access to the QuickBooks Live Hub, which is a secure space of the website where you can maintain tabs on your bookkeeper's progress and set up video chat appointments. Additionally, your bookkeeper will keep track of a step-by-step task list that displays the tasks that have been completed:
By sharing your screen, you can access a one-way video chat with your bookkeeper. This means that you can see them, but they won't be able to see you. You will have the chance to inquire about financial reports and request help with basic bookkeeping tasks during these meetings. The full bookkeeping staff is also available to you at any time.
QuickBooks Live Mobile App
While there is a free mobile app for QuickBooks Online that you may use to enter transactions, record expenses, send invoices to customers and send reports, the app is unable to access QuickBooks Live features. The QuickBooks Live Hub may only be accessed from a desktop or laptop computer.
QuickBooks Live Reporting
Your bookkeeper will email you PDF copies of your financial sheet and profit and loss statement at the conclusion of each month. On-demand, further reports are available. In addition, you may generate a lot of special reports using QuickBooks Online, such as a balance sheet or a P/L statement broken down by class or location. Because of its versatility, QuickBooks Online is a top choice for small business accounting software.
With QuickBooks Live, you can get live, one-on-one assistance from certified bookkeepers who will make sure your financials are well-organized and current. These bookkeepers will work with you to streamline your bookkeeping procedure because they are familiar with your industry.
While many of the day-to-day bookkeeping chores, including sending invoices to customers and paying your bills, your QuickBooks Live bookkeeper will take care of transaction maintenance, month-end review, and financial reports to guarantee the accuracy of your financial records.
Accounting Professionals, CPA, Enterprises, Owners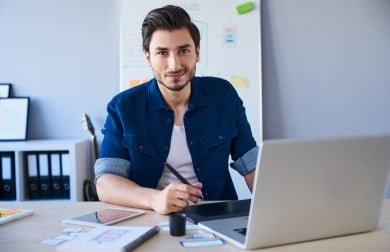 Looking for a professional expert to get the right assistance for your problems? Here, we have a team of professional and experienced team members to fix your technical, functional, data transfer, installation, update, upgrade, or data migrations errors. We are here at Dancing Numbers available to assist you with all your queries. To fix these queries you can get in touch with us via a toll-free number
+1-800-596-0806 or chat with experts.
Frequently Asked Questions (Faqs)
When are QuickBooks Live Bookkeepers Available?
The number of hours that QuickBooks Live bookkeepers are available each week is between 6 a.m. and 6 p.m. Monday through Friday, pacific time. Even though every bookkeeper has a different schedule, QuickBooks will work with you to identify a bookkeeper whose availability best matches yours during the on boarding process.
What Information do You need to Provide Your Bookkeeper?
To link bank accounts to QuickBooks Online you have to provide account information. With that, you have to provide information about any unlinked bank account that requires to manage, details of the transaction for clarification upon request, and the statements of account.
What is Included in QuickBooks Live Bookkeeping?
A one-time session with a Live Bookkeeper will be required to set up the books for new businesses (those who have subscribed to QuickBooks Online within the last 60 days). This setup provides guidelines for setting up the chart of accounts, creating customized invoices, and connecting bank accounts and credit card accounts.