You will have several vendors that will allow you to make purchases on credit. That is how you will get a bill with a due date for payment. QuickBooks Online can facilitate you in tracking the upcoming due dates. With the help of this, you will be able to make sure that bills are paid on time. Know how to Enter and Pay Bills in QuickBooks Online.
Save Time, Reduce Errors, and Improve Accuracy
Dancing Numbers helps small businesses, entrepreneurs, and CPAs to do smart transferring of data to and from QuickBooks Desktop. Utilize import, export, and delete services of Dancing Numbers software.
Not only this, it is also helpful in order to know the total amount of bills or accounts payable (A/P) that your company owes. You will have better control over your cash flow. Cash flow often becomes a problem for small businesses, and better control of your cash flow is a major benefit of a good bookkeeping system like QuickBooks Online.
Process to Enter the Bills in QuickBooks Online
It is also important to set up your vendors as well as your product and services items. Once the billing setup is done, the information entailed in these components will be updated automatically. With this, you will be able to create a bill screen and required information will be populated automatically. It will make the bill management much easier.
1. Navigate to Enter into the Bills:
You need to click on the new button visible at the top of the left menu bar and then select Bill under Vendors section.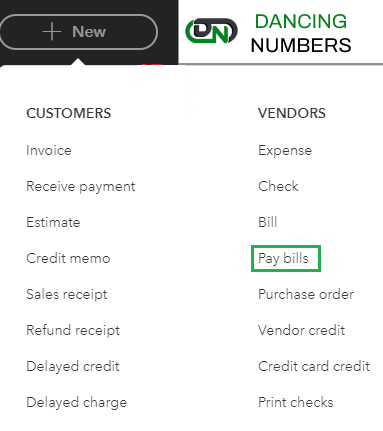 2. Enter the Bill Information & Select Bills for Payment: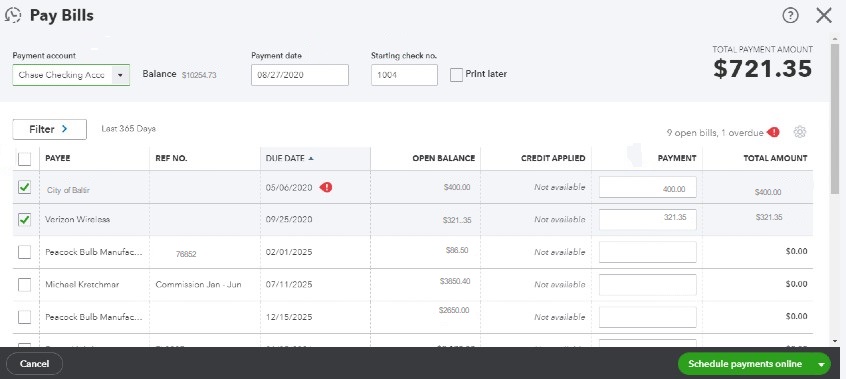 QuickBooks Online will also display a screen to input the bill information. The actual fields should be appearing for your company depending on your preferred choices when you set up your advanced settings. You can include these many details:
Vendor: You need to choose the vendor that sent you the bill or choose Add new to set up a new vendor. Once you have selected a vendor, the required fields for mailing address and terms will populate automatically.
Bill Date: You can enter the date of invoice from the bill. The due date gets determined by applying the payment terms to the invoice date.
Due Date: The due date can also be calculated automatically on the basis of the terms and bill date. However, it is recommended that verification of the calculated date matches any due date shown on the bill.
Bill no.: You can enter the bill or the preferred invoice number available from the vendor's bill.
Description: Provide a description of the expense.
Amount: Enter the amount of the expense.
Tax: Next thing is to place a checkmark here and if you are required to collect sales tax when it is billed to the customer.
Product or Service Item: Purchased list of items that will be sold to customers and also must be assigned to an inventory item. Services and expenses that are billed to customers should be assigned to a service item. Select a product or service item or click on the add new to set up a new product or service item. Once you select the purchasable item, the fields for Description, Rate, Billable and Class then later the selected details will automatically populate.
Quantity: You need to enter the quantity of goods or hours of services purchased. After you have entered the quantity, the amount will calculate automatically as quantity times rate, and the sales amount will calculate as amount times markup percentage.
3. Verify & Review Bills:
After entering a bill, you also need to verify the bill details whether or not those are entered correctly by navigating to the Vendor center. You also need to hover over expenses in the left menu bar and then you should click on the Vendors tab. In the vendor center, you should scroll down to the vendor for which you entered a bill.
Option 1: Print Checks
If you want to print the required checks, all you need to do is to click on the drop-down box. It is visible next to the green Schedule payment online button and then you should select the Save and print. If you've printed checks in the past, then as a final step, you need to press the green button in order to save and print out.

The Print Checks screen will show all checks that have been saved and are waiting to be printed: Verify the checking account in the drop-down box in the upper-left corner of the screen is the correct account. You can also place a checkmark next to the checks that you wish to print. You can also provide a starting check number and click on the green Preview and print button. Finally, you need to follow the on-screen instructions which will lead you further to preview and print your checks.
Option 2: Use QuickBooks Online Bill Pay
In order to pay your bills online, you just need to click on the green button of Schedule payments online. This button will be visible at the bottom of the Pay Bills screen discussed in step two.
The Schedule Payments screen will take you to the due bills that you have selected for payment. It will allow you to input a different deduction date, payment method, and delivery method for each bill. Finally, you need to click on the Vendor name for each bill in order to open a screen to input the necessary information to make an online payment. You can also choose the method you want to use to make the payment. After clicking in this section, you will have the following options:
Bank account (free)
Debit card (free)
Credit card (2.9%)
The first time you need to use each of the payment options, then you are required to provide the details for your payment account. Pay any of your vendors with the chosen payment method of credit card: QuickBooks Online Bill Pay is another feature that will provide a convenient way to pay any vendor with a credit card.
At any point, you need assistance or more than that you need some guidance support, then you just have to connect via live chat options.
Accounting Professionals, CPA, Enterprises, Owners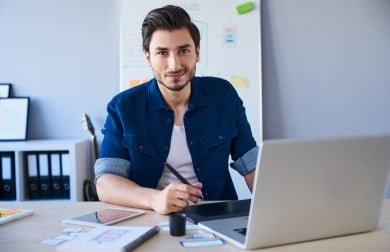 Looking for a professional expert to get the right assistance for your problems? Here, we have a team of professional and experienced team members to fix your technical, functional, data transfer, installation, update, upgrade, or data migrations errors. We are here at Dancing Numbers available to assist you with all your queries. To fix these queries you can get in touch with us via a toll-free number
+1-800-596-0806 or chat with experts.
---