There are several core differences between QuickBooks Desktop and QuickBooks Online. Exploring these key differences lets you choose the software according to type, size, and business requirements. It becomes a very challenging task of selecting one account system from the same company. If you are wondering to know which accounting system product to choose The below write-up will help you in understanding the major difference between QuickBooks online VS Desktop. You can easily compare each product according to user experience, reputation, pricing, features, and much more. It in-turns helps confidently making a better business decision.
Save Time, Reduce Errors, and Improve Accuracy
Dancing Numbers helps small businesses, entrepreneurs, and CPAs to do smart transferring of data to and from QuickBooks Desktop. Utilize import, export, and delete services of Dancing Numbers software.
QuickBooks Online VS QuickBooks Desktop
Both QuickBooks Desktop and QuickBooks online provide amazing and strong accounting solutions however you can find key differences when it is compared. The QuickBooks Desktop comes in the list of locally installed software with a license purchase system whereas QuickBooks Online is a cloud-based system with a monthly pricing model.
QuickBooks Online VS QuickBooks Desktop Comparison Chart
| | | |
| --- | --- | --- |
| | QUICKBOOKS ONLINE | QUICKBOOKS DESKTOP |
| Plans | QuickBooks Online Have Four unique plan options | QuickBooks Desktop Three versions, each of which has individual plan options |
| Cost | Starts at $25 per month | Starts at $399.99 |
| Users | One to 25 Users | Three to 30 Users |
| Mobile App | Yes | No |
| Integrations | Hundreds of third-party integrations and Intuit Products | Limited third-party integrations |
| Customer Support | Based on user plan | Based on version and plan |

Most Significant Differences Between QuickBooks Online & QuickBooks Desktop:
After analyzing the major components of both programs according to pricing, features, ease of use, reviews, integrations, and user complaints here listed some differences between QuickBooks Desktop and Online:
Cloud-Based VS Locally-Installed:
One of the essential differences is QuickBooks Desktop is a license-based pricing structure whereas QuickBooks online has a monthly SaaS. You can purchase a QuickBooks desktop license for three years or do annual payments for the updates instead of monthly payments.
The major difference between these two products is that QuickBooks Online is a cloud-based program running in the Internet-enabled system and QuickBooks Desktop needs to be downloaded and installed on the system. It signifies that the QB desktop version does not need the internet to work and users are unable to access it remotely. You need to pay additional charges for hosting.
When we talk about the security factor, Intuit takes care of the cloud-based QuickBooks online. However QuickBooks Desktop is a locally installed system that is more secure.
QuickBooks online version is capable of having more automation options as a comparison to QuickBooks Desktop. QBO depends upon cloud technology which provides ease of managing books quickly. Moreover, you can sync the content in real-time.
QuickBooks Online permits up to 25 users according to the pricing plan. The additional user license for QuickBooks Desktop Pro cost is $299 which seems slightly expensive. The system contains up to 3 users. QuickBooks Desktop Premier permits five users & QB enterprise users to allow 40 users.
Both QuickBooks Online and Desktop have several same features in which QuickBooks desktops contain more developed features.
Only online users can use the QuickBooks capital using QuickBooks Online.
Which is more Suitable for Your Business QuickBooks Online or QuickBooks Desktop?
You need to choose the accounting system according to your business.
When to Select QuickBooks Online?
You require a system that is simple to learn and use
You want to access the accounting remotely
If you need more time-saving automation, integrations & real-time sync features along with banks
If you want payment processing integrations to pay invoices to the customer directly
You require accessing capital lending and international invoicing
Why do You Need to Select QuickBooks Desktop?
If you searching for the locally installed accounting system
You require industry-specific options of QuickBooks Desktop Enterprise or QB Desktop premier
You want sale orders and need to smooth complex accounting
---
QuickBooks Online Overview:
QuickBooks Online is a cloud-based accounting system that was released in 2004. It is designed especially for small and medium-sized businesses. But the QuickBooks Online advanced plan helps in creating a scalable system for the scalability of the large-scale business. You will get an amazing robust feature set, online payroll, strong accounting, attractive invoices, and more than 600 integrations. The QuickBooks Online is easier to learn and user-friendly than QuickBooks Desktop. QuickBooks Online can work anywhere with an internet connection. Moreover, there are mobile apps that help in better business management.
QuickBooks Online – Cons:
QuickBooks Online – Pros:
More pricing than other SMB products
Customer support
Fewer options than Desktop
No sales orders
Monthly pricing
Cloud-based
Simple to use
650+ integrations
Strong features
Built-in lending
---
QuickBooks Desktop Overview:
QuickBooks Desktop was launched in 1992. It acts as the primary option for accountants worldwide. QuickBooks Desktop is frequently referred to as QuickBooks Desktop Pro, even though there are three QuickBooks products: QuickBooks Pro, QuickBooks Desktop Enterprise, and QuickBooks Desktop Premier. The key difference between the three products is that Pro is developed for small businesses, Enterprise for large, and Premier for medium businesses. Every plan is designed according to the users and features.
QuickBooks desktop version provides extensive options and accounting tools including job costing, expense tracking, job costing, positive customer reviews, and more than 200 integrations. This version is only available on the Windows Operating system. So if you are a Mac user then you require searching for QuickBooks for Mac for an option labeled locally-installed Mac-based QuickBooks.
QuickBooks Desktop – Cons:
QuickBooks Desktop – Pros:
Windows-only
More-priced license structure
Customer support
No remote access or mobile apps
Less automation than QBO
Potentially more secure
Strong features
Traditional accounting
200+ integrations
---
---
Compare Features of QuickBooks Desktop Pro VS QuickBooks Online:
QuickBooks Online and QuickBooks Desktop provide an array of features. They both share the same options; however, more developed features are available in QuickBooks Desktop except invoicing. The QuickBooks Online has primary options including international invoicing, mobile apps, and lending international invoicing. Below jotted down options is a breakdown of the specific features advantageous for you in comparing QuickBooks Online and QuickBooks Desktop worth to the business.
Accounting:
Both Intuit products use double-entry accounting protocols and having accrual & cash-basis accounting. Each system provides an in-depth chart of accounts, bank reconciliation, accounts receivable, journal entries, accounts payable, and the general reports required to run a company. Although QuickBooks Desktop is recognized as a better reporting system and helps in ease of managing complex tasks.
One of the key differences is that QuickBooks Online now provides a bookkeeping service named QuickBooks live bookkeeping; permits you professional support payments from certified CPAs and QuickBooks Online accountants. When it comes to small business owners QuickBooks Online helps in achieving a much-needed peaceful environment for accounts management and filing their taxes.
Invoicing:
When it comes to invoicing the QuickBooks online is the best choice. It helps in the ease of creating professional-appearance customer invoices. The designs are transparent and modern, the customer can easily choose and understand the invoices. Below is an example of the appearance of the QuickBooks online invoice:
The invoices of QuickBooks Desktop appear outdated, cluttered, and complex to customize. It looks like: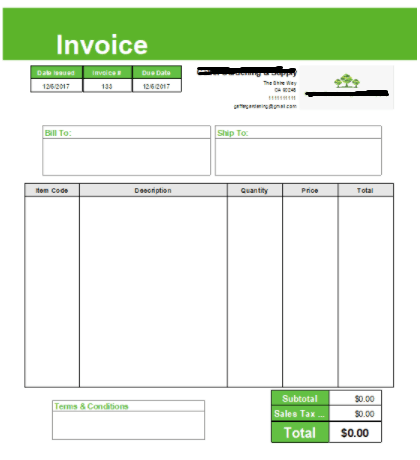 We already discussed the better template designs in QuickBooks Online, there is better automation available as below:
Sending invoice reminders to late-paying customers
Batch invoicing and progress invoicing
Auto-schedule invoices
A client portal for online payments
Invoice tracking to see what client has viewed received or paid their invoice
It allows translating invoices into six different languages if needed especially for international customers
QuickBooks Desktop provides you set recurring invoices and also monitor the invoices, however, if you'll miss out on several modern cloud-related automation that here is the list of options available in QuickBooks Online.
Reporting:
QuickBooks Online provides up to 80 reports which may vary with the selected plan, meanwhile QuickBooks Desktop pro offers 130 reports. If you purchased a license of QuickBooks Desktop enterprise and QuickBooks Desktop Premier you can opt for more reports. The basic reports like a profit and loss report, a balance sheet, or cash flow statements you can find in both QuickBooks Online and QuickBooks Desktop.
Contact Management:
During QuickBooks Desktop and QuickBooks online provides contact management, only QuickBooks Desktop provides you better management of contacts and tracking leads.
Payroll:
Neither QuickBooks Desktop pro nor QuickBooks online has built-in payroll. You can add QuickBooks Online payroll starting at $45/month. You can go through the Intuit Online payroll review for in-depth information. Moreover, you can buy a payroll for QuickBooks Desktop Pro. Although, if you select to buy QuickBooks Desktop enterprise, it let you access built-in enhanced payroll.
Sales Orders:
In case the business requires sales orders then QuickBooks Desktop is more preferable. The Sales order is available in QuickBooks desktop products at present.
Financing:
We are aware of a new lending service introduced in QuickBooks named QuickBooks Capital. This service provides financial solutions for small business owners who require working capital for better cash flow management. QuickBooks Online contains this feature.
Let's talk about Industry-Specific Features:
The most significant aspect of QuickBooks Desktop Premier & QuickBooks Desktop Enterprise is that you can access the Industry-specific software version instead of the standard version. Here are the industries:
Retail
Nonprofit
Accountant
General contractor
Manufacturing & wholesale
Professional services
These versions provide business owners more options and reports regulated towards their industry. Here are the below options:
Mobile Apps:
QuickBooks Pro does not provide the mobile applications being locally-installed system, the QuickBooks Online offer features advantageous with both Android and iOS apps.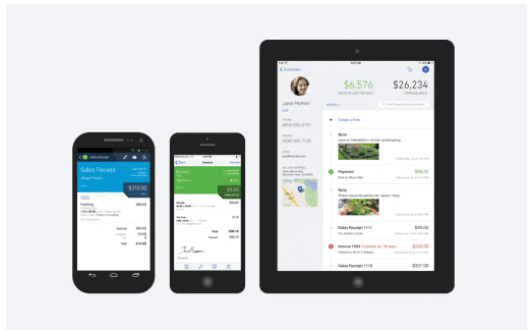 ---
QuickBooks Online VS QuickBooks Desktop Pricing:
QuickBooks Pro and QuickBooks Online have different pricing structures. QuickBooks Online provides a monthly SaaS pricing structure. You can get four pricing plans ranging between $25-$180/month. QuickBooks Desktop pricing varies according to a different version of the system. QuickBooks Pro is adjusted towards medium industry business and has cost $466.99 for a single user. QuickBooks Enterprise is specially allotted for small enterprises or large businesses and starts at $1,655 annually.
| | | | |
| --- | --- | --- | --- |
| Simple Start | Essentials | Plus | Advanced |
| $25/mo | $50/mo | $80/mo | $180/mo |
| Track income & expenses | Track income & expenses | Track income & expenses | Track income & expenses |
| Invoice & accept payments | Invoice & accept payments | Invoice & accept payments | Invoice & accept payments |
| Maximize tax deductions | Maximize tax deductions | Maximize tax deductions | Maximize tax deductions |
| Run general reports | Run general reports | Run general reports | Run general reports |
| Capture & organize receipts | Capture & organize receipts | Capture & organize receipts | Capture & organize receipts |
| Track miles | Track miles | Track miles | Track miles |
| Manage cash flow | Manage cash flow | Manage cash flow | Manage cash flow |
| Track sales & sales tax | Track sales & sales tax | Track sales & sales tax | Track sales & sales tax |
| Send estimates | Send estimates | Send estimates | Send estimates |
| Manage 1099 contractors | Manage 1099 contractors | Manage 1099 contractors | Manage 1099 contractors |
| | Includes 3 users | Includes 5 users | Includes 25 users |
| | Manage & pay bills | Manage & pay bills | Manage & pay bills |
| | Track time | Track time | Track time |
| | | Track inventory | Track inventory |
| | | Track project profitability | Track project profitability |
| | | | Business analytics & insights |
| | | | Batch invoices & expenses |
| | | | Customize access by role |
| | | | Exclusive Premium Apps |
| | | | Dedicated account team |
| | | | On-demand online training |
| | | | Automate workflows |
| | | | Restore company data |
However, if you purchase QuickBooks Premier License or QuickBooks Pro, you can get access to three years. We can't say which product is less expensive as there are several variables.
When there is better QuickBooks Online Pricing:
In case there are multiple users you can use phone support and live bank feeds. The monthly pricing structure operates better for small a business that does not have the cash flow for high-priced licensing or annual subscriptions.
When QuickBooks Desktop Pricing is superior:
If you using QuickBooks pro for up to 3 years and do not have any extra users, this feature will save valuable money. Meanwhile, you can add the additional costing in QuickBooks Desktop.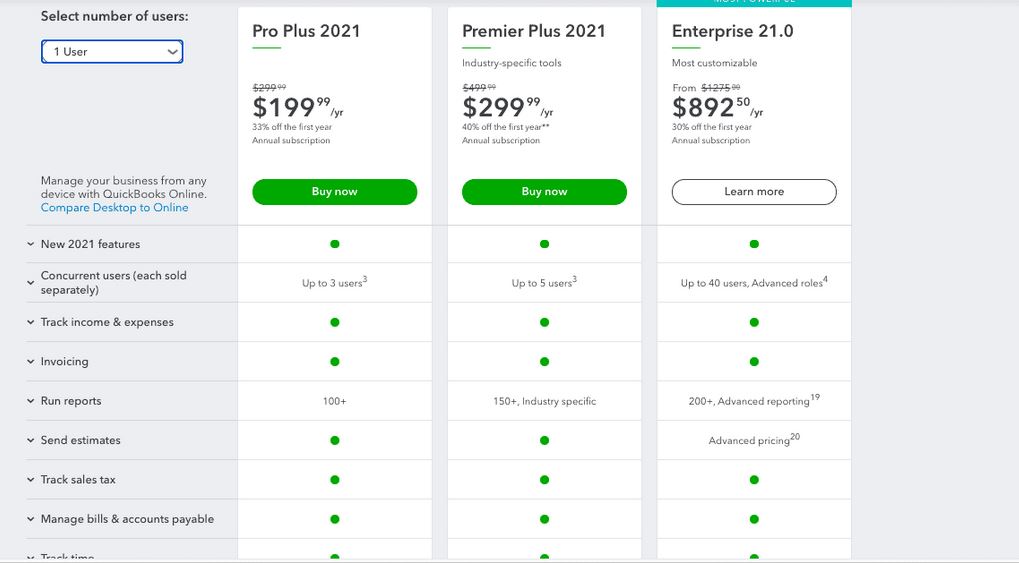 We highly recommended ruminate the numbers to determine whether the desktop version of QuickBooks or the online version is correct for the particular business:
---
Ease of Use:
The QuickBooks online version is much simpler to use than the QuickBooks desktop version. One of the most frequent complaints about QuickBooks desktop is its expensive learning curve. Accountants provide discovering QuickBooks pro and Premier to be more traditional to access, you don't require becoming a professional bookkeeper or accountant to learn QuickBooks online.
---
Customer Service & Support:
Both QuickBooks Pro & Premier and QuickBooks Online have particularly poor customer support. However, Intuit has worked on updating its help desk centers to provide user-friendly services. There is no email support available although the customer service of QuickBooks online is slightly better there is no need of paying any additional charges for support. Intuit is continuously committed to improving customer service.
---
---
Major Complaints and Reviews of QuickBooks Desktop and QuickBooks Online:
Both accounting programs have their positive and negative reviews, however, when comparing the QuickBooks Online and QuickBooks Desktop, QuickBooks Online has more complaints. Below listed are general criticisms:
Slow running time
A lot of bugs
Unreliable customer support
Limited mobile app
Several users also complain about QuickBooks online in regards to quality and features. Although many reviews are positive in QuickBooks Online getting 4.5/5 Stars according to system advice, and QuickBooks Online is praised for its ease of use, time-saving automation, feature selection, and integrations. The below general complaints associated with QuickBooks Pro include:
Poor customer service
Steep learning curve
Forced upgrades
Yet, most users still monitor QuickBooks Desktop fortunately and the product gets high status on the customer review websites. The system receives 4.5/5 according to 1200+reviews on system advice & based on trust Radius there are 8.3/10 reviews. The QuickBooks Pro is recognized for its ample features, reporting, strong accounting, and reliability. All-inclusively, QuickBooks reviews are more commendatory; however, both products' users have positive and bad things to say about the same.
---
Integrations Available in QuickBooks Desktop VS QuickBooks Online:
QuickBooks Pro and QuickBooks online provide several helpful add-ons products and advantageous integrations. Meanwhile, QuickBooks Online provides more than 650 integrations to QuickBooks pros beyond 200+ integrations. Additionally, having more integration than QuickBooks Online contains more integration. The QuickBooks online integrations provide more business requirements and contain several payment gateway options, however, QuickBooks Desktops lets payment gateways creating it complex for the modern merchant to process accepting invoice payments.
---
Comparing QuickBooks Online VS QuickBooks Desktop Comparison: The final concluding:
Both QuickBooks Desktop and QuickBooks Online are competent software with vigorous accounting options. Each system contains highs and lows:
Users get several great features in QuickBooks online using the mobility option of a cloud-based system. QuickBooks Online is simple to use, have more integrations, automation, best invoicing, and core built-in lending feature.
The disadvantages are the lack of lead management, sales order, and other complications that loyal Desktop users may lack (including customization built-in calendar, letter templates, and spell checker).
QuickBooks Desktop users get many developed accounting tools across the market. The system provides comprehensive secure options, unique touches like sales orders, lead management, and industry-specific versions. The disadvantage of the QuickBooks Desktop is it does not come with QuickBooks Online mobility, has less automation, and fails in lending payment gateway integrations. Eventually, the actual deciding factors are a particular business type, size, and requirements. Whatever you select the comprehensive reviews can assist you in creating informed decisions while hunting for the actual accounting software.
Accounting Professionals, CPA, Enterprises, Owners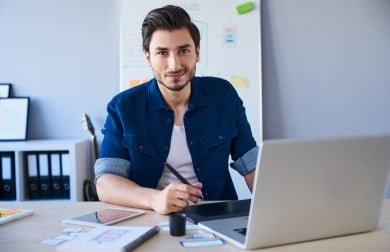 Looking for a professional expert to get the right assistance for your problems? Here, we have a team of professional and experienced team members to fix your technical, functional, data transfer, installation, update, upgrade, or data migrations errors. We are here at Dancing Numbers available to assist you with all your queries. To fix these queries you can get in touch with us via a toll-free number
+1-800-596-0806 or chat with experts.
---
Frequently Asked Questions (Faqs)
What's the major Difference Between QuickBooks Online and QuickBooks Desktop Pro?
QuickBooks Online acts as a software labeled as a service accounting program i.e. hosted online. Whereas QuickBooks Desktop is a locally installed accounting system with an annual subscription pricing structure (although you can make a "one-time" purchase lasting three years). Moreover, both systems provide strong accounting in which QuickBooks Desktop offers amazing customizable options whereas QuickBooks Online has easy-to-learn and automation features.
Is QuickBooks Desktop better than online?
QuickBooks Online is suitable for business owners requiring a simple-to-use cloud-based system that includes anywhere online access, several integrations, and mobile apps with other programs. The QuickBooks Desktop is preferable for small to large-sized businesses with complex accounting and customizable requirements.
Is QuickBooks Online or QuickBooks Desktop cheaper?
QuickBooks Online has a less expensive monthly cost and is economical for massive employees using the program. QuickBooks Desktop Pro is low-priced if you do not require additional users. In case if you plan for using the program up to three years before upgrades. QuickBooks does not afford lump sum subscription payments. The monthly subscriptions for the QuickBooks online may be simpler for some small businesses suitable to a financial situation.
How do I Switch from QuickBooks Desktop to QuickBooks Online?
It is pretty easier moving from QuickBooks Desktop to QuickBooks Online. You can simply locate the Company tab in the top option and choose a button named Export file to QuickBooks Online. It is recommended to save a company file backup of QuickBooks Desktop if there encounter any errors.
Can I Switch from QuickBooks Online to Desktop?
You can start switching QuickBooks online to Desktop. An Intuit QuickBooks has been analyzed their online systems to switch from QuickBooks Online to Desktop is not as simple. Locate the gear icon named Settings and hit Export data. Click on the reason for leaving. Hit on the link named Moving to QuickBooks.