An easy-to-use Payment Links function is included in the well-known accounting program QuickBooks, which enables users to create and distribute links for collecting payments from clients or customers. These payment linkages simplify the billing and payment collection processes, making it simpler for companies to receive money. In both the desktop and online versions of QuickBooks, this article will examine how to create and use payment connections.
Save Time, Reduce Errors, and Improve Accuracy
Dancing Numbers helps small businesses, entrepreneurs, and CPAs to do smart transferring of data to and from QuickBooks Desktop. Utilize import, export, and delete services of Dancing Numbers software.
How to Use Payment Links in QuickBooks Online
A simple method for creating payment connections is provided by QuickBooks Online. The following steps describe you that how you can utilize payment links in QuickBooks Online:
Step 1: Log In, To Access Your QuickBooks Online Account
Use your credentials to log into your QuickBooks Online account.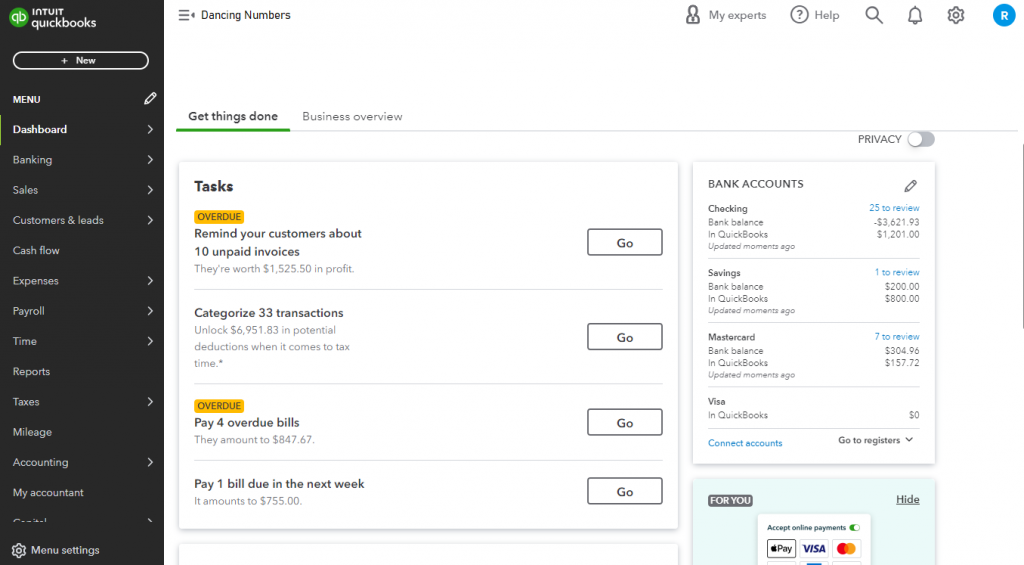 Step 2: The Get Paid & Pay Tab Should be Choosen
Open QuickBooks Online and select the Get paid & pay tab from the left-hand panel.
Step 3: Getting to the Payment Links
Choosing Payment Links from the Get Paid & Pay menu.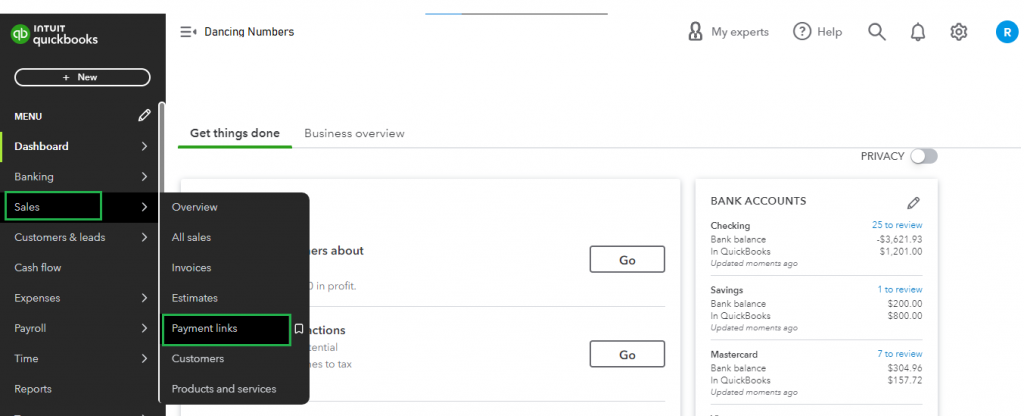 Step 4: Establish a Payment Link with the QuickBooks Payments Account.
Choose Create my link to Create Your First Payment Link.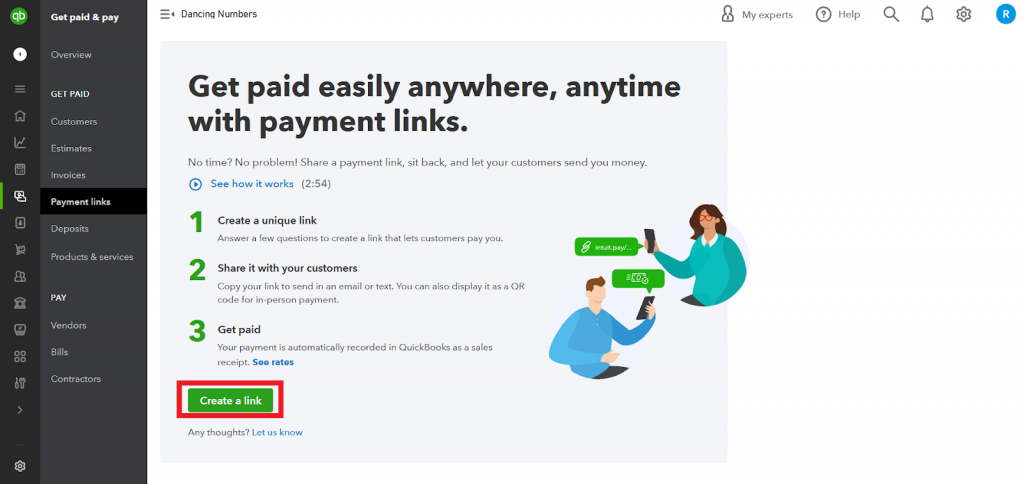 Step 5: Making the Payment Link URL Customizable
Enter your company name to optionally customize the payment link URL.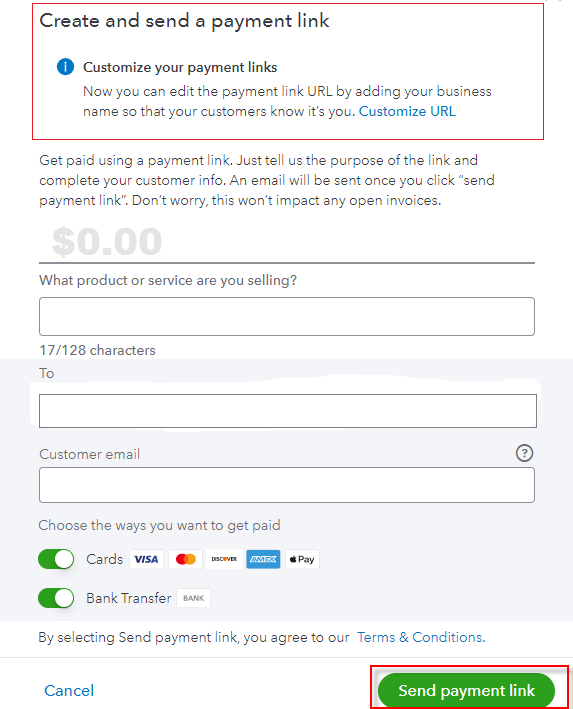 Step 6: Entering Payment Information
Submit the sum you wish your client to pay.
Give a detailed explanation of what the payment is for.
Click "Add New" to add a new client, or choose a customer name from the dropdown menu.
To send the payment link, enter the client's email address.
Choose your customer's preferred payment option-a card or bank transfer-for the transaction.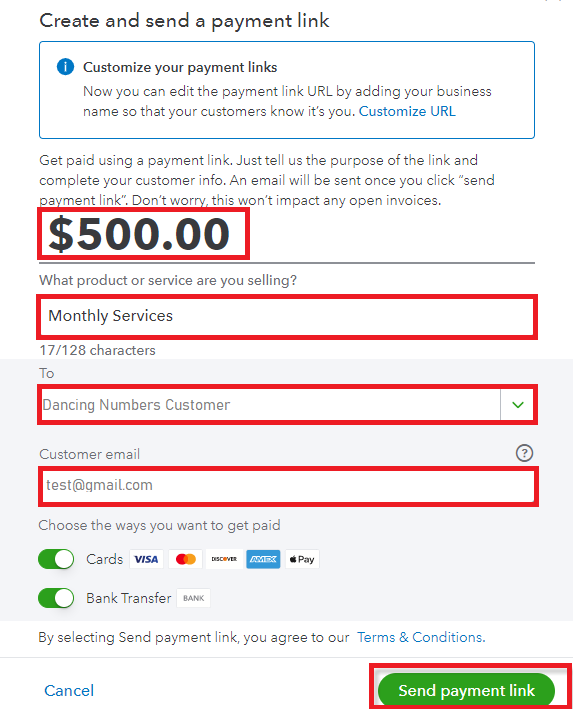 Step 7: The Payment Link being Sent
To Email the Customer the Payment Link, Select "Send Payment Link."
Step 8: Additional Sending Methods
You have the choice to copy the payment link and send it by an alternative email or text message, or you can decide to show the payment link as a QR code that clients may scan with their smartphones to complete the transaction.
Step 9: Payment via the Customer Process
When customers click the payment link to choose their chosen payment option, a payment page will be brought up.
Step 10: Email Confirmation
You'll get an email of confirmation after the customer has finished the payment.
Step 11: Checking the Status of the Payment Link
Select Payment Links to view your payment links' status such as pending, sent, paid, or deposited.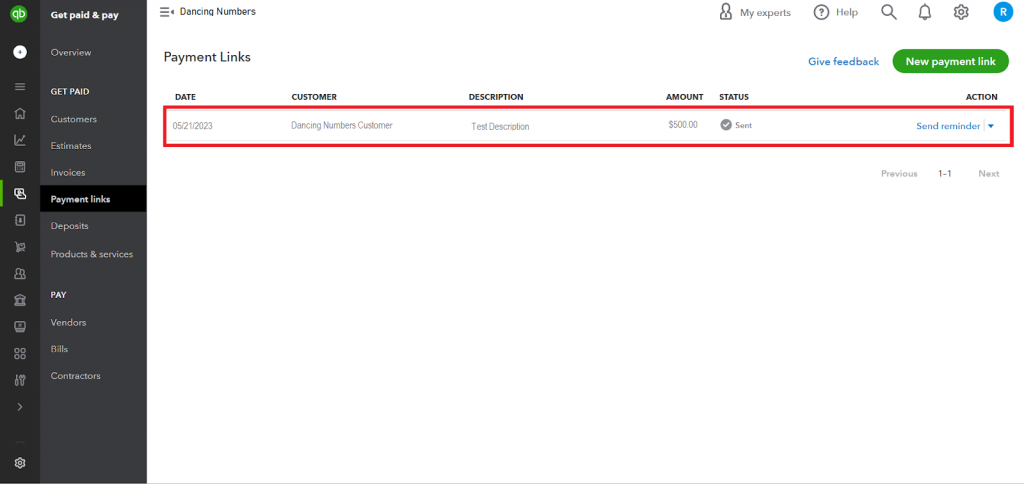 Step 12: Extra Steps with Links to Payment
From the area titled Payment Links, you may send reminders, see link information, and change your payment links.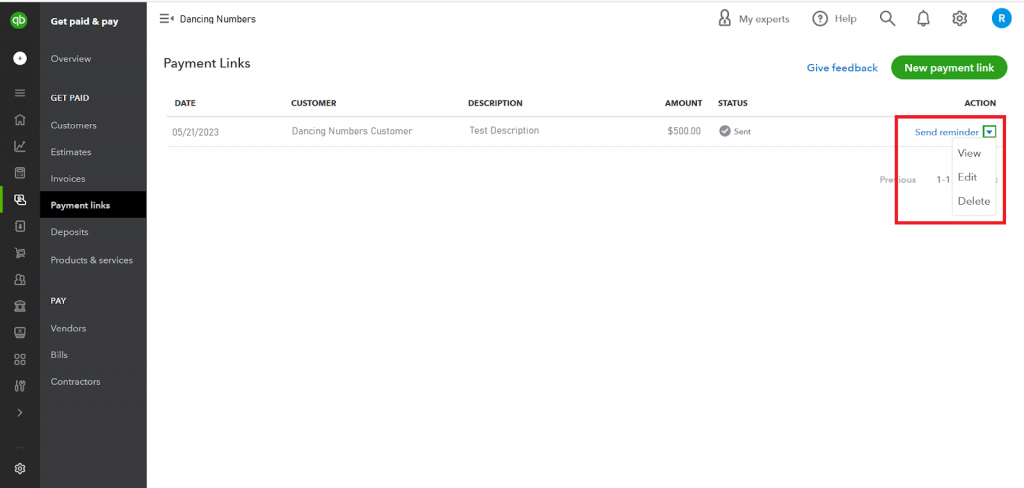 Tutorial Video: Using Payment Links in QuickBooks Online
Using of Payment Links in QuickBooks Desktop
You will be shown how to access payment links in QuickBooks Desktop in the paragraphs that follow.
Step 1: Open QuickBooks Desktop
Start the QuickBooks Desktop Program, then Sign in to Your Company File.
Step 2: Accessing the Customers Menu
Find the Customers tab in the top menu bar and click it.
Step 3: Choose Your Payment Links
The Customers tab dropdown menu should have Payment Links included as an option in the menu.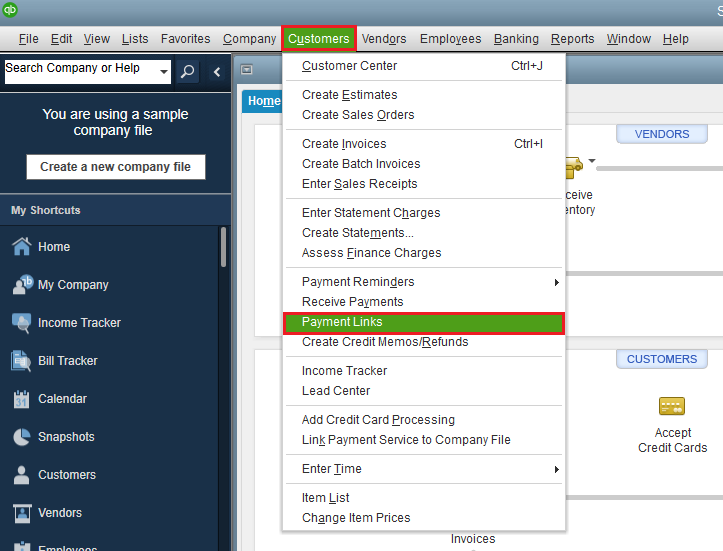 Step 4: Create a Payment Link
You will be taken to a new window after clicking on the Payment Links, where you can locate the Create payment link option. On the same, click.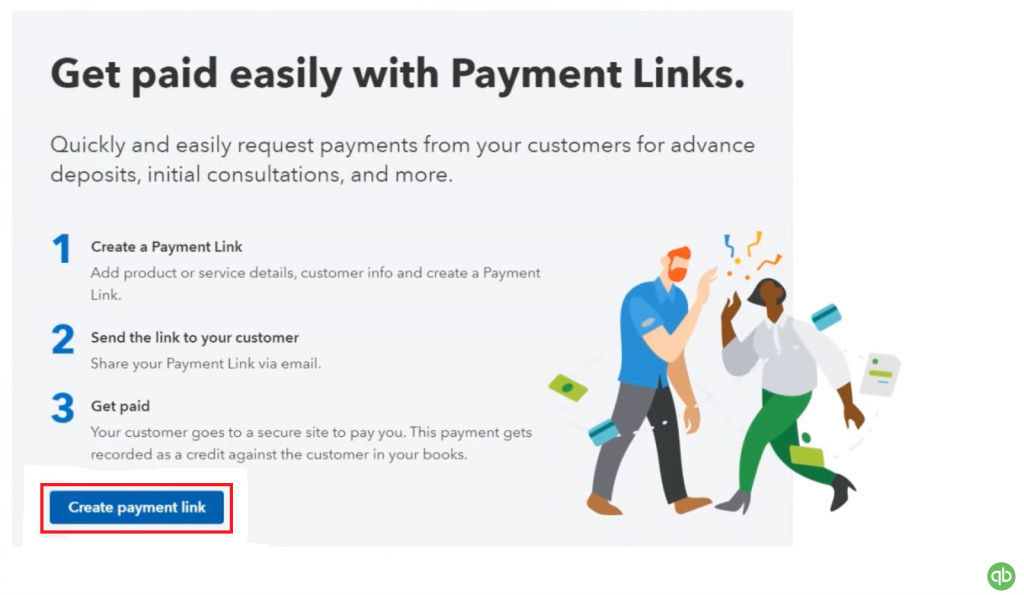 Step 5: Submit Payment Information
The Create payment link option will appear when you click it. You can then enter the payment information, including the amount, description, client name, email address, and chosen payment method.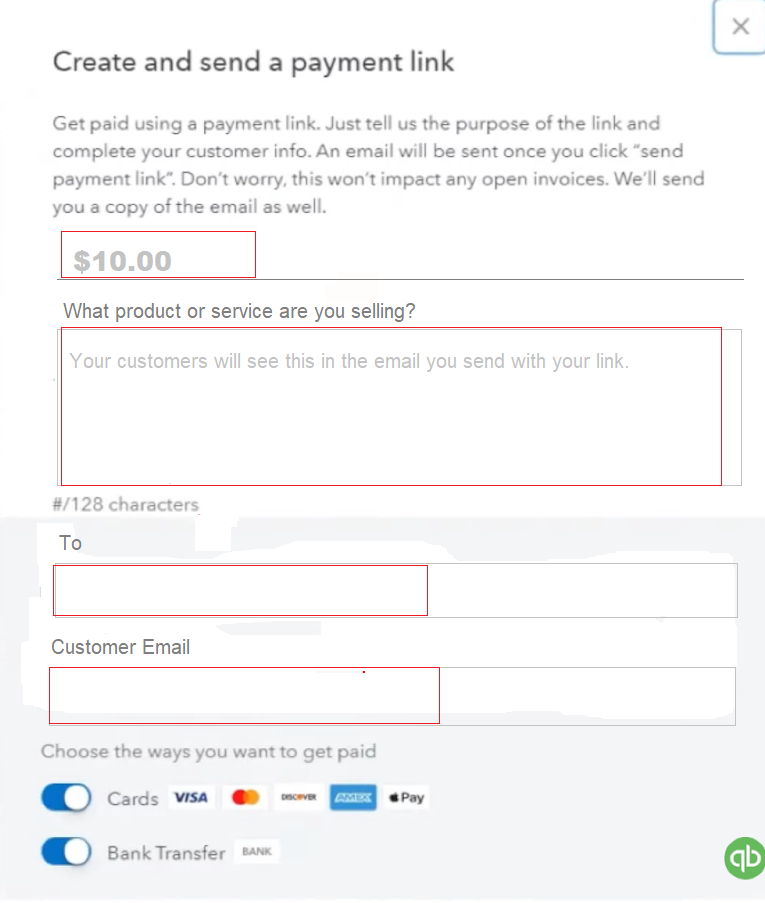 Step 6: Send the Payment Link
Next, You will see the Send payment link option below; Choose it to email the payment link.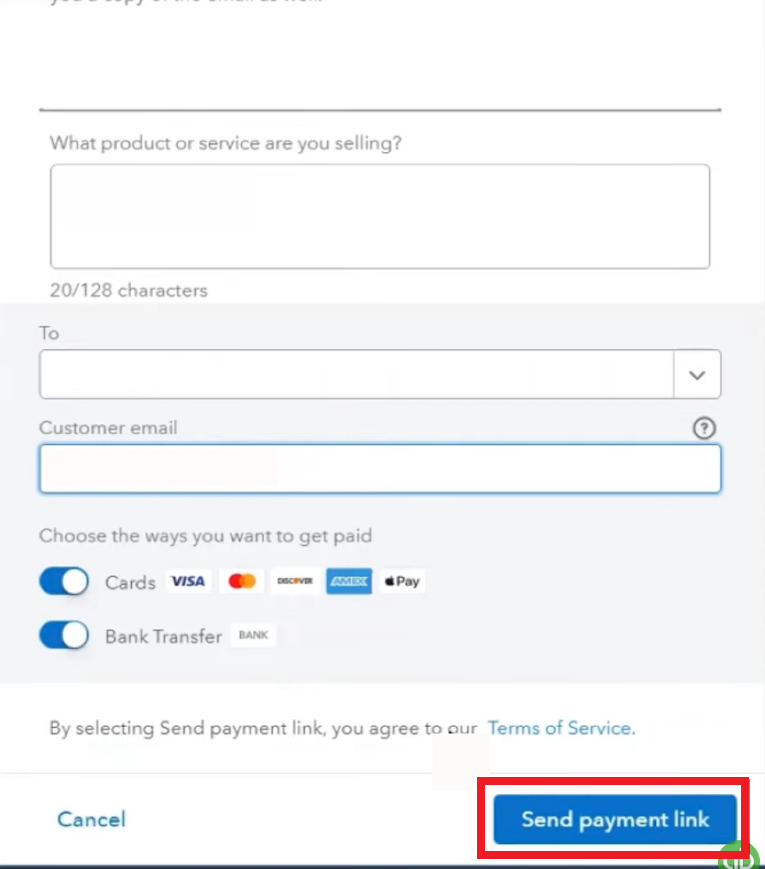 Step 7: Other Sending Methods
The payment link will be sent immediately to the customer's email address when you click the Send payment link button. If you'd like, you may duplicate the payment link and distribute it over several modes of communication, including text messages, extra email addresses, and other social media.
Tutorial Video: Use of Payment Links in QuickBooks Desktop
Conclusion
Utilizing payment linkages is a smart move for any business looking to boost productivity and streamline processes. With this, you can easily automate your operations. Due to the comprehensive features it provides, it stands out from other solutions.
If you encounter any problems, let us know and we'll take care of them so you can focus on growing your business. Dancing Numbers team and abilities are at our disposal to handle your problems. Delegating the integration work to us is therefore an option when you can focus on the critical activities that will improve your business.
Accounting Professionals, CPA, Enterprises, Owners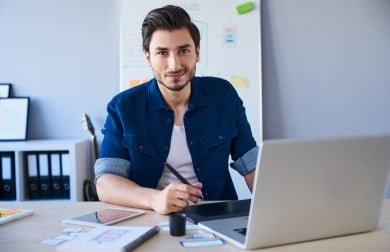 Looking for a professional expert to get the right assistance for your problems? Here, we have a team of professional and experienced team members to fix your technical, functional, data transfer, installation, update, upgrade, or data migrations errors. We are here at Dancing Numbers available to assist you with all your queries. To fix these queries you can get in touch with us via a toll-free number
+1-800-596-0806 or chat with experts.
---
Frequently Asked Questions
What do You Understand about Payment Links in QuickBooks?
Software-generated payment links are URLs that may be used as clickable hyperlinks in invoices. These links provide clients a practical method for paying bills they receive online.
Is the Payment Links Customizable in QuickBooks Online?
By including your company name in the URL, QuickBooks Online enables you to customize the payment links.
How do Customers use the Payment Links to Complete their Transactions?
Clients can click the payment link they are sent. This will take them to a secure payment page where they may input their payment information, such as their credit card number, or utilize their chosen payment method.
In QuickBooks, Is it Possible to Track Payments made using Payment Links?
Payments made using payment links are automatically recorded in QuickBooks Desktop and Online. Go to the "Payment Links" area to examine the status of your payment links, which may be marked as pending, sent, paid, or deposited.
Is it Legal to Use Payment Links for International Business?
Depending on the payment service provider you have logged in to, payment connections in QuickBooks can be utilized for overseas transactions. Make sure that the company handling your money accepts international transactions.
Are Customers Safe to Use Payment Links?
Yes, the payment links that QuickBooks generates are designed to give clients a secure way to make payments. Sensitive client information is protected by encryption and industry-standard security methods on the payment pages.