As a small business owner, a bookkeeper, or an accountant, you must have come across multiple accounting solutions.
Fueled by rapid business growth, the need to comply with multiple state and federal taxes, and increased workload, the shift towards digital accounting solutions has proven beneficial for all parties involved – they reduce inaccuracies, improve efficiency, and offer great insights through reports.
Save Time, Reduce Errors, and Improve Accuracy
Dancing Numbers helps small businesses, entrepreneurs, and CPAs to do smart transferring of data to and from QuickBooks Online. Utilize import, export, and delete services of Dancing Numbers software.
The Basic Stuff in an Accounting Software
A ideal accounting software must be capable of tasks including, but not limited to:
Generating invoices, estimates, and purchase orders
Managing customers, vendors, and employees
Generating financial statements, such as balance sheets, income statements, etc.
Reconciling accounts and bank integration
Tax preparation and online tax filing
Payroll calculation & processing, and direct deposit
Remote accessibility
Integration with third-party addons for additional features
Important Points to Note When Deciding
We analyzed over 50 accounting software so that you won't have to waste your valuable time trying out each one of them.
Things You need to Keep in mind before you purchase an accounting software:
Cloud vs Local: Free or low-priced cloud-based accounting software is apt for small businesses. As your business expands, you can upgrade your subscription plan to access more features.
Native Desktop Software: A Native desktop software excels at processing large amounts of data quickly because it can fully use the hardware available. The performance of web-based apps is limited by the browser.
Company Policy: if your organization doesn't allow hosting data on third-party servers, then you'll have to go with native desktop software.
List of Top 5 Accounting Softwares for Small Businesses
After testing over 50 accounting softwares for small businesses, here are our top 5 picks:
1. QuickBooks for Small Businesses (North America)
Created and marketed by Intuit, QuickBooks currently has both a desktop and an online version.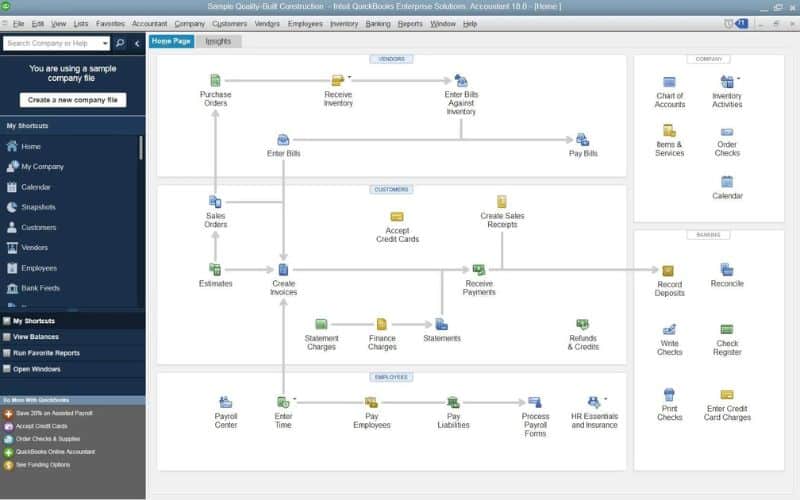 Currently more than 7 million businesses rely on either the QuickBooks desktop or the online version of QuickBooks to handle their finances and accounts.
While the desktop version provides better performance and local data storage, the online version offers better accessibility.
Features of QuickBooks Desktop:
Easy to install
Low system requirements
Multiple plans for affordability
Scales as per user requirement
Integration with services:

QuickBooks payroll desktop
Banking services
Intuit Data Protect
Multi-currency support

Flowchart makes it easy to know what's next
Features of Both QuickBooks Desktop and Online:
Integration with financial institutions and platforms such as PayPal, Shopify, Square, and more.
Assisted payroll and tax filing with Assisted payroll subscription.
Calculates payroll, sales tax, and tax returns.
Automatically organizes expenses and transactions
Track accounts payable and receivable
Attach receipts to invoice for more context
Create an accountant copy of the company file to easily share with your accountant.
Generate customized reports with cash flow tracking displayed on your dashboard.
And you can opt-in for additional features by subscribing to an Intuit service or installing a third-party addon.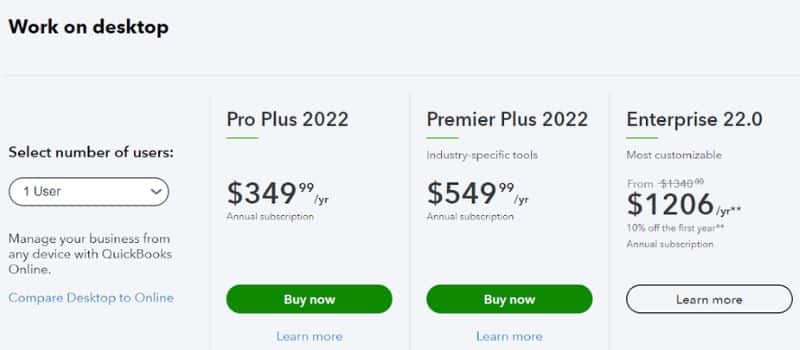 2. Sage 50 for Small Businesses (United Kingdoms)
If you are looking for accounting software for small businesses with multiple users, this Sage 50 can be the right choice since it's a respected company, offers software that doesn't require any prior accounting knowledge, and is easy to set up.
Sage Business Cloud Accounting's Features Include:
Handling business finances and cash flow
Accepting and receiving payments
Generating and sending invoices
Handling payroll
Integrates with your financial institution and other apps including AutoEntry, Zync, and many more.
Tax preparation and filing tools
Inventory control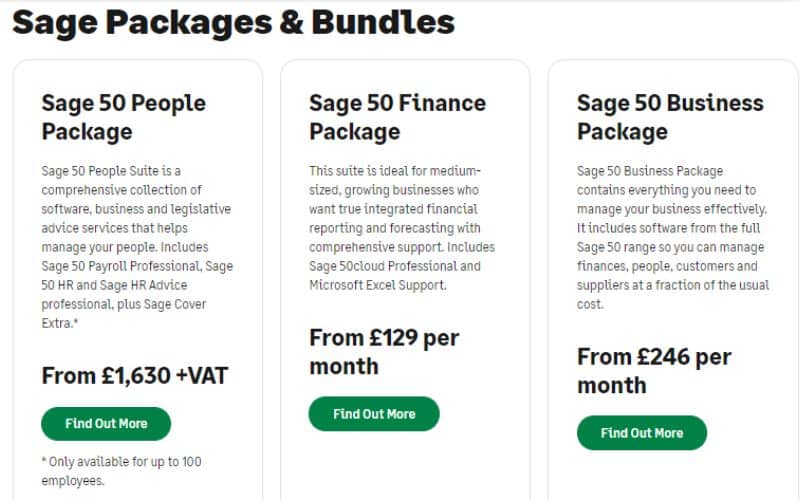 3. QuickBooks Self-Employed for Freelancers
Freelancers and independent contractors require affordability more than advanced functionality. So QuickBooks Self-Employed automatically becomes a top choice for them because it's designed for freelancers who've maybe hired a few other people under them.

If you file Schedule C on your tax returns, then this software is designed for you.
It obviates the need to keep a physical copy of all your receipts and invoices. You can use the mobile application to quickly record transactions and digitally store all receipts. And by linking your credit card or bank account, you can import all transaction data directly into QuickBooks.
Pros of Using QuickBooks Self-Employed:
Cloud-based application accessible from any web browser
A mobile app that lets you capture receipts and transactions
Sync transaction data from bank or credit card account
Separate business and personal expenses
Sync with TurboTax for easier tax return filing
Even though the reporting features are quite limited, they're perfect for self-employed people who want to look at the most important financial details and statements.
4. FreshBooks for Service-Based Businesses
When it comes to invoicing, FreshBooks clearly takes the lead. Its highly customizable invoicing features enable you to easily get paid from your customers at the right time.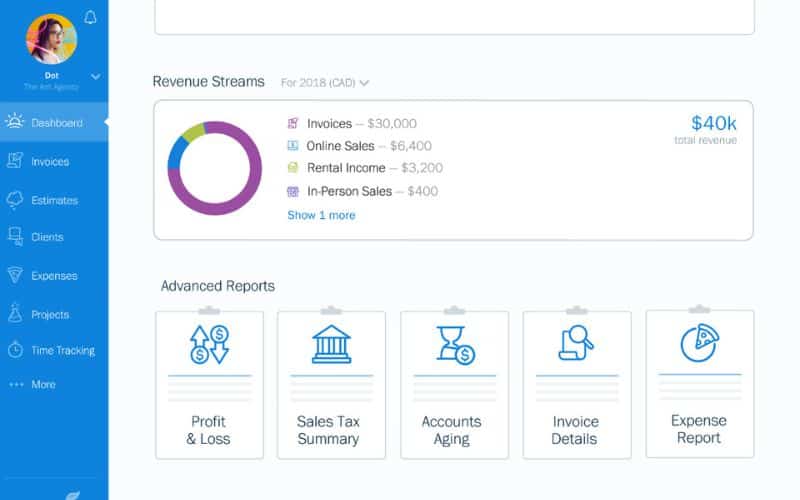 In addition to invoicing, Freshbooks can also handle all the basic bookkeeping needs for your business – tracking projects, sending proposals, recording payments, etc.
Pros of Using Freshbooks:
Customizable invoices to get paid on time
Payment reminders to stay on top of bills
Computerized tax calculations for sales tax
Customizable options in recurring invoices including due dates and discounts
Online payments directly through credit cards
Multi-currency and language billing
Tax-friendly expense categories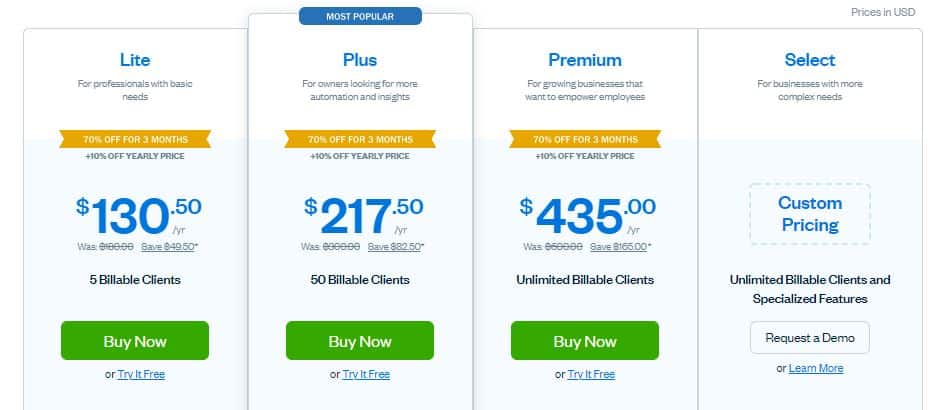 5. Wave for Free Features
If you send simple invoices to your customers, then Wave Accounting is perfect for you. It's geared towards service based businesses and freelancers who don't require advanced accounting features such as payroll and reporting. The free features offer more than enough tools to manage your small business.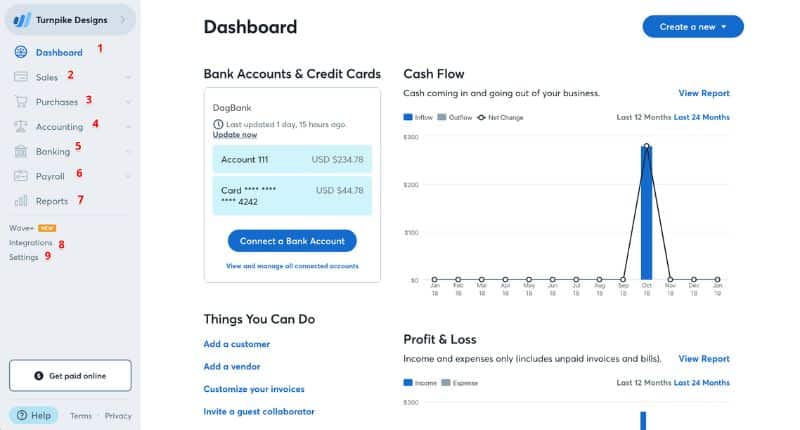 But if you need more features, you can purchase a subscription for the app.
Pros of Using Wave:
Tracks unlimited incomes and expenses
Keeps a tab on sales tax on income and expenses
Supports double-entry system
Offers Multi-user mode for easier collaboration
Sports a dashboard with easy or convenient to read financials
Gives access to year-end reporting for tax filing purposes


What more can you ask for from a free accounting solution?
Takeaways
I hope that you found this post insightful. Even if you're already using an accounting solution, I recommend that you try one of the software mentioned here to see the difference the right accounting software can make for your business.
Accounting Professionals, CPA, Enterprises, Owners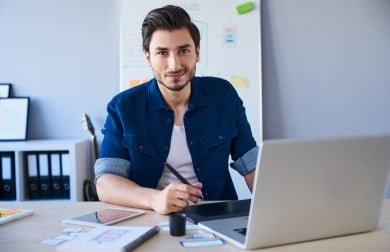 Looking for a professional expert to get the right assistance for your problems? Here, we have a team of professional and experienced team members to fix your technical, functional, data transfer, installation, update, upgrade, or data migrations errors. We are here at Dancing Numbers available to assist you with all your queries. To fix these queries you can get in touch with us via a toll-free number
+1-800-596-0806 or chat with experts.