Perhaps, it is obvious that being the boss requires careful management of the taxes, wages, and benefits for your employees. Learn how to reconcile payroll liabilities in QuickBooks.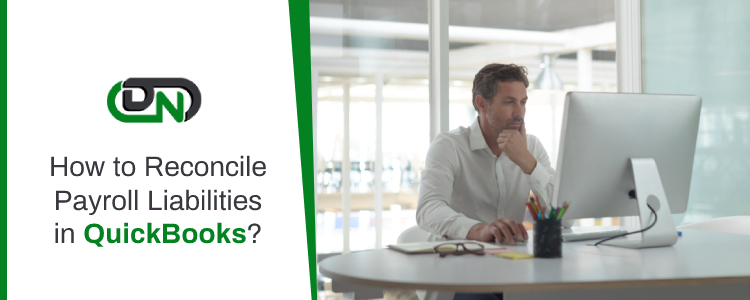 Payroll reconciliation is as important as paying an employee. It can seem a very complex process, however, it is crucial for you to track down the payroll liabilities and submit the payments to your employees on time.
With the help of QuickBooks, you can easily reconcile your payroll liabilities in addition to other important reconciliations.
This article provides you with a step-by-step guide to the reconciliation of payroll liabilities in QuickBooks.
What are Payroll Liabilities?
Before jumping into the process by which payroll liabilities are reconciled, let us first understand what payroll liabilities are.
In accounting, liability refers to the sum of money that a person or any business entity owes you.
Payroll liabilities are mainly created when you have an obligation to pay an employee, that is, you have accumulated unpaid wages or have withheld amounts from payroll. To get an accurate monetary report for your enterprise which is liability-free, it is absolutely necessary for you to reconcile payroll liabilities.

The two main types of payroll liabilities are:
The gross wages that are owed to the independent contractors and the employees. This can be classified as employee compensation.
The amounts that are not yet sent, that is the withheld amounts from workers' pay for income taxes.
It is important for you to provide reports while submitting payments. Such reports should define the purpose of the payment (the employee name, the withheld amounts, etc.). The account containing the payroll liabilities chart may then include several balance-sheet account numbers.
Why should you Reconcile Payroll Liabilities?
No entrepreneur would want to make significant financial decisions that might be based on inaccurate records in books.
To be able to keep accurate accounting records, reconciliation of payroll liabilities is important. It is also an effective tool to maintain good financial health.
All payroll accounting transactions should be recorded precisely in your books. This includes payroll expenses and liabilities. It is required to debit and credit them correctly so as to ensure the right calculations.
The money that is withheld from an employee's paycheck is then booked to a corresponding Liability account. Once the money is paid to the proper agency, this money is zeroed out.
Thus, it is obvious that since these are not expenses to the business, they shouldn't reflect in the Profit and Loss of the business. If this occurs, then there's a great possibility that will fail to understand their profits. As a result, the upcoming budget and other forecasts will also be inaccurate, making the business fall into a vicious cycle of poor financial conditions.
How to Reconcile Payroll Liabilities in QuickBooks Online?
Reconciliation of payroll liabilities comes among the most time-consuming accounting tasks.
Before reconciling the payroll liabilities, your first move should be the matching up of data from the following sources:
The employee data and records such as the pay rate, working hours, wage and tax amounts, etc.
Income taxes, FICA taxes, and other payroll tax filings.
The amount withheld from pay.
The banking activities including payment to workers and other parties.
The accounting data such as transactions posted.
The following steps must be performed to reconcile the payroll liability manually in QuickBooks Online:
Step 1: Select Taxes in the navigation bar of QuickBooks Online.

Step 2: Click on Payroll Taxes and choose the Pay Taxes option under it.

Step 3: Press the Enter prior tax history option and choose Current Year and Liability Period.

Step 4: Click on Add Payment and then select Tax Type to reconcile payroll tax returns.

Step 5: Put the entries of Liability Period and Period Date along with Check number and Notes.

Step 6: Enter a negative amount to create credit.

Step 7: After entering all the necessary information, press ok.
The Payroll software is an appropriate tool for you to work efficiently. You can use it to automate the reconciliation of payroll liability data and ensure accurate processing.
Poor financial decisions are a result of erroneous or imprecise records and no owner would want that. This detailed guide contains all the information required to assist you in the procedure of reconciliation of payroll liabilities in QuickBooks.
---
Need Some one on one QuickBooks Assistance?
---
Why does it Show Errors while Reconciling Payroll Liabilities?
While reconciling payroll liabilities in the QuickBooks application, you might face some technical issues due to the following reasons:

Your bank account may seem accurate, but in reality, it is not.


The amount paid to the employees maybe more than the actual payment amount.


An error can also be caused when you use the outdated version of the QuickBooks application. You are then required to update the QuickBooks application.
You can correct the errors by adjusting the payroll liabilities in QuickBooks.
How do I Clean Payroll Liabilities in QuickBooks?
For cleaning up payroll liabilities in QuickBooks you need to remove or delete a scheduled payroll liability. Follow the steps given below:
Step 1: Select Employees in the QuickBooks Desktop.
Step 2: Select Payroll Center and then click on the Payroll Liabilities tab.
Step 3: From the drop-down list of Other Activities, select Change Payment Method.
Step 4: Select Benefit and Other Payments from the QuickBooks Payroll Setup window.
Step 5: Select Schedule Payments and then double-click the payroll item to delete or edit.