While you are managing a lot of finances and accounts-related work, the least of all that you can expect is to face a data security compromising situation. However, with the rising amount of cyber security threats, having a bleak system supporting your finances and accounts is highly undesirable.
Save Time, Reduce Errors, and Improve Accuracy
Dancing Numbers helps small businesses, entrepreneurs, and CPAs to do smart transferring of data to and from QuickBooks Desktop. Utilize import, export, and delete services of Dancing Numbers software.
Thus, in any given emergency, you must know how to crack the QuickBooks Admin password so that be it any sort of breach of security, you are well-equipped with a rescue plan.
This article will therefore guide you adequately on how to crack QuickBooks Admin passwords. Scroll ahead to know more about this action.
What is Cracking QuickBooks Admin Password?
Since QuickBooks is for your robust accounting actionable, getting blown by the threats of cyber security can be a tough situation to deal with. Also, due to many users handling the same software, even if one person mishandles it or there is a case of a forgotten password, a lot of things including the information can be put at stake.
Thus, at such times, knowing how to crack the QuickBooks Admin password can be a blessing and blissfully avoid any sort of data disaster.
Cracking QuickBooks Admin Password is possible with the help of few steps which you will be eventually guided within this article.
But before that, there are few basics that you must know before proceeding ahead, one of which starts with knowing that if you are an Admin, the login screen will not ask for a username and only the password.
Let's further dig into mapping why cracking Admin Password on QuickBooks is so crucial.
Why do You Need to know Cracking Admin Password on QuickBooks?
The potent amount of risk with such software is chiefly because of the valuable data that it stores. However, you can never predict the vicious grope of cybercriminals coming for you.
More than that, when you are granting various levels of password-protected permissions for various users, the vulnerability of the data exposure gets even higher, which might lead to the situation of data compromise.And only the admin would be able to retrieve such compromised data.
Summing up in points,
QuickBooks User forgetting the secret password
Admin loses the secret word
Security question and answer has been forgotten
Thus, knowing how to crack an Admin Password on QuickBooks becomes very pivotal in such circumstances.
Further to this let's understand the steps involved in cracking the Admin Password on QuickBooks.
How to Crack QuickBooks Admin Password?
For cracking a QuickBooks Admin Password there are principally two methods which are involved; one method involves the usage of the challenge question and the other one involves using the QuickBooks Password Reset Tool.
Let's take each one of them at a time:
Method 1: Using Challenge Question
Step 1: Open QuickBooks and visit the login screen.
Step 2: Tap on I forgot my password.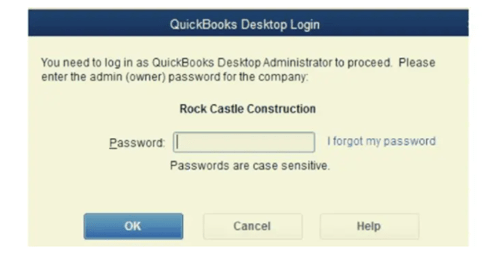 Step 3: Enter your answer to the respective question you had selected while setting up and hit OK

You will see a message appearing post, "Your password, challenge answers, and questions have been removed, and your company file is no longer password-protected. When you shut down this particular window, you will be prompted to make a new password, challenge the particular question, and create desired answers to your challenged questions."
Step 4: Hit Close.
Step 5: You will be taken to the password reset screen; add a new password along with a new security question.
Step 6: Tap OK and you would find the company file to be opening.
Method 2: Using QuickBooks Automated Password Reset Tool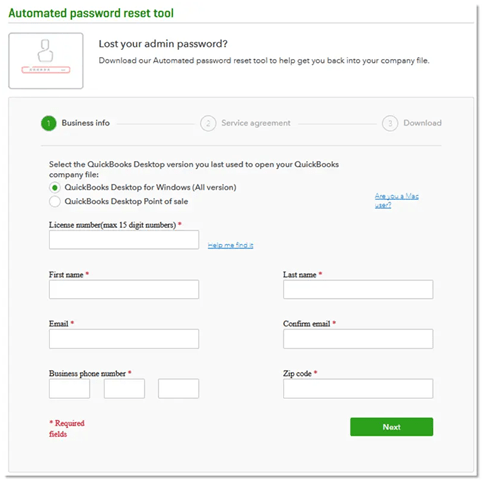 Step 1: Get the QuickBooks Automated Password Reset Tool downloaded to your device.
Step 2: Choose the version you are currently using for the QuickBooks Desktop Application and last used for opening the company file.
Step 3: Input your respective Business Information and License Number followed by clicking on Submit.
Step 4: Hit on the Agree and Accept the License Agreement, thereby hitting the Download next. A screen will appear which will have a download link. Save it and run for installation.
Step 5: Find the .exe File and make a double-click on which will make it run.
Step 6: Input the Token Number.
Step 7: Tap on the Product Drop-Down menu and choose the version you are currently using for the QuickBooks Desktop Application.
Step 8: Tap on Browse for the Company File and choose the respective company file for cracking the QuickBooks Password.
Step 9: Create a new password and input again for confirmation in the Confirm Password field.
Accounting Professionals, CPA, Enterprises, Owners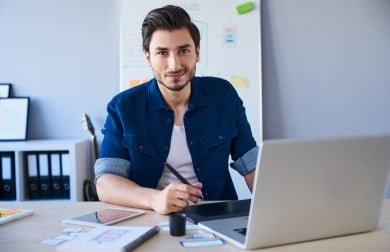 Looking for a professional expert to get the right assistance for your problems? Here, we have a team of professional and experienced team members to fix your technical, functional, data transfer, installation, update, upgrade, or data migrations errors. We are here at Dancing Numbers available to assist you with all your queries. To fix these queries you can get in touch with us via a toll-free number
+1-800-596-0806 or chat with experts.
---
Frequently Asked Questions (Faqs)
Are there Certain tips to keep in mind while Setting the Admin Password?
Yes. While you are setting the admin password, make sure to have the below-mentioned tips followed:

It must be having a minimum of 7-8 characters


Choose alphanumeric passwords, ideally with special characters


Do not add spaces


Avoid giving any sort of social information during the set-up


Ensure to have a password that is easy to remember and they are also case-sensitive


Do not access on an alien device/network


Restrict access or sharing creds
What are the Features I would avail myself of from the QBW Password Tool?
QBW password tool is a recognized way for cracking QuickBooks Passwords and great at its efficacy for resetting or changing the passwords. Here are mention some highlights:

You can extract files from their respective .Qbb backup


Cracking Admin via QBW password tool is super easy


Confidential or sensitive data can be safely restored and accessible