Import Bank Statements into QuickBooks Desktop
Now importing Bank statements into QuickBooks Desktop is easier. You can import your bank statements from Microsoft Excel to QuickBooks Directly through Dancing Number (Desktop) – which is one of the trusted bulk data automation tools created exclusively for QuickBooks.
Dancing Numbers (Desktop) supports editions such as QuickBooks Pro, Premier, Enterprise, and Accountant.
Save Time, Reduce Errors, and Improve Accuracy
Dancing Numbers helps small businesses, entrepreneurs, and CPAs to do smart transferring of data to and from QuickBooks Desktop. Utilize import, export, and delete services of Dancing Numbers software.
For the trial, you can download the trial version from the Dancing Numbers Website. To know more simply follow this article for installation steps.
Steps for Importing Bank Statements to QuickBooks Desktop
Enjoy Importing with Dancing Numbers Transaction with the help of our simplified and powerful Import wizard. Go ahead with and few simple step process to bulk import your file data to QuickBooks.
Click the Start button to Start Import process.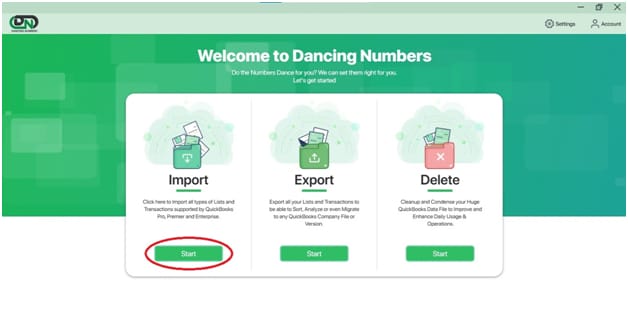 Step 1 – File Selection: "Select Your File" – You can either click "Browse File" to browse the file and after that select the file from the local computer folder or click "View Sample File" to go to Dancing Numbers sample file locally. Select "QuickBooks Transaction Type" as "Bank Statement" and Click Next to move further.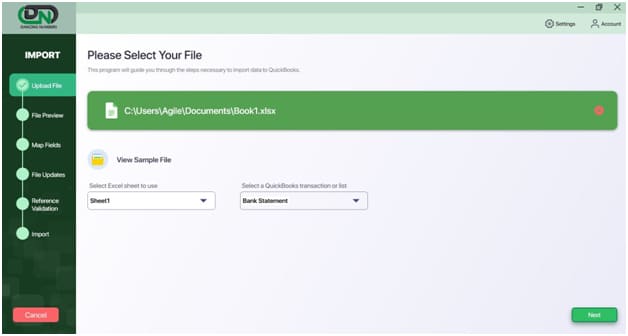 Click OK to the message and Click Next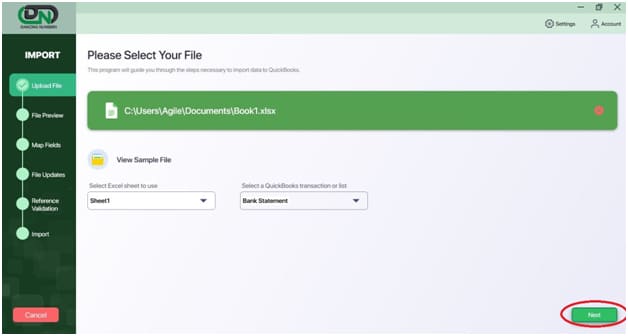 The Next Screen will show you the File Preview and Click Next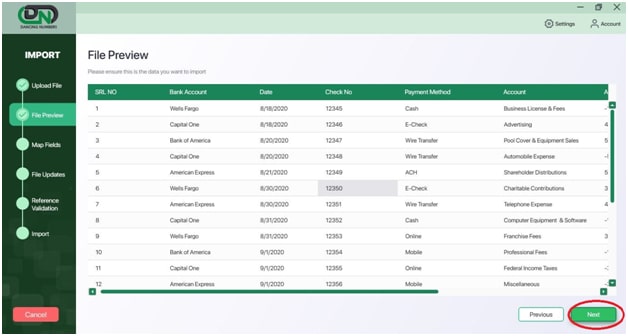 Step 2 – Mapping: You can set up the mapping of the file columns related to QuickBooks fields available. This point will be automated for you if you use the Field Match Option or Load Map.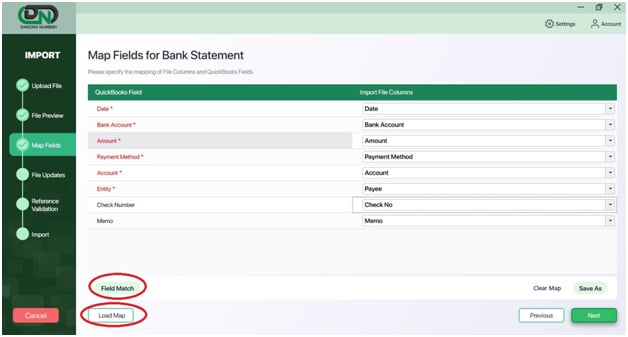 Step 3 – Review & Import: You can review your file data in the Review Grid screen and you can make the necessary changes before Importing it into QuickBooks.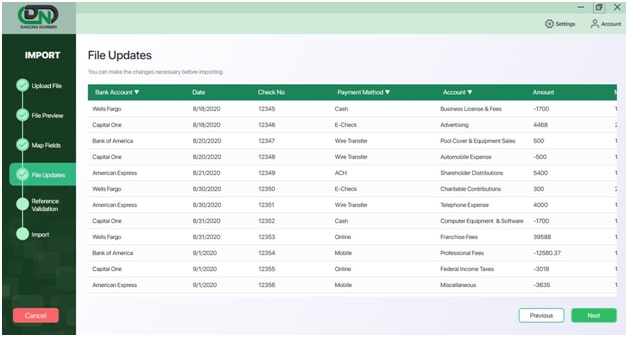 Click Next to Import the Bank Statement into QuickBooks.
Note: If you're Excel File has Missing Information such as Accounts, Names Etc. You will see another screen before the Import as Missing References to add/create new Accounts/Names Automatically. You can also click on Settings on the Top Right to set the Default.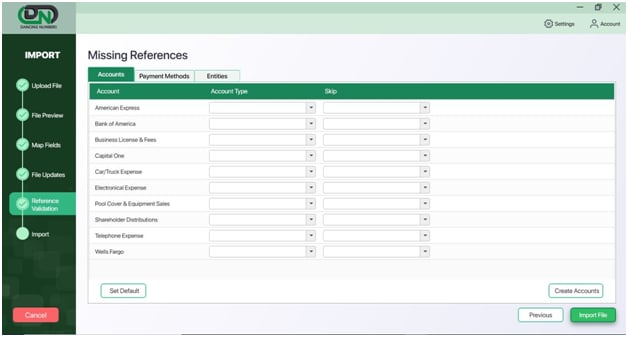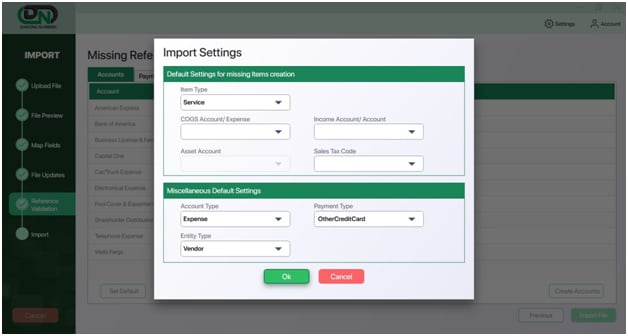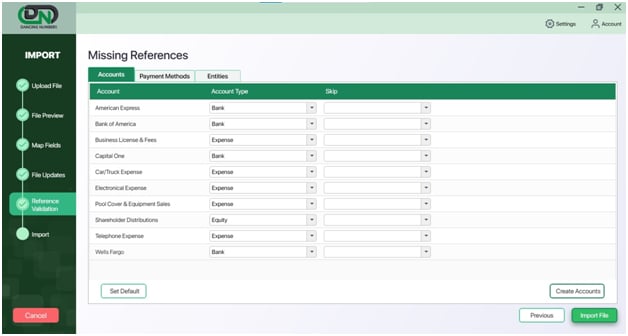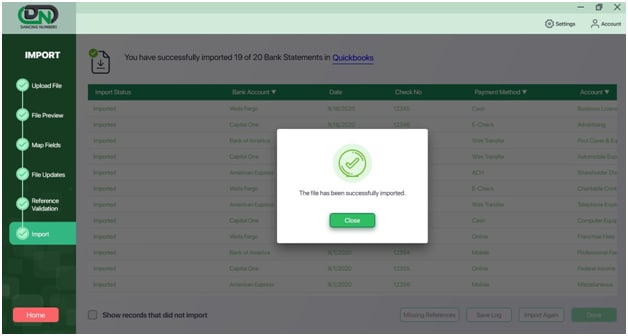 The last screen will show you the results of how many transactions were Imported and it will also show you the Error related to the Failed Transactions.
You can assume the below file format which needs to be import

Save Log to see the records that did not Import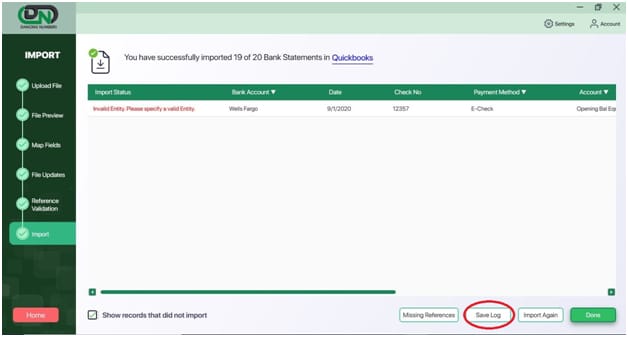 Make the changes required and Import Again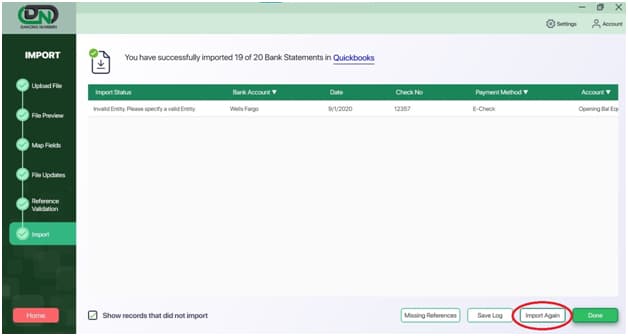 Finally, you are done.
Accounting Professionals, CPA, Enterprises, Owners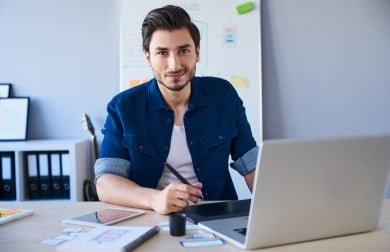 Looking for a professional expert to get the right assistance for your problems? Here, we have a team of professional and experienced team members to fix your technical, functional, data transfer, installation, update, upgrade, or data migrations errors. We are here at Dancing Numbers available to assist you with all your queries. To fix these queries you can get in touch with us via a toll-free number
+1-800-596-0806 or chat with experts.
---
Most of us would have some questions while importing data to your QuickBooks Desktop. Some of them are for your reference are below:
Is it possible if I want to import Bank Statement with Check Numbers from the File? Will it be supported?
Will Dancing Numbers application support Multi-Line Transactions?
Yes. It will surely support Multi-Line Transactions.
I did some mistakes while Importing and my QuickBooks reports have been corrupted. Can I undo or revert my Import?
Yes, you can undo the import completely/partially with the Delete option.
Does Dancing Numbers Support Taxes?
My file contains a specific date format. However, I don't want to change it. Will your product support all date formats?
No. You need to mention the date format is DD/MM/YYYY
Do you have any Sample Templates?
Yes. We do have. View Sample File
What are the Various file Types Supported by your application?
File types supported by Dancing Numbers are CSV, XLS, XLSX, etc.
How do I Report to you About Issues if I am Stuck?