In business handling, there are some transactions, customers, or events that you come across on regular basis, or in other words, they happen on a recurring basis. You would definitely want a feature which would help you create a template for recording these types of transactions, event in your accounting software so that you don't have to start from scratch for the repeated transactions in every period.
And for catering to this very need QuickBooks has a memorized transaction feature which would create a memorized template for your recurring transactions that too for required time interval like weekly, monthly, quarterly, or annually.
In the case of an annual recurring transaction, it is often better to create the memorized template, because most of the time we forget about the posting or other details for the transactions that happen only once a year.
Not just this, as with the help of memorized transactions you will not have to start from scratch for the recurring transaction every time, which will save you a lot of time and manual effort.
This also reduces the scope of little mistakes and errors as most of the details will already be there in the memorized transaction template, you will just have to change the amount, posting date, and description (if required).
In this article, we will look into the process of creating, editing, and deleting the memorized transactions in QuickBooks.
How to Create, Edit or Delete Memorized Transactions in QuickBooks?
Steps for Creating Memorized Transaction
You can create a memorized transaction by following below list of steps:
Step 1. First of all, enter all the details of the transactions and double-check them, do not save them. Ensure that you leave the details that may change from period to period as blank like memo no., posting date, etc.
Step 2. Now from the Edit menu choose to Memorize, enter a name and choose either 'Add to my Reminder list' > and 'How often' for determining the frequency, or 'Do not Remind me', in this option the transaction would not be added to your reminder list but you can use the template from time to time.
Lastly, you can also select Automate transaction entry > enter how often and next date field. And transaction will be posted automatically when it's due.
Step 3. Now enter all the other required details and click on Ok, choose to save and close and click on Next again.
Steps for Editing the Memorized Transaction
You need to follow the below simple steps for editing a memorized transaction:
Step 1. Click on the List menu and choose memorized transaction list and double click on the transaction that you wish to modify or edit.
Step 2. Now make the required changes and choose to Memorize from the top.
Step 3. Now click on replace to update the transaction or Add for creating a new one.
Step 4. In the last step, just click on save and close or save and next to finalize the process.
Steps for Deleting the Memorized Transaction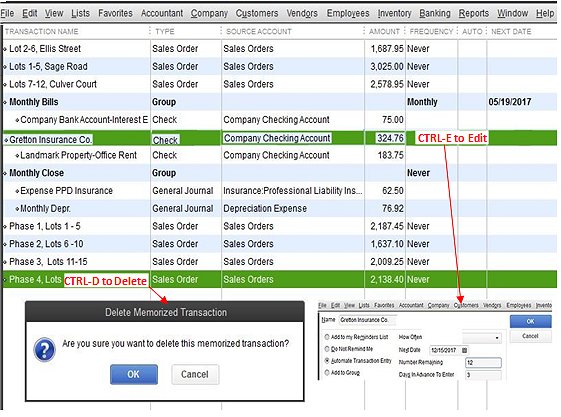 For deleting a memorized transaction, you need to follow the below steps:
Step 1. Click on the List menu and select Memorized transaction as we did at the time of editing in the above process.
Step 2. Now choose the transaction that you wish to delete, select the memorized transaction drop-down and choose to Delete the memorized transaction, and click on OK.
---
You can use the above super-simple steps to create, edit or delete the memorized transaction template anytime you want and make your life a bit easier. Now let us move towards some frequently asked questions from end-users to have a little more clarity on related queries and issues. This may serve you as a cheat sheet when you performing related QuickBooks functions.
How can I Delete a Memorized Transaction Report in QuickBooks?
You can do so by going to Reports > select memorized reports > memorized report list. Now locate the report that you wish to delete, right-click and choose Delete Memorized report to finally delete it.
What are Memorized Reports used for in QuickBooks?
The memorized reports are the ones that you saved in their customized settings; you can use these reports for getting the data displayed in a similar format every period. There are some recurring reports and analysis that business needs on a recurring basis. This will help you in accessing the report in the format you required without starting from scratch every time.
What will Happen if I Exclude a Transaction for a Period in QuickBooks?
Excluding a transaction, will lead to it not appearing in the account register or financial reports in QuickBooks. So, it is recommended that you be very careful and ensure that you are taking the right action before you excluded a downloaded transaction in QuickBooks.
Where can I find and Access a Memorized Report in QuickBooks?
First of all, go to the Reports menu and select the report centre. On the report centre window, choose the memorized tab. Now on the left panel, select the appropriate group, if the report has not been assigned a group then choose uncategorized. Now double click on the report to open it.
Can you Please List down the steps to Delete an Excluded Transaction in QuickBooks Online?
First of all, open QuickBooks online on your web browser and log in with your credentials. After that, you need to go to the transaction menu > find the transaction that you wish to delete and select it to expand the view and choose delete.
What are the steps for saving a Custom Report in QuickBooks?
First of all, go to the reports > choose Custom reports. Now look out for your desired report and click on Edit. Now remove the report's group name from Add this report to a group drop-down menu and click on save to complete the process.