Keeping track of inventory and handling purchases can be challenging, whether you run a little mom-and-pop store or a major multinational. By using a purchase order, you may avoid any disparities. Regular purchase orders describe the order a client is placing with a vendor.
Save Time, Reduce Errors, and Improve Accuracy
Dancing Numbers helps small businesses, entrepreneurs, and CPAs to do smart transferring of data to and from QuickBooks Desktop. Utilize import, export, and delete services of Dancing Numbers software.
This comprehensive tutorial on purchase orders explains all you need to know about them, including how they function and how they can safeguard the cash flow of your company.
What is a QuickBooks Purchase Order?
A purchase order (PO) is a written agreement between a company and its supplier, lists of the goods and services that the buyer wishes to buy.
The following details on a transaction are included in purchase orders:
The Buyer's and Seller's Names
Quantity and the kind of Goods or Services a Company wishes to Purchase
Payment Terms
Price Agreed upon Delivery Date
Each purchase order is assigned a unique number that makes it simple to trace them in the purchase order system. A purchase order's purpose is to streamline the purchasing process so that payment and inventory monitoring procedures go without a hitch.
A blanket purchase order is a tool that buyers and sellers occasionally employ. For orders that need to be paid in several installments over time, blanket purchase orders are used.
See more information: Import Purchase Orders into QuickBooks Desktop
QuickBooks Purchase Order Example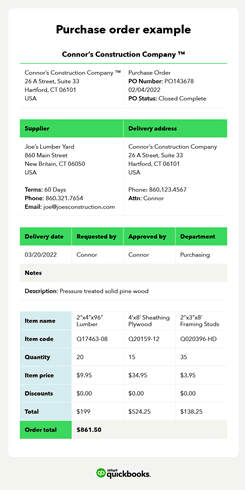 Similar to invoices in appearance are purchase orders. A purchase order's header includes the date, your contact information, and the PO number. Following is a table that includes the following information about the order in distinct columns:
Detail of Products
Detail of Quantities
Detail of Prices
The purchase order will have a spot for an authorized signature at the bottom along with the total amount of the order and the price.
Purchase Order Vs Invoices
The distinction between purchase orders and invoices could be unclear to you if you're a novice small business owner. Although they appear to serve the same purpose, they are actually very distinct from one another.
The buyer is the one who starts a purchase order. A list of the goods the buyer wants the seller to supply, whether they are products or services, is made on the purchase order. Along with the quantity, delivery date, price per unit, and shipping address, the buyer also enters the items' model numbers or SKUs. A purchase order should have as much information as possible.
Vendors deliver goods prior to being paid once they obtain a purchase order.
How does QuickBooks Purchase Orders Work?
Purchase orders are enforceable contracts that your company issues to suppliers or other companies to buy and sell products and services. The contract outlines a promise made by one party to the other to purchase the goods listed in the PO at a later time.
Businesses can place orders using purchase orders without paying for the goods in full at the time the PO is issued. Given that the contract specifies the payment terms that the buyer is required to meet, the seller permits the buyer to make a purchase on credit without taking a financial risk.
Related Article: Create Purchase Order in QuickBooks Online
Why do You Need a Purchase Order in QuickBooks?
You can require a purchase order for a few different reasons. Purchase orders help automate the purchasing process in general, making sure nothing is missed. Check out some of the key benefits of using buy orders for business, as well as some more reasons, below.
Automate Workflow
Workflows are automated by purchase orders to speed up the approval and accounting processes. By authorizing invoices or accounts payable only after they have undergone a thorough review, a system for managing purchase orders enables you to protect cash flow and maintain better control over spending. By providing checks and balances, this workflow can help safeguard a company against loss.
Outflow and inflow are also better synchronized thanks to automation; with it, outflow slows down to make room for inflow, keeping your company's net profit positive.
Utilizing your statement of cash flows, you can monitor its progression. These reports, which detail the financial inflows and outflows for your company over a specific time period, can guide your spending selections.
Better Budgeting
Businesses can better control their budgets by creating purchase orders. This is because they will be able to identify the products they need to purchase and account for them in their budget to spend money more wisely.
A purchase order, thus, aids in cost management and lowers excessive spending. As a result of late payments, a business can also avoid exorbitant bank costs.
Faster Deliveries
Purchase orders inform vendors of the dates on which deliveries are to be made, enabling them to guarantee the prompt delivery of your order by sending it in advance. Due to the streamlining of the procedure at various shipping stages, tracking goods is also made simpler.
Streamlined Auditing
Purchase orders produce a detailed audit trail that tracks your purchases for reference in case of financial problems.
Legally Binding
Purchase orders that have been accepted and signed are legally binding and provide security for both the buyer and the supplier.
Upon approval of the paperwork, the buyer is covered, which means they are ensured to receive the goods at the agreed-upon price. However, in the event that the customer chooses not to pay, sellers are safeguarded.
Increased Transparency
The procurement, operations, and finance departments are just a few of the teams in a corporation that use purchase orders. In order to manage orders and keep track of which supplies are arriving and which are still outstanding, these teams can collaborate via purchase orders.
When Should You Use a Purchase Order?
When companies need to make account-based purchases of inventory or supplies to meet consumer requests, they most frequently employ purchase orders. These papers play a significant role in the purchasing procedure.
Let's say you need to replenish your inventory with certain items that you wish to sell in your shop. You would send a purchase order to the vendor who provides you with those things at an agreed-upon price and delivery schedule.
You would have to pay the provider once they had delivered the goods to you and the order process was complete. The vendor will send you a sales invoice that is easily referred to by the associated PO number. You can pay off the order and conclude the transaction by paying the invoice.
Use of Blanket Order
A continuing contract between the buyer and seller is covered by a blanket order, also known as a blanket purchase agreement. This contract permits a number of purchases and deliveries spread out across time. The blanket order will be in effect so long as the vendor gives the buyer credit.
The next time you have a regular requirement for the goods or services the seller in issue is giving to you, your business should think about employing blanket orders.
Cancelling of Purchase Order
As long as the order hasn't been shipped or otherwise completed, the transaction can be cancelled. The PO cannot be cancelled once the order has been completed. Then, a purchase order, is it a contract? In particular, it is a legally-binding agreement between the two parties that must be abided by or else legal action may be taken against you.
What's Included in a Purchase Order
Purchase orders should be written clearly and succinctly; the more information you can give the supplier, the better. Keep the following items in mind to make sure your purchase order includes everything you need to order:
Number of Purchase Order
Purchased Product or Service
Details of Supplier like Supplier name, contact information, and billing address
Details of Buyer like Buyer's name, contact information, and shipping address
The quantity of the order, which includes the unit of measurement
Price of Per Unit
Total Line
Amount
Date of Delivery
Method of Shipping
Terms and Conditions of Shipping
Terms of the Payment
What is a Purchase Order Number?
Every purchase order has a specific purchase order number. Keeping track of delivery and payment is made simple by PO numbers for both the customer and the supplier. Throughout the entire procurement process, purchasers can follow their order using the PO number. In this manner, the purchaser can be sure they get the goods or services they ordered.
For starters, the majority of small firms use Microsoft Excel or pre-made buy order templates to track their purchase orders. The purchasing procedure is greatly facilitated by electronic purchase order software, though. You can monitor buy transactions and PO numbers using QuickBooks Online and maintain inventory flow.
Steps of the Purchase Order Process
You may be curious as to what happens once a purchase order is delivered to a vendor. The actions that must be taken prior to, during, and following the purchase order procedure are listed below.
Step 1: Buyers must Complete the Requisition of Purchase
A buyer must first determine what they need to buy and how much before issuing a purchase order. The purchasing department normally fills up a form called a purchase requisition. Companies can monitor their spending with the use of this document, as well as the goods or services they've ordered.
Step 2: The Purchase Order is Drafted by Buyer
A corporation generates a purchase order form once it has been decided which goods or services must be ordered. Contact information, the date, the price, the quantity, and the PO number will all be listed on the purchase order.
Step 3: The Purchase Order is Accepted and Rejected by the Vendor
Vendors are given the choice to accept or reject purchase orders in the following stage of the procedure. The purchase order is a legally binding document after the seller accepts it and signs it. If it's turned down, the seller could ask the buyer to make changes, or the buyer might need to look for a different vendor.
Step 4: The Order is Fulfilled by Seller
As soon as the seller agrees to the purchase request, they will start satisfying the order by pulling inventory or assigning workers.
Step 5: The Order and the Invoice is Provided by Seller
The seller then gives the buyer the goods or services together with packing slips so they may keep track of what was delivered. The seller includes an invoice with the correct PO number to go with the delivery together with the package.
Step 6: Payment is Done by the Buyer
The buyer will pay for the goods or services after carefully reading the invoice. The buyer and seller should have already agreed on the payment terms, and the purchase order should specify when payments are due.
How to Send Purchase Orders
Once a purchase order has been made for a client or buyer, you must choose how to deliver it to them. Although businesses used to mail or deliver purchase orders in person, many now choose to submit them by email. In order to make it easy for both parties to print out and maintain on file, it is preferable to add the PO as a PDF document and attach it to the email.
Both the buyer and the supplier benefit from electronic invoicing and purchase orders. It enables a transaction to be completed more quickly. If an error is discovered in the document, it can be easily corrected and a fresh order sent right away.
We hope that the above article will be helpful for you in the creating and working of purchase order. This article provides you the detail information about purchase order. But still if you face any issue in creating or working on purchase order then you can contact us. Our Dancing Numbers team of expertise will help you in resolving the issue and help in making your work easy.
Accounting Professionals, CPA, Enterprises, Owners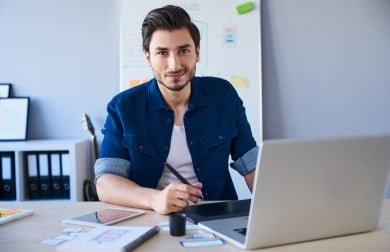 Looking for a professional expert to get the right assistance for your problems? Here, we have a team of professional and experienced team members to fix your technical, functional, data transfer, installation, update, upgrade, or data migrations errors. We are here at Dancing Numbers available to assist you with all your queries. To fix these queries you can get in touch with us via a toll-free number
+1-800-596-0806 or chat with experts.
---
Frequently Asked Questions
Which Online Software can Help you in Your Small Business?
With the aid of QuickBooks Online, the purchase order procedure for small businesses may be made simple from beginning to end. You may send an invoice, along with customizable purchase orders for any of your suppliers, using the invoicing tools in QuickBooks Online.
Can You Turn Purchase Order in Invoice in QuickBooks?
Select the Sales Button from the menu on the left. Click the pencil icon to add a custom field under the Sales form content. Under the Name column, check the box and enter the PO number. To finish, click Save.
Who Writes the Purchase Invoice?
In contrast to an invoice, which is often only signed by the seller, a purchase order is typically signed by both the buyer and the seller.
Is Purchase Order have Multiple Invoices?
One purchase order may be the subject of many invoices from the vendor.
What is the Name of the Types of Purchase Orders?
There arefour Major Types of Purchase Orders, they are:
SPO stands for Standard Purchase Orders
PPO stands for Planned Purchase Orders
BPO stands for Blanket Purchase Orders
CPO stands for Contract Purchase Orders