In every business, some transactions are recurring in nature, that is they occur repeatedly periodically i.e.; monthly, quarterly, or even annually. QuickBooks has a functionality that will help you to memorize these transactions so that you can easily use the memorized template next time with some obvious changes. It helps you in avoiding manual errors while starting from scratch every time recurring transactions occur.
Save Time, Reduce Errors, and Improve Accuracy
Dancing Numbers helps small businesses, entrepreneurs, and CPAs to do smart transferring of data to and from QuickBooks Desktop. Utilize import, export, and delete services of Dancing Numbers software.
But sometimes, when you no longer want to use that memorized transaction, you may want to delete it. We will discuss the process of deletion of the memorized transactions in this write-up.
Steps for Deleting the Memorized transactions in QuickBooks
You need to follow the below simple steps to delete the memorized transactions in QuickBooks.
Step 1. At first, go to the list on the top menu and click on 'Memorized transaction list'.
Step 2. In this step, click to highlight the transaction from the "memorized transaction list' window. Refer to below image.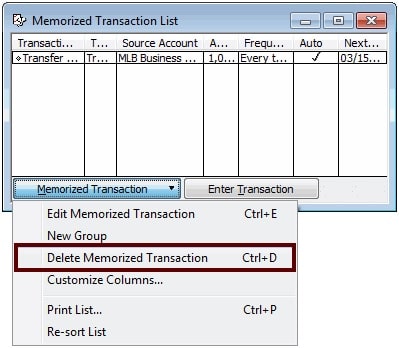 Step 3. Now click on the drop-down menu and choose 'Delete Memorized transaction'. And at last, click on OK when you get the confirmation window.
How Dancing Numbers will Help You?
Dancing Numbers is SaaS-based software that can easily be integrated with your QuickBooks account. You can import, export, and delete lists or transactions from your company file. Using Dancing Numbers you can simplify and automate the process, saving time and increasing productivity. Just fill in a few fields and apply the relevant features to complete the task.
It saves your time and money that you can invest in your business. It has no human errors, works automatically, provides a user-friendly interface (easy to use and learn), and more. You can also have access to the comprehensive features set if you use it to Bulk import, export, and delete services.
Accounting Professionals, CPA, Enterprises, Owners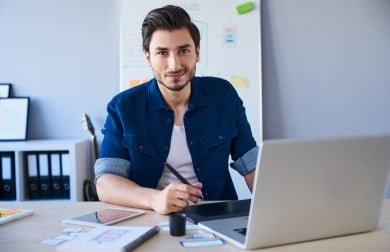 Looking for a professional expert to get the right assistance for your problems? Here, we have a team of professional and experienced team members to fix your technical, functional, data transfer, installation, update, upgrade, or data migrations errors. We are here at Dancing Numbers available to assist you with all your queries. To fix these queries you can get in touch with us via a toll-free number
+1-800-596-0806 or chat with experts.
---
How can I Delete the Recurring Transaction in QuickBooks Desktop?
You just need to click on the gear icon > menu > choose recurring transaction and select the transaction you wish to delete. Now from the drop-down menu under the action column and click on delete, click 'Yes' to confirm.
How can I update/edit a Memorized Transaction on QuickBooks Desktop?
Click on Menu > memorized transaction list > click on the memorized transaction you wish to edit and make the changes and click memorize from the top menu. Now click on replace to update the memorized transaction and select save and close.
How can I Delete Multiple Transactions in one go in QuickBooks?
At first, click on Banking menu > choose correct account > move to the 'For review tab' and click on the transactions that you want to mass delete. Now click the batch action and choose the 'exclude selected' option. Then, go to the excluded tab and click on the transactions again and go to the batch action tab and finally click on 'delete' to mass delete the multiple transactions in one go.
What is the Process Steps to Export the Memorized Transactions from QuickBooks?
At first, Go to Reports > list > and then memorized transactions listings. Now you can go to the drop-down under the excel option on that report and extract the memorized transactions in Excel format.
How can I Print the List of Memorized Transactions from QuickBooks?
You can extract the memorized transaction list in Excel format and then print it. You need to click on List > memorized transaction listing and then create a new worksheet by using the drop-down under the Excel option.
Is Memorized Transaction Feature available in QuickBooks Online?
No, it is not, but you can use the recurring transaction template creation feature for customers and vendors. You will be able to use the recurring transaction feature for all the transactions except bill payment, customer payment, and time activities.