By this time, you also must have become familiar with QuickBooks brand name. This specific QuickBooks accounting software is mainly being used by many business owners for accounting and other financial purposes. It is available in various versions such as QuickBooks online or QuickBooks Desktop and so on. Each version adds something new to the table and all you need to do is to explore it more and more. It mostly will lead you through the prompts and you will know exactly what you are doing even if you are a newbie.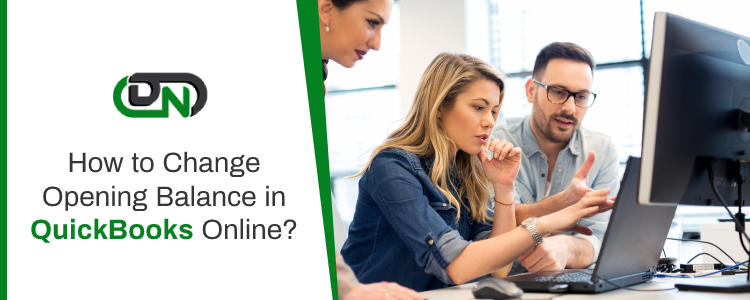 What is the Opening Balance?
Let's begin with understanding the concept of opening balance. It is a first amount that is carried forward at the starting of a fiscal year or the accounting period from the previous tenure. It should be treated as the very first entry in your account books. From this point you will start counting all your liabilities, expenses and assets, etc.
How to Change Opening Balance in QuickBooks
Being based on simple calculations, at some point, anyone is bound to make a mistake. And, accounting figures are usually huge and need extra attention to it. Though an expert accountant will not be making such mistakes very often, human errors are still a possibility that cannot be ruled out. And, not necessarily, everyone can go for a professional accountant who will not make a mistake which is again not guaranteed.
There will be times, you may enter the wrong amount of the opening balance in QuickBooks Online which will surely change the calculations. Due to this specific issue, you may face a big calculation error while working with your bank account in the QuickBooks account. However, you do not need to worry at all for this as you can easily edit the opening balance by following these steps mentioned as below:
First of all, Login to your QuickBooks online account.
You need to select the Settings and choose the Chart of Accounts.
After this, please look for the specific account and choose the action tab.
Then, you need to choose the Account history of the chosen account.
Locate the opening balance entry and select it to edit.
The selected balance will give you the option to re-enter the amount. You need to enter the correct amount by choosing the Edit option.
Click on Save to save the recent done changes.
Finally, you need to check whether the opening balance has been updated or not.
In conclusion, these above mentioned steps will ensure that in case there has been a mistake in entering the opening balance then these steps will assist you to correct it. QuickBooks software has been proved to be fruitful to all the big and small organizations. Sometimes, QuickBooks users who do not have in-depth finance knowledge, may end up entering the wrong entry for the opening balance. This issue can lead to a big issue for the business. Moreover, all we know is an opening balance is brought forward to the next accounting year while starting any firm. This amount should be correct. With the help of these steps will enable you to retrace your steps and make it error free.
Even though, the process of editing the opening balance in QuickBooks online account seems easy enough. You still may have some of your doubts or related questions to it. Here we have mentioned some commonly asked questions that will help you further in processing.
---
Need Some one on one QuickBooks Assistance?
---
How do you Record a Company Error in a Bank Reconciliation?
In case you have found the errors being made, then, you need to ensure that those recorded errors should be either added or subtracted from the record book of balance. If any particular item is cleared by the bank for lesser amount value in the books, you need to add the amount of the error. If any item cleared the bank for a bigger value than the amount in the books, then you should subtract the amount of the error.
How to Check the Bank Balance in QuickBooks?
QuickBooks online account will give you quick access to your bank and its finance details. Here are the listed steps through which you can check the bank balance in QuickBooks:

Login to the QuickBooks account.


Click on the Gear icon at the right top.


Choose the Chart of Accounts tab visible under Your Company name.


You need to look up the specific account, then you need to open the Account history under the Action tab.


Search the opening balance, now you can choose it to either delete or edit.


If you choose to edit it, it is recommended to ensure that you enter a zero amount as well to fix the opening balance.


Select Save and close.
How do you Fix Reconciliation Discrepancies in QuickBooks online?
In case, you see the discrepancy in QuickBooks online account and your bank statement, please refer to these following steps:

Login to the QuickBooks account.


You need to run a Reconciliation Discrepancy report.


Click on the Reports menu and hover your mouse over Banking tab.


Choose the Reconciliation Discrepancy action.


Choose the specific bank account you're reconciling and then click on the OK button.


Finally, review the report and look up for any discrepancies.