QuickBooks is the finest accounting software presently in demand. This can be used by entrepreneurs globally for payment, managing the bills, taxation and much more. If you are a QuickBooks user then, company file is not new for you and also you might be aware with the errors and flaws related to Company File that people generally encounter. Learn about steps to fix QuickBooks Corrupted File.
Save Time, Reduce Errors, and Improve Accuracy
Dancing Numbers helps small businesses, entrepreneurs, and CPAs to do smart transferring of data to and from QuickBooks Desktop. Utilize import, export, and delete services of Dancing Numbers software.
In this module, we will try to make the process easier and simpler for our readers to identify, prevent, and tackle the issue. However, if you still face any challenge to know about the features and functionalities of this software, then please do not hesitate to contact to our experts team for guidance.
How to Identify Data Corruption in QuickBooks File?
Well, prior to fix the issue, it is necessary to get the information about the issue. The user can scrutinize the transactions or items by a log, along with the instructions and the problems of items and transactions. Once the examination process is ended, the user can go back and delete the corrupted file. Once it's done, continue down the log and then until the file verifies address each of the item. Kindly know that, this process begins when the user finishes previous verify data and rebuild data steps.
Also, the user is necessary to review the logs that the QuickBooks software created to validate the data. There can be multiple reasons behind the occurrence of this issue, and identifying those factors might help in the prevention and fixation process of the same. Here are some reasons mentioned below for data damage like Working overtime on QuickBooks, If RAM doesn't robotic ally amends the issue and there is not enough memory in RAM and Problems associated with cable, internet, and hard disk.
We are Required to Figure out if the Company File is Corrupted or not?
In order to look for a solution to a problem, it is mandatory to first look into that problem and identify it. Therefore, before finding out an ideal solution, the user is necessary to confirm that whether the company file is corrupted or not. Here a question arise that how to find out whether the company file is corrupted or not. To assist you for the solution for that, we have come up with the symptoms of corrupted company file:
If a fault occurs on the balance sheet while auditing.
When the QuickBooks software shutdown suddenly, because of some human errors.
Additionally, in the case while transaction list is missing from the software.
Sometimes when the unpaid bill and invoice are displayed as paid in the balance sheet.
Also, while transaction history displays a negative balance.
Kindly note that in order to detect the error, the user is necessary to keep a check on the software, and any uncommon activity is more than enough to identify the actual issue.
7 Effective Ways to Prevent Corruption of QuickBooks
1. Make Regular Backup of Your Company File
Although it's not exactly a solution to stop QuickBooks file corruption, this method does help against data loss. By regularly backing up your QuickBooks Company file, you may ensure that, if corruption of the company file occurs, you can swiftly restore your data. Moreover, it's essential to keep a backup copy available on multiple sources; this will guarantee that in if one of the backup files is corrupt; you will always have a copy you can restore.
You have two options for backing up your QuickBooks data: manually or automatically using Intuit Data Protect.
2. Reduce Your QuickBooks File Size
As you add transactions, your QuickBooks company file's size may increase significantly. Additionally, the file size grows when the transactions are deleted. This happens as a result of the transactions only being marked as deleted in the database, and the space is used to contain the transaction remains unused within the file.
Large Company files are prone to corruption, which could cause data damage. Therefore, you must shrink the file. Look below to know how you can do so:
By creating a new company file
Running the QuickBooks Condense Data Utility
Removing transactions from the QBW file for a specific period to truncate it. Truncation, however, is not a service provided by QuickBooks. To get it truncated, you must send it to a third-party vendor.
3. Verify Your QuickBooks File
To identify any data issues in a Company file, use the built-in Verify Data feature in QuickBooks. If there are any discrepancies on invoices or bills, missing transactions, deposited payments not showing up in the Payments to Deposit window, etc., using this program might help you identify them.
Follow these steps, to use the Verify Data tool:
Open the QuickBooks Desktop application, click File, and then select Utilities. Then you have to click on Verify Data.
When the message QuickBooks identified no problem with your data displays, click OK. As a result, you can keep using the QuickBooks data file without experiencing any issues.
If the message Verifying detects some problems with your company file appears, click View Errors.
To fix the errors with the Company file, click Rebuild Now.
4. Keep Your Software and Hardware Up to Date
Data damage or corrupting of the QuickBooks Desktop (QBDT) Company file can be brought on by hardware or software problems. Therefore, it's important to keep your software and hardware up to date.
Make sure to manually or automatically update QuickBooks Desktop to the most recent version (2021). Open QuickBooks Desktop and the Product Information window to check the current version to check if you have the latest release. Install and set up any supported hardware for QuickBooks.
5. Clean Installation of QuickBooks Desktop
The QuickBooks file may be damaged if QuickBooks is not installed completely. Therefore, you need to uninstall the corrupt QuickBooks installation. To prevent problems with later installs, make sure to remove all remaining QuickBooks-related files after uninstalling the program.
6. Use Uninterruptible Power Supply (UPS Backup)
The file can become corrupt if there is a power outage and the system shuts down suddenly while you are adding data to your QuickBooks data file. Use an uninterruptible power supply to fix the problem and guard against harming QuickBooks files from an uninterruptible power supply.
In the event of a power outage, a UPS backup will give you enough time to appropriately shut down your system, especially in places where power outages are common.
7. Avoid using QuickBooks over a VPN
Because a VPN connection can be unreliable and insecure, using QuickBooks via one raises the risk of data damage. Although you won't notice the corruption of your QuickBooks file right away, you might afterward. Therefore, take into account using QuickBooks Online if you need to access the application remotely.
How to Prevent Corruption of QuickBooks Files?
Kindly note that data saving is always a best practice in any stream,, as once the data is lost, it's a difficult task to restore it. That's, prevention is better than cure, however the data damage can only be prevented up to a certain extent. To prevent the data loss up to a certain extent, the user can follow below mentioned steps:
Firstly, you are required to save the data backup in any other location and database.
Later, try to avoid from virus same as some malicious files and threats.
Also, make sure you reduce the third party users and the tools.
Steps to Resolve the QuickBooks Corrupted File
Checkout the Fixation process given below:
Once you have explored all the above information, just like the causes, symptoms, prevention, etc, now it is time to find out the ways to fix this glitch. Here are two ways to discard this error, either with the help of the available tools or manually. We will discuss both of the processes one by one.
#Free Tools Available
Manual method is very simple and easy to work and process, it might take much time. Therefore, the user has an alternative to use free tools and repair the QuickBooks Company File. Here are some of the most commonly used and popular repair tools mentioned below.
1. Reboot.bat
The primary tool is reboot bat, which re-registers several QuickBooks related components with the Windows. This tool can be used to get rid of this kind of error.
2. QuickBooks Component Repair Tool
QuickBooks Component Repair Tool is a powerful and easy-to-use tool that can help you repair QuickBooks components that have become corrupt or damaged. This tool can be used to repair QuickBooks files, databases, and even the Windows Registry. It is an essential tool for anyone who uses QuickBooks on a regular basis.
3. QuickBooks Install Diagnostic Tool
QuickBooks Install Diagnostic Tool is mostly used by to identify and mitigate various problems associated with the software, mainly on the Microsoft NET framework.
4. QuickBooks File Doctor
The final alternative tool is, QuickBooks File Doctor tool which helps to fix certain kinds of file and data corruption, along with the Windows setup problems, and also helpful for network setup problems.
#Manual Method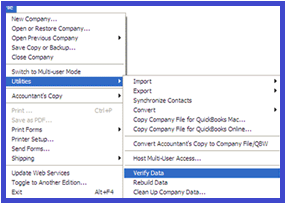 The primary step is to open the data files, followed by logging in as administrator.
After that, the user is needed to choose a single user mode.
And after that, tap on File, after that 'Utilities' option, and at last click on the 'Verify Data' option. The steps which are mentioned above might take time in certain cases. However, the user might move on to the below-mentioned steps in case the process is consuming more time.
It is necessary to make a local copy of the data file, from the server.
Now, only if required, the user must enable the temporary hosting on the machine and open the file with admin login later on.
In the next step, click on the 'File option' and then choose 'Utilities' and then choose 'Rebuild Data'.
Final step is to copy and open the file, followed by logging in as an administrator.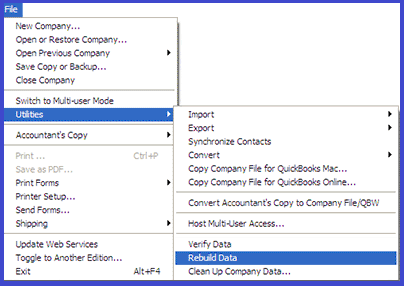 We have tried to cover the maximum information for you to make the process simple. However, if you are still unable to tackle the problem even after going through this article then, please do not hesitate to reach out to our experts.
Accounting Professionals, CPA, Enterprises, Owners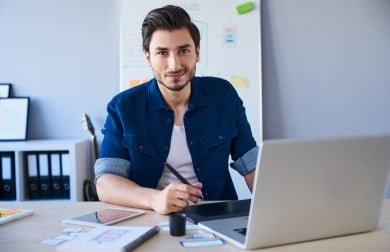 Looking for a professional expert to get the right assistance for your problems? Here, we have a team of professional and experienced team members to fix your technical, functional, data transfer, installation, update, upgrade, or data migrations errors. We are here at Dancing Numbers available to assist you with all your queries. To fix these queries you can get in touch with us via a toll-free number
+1-800-596-0806 or chat with experts.
---
Frequently Asked Questions (Faqs)
What You can do if the QuickBooks File is Corrupted?
If you think the QuickBooks file may have suffered data damage, the file has likely turned corrupt. The built-in Rebuild Data utility can then be used to attempt to rebuild the file. Run the QuickBooks File Doctor tool to fix the company file if you're still having data issues.
How to know that Your QuickBooks Installation is not clean?
During QuickBooks installation, if a key and product code already exists, then it means that the installation was not clean.
How to use the QuickBooks File Repair Tool to recover Data from a Backup File (.QBB)?
Follow the below steps to use the QuickBooks file repair tool to recover data from a backup file (.QBB):
• Firstly, run the software. Click Browse to select the QBW file that you want to repair when the main interface screen opens.
• Also, to locate the QBW file if its location is unknown then click on the Find option.
• After choosing the file you have to click on Scan. A Scan Results dialogue box containing details on the number of objects present and deleted from the file will be displayed after this begins scanning the corrupt file.
• Then you have to click on OK. The company, customers, vendors, and employees are among the recoverable components that are shown in a window along with a preview of the repairable file.
• From the main menu click on Save. With this, a Save File dialogue box will appear. To extract the company file data from the QuickBooks backup file (QBB), click Browse and then choose the file you wish to use.
• Lastly you have to click the Save button.