In your business, multiple transactions take place and each of these transactions needs to be tracked, managed, and recorded. While recording these transactions, one of the vital steps that it includes is the reconciliation of an account.
Save Time, Reduce Errors, and Improve Accuracy
Dancing Numbers helps small businesses, entrepreneurs, and CPAs to do smart transferring of data to and from QuickBooks Desktop. Utilize import, export, and delete services of Dancing Numbers software.
But how you do It on QuickBooks?
This article will help you with detailed information on how to reconcile an account in QuickBooks Online and more.
What is Reconciliation of an Account in QuickBooks Online?
Account reconciliation on QuickBooks involves the process of matching the transactions done and has been entered into QuickBooks Online. The process is advisable to be done regularly or at least once a month after you have received the statements.
If you wish to fasten the process, even more, all you need to do is to connect QuickBooks to your online bank accounts. At the same time, it is equally crucial to learn the usage of the Undeposited Funds account since you need to be on the same page of matching QuickBooks transactions with your bank statements.
Why do you need to Reconcile a Particular Account in QuickBooks Online?
Ideally, the practice of reconciliation of your bank accounts must be done monthly and preferably during the time you have received your bank statements.
Now, the most obvious question would arise here; WHY?
On QuickBooks Online, you get a detailed overview of your bank account via which you need to know what are your current holdings, how much was spent, and what amounts have been gained.
You must find the ending balance of the previous month and the starting balance of the current month matching. With QuickBooks Online, this balancing of the transactions made would be matching with your bank statements if the reconciliation has been done correctly.
No doubt, the chart of accounts acts as the backbone of accounting and QuickBooks Online adds more life to the monthly culmination of all the financial data records.
Thus, for healthy business sustenance, bank reconciliation must be done timely.
How to Reconcile a Particular Account in QuickBooks Online?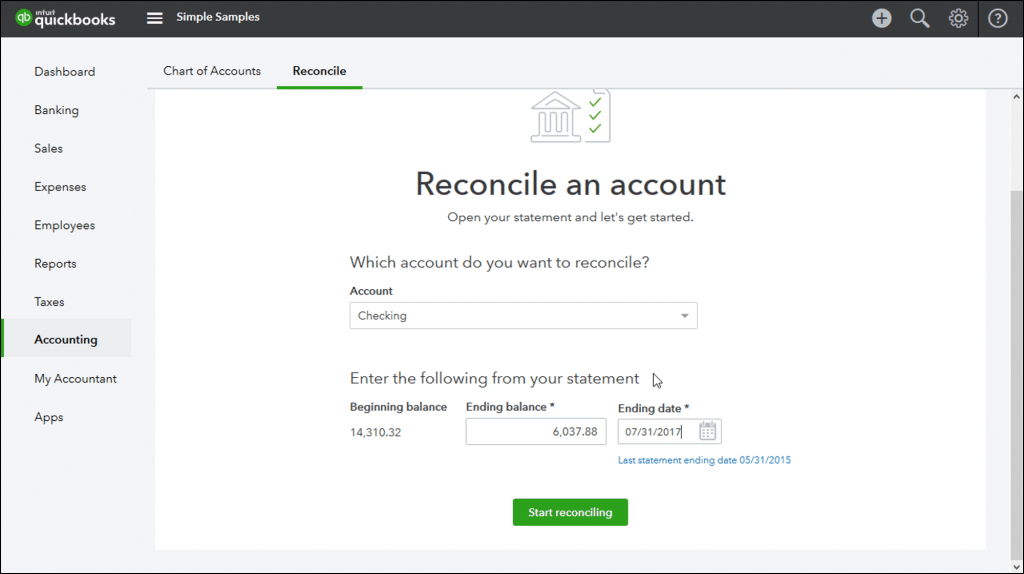 Step 1: The first step includes navigating to the reconcile page; for this, you need to take care of the below actions:
Click Accounting
Choose Reconcile
Step 2: In step 2, you need to choose the respective account that you wish to reconcile and follow the actions below by opening the account that you want to reconcile. If you have started on the reconciliation process, click Resume reconciling.
Step 3: Fill in the critical information fields as mentioned in your bank statement:
Beginning Balance
Ending Balance
Ending Date
Step 4: Hit Start reconciling
Step 5: After you have started the reconciliation process, the next step is to match and clear the transactions. On the reconciliation page, check transactional data such as deposits, payments against your bank statement and must show as cleared.
This is to primarily ensure that, that the more you keep on checking the transactions, the lesser will be the differences between your cleared balance and ending balance till it reaches zero.
Step 6: Sometimes, due to too many transactions in one place, it might get tough for you to locate the specific ones. On QuickBooks Online, you can apply filters to your transactions which makes it easier for you to locate transactions.
You can filter transactions based on Deposits or Payments, or data such as Cleared Status, Payee, Transaction Type, etc.
If you want to edit any info from the statement, you need to select the Edit Info Tab.
Step 7: Till you find the Difference field to be zero, you need to continue with clearing the transactions. Once the difference field is zero, choose to view the Reconciliation Report by tapping on View report.
If you do not wish to view the report currently, hit Done to finish the reconciliation process.
Now that you have a broader idea on how to reconcile an account in QuickBooks Online, make sure that the regular practice of the same is continued for a healthy status of your business's financial condition.
Accounting Professionals, CPA, Enterprises, Owners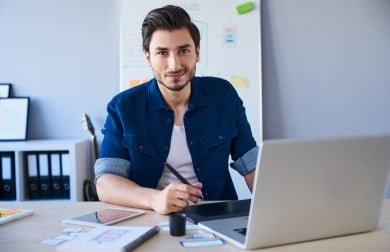 Looking for a professional expert to get the right assistance for your problems? Here, we have a team of professional and experienced team members to fix your technical, functional, data transfer, installation, update, upgrade, or data migrations errors. We are here at Dancing Numbers available to assist you with all your queries. To fix these queries you can get in touch with us via a toll-free number
+1-800-596-0806 or chat with experts.
---