IIF files are ASCII text tabs and QuickBooks Desktop uses a separate value file for importing or exporting transaction lists. These files allow the transfer of data from one platform to another platform which is QuickBooks' best management service. It is easy to import or export data files to the Desktop, as QuickBooks formats the file for you. In this particular post, we will discuss how to open an IIF file and how easily you can import, export, and edit it. Just read the post until the end to explore all about the IIF file.
Save Time, Reduce Errors, and Improve Accuracy
Dancing Numbers helps small businesses, entrepreneurs, and CPAs to do smart transferring of data to and from QuickBooks Desktop. Utilize import, export, and delete services of Dancing Numbers software.
Use of IIF Files in QuickBooks
You can use an IIF file as these methods:
Exporting lists from one QuickBooks business record and importing them into another.
Export transactions into some other program on QuickBooks.
Import activities from QuickBooks timer into an organization record.
Share records between exclusive versions of QuickBooks and systems like Pro, Premier, and Enterprise; or Windows.
Steps for How to Open IIF File in QuickBooks
Sometimes, it is necessary to have to open the IIF file so that you can easily check invoice amount, line errors, the tax code, and much more. However, an IIF file is the QuickBooks file so, it is not necessarily the most straightforward file to open here is the easy way; you can try to make it easy.
Initially, go to Microsoft Excel and open it
Next, select File and open
Now, select the appropriate location where .IIF file is saved
After that, change the file type to "All Files" that you find in the window's bottom
Select the IIF file and hit Open button
Twice hit the "Next" button
At last, click on the "Finish" button within the Text Import Wizard
Finally, you can see the IIF file is opened now in Excel.
Moreover, IIFs are used for importing or exporting QuickBooks Desktop data. Below are the discussed steps to import as well as how you can easily export the IIFs file.
Steps to Import IIF File in QuickBooks
The things can be easily imported including Bank transactions, general journal entries, accountant's changes, and batch transactions. You can also import lists of vendors and customers. Follow the steps to import such things: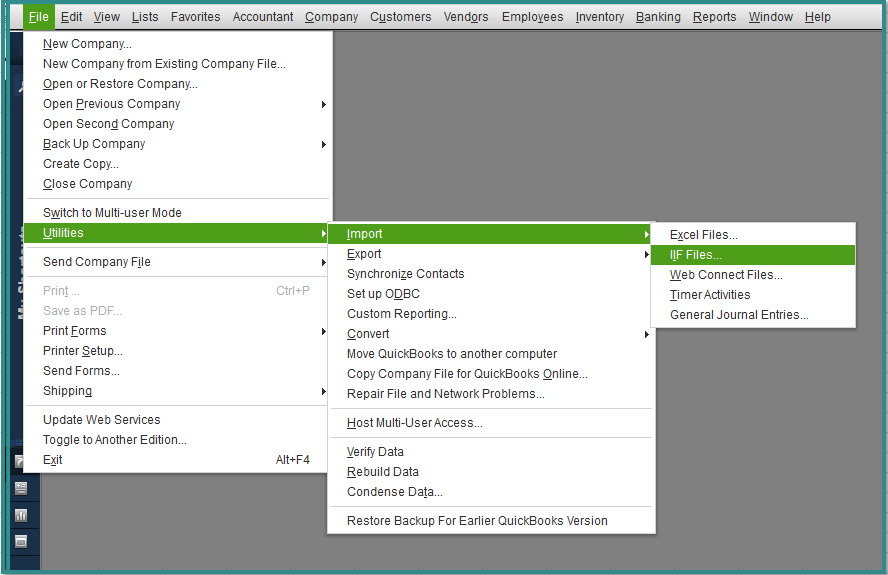 Firstly, sign in as Admin to the company file
Next, open File and then choose "Switch to single-user mode"
Before that moving forward make sure take a backup of the company file
If in case, the data doesn't import the way you expected and in such condition, you can restore it back
Now, go to File menu >> Utilities >> Import
After that, choose Import IIF files
Select the IIF file after browsing the same and then click on Open button
At last, hit the Confirm button in order to confirm the data you imported.
Steps to Export IIF file From QuickBooks File
You can export lists such as your clients and suppliers, percentage-based price rates, and Intuit payroll services payroll info. Check out the steps to export such lists: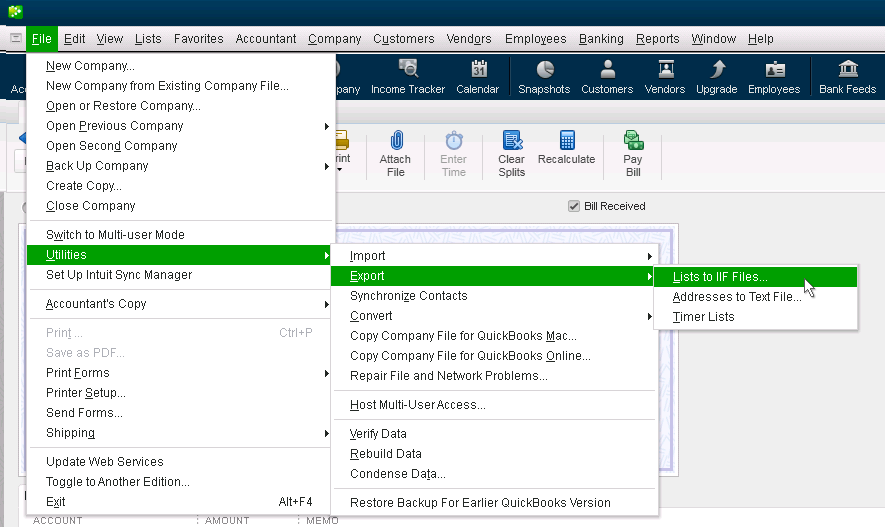 The very first, sign in as Administrator to the company file
Next, go to the File menu and then choose "Switch to Single-user mode" option
Now, again go to the File menu >> Utilities >> Export
After that, select and click on the "Export IIF files"
You have to choose the location using the drop-down menu to save the IIF file
To save it enter the name in the appropriate field of the File name
Once you're done with that hit "Save button" and then "Ok" button to confirm it.
Steps to Edit an IIF File in QuickBooks
If you want to edit anything in the IIF files after importing or exporting it then you can easily edit by following these given steps:
In the very first step, go to the File menu in Microsoft Excel
Next, select the Open button and then browse to the IIF file
Now, using the drop-down menu, you can select "All Files" in the File type
After that choose Open after selecting the IIF
Hit "Next" button twice and then "Finish" button
Now, you can make modification or changes in the IIF file
Once the changes are done then go to the File menu and click on the Save button
Select "Yes" and then close Microsoft Excel
When you close then you'll be asked to save the IIF again
In the end, you have to select the "Don't Save" option.
Accounting Professionals, CPA, Enterprises, Owners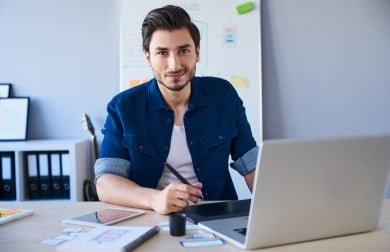 Looking for a professional expert to get the right assistance for your problems? Here, we have a team of professional and experienced team members to fix your technical, functional, data transfer, installation, update, upgrade, or data migrations errors. We are here at Dancing Numbers available to assist you with all your queries. To fix these queries you can get in touch with us via a toll-free number
+1-800-596-0806 or chat with experts.
---