Intuit Interchange Format (IIF), these files are used by QuickBooks to import and export the transactions and lists easily. You can also use it to transmit data to and from various other platforms. This makes the process faster and simpler by directly transmit the information into QuickBooks Desktop.
IIF files are CSV files and ASCII text files that is used by QuickBooks software for import and export the data. It formats the file for you. The scratch and adapt the data from any other program is a bit complex and difficult if you don't have any experience formatting text files.
Save Time, Reduce Errors, and Improve Accuracy
Dancing Numbers helps small businesses, entrepreneurs, and CPAs to do smart transferring of data to and from QuickBooks Desktop. Utilize import, export, and delete services of Dancing Numbers software.
QuickBooks is a comprehensive solution that is designed to manage various business-related activities. It provides tools and excellent features that allow users to handle their business expenses, easily import & export files, and more. The Import and export of IIF files are pretty simple and easy because QuickBooks formats your files itself. However, it is technically challenging to create IIF files from scratch or to adapt data from another system and it can be difficult if you don't have the experience in formatting delimited text files. Let's know about IIF files or its uses and limitations before moving for ways to import or export the IIF files.
What is Intuit Interchange Format (IIF) files?
It is the text files used in the importing and exporting of QuickBooks data. In the QuickBooks software, you can find the IIF import and export utilities within the 'File' menu. It can be difficult if you don't have the experience to format delimited text files. In that case, entering the information directly into QuickBooks can be quicker and safer, unless you have to import a very large amount of data.
Where to use IIF files:
You can export company file lists and import them into another.
Importing tasks of QuickBooks Timer into a company file.
Import transaction into QuickBooks from another system.
Share data between different versions and platforms of QuickBooks (for example Enterprise, Premier, Pro; or Windows and Macintosh).
IIF limitations
Below are the listed IIF limitations. Check out:
Users can conveniently import transactions from their QuickBooks program but not export any other transactions.
A huge amount of entries can be easily done via QuickBooks process.
If a customer imports an invoice or any bill along with his payment, he will not be able to link them after the import.
A user can now easily import assembly objects but that won't be able to import the database into the custom fields of the object.
You need to link them to the receive payments windows or Pay Bills window, and all other pairs. Therefore, if a user needs import, they must connect it to your transactions because they are stored under the. IIF tab.
Users cannot export a QuickBooks accounting program from its U.S. version. It imports QuickBooks into your Canadian version, or as a Vice Versa.
End users would not be able to import or export payroll data from any other product related QuickBooks software accounting files. Though, it can be used by exporting payroll data via Online Payroll & their full-service Intuit Payroll.
List which you Can Import .IIF files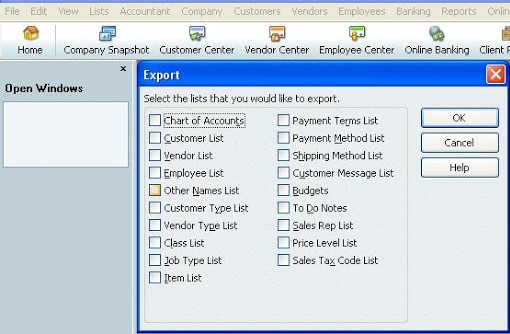 | | | |
| --- | --- | --- |
| Chart of Accounts | Customer List | Vendor List |
| Employee List | Other Names List | Customer Type List |
| Vendor Type List | Class List | Job Type List |
| Item List | Payment Terms List | Payment Method List |
| Shipping Method List | Customer Message List | Budgets |
| To Do Notes | Sales Rep List | Price Level List |
| Sales Tax Code List | | |
List of other Transactions that You can Successfully Import
| | | |
| --- | --- | --- |
| Account beginning Balances | Vendor Bills | Vendor Bill Refunds |
| Cash Sales to customers | Cash refunds to clients | Credit Card refunds to Customers |
| Checks | Credit Card transactions | Credit Memos to Customers |
| Deposits | Estimates | General Journal Entries |
| Invoices | Payments from Customer | Purchase Orders |
| Account Transfer of Funds | | |
Steps to Import .IIF files in QuickBooks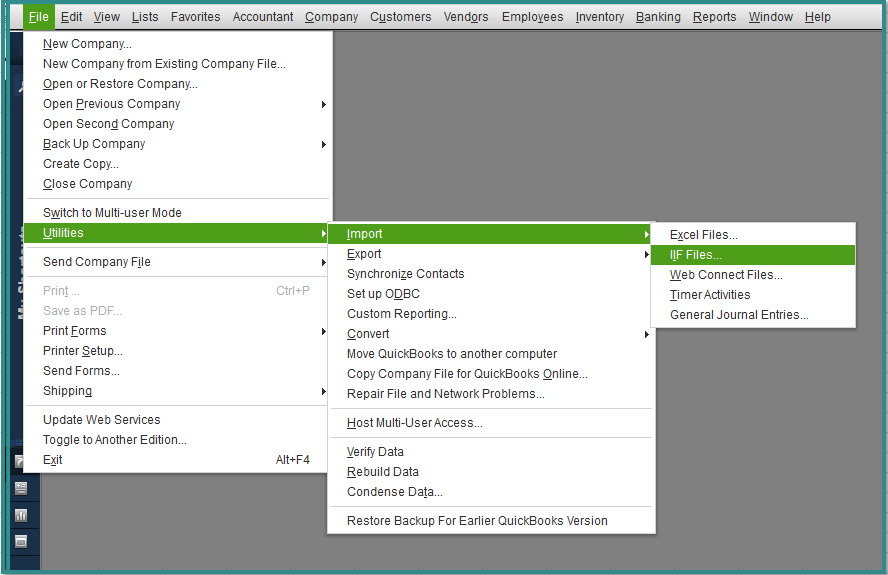 Initially, sign in as an Admin into the company file
Make sure that you're working on a Single-User mode
Now, go to the Main file menu and select Utilities option
Next, select Import heading and then click on .IIF File option
After that, find the location and make it as bold
Once done then press the "Open" button
Now a message pops up on screen to confirm that you want to import it instantly
In the end, press the "Ok" button.
Steps to Export .IIF files in QuickBooks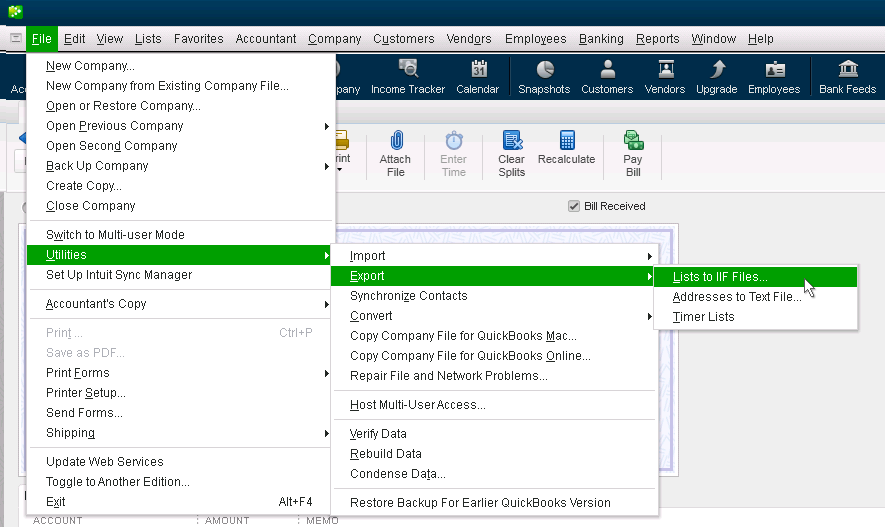 Initially, sign in as an Admin into the company file
Make sure that you're working on a Single-User mode
Now, go to the Main file menu and select Utilities option
Next, go to Export and then give a list to IIF files
Verify the box which is next to every list that you want to export
Also, make a click on it as the "Ok" button
Do the below-listed steps into the Export windows

Using the drop-down menu select save in and then choose the location where you wish to save the .IIF file
Now, firstly remove/delete as an asterisk (*) under the name field of file applications
After that type an appropriate name for a file
And then select IIF files (*.IIF) for the file type that you want to use
Make a click on Save button

At last, hit the "Ok" button to the prompt message that the file has been successfully saved.
Steps to Make Essential Edits
To do so, follow these steps in the given sequence order:
Go to the Main file menu and then click on save all the changes that are made
Next, hit the "Yes" option as a prompt which pops up
Now, press Alt + F4 keys together in order to close the Excel sheet
It already saves as .IIF file and ask you to save again
Finally, click on the "Don't Save" button.
So, to simplify your research, we've created this blog that outlines various IIF files related things. Hopefully, the above information gives you a clear understanding of IIF files and helps you to import and export it in QuickBooks with ease or without any delays.
Accounting Professionals, CPA, Enterprises, Owners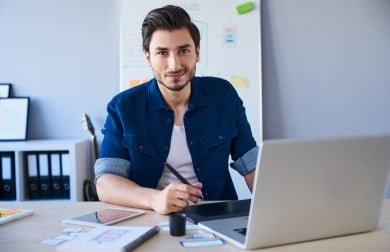 Looking for a professional expert to get the right assistance for your problems? Here, we have a team of professional and experienced team members to fix your technical, functional, data transfer, installation, update, upgrade, or data migrations errors. We are here at Dancing Numbers available to assist you with all your queries. To fix these queries you can get in touch with us via a toll-free number
+1-800-596-0806 or chat with experts.
---