QuickBooks has always been a useful and trustworthy accounting software for the users and hence it is always on top of the accounting software list. It has various tools to manage valuable data with high security. Using the below information you can easily import the IIF files to the QuickBooks.
IIF files are Intuit Interchange Format and these are of ASCII text, Tab-separated value files that are used by the QuickBooks to import and export the list of transactions. These IIF files make it easy to transfer the data to and from different platforms to better manage company records in QuickBooks.

Importing in the QuickBooks is very easy because of QuickBooks desktop formats the file for you. But creating the IIF files from starting maybe a typical process and may be difficult if you are importing the files for the first time. These files make the process easier and enter the information directly to QuickBooks until and unless you have a large amount of data.
IIF is used to import or export QuickBooks data. You can import many things such as bank transactions, accountant change, journal entries, and batch transactions. You can also import things like customer and vendor lists.
List of things which you can import
Employees
Chart of accounts
Items
Vendor types
Shipping methods
Notes
Todos
Customer and customer jobs
Sales tax codes
Classes
Other names
Customer messages
Payment terms
Sales Reps
Vendors
Customer and job types
Payment methods
Budgets
Price Levels
Steps to import IIF files to QuickBooks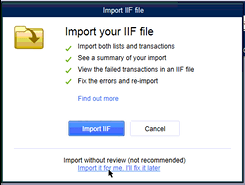 Below are the steps mentioned through which you can easily import the IIF Files to QuickBooks.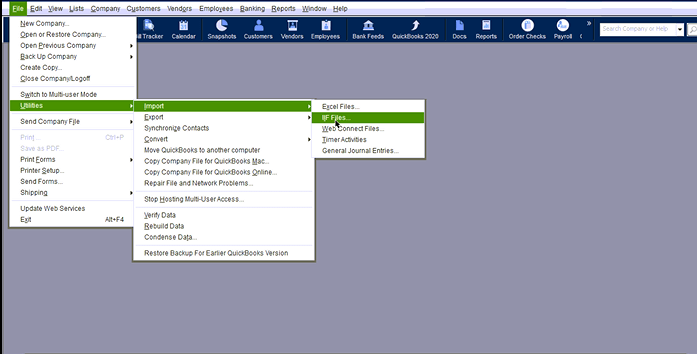 Initially sign in to the company files as the administrator
Go to file>>select the Switch to Single-user mode
Don't forget to make the backup of the company file so that you can restore it if the data do not import as you expected
Go to File menu>>select utilities>>select then import>>select import IIF files
Search for the IIF files, select it >>select open
Select OK and confirm if the data has been imported
Winding-up
This blog has been created to simplify the steps to import the iif files to QuickBooks. Hopefully, the above information gives you a clear idea of how to import the iif files to QuickBooks without any delay with the ease of steps.