Here is how you can find or open QuickBooks Desktop 2022 after installation
Have you decided to upgrade to QuickBooks Desktop 2022 and downloaded the latest version, but still unable to locate it after installation? There have been reports of a glitch in the newly launched QuickBooks Desktop 2022. The Intuit product development team has acknowledged an issue with the QuickBooks Express install method, where the desktop app may fail to install while the server-only component does. The team is working to resolve the problem from its root cause. Meanwhile, to address this issue, you can follow the steps discussed later in this write-up.
Save Time, Reduce Errors, and Improve Accuracy
Dancing Numbers helps small businesses, entrepreneurs, and CPAs to do smart transferring of data to and from QuickBooks Desktop. Utilize import, export, and delete services of Dancing Numbers software.
But there is no need to worry. This problem can be fixed.
You also can read: Fix QuickBooks Error Code 6000 80 (Company File Issue)
Steps to Fix Unable to find or Open QuickBooks Desktop 2022 after Installation
Here are the steps you need to do to solve the unable to open or find QuickBooks Desktop 2022 after installation error:
Step 1: Review the QuickBooks Server 2022 in the Particular System
Now, you will be required to click the Windows Start menu and open it.
After that, look for the Control Panel in the given search bar and then open it
Now you need to navigate to Programs and Features.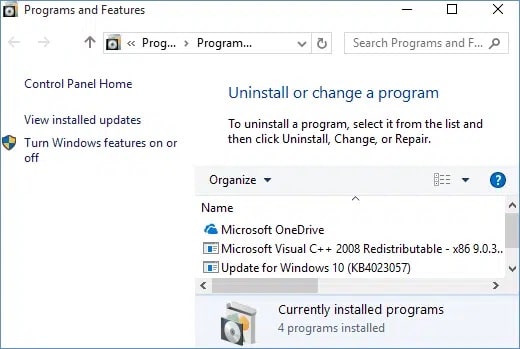 After that, from the particular Uninstall or Change a Program list, you need to search for QuickBooks Server 2022.
If you find QuickBooks Server 2022, but don't see QuickBooks Pro, Premier or Enterprise 2022 on the list, proceed to step 2.
Step 2: Uninstalling the QuickBooks Server
Once the steps mentioned above are done, you need to select QuickBooks Server 2022 from the particular Change a program list or Uninstall option.
Now you need to select Change/Uninstall and then click Next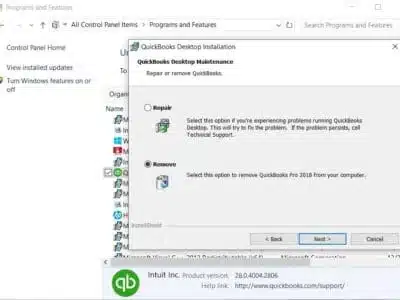 Finally, You need to select the Remove tab and click it to Uninstall QuickBooks Server 2022
Step 3: Now Run the QuickBooks Desktop 2022 that was Downloaded and Install once again
Once the Steps are Complete, You need to move to Custom and Network options from the given Install Wizard When you are notified. Click Next.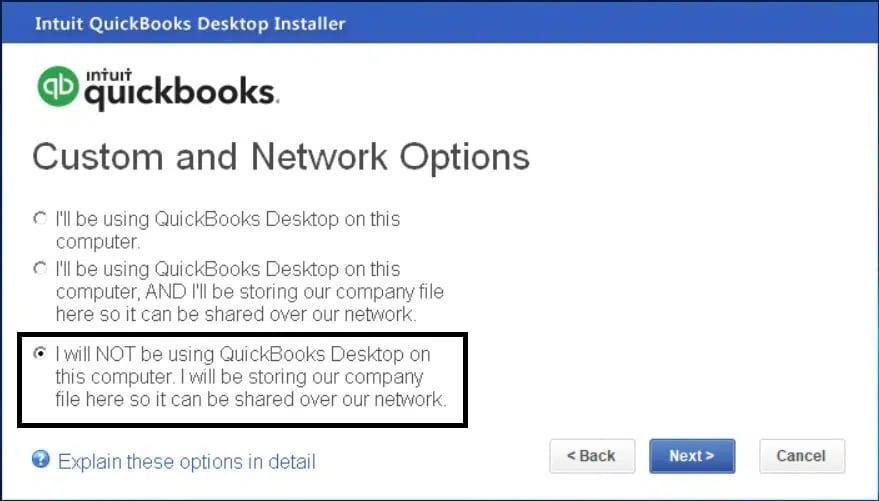 Additionally, You can also select any of the options given below:

I will be using QuickBooks Desktop on this computer. I will be saving the Company File here. This will help me to share it over our network.
I will be using QuickBooks Desktop on this particular computer.

Now, Finally, You need to select the Next tab to finish the installation.
Read Also: How to Reset Password for QuickBooks Admin and other Users
Step 4: Run the Quick Fix My Program using Tools Hub Program
The first step is to close your particular QuickBooks
Now you need to download the latest version of the QuickBooks tool Hub. Then you need to save that particular file in a place where you can see it or find it with ease
Press two times on the file QuickBooksToolHub.exe
Now do as the instructions on the window says to install and give consent to the conditions and the terms
When the install is over, press on the icon on your particular Windows Desktop that says Open the QuickBooks Tool Hub

Now open the Tool Hub Program and select the Program Problems.
Post that, Choose Quick Fix My Program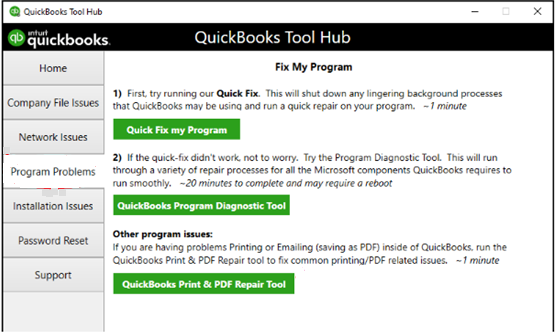 Finally, Start your QuickBooks Desktop and then open the particular data file
In order to find out whether the components are functioning in the right manner or not and whether they are updated properly, you must restart the computer system post running the tool.
We are confident that the information given above about the problem unable to open or find QuickBooks Desktop 2022 after installation error will help you a lot.
Just go through the steps and implement them in the mentioned order. However, if you think it is not working or you do not wish to perform them on your own, take an expert's help.
You can reach out to our team of QuickBooks professionals who have certified knowledge and expertise in this field. They will solve your QuickBooks 2022 installation problem.
Accounting Professionals, CPA, Enterprises, Owners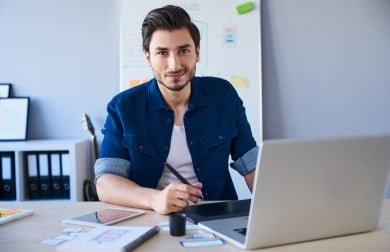 Looking for a professional expert to get the right assistance for your problems? Here, we have a team of professional and experienced team members to fix your technical, functional, data transfer, installation, update, upgrade, or data migrations errors. We are here at Dancing Numbers available to assist you with all your queries. To fix these queries you can get in touch with us via a toll-free number
+1-800-596-0806 or chat with experts.
---
Frequently Asked Questions
Why QuickBooks Desktop 2022 does not Open after Installation?
There can be ample reasons why QuickBooks Desktop 2022 does not open after installation. However, we have highlighted below some of the primary reasons behind the occurrence of this error:

Corrupted or Damaged Hard Disk.


The QBWUSER.INI file may be Missing Because of Some Reasons.


The Name of the Company may be too Long.


The QuickBooks Desktop is Installed Wrongly.


The Operating System may be Outdated or not Updated.
What are the Symptoms of QuickBooks Desktop 2022 does not open after installation Error?
Here is the list of the symptoms of QuickBooks Desktop 2022 does not open after installation error:

The QuickBooks Company File cannot be Opened


The Windows Operate at a Very Less Speed


The QuickBooks may freeze


The System Responds to Every Direction Very Slowly
Why my QuickBooks take a Lot of Time to Open?
Often QuickBooks take a lot of time to open. This is due to the fact that the data quantity is too big. Every component in the program is loaded with memory. Say you have 100 clients or file records, and then it is quite likely that the data can get corrupted after a while. As a result, this can enlarge the file size eventually.
Can the Latest Update of QuickBooks solve this Type of Problem?
Yes. It is possible. It is possible to fix QuickBooks Desktop 2022 will not open after installation error with the latest version of QuickBooks. If you wish to update, then open your QuickBooks account and navigate to the Help menu and choose the Update QuickBooks tab. Finally, press on the Update Now tab.