Here you can learn about how to create a Pay Stub in QuickBooks and how to print one or more pay stubs at once in QuickBooks.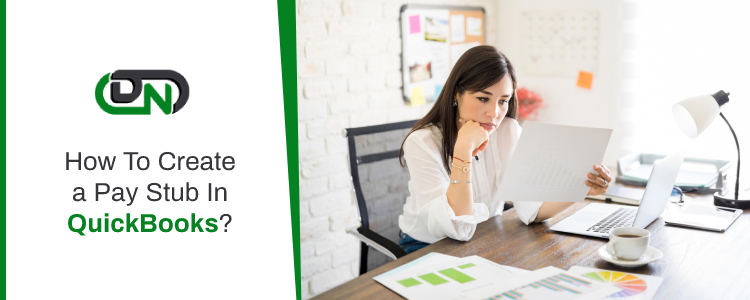 Concept of Pay Stubs:
Pay Stubs seems to be a new term for a layman but is very useful for any financial personnel. This pay stub is a written payment statement that shows the details of paycheck of employees for each pay period. In other words, you can say it is similar to the salary slips provided by the company.
If any of the organization or company facilitates you with physical paychecks, then, typically, the pay stub is also attached or included with the provided cheque. If your company is used to directly depositing the salaries, then, your employees can also have their access to their pay stubs through an online portal.
Importance of Pay Stubs
One might wonder about the importance of pay stubs. Pay stubs are considered to be important for the following reasons:
Visibility
Accountability
Payroll compliance
Employees should be able to see the kinds of earned funds and deductions that have to be taken out of the employees' gross pay. And providing a page which has full details mentioned can help your employees for further processing of their salary records. Apart from these, as an employer, you can also avoid unnecessary confusion or confrontation.
When it comes to legal matters, there is no federal law that requires employers to facilitate their employees with pay stubs. However, there are several states that have specific requirements to pay stubs.
Pay stubs may vary depending on the state employment laws and industry requirements. Here are some common items you might expect to see listed on a pay stub:
Employee details
Gross wages
Net wages
Hours worked
Dates covered
Rates paid
Deductions
QuickBooks is a very comfortable platform when it comes to long calculations. And when it comes to record access, there is no other name you can think of. With easy access, you can also print your pay stubs right away from QuickBooks. You can choose to print several pay stubs at a time, or print them one by one. QuickBooks printed pay stubs include your name, company name, address, and contact number at the top and bottom of each pay stub.
Note: Please be advised that you need to use plain papers to print pay stubs.
How to Print one or more Pay Stubs at once?
As mentioned above, you can choose to print more than one pay stub at once. You can always refer to the following steps to print more than one pay stubs:
First of all, login to the QuickBooks account.
You need to locate the File menu and click on it.
A drop down will appear and then you need to hover your mouse over Print Forms.
Then, you need to choose Pay Stubs.
Click on the specific payroll bank account of yours'.
After this, you need to enter the specific date range that should include the date of payment.
Next to the date column, there is another column in which you need to choose the pay stubs you wish to print.
You can apply other filters as well like employee names by selecting them in drop down.
Optional step is to choose Preferences. This way, you will be able to select the specific company as well as employee info that will be the part of the printed pay stub.
If you wish to include a custom message to be printed with each pay stub, you can also enter the text in the Company messages. The QuickBooks will ensure to print the given message on all pay stubs boxes.
Click on the Preview button to view pay stubs before you print them.
Finally, click on Print.
If it comes to Print a Single Pay Stub
You may come across several situations where you may want to print a single pay stub from paycheck. You can refer to these details steps:
First of all, you need to open the paycheck in QuickBooks Desktop.
On the check, you should click on the Print icon and then the specific Pay Stub you wish to print.
QuickBooks steps and procedures are very easy to handle. If you are not from a finance background, then you need not to worry, as QuickBooks can be the very best solution for all your business requirements. However, anywhere, you feel that the process is not handled properly or you need some kind of assistance, then, do not worry at all. We, QuickBooks experts will help you further. You just need to fill out a web form with your query details and we will come up with the best possible business solution for you.
If you are a first timer, you may have several questions that may be itching your mind. For these reasons we have compiled a few of those frequent questions that will give you enough detail to proceed further if required.
Where can a Pay Stub be Found in QuickBooks?
This is a question that did pop up in my mind as well. Here's how you can find the paystub section:
Sign-in to your QuickBooks account.
Then, you need to select the File menu and hover your mouse over Print Forms tab.
Click on the Pay Stubs.
Is a Pay Stub the Same as Paycheck?
Another name of the pay stub is a check stub. Technically, it is the part of a paycheck or a separate document that includes the details about the employee's payment. In other words, your salary slip containing all the details about your earnings and deductions also enables you for tax calculations. And, the pay stub will be showing the exact amount the employee will be receiving.
How can I Print my Pay Stubs?
Anytime you need, you can most definitely can print out a pay stub by referring to these steps:
You need to select the Reports from the left menu.
Click on All and then, click on the Payroll tab and a drop down will appear.
From the drop-down, a list of reports showing payroll will show.
You need to choose the checks to print and enter the specific check number.
Click on the Print and also ensure that your printer is filled with check stock.
---
Need Some one on one QuickBooks Assistance?
---