One of the key features of QuickBooks is to make it an easier process to manage the employee payroll of your organization. More to this feature, you can also generate pay stubs that adequately complies with the respective state's regulations. The following article will take you through a detailed guide on how to print pay stubs in QuickBooks.
What are Pay Stubs?
Defining Pay stubs in simple words offers your employees an extensive breakdown of what earnings they are incoming in your organization. Such a pay breakdown generally would include, taxes applicable, benefits, and such as.
The pay stub on QuickBook is generated in a PDF format which is printable and looks similar to that of a check.
Each of the information detailed on a Pay stub is basically for the aim of ensuring your employees of being paid correctly along with the tax details that are withheld both by them and the employer.
As per the regulations imposed by the respective state, pay stubs can also feature data showing sick time and vacation as applicable to the employee.
How to Print Pay Stubs in QuickBooks?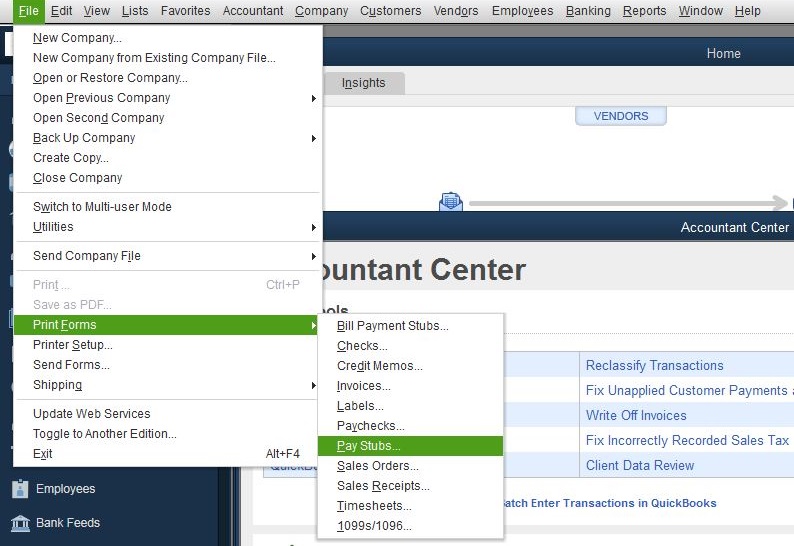 On QuickBooks, you can generate multiple pay stubs in one single go and can also print them all at once. The Pay stub generated from QuickBooks will have the company name, official address and contact number included both at the top and bottom of every single stub.
Advisably, it is recommended to use plain paper while printing the Pay stub instead of using check stock.
Steps Involved:
Step 1: Enable QuickBooks Payroll
Ensure to have QuickBooks Payroll enabled first. To do this, take your cursor to Workers which can be located on the left-hand side of the screen, and tap on Employees.
Step 2: Choose Pay Stubs
Visit the File menu and take your cursor on Print Forms. Choose Pay Stubs. print pay stubs under the file menu on QuickBooks.
Step 3: Choose the Payroll Bank Account
Choose the payroll bank account associated and input the data range which must include the pay date of the pay stubs.
Step 4: Choose to Filter Individual Employees
Choose the Pay stubs which you wish to print from the column listed next to the preferred date. You can also choose to filter individual employees and choose them from the drop-down under the Employee section.
Step 5: Printing the Company info/Employee Details
For printing the company info and the employee details on the Pay stub, choose Preferences
Step 6: Add Message on Company Dialogue Box
For adding a particular message that needs to be sent with each of the Pay stubs and shall be printed on all of the Pay stubs boxes, input the preferred text in the Company message dialogue box.
Step 7: Preview to View the Pay Stubs
Tap on Preview to view the Pay stubs prior to you wish to print them. Once approved as per your recommendation, hit Print.
Printing Individual Pay Check from a Paycheck
Step 1: Visit the QuickBooks Desktop and open Paycheck.
Step2: Choose the Print icon from above the check and choose Pay Stub.
Delivering Pay Stubs via QuickBooks Online
Now you can also avail yourself of the option to electronically deliver Pay stubs to your employees via QuickBooks. To proceed with this, the foremost thing to do is to verify with your respective state's regulations to permit Pay stub transferring digitally.
There might be a possibility for your employees to opt for a declaration sort of form to agree to receive their pay stub digitally.
Step 1: Firstly ensure that you have successfully created your employees' profiles on QuickBooks.
Step 2: Send an invitation to your employee/employees to check their Pay stubs and W-2s online. Make sure, you have the employee's consent to receive W-2s online.
Step 3: Enter the employees' official email ID and select the checkbox beside to redirect them to the QuickBooks Workforce site.
Step 4: Once your employees have logged in to their QuickBooks, they can view their Pay stubs once you have added the payroll. Adding customization like having an email notification once new Pay stubs are generated, is also available.
Step 5: To turn on this notification, enable 'send me an email when new pay stubs are available.
And all this while, you thought printing pay stub on QuickBooks to be a big task? Hopefully, now it gets easy for you with this article.
---
How Many Types of Ways are There to Print Pay Stubs on QuickBooks?
To print Pay Stubs on QuickBooks, there are five ways you can do that:

Print Pay stubs via Paycheck List


Print Pay stubs via Bill Payment Stubs


Print Pay stubs via Desktop File Menu


Print Pay stubs via Paycheck


Print Pay stubs via Voucher Printing
Can I Print Account Names on the Check Voucher?
Yes. You can print names on the check voucher.
Steps Involved:

Visit the Edit section and choose Preferences.


After selecting the Checking option, hit the Company Preferences tab.


Choose your preferred account names to be printed on the voucher and choose OK.
For Check/Paycheck which has not been in use for inventory purchases, the initial 16 lines of the account name shall be displayed. While Check/Paycheck which is in use for inventory purchases will show payroll item or inventory item.
What to do if I can View Forms but Unable to Print Pay Stubs on QuickBooks?
This might be caused by some troubleshooting errors. To resolve this, delete cookies and temp files to enhance your browser experiences.
Are there any Customization available for choosing items that I wish to/don't wish to Print on Pay Stubs?
Yes, there are a few items that you can wish to/don't wish to print on Pay Stubs. The same is mentioned below for your quick referral:

Vacation & Sick used


Legal company name


Federal employer identification number


DBA company name


Company phone number


Non-taxable company items


Employee social security number


Hours for salaried employees