QuickBooks has a basic feature called QuickBooks PDF Converter. The company file or financial reports are converted into PDF files so you can share them easily. Every user can quickly access the files thanks to this feature. QuickBooks' print components handle the conversion, and they provide a no. of features and benefits that can be quite beneficial to you. Reinstalling the QuickBooks PDF converter may be necessary if there are issues with the PDF feature, or if you need to install it in order to convert and distribute files to your clients. The QuickBooks PDF converter's installation procedure, as well as its applications and benefits, will be covered in this article. In this article, the error and the resolution methods that PDF Converter faces will also be discussed.
Save Time, Reduce Errors, and Improve Accuracy
Dancing Numbers helps small businesses, entrepreneurs, and CPAs to do smart transferring of data to and from QuickBooks Desktop. Utilize import, export, and delete services of Dancing Numbers software.
QuickBooks PDF converter is known to be an integrated utility in the application itself which helps potentially in changing your company's forms and financial reports to that of the format of Adobe Portable Document Format Files.
This article would help you to learn about how to reinstall the QuickBooks PDF Converter via simple steps along with descriptive information about the why and what of the application.
What is a QuickBooks PDF Converter?
The QuickBooks PDF converter, unlike other converters, enables you to convert your business files into PDF format. It can convert financial reports, transaction statements, QuickBooks Balance Sheets, Pay Stubs, and other documents in addition to changing company files.
You can email this PDF to your partners or clients after the conversion is complete. The fact that this feature is already included in QuickBooks Software is its best quality. It is, however, Also available to people who do not use QuickBooks software. Any PDF viewer, Such as WPS Office, Adobe Reader, etc., can be used to open this document. You can also convert PDF files to those supported by QuickBooks.
What is Reinstalling of QuickBooks PDF Converter?
Performing as an integrated function, the QuickBooks PDF Converter application helps in converting various QuickBooks formats into Adobe Portable Document Format. The entirety of the conversion process happens through QuickBooks' print elements and helps in simplifying your tasks.
Once you have the QuickBooks generated reports in a PDF form, it naturally becomes very easy to share the reports with people who might not be having QuickBooks installed on their devices.
The next section elaborative discusses why you need to reinstall QuickBooks PDF Converter and what are its associative benefits.
What are the Benefits of QuickBooks PDF Converter?
Below you will see the number of benefits that QuickBooks PDF Converter offers to users.
With the help of this capability, you can share QuickBooks with clients or business partners who don't have QuickBooks Software set up on their systems.
The financial report can be quickly turned into a shareable and convenient-to-save PDF document.
You can update it with the help of software if you are experiencing any issues when printing, saving, or emailing the PDF file from the QuickBooks Desktop.
The Print Repair Tool & QBs PDF is also easily available for download from the official website.
Installing Process of QuickBooks PDF Converter
As we discussed what a PDF converter is and its benefits, you might be consciously interested in learning how to install a PDF converter. The steps for installing the QuickBooks PDF converter are listed below.
Begin by Right-Clicking the icon on the QuickBooks Desktop and then Selecting the option of Properties.
Then, To open the location of the File you have to Hit the option Find Target.
To install the QuickBooks PDF Converter you have to double-click on the Install.exe or Install App.
After the completion of installation, You have to Click on OK.
Then after entering run into the search box, Click the Start button to bring up the Run box.
Also, Enter control printers in the search box and press OK. The Printers & Faxes window will open.
Then click the Document Converter with the right mouse button and choose Rename.
Last but not least, Type QuickBooks PDF Converter and click Enter. Make sure you typed your PDF converter's name correctly.
Process of Deleting the QuickBooks PDF Converter in Windows
When you will face some problem with your QuickBooks PDF converter then you can delete this tool. Follow the below steps to delete:
First, As an Admin, You have to Sign in to windows.
Then you have to open the option Printers and Faxes window.
Click on the start button and then in the search area you have to type Run and then press Enter.
In the search box of the Run command, Type control printer and then press enter.
Then you have to Right-Click on the icon of the QuickBooks PDF Converter.
Last, You have to end by choosing the option Delete and then Click on OK to complete the task.
Note: It's possible that after deleting the QuickBooks PDF Converter, You'll need to install it again. To install the QuickBooks PDF converter, Simply follow the PDF Converter's Installation instructions.
How to Use QuickBooks PDF Converter?
The only thing left to learn is how to use the QuickBooks PDF converter now that it has been installed to convert your files or reports into PDF format.
First, You have to open QuickBooks and then find the reports or invoices that you desire to save in PDF format.
Under the menu tab then you have to hit the File option. Choose the option that is Save as PDF.
After that, You have to select the file in which you want to save your invoice in PDF format.
At last, Give the name to your File and then click Save.
Why do You Need to Reinstall of QuickBooks PDF Converter?
When it comes to mapping what are the benefits of reinstalling QuickBooks PDF converter, there are many that you can be enjoying reaping.
Let's understand each one of them via the pointers laid out below:
The first thing that would be offered to you is having the enhanced shared access with your associates of all of the respective financial data and records.
Once the company's data is converted into PDF format, You can choose to email it to your fellow associates and esteemed clients. Apart from that, You may also choose to upload the PDF to Intranet, Web browser, Computer server so that others can view it as well as per their convenience.
The PDF file generated is compatible with multiple platforms and can be viewed via PDF-XChange Viewer, Adobe Reader, Foxit Reader, or Perfect PDF Reader.
When you have an easy and effective way of data sharing, It contributes massively to making well-informed decisions that enhance the business profits you aim for.
Thus, Now that you know that reinstalling the QuickBooks PDF converter can be such a great boon, understanding the steps involved in doing it, is the next immediate thing you should absorb.
Scroll down to the next section which helps in exhibiting all the crucial steps involved in reinstalling the QuickBooks PDF converter.
How to Reinstall QuickBooks PDF Converter?
To reinstall QuickBooks PDF Converter, you must take note of the steps mentioned below for executing it successfully.
The first thing that you should be doing is to delete and once again reinstall QuickBooks PDF Converter:
Reinstalling and Deleting QuickBooks PDF Converter
Step 1: Open Printers and Faxes by logging into Windows as Admin.
Step 2: Locate QuickBooks PDF Converter and make a right-click and hit Delete.
Step 3: Choose Delete and Press. The next move will be downloading QuickBooks PDF Converter once again.
Step 4: Right-click QuickBooks Possibility and choose Properties.
Step 5: Select Find Target and open Windows Explorer.
Step 6: Double-click Install Application or exe.
Step 7: Once the set-up is completed, Tap on OK.
Step 8: Browse to Windows Start possibility and select Run.
Step 9: Input Control Printers within Open Box.
Step 10: Press OK that will open Printers and Faxes.
Step 11: Make a right-click on Amyuni Document Converter and tap on Rename.
Step 12: In the final step, enter QuickBooks PDF Converter and thereby followed by hitting Enter. At this stage, You must ensure to type the name correctly (inclusive of spaces).
QuickBooks PDF Converter Not Working
Well, this may be annoying. The time converter stops functioning when you are attempting to convert a file into PDF format. It affects a lot of users. You need not, however, be concerned about this. To fix this problem, you have come to the right place. Let's look at the answer to this.
What are the Solutions to QuickBooks PDF Converter if it is Not Working?
To fix your problem quickly follow the solutions:
Solution 1: Using the QuickBooks Print and PDF Repair Tool
This is an extremely effective tool that will undoubtedly help you. Let's examine the procedure.
The QuickBooks tool hub program must first be Downloaded from the official Intuit website.
To install the software, Simply Follow the installation Instructions after downloading it.
You must Start the Software after the installation is finished.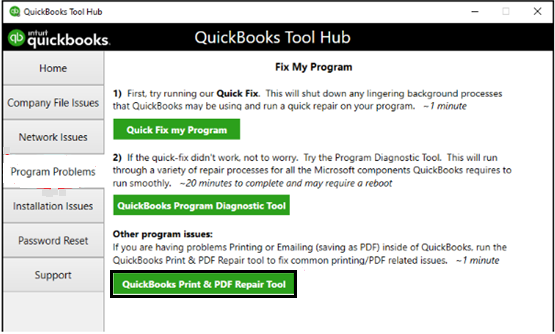 You can find a tab titled Program Problems in the QuickBooks tool hub. All you have to do is Click on it.
The QuickBooks Print & PDF Repair Tool button must now be clicked.
Finally, The tool will automatically find the problem and fix it. You must restart your computer after the process is finished.
Solution 2: XPS Document
To begin with, You must confirm whether the XPS Document is operating well or not.
You must Reinstall the Microsoft XPS Document Writer if there is a problem.
Solution 3: Antivirus
Your system's antivirus program might occasionally block the functioning of this tool. Therefore, You have two options: either delete your antivirus software or modify its settings. By doing this, You will be able to resolve the problem you are having.
Solution 4: Reinstall the QuickBooks PDF Converter
The most awaited answer of all is this one. Even users of the QuickBooks PDF converter who had no problems wanted to download the PDF converter. So let's get started right away by following these instructions.
In the beginning, If the PDF Converter is already installed, you must Remove it.
After that, You must sign in to Windows as an administrator.
Then, Select Printers and Faxes and look for a QuickBooks PDF converter there.
Next, Right-click it and choose Delete from the menu.
The tool must then be downloaded and installed once more.
In the above blog, you will see detailed information on QuickBooks PDF Converter installation along with its benefits. In case you still face any issues related to this then you can call the help desk team. The help desk team is available round the clock for the users.
Accounting Professionals, CPA, Enterprises, Owners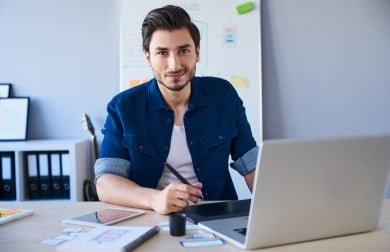 Looking for a professional expert to get the right assistance for your problems? Here, we have a team of professional and experienced team members to fix your technical, functional, data transfer, installation, update, upgrade, or data migrations errors. We are here at Dancing Numbers available to assist you with all your queries. To fix these queries you can get in touch with us via a toll-free number
+1-800-596-0806 or chat with experts.
---
Frequently Asked Questions (Faqs)
What are the Various QuickBooks Reports that I can Convert on QuickBooks PDF Converter?
There are multiple QuickBooks Reports that you can convert on QuickBooks PDF Converter:

Reconciliation statements


Balance sheets


Company invoices, and various others
How can I Convert QuickBooks Documents as PDF?
If you wish to convert QuickBooks Documents like PDF, the following steps s what you need to adhere to:

Open QuickBooks and choose the respective invoice or document that you wish to save as a PDF


Go to File and choose Save as PDF


Choose the destination folder in which you wish to save the PDF document


Give a name under the File Name section and tap on Save to complete the task
How can I Delete QuickBooks PDF Converter if I am a Windows XP user?
If you are a Windows XP user, for deleting the QuickBooks PDF Converter, you need to breeze through the steps which are mentioned in the next section:

Press Windows Start and select Run


Enter control printers on the Open Field and press OK


Make a right-click on QuickBooks PDF Converter and select Delete
How can I Delete QuickBooks PDF Converter if I am a Windows Vista user?
If you are a Windows Vista user, for deleting the QuickBooks PDF Converter, you need to breeze through the steps which are mentioned in the next section:

Press Windows Start and select Run (if you do not find Run, type it n the Start Search field


Choose for entering control printers and press OK


Make a right-click on QuickBooks PDF Converter and select Delete
How can You Fix the Issue of QuickBooks Save as PDF Not Working?
If QuickBooks PDF save feature isn't working, the PDF driver may have been damaged. You must reinstall the PDF driver in this situation.
● First, Shut off all currently running programs.
● Next, Select Programs and Features from the Control Panel. From the list of installed programs, Choose QuickBooks PDF Converter and then click the Uninstall/Change button.
● Restart your computer after the software has been removed.
● Visit the official QuickBooks website after restarting and get the latest version of the PDF converter. Restart your computer after installing it.
How can You Get Back the Missing PDF Component in QuickBooks?
You will need to uninstall QuickBooks and then reinstall it to restore the missing pdf component. First, Select Add or Remove Programs from the Control Panel. Next, select Remove next to QuickBooks in the list of installed programs. Restart your PC after QuickBooks has been uninstalled. Finally, Reinstall QuickBooks using the downloaded file or original installation disc. Once you've completed these steps, QuickBooks should once more allow you to create PDFs.
How to Get Rid of the PDF Converted Hub?
You must first uninstall the PDF Converter Hub from the Control Panel's Add/Remove Programs list in order to remove it. After the program has been uninstalled, you should run a malware removal tool on your computer to check for any harmful files that might still be there.