While installing QuickBooks Desktop, the installer freezes, stops responding, or gets stuck on the "Installing ABS PDF Driver…" screen.
Save Time, Reduce Errors, and Improve Accuracy
Dancing Numbers helps small businesses, entrepreneurs, and CPAs to do smart transferring of data to and from QuickBooks Desktop. Utilize import, export, and delete services of Dancing Numbers software.
By this time, we have understood that QuickBooks can also give you some kind of troubles that are technical in nature. Though, QuickBooks is considered to be the superbly advanced approach of finance records. Still, the program has its own perks and shortcomings. The data records will stay accurate and efficient management will be of impeccable quality. However, there will be some tech issues which may give you a hard time. But not to worry at all, as we have been exploring all the nooks and corners. Causes and Solutions of QuickBooks Stuck Installing ABS PDF Driver.
What is ABS PDF Driver?
For QuickBooks to execute PDF features, the ABS PDF driver is required. It is a Microsoft Windows component developed by Microsoft. Learn how to install ABS PDF driver for QuickBooks in this blog. When a user attempts to install QuickBooks Desktop & the installation gets stuck in between, an ABS Pdf driver component is required for the installation to complete.
What is ABS PDF Install and do I need it?
Users can quickly and easily create professional-looking PDF documents from any program that can print using ABS PDF Install. The software sets up on the user's computer as a printer driver, enabling users to quickly convert documents to the widely-used PDF format with only a few clicks.
Why QuickBooks Installation is Stuck on installing ABS PDF drive?
The following factors may cause QuickBooks to freeze with the Installing ABS PDF driver message or the installer to freeze:
Having a slow internet connection can be one of the main causes of the error.
This problem can be caused by any issue with the device itself.
Stuck on "Installing ABS PDF driver…" While installing QuickBooks Desktop
Any of the following measures can be implemented to successfully resolve the QuickBooks freeze error with installing ABD PDF driver. To resolve this, manually run the ABS PDF installer
Step 1: Download and Install the QuickBooks tool hub
The very first step is to close the QuickBooks program as it needs to be closed to use the tool hub. The QuickBooks Tool Hub enables us to fix the common errors and most of the time, it gets resolved. You'll be needing to close the QuickBooks program in order to use the tool hub. For getting the best experience, we also recommend you to use Tool Hub on Windows 10, 64-bit of capacity.
Initially close QuickBooks.
You can download the QuickBooks tool hub latest version and save it where you can easily locate it.
You can also open the QuickBooksToolHub.exe file that was downloaded earlier.
Please follow the on-screen instructions for installing and accepting the terms and conditions.
You can open QuickBooks tool hub by double clicking the icon on the Windows desktop after the installation process is complete.

For those who cannot locate the icon, search for it in Windows for QuickBooks tool hub and select Program.
Note: If you've already done the installation of the Tool Hub before, then you can find out which version you have currently.
Note: If you can't locate the required program icon, then you can also do a search in Windows for QuickBooks Tool Hub and then you should select the program.
Step 2: Run the Quick Fix my Program from the QuickBooks Tools Hub
The Quick Fix feature of the tool hub will shut down any of the open background processes which QuickBooks might be using. It will enable you to run a quick repair on your program.
In the QuickBooks Tools Hub, you should see a list and select the Program Problems.
Select Quick Fix my Program.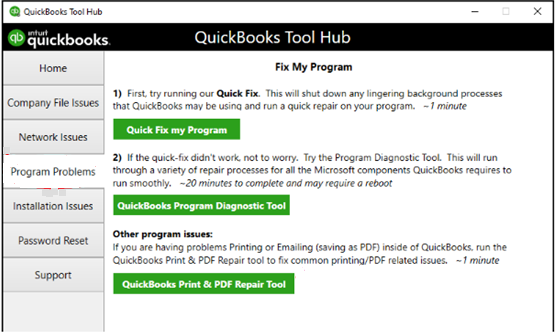 Open the Run command. Press Windows+R on your keyboard.
Type %TEMP%, then press Enter.
Select the Temp folder.
Look for the Prx_usXXrX or Enterprise_usXXrX folder.
Note that the X's on this folder indicate the QuickBooks version, year, and release.
Then you need to open the Third Party folder, then you should select ABS.
Double-click ABSPDF412Setup to run the file. Once the installation is completed, then you can open QuickBooks Desktop and register your license as per your requirements.
Note: If the ABS PDF installer still gets stuck or stops responding, it is a better choice to consult an IT personnel who can check your system first.
Step 3: Run ABS PDF Driver Setup
Press Windows+R keys together to open the Run command
You need to take a shortcut that will open the Temp folder. For the same you should type %temp% and then click on the OK button.
Now look for a specific folder name that appears like PrX_usXXrX or Enterprise_usXXrX folder. Once you locate them, you should open it.
Note: X value represents the version, year and release of your QuickBooks Desktop. For Example: QuickBooks Pro 2020 R4 will show as Pro_us31r4.
Click on Third Party folder
Then you should press the double click on ABSPDF412Setup in order to run the installation and once it's completed.
You can also open the QuickBooks Desktop version and then you should register your product.
At Dancing numbers, we totally understand that you and your business requirements are unique. Owing to your specific business type, the need for a custom made solution to your specific business needs is something you can stay stress free about. Seeing the level of success rate we have achieved in a short span of time, Dancing Numbers can count some milestones as our achievements.

With a little query details, without wasting much of a time, we can ensure to provide you the best possible solution. Our personnel are best in the entire industry and they keep continuously working on their in-depth knowledge and stay well versed with upcoming trends.
Accounting Professionals, CPA, Enterprises, Owners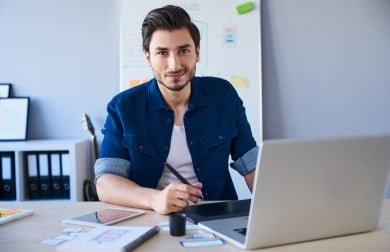 Looking for a professional expert to get the right assistance for your problems? Here, we have a team of professional and experienced team members to fix your technical, functional, data transfer, installation, update, upgrade, or data migrations errors. We are here at Dancing Numbers available to assist you with all your queries. To fix these queries you can get in touch with us via a toll-free number
+1-800-596-0806 or chat with experts.
---
Frequently Asked Questions (Faqs)
What to do if the Installation of the PDF Driver is Stuck?
You need to ensure the ABS PDF driver is properly installed in QuickBooks Desktop. For this, the better choice is to isolate this issue by restarting the ABS PDF Driver Download. Then you can try reinstalling it again on your computer. In the meantime, you should cancel or restart the drive and then try again.
How can you Save Files as PDF in QuickBooks?
For this, you just need to press the right-click anywhere on the empty area of the temp folder. And, then you should choose Properties. After this, you should select the Security tab. You also need to ensure all user names and groups showing on the Security tab have Full Control. Once the permissions have been set to Full Control, save as a PDF again within QuickBooks.