Dancing numbers is one of the leading organizations which deals in import, export and delete data from QuickBooks. However, to import the data mapping of file data to the relevant QuickBooks field is very important. In every file, the header should be mapped to a related field in QuickBooks to import the data properly. Going ahead in this below article you will know step by step information to map file data in dancing numbers.
QuickBooks field
The fields which are available in QuickBooks are named as per its function. QuickBooks fields may vary depending on the type of transactions. It is already explained about each field in the Import article related to them.
Steps to Map the Fields
In dancing numbers, once you select the file to upload, a field mapping screen comes on the dancing numbers (Desktop) screen. The field mapping screen is like the below-mentioned image.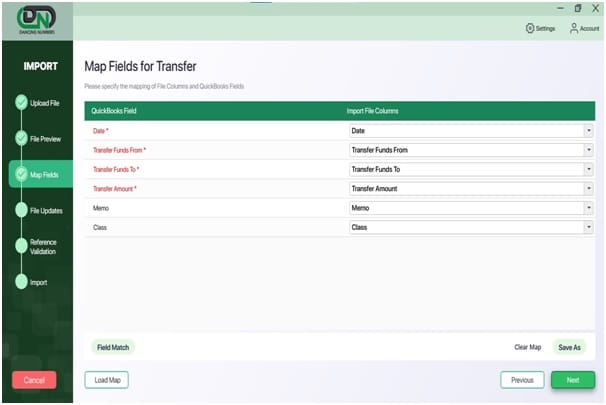 The option Field Match detects most of the matching fields automatically. In this window left side of the page contains QuickBooks fields such as Date, Transfer funds from, Transfer funds to, Transfer amount, memo, and class. The right side of the window contains file headers which if required needs to be selected against QuickBooks fields respectively.
📣 NOTE – Fields marked in red with asterisk* are mandatory fields.
How to Save the Mappings?
Now, at this step many people have questions that can we save the mappings or not ?. The answer is yes, you can save the mappings.
While importing sometime you get the file through different channels such as 3rd party software, entered by a user, etc), in that case, you need to save the respective field mappings for every different file types.
Save as option is available at below the right side to save these mappings, which is when clicked your mapping will be saved. From the saved mapping list you can also select the mapping through clicking on the Load map button. Dancing numbers (Desktop ) helps to clear the mappings when you want to change it, to clear the mapping simply click on the Clear map button and it's done.
Connect With Dancing Numbers
Having queries, issues, or doubt? Dial Dancing Numbers Team helpdesk and get your issues or doubts resolved by our dancing numbers professionals. The dancing numbers team is available 24*7 to respond to you promptly. Professionals are certified and always dedicated to sorting out the customer's queries, issues, and doubts. You can also email at info@dancingnumbers.com with the message or fill the contact form available on the dancing number website and soon one of the Dancing numbers executive contacts you with the resolution. Simply, connect with the dancing numbers team and manage your data in minutes.