The advantages provided by the QuickBooks program are innumerable. But these advantages come with a variety of error codes and bugs that prevent the software from working properly. When starting the QuickBooks Desktop program, you could see the notice "Internet Explorer is Turned off." This problem might be caused by a number of things, including a deactivated Internet Explorer browser. To cure this mistake without any inconvenience, we will take all proven and efficient steps.
Save Time, Reduce Errors, and Improve Accuracy
Dancing Numbers helps small businesses, entrepreneurs, and CPAs to do smart transferring of data to and from QuickBooks Desktop. Utilize import, export, and delete services of Dancing Numbers software.
However, this article needs your careful consideration and action to resolve the QuickBooks Internet Explorer is off or won't open without Internet Explorer issues. If you encounter any difficulties or think that completing these procedures would be difficult, our technical team of professionals will handle it on your behalf. All you have to do is contact our support staff by using the website's live chat feature.
Appearance of QuickBooks Won't Open Error in Internet Explorer
When this mistake occurs, QuickBooks users are frequently presented with the following error message: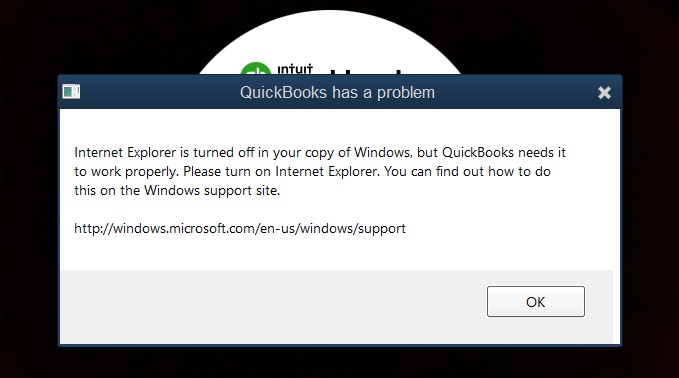 On Your Desktop Computer, you can receive the following error message:
QuickBooks requires Internet Explorer to function correctly, but it is disabled in your edition of Windows. Please activate Internet Explorer; instructions may be found on the Windows support website.
Causes of the Internet Explorer is Turned off Error
There are a few primary factors that significantly contribute to the inaccuracy. These are reserved for the following:
There is no Internet Explorer open.
You have removed Internet Explorer from your computer.
Internet Explorer Version installed is less recent than 6.0.
Steps to Solve the Internet Explorer is turned off Error in QuickBooks
Check out these effective fixes for QuickBooks Desktop's Internet Explorer issues:
Step 1: Reinstall Internet Explorer if it was Previously Removed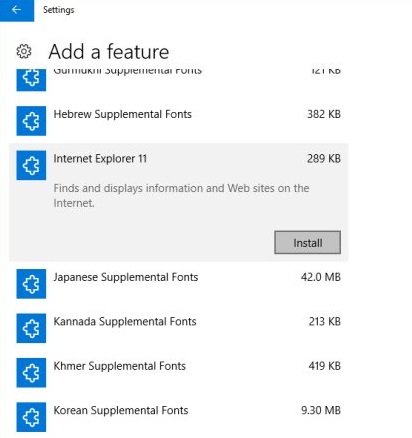 It is required that you reinstall Internet Explorer if you already did so for whatever reason in order to fix this problem. The following are the procedures to reinstall Internet Explorer:
From the Microsoft website, download the Internet Explorer installation package.
After downloading the.exe file, double-click it to begin the installation process.
To complete the installation, click Install.
Select the Restart Later option on the dialog box that appears after that.
You must restart the system as the last step. But first, under the Turn Windows features on or off option, activate (turn on) Internet Explorer.
Step 2: Internet Explorer should be Enabled in Programs and Features
You must activate Internet Explorer after installing it in order for QuickBooks Desktop to be able to access it.
To see the Run command, use the Win + R keys. Select Control, then click OK.
Go to Programs in the Control Panel window, then select the Programs and Features tab.
Click Turn Windows features on or off in the left panel.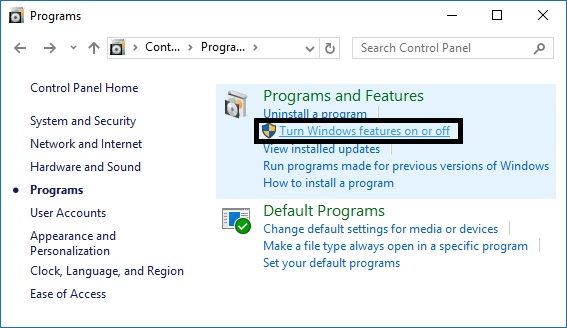 To Activate Internet Explorer, Simply click the box Next to it. Click on the OK tab.
Step 3: Restart the Computer
After finishing the aforementioned procedures, you must restart your computer. The steps are as follows:
Click the Power button on the Start menu. Next, Choose Restart.
Hold off till your computer restarts.
After your computer has rebooted, launch QuickBooks Desktop.
Your program should now be operating normally, But if the same problem recurs, take the next action.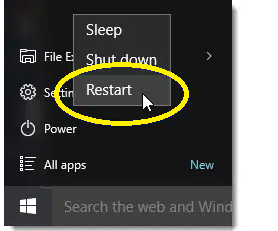 Step 4: Upgrade Your Internet Explorer Version
Click the Start button with the right mouse button, then select Settings.
Select Update & Security after that.
Select Windows Update.
After that, you need to Pick Check for Updates option from the menu.
Select the updates, then click Update.
You must restart the computer for the modifications to take effect.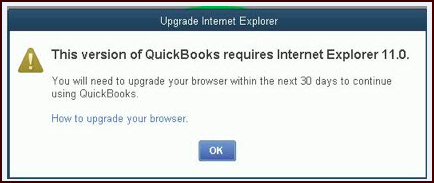 Step 5: Reinstalling the QuickBooks Desktop Program After Uninstalling it
You should restart the QuickBooks program if the problem still persists after this point. To remove QuickBooks Desktop, follow the instructions below:
Press the Win + R buttons at the same time to open the Run command.
In the Run window, enter "Control" and click OK.
Select Programs, then select the Programs and Features tab.
After selecting QuickBooks Desktop from the list of apps, click Uninstall.
Whenever asked, Choose Yes
Select Remove by clicking next
It can take some time to remove QuickBooks from your computer.
Click Finish once QuickBooks has been completely removed by the installation process.
Restart your computer after that, then reinstall QuickBooks from Intuit's official website using your product and licensing keys.
Conclusion
We're hoping you can get rid of the QuickBooks Internet Explorer is Turned Off problem from your computer. This post is the outcome of our support team's in-depth reflection and self-evaluation. We really hope that you found the information in this article to be very helpful.
If you run into any problems when putting the above procedures into practice, you may call our customer support service without hesitation. We are always accessible to resolve any accounting problems you may have.
Accounting Professionals, CPA, Enterprises, Owners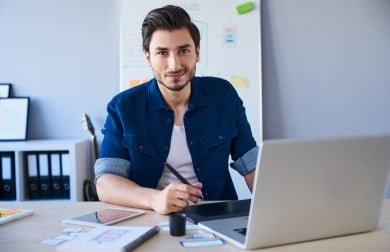 Looking for a professional expert to get the right assistance for your problems? Here, we have a team of professional and experienced team members to fix your technical, functional, data transfer, installation, update, upgrade, or data migrations errors. We are here at Dancing Numbers available to assist you with all your queries. To fix these queries you can get in touch with us via a toll-free number
+1-800-596-0806 or chat with experts.
---
Frequently Asked Questions
What Happens if Internet Explorer is Already Turned on yet the Problem still Exists?
Take the following actions if the issue still exists:
Reset the options in Internet Explorer.
In Internet Explorer, Empty the cache and delete any Temporary Files.
Turn off any Malicious Browser Add-ons.
Attempt using QuickBooks as an Administrator.
Disable the Firewall or Antivirus Temporarily.
Can I use Another Browser with QuickBooks Except Internet Explorer?
Since Internet Explorer is the default browser, QuickBooks uses it. QuickBooks will still rely on Internet Explorer components for the tasks even if consumers use another browser.
How can I make Internet Explorer Available on my Machine?
To activate Internet Explorer, follow these steps:
Press Windows, then enter "Control Panel."
Go to Programs and Features now.
After that, select the option to turn Windows features on or off.
Select Internet Explorer and then select the checkbox.
Press "Ok" and wait for the procedure to be finished.
How can I Get Internet Explorer Back?
Internet Explorer repair in Windows
Close every application, including Internet Explorer.
To launch the Run box, press Windows logo key+R.
Write inetcpl.
The Internet Options window shows up.
Decide on the Advanced tab.
Choose Reset from the list of Reset Internet Explorer settings.
Is QuickBooks Desktop Installable without an Internet Connection?
Download your copy of QuickBooks Desktop if you haven't previously.
Launch the downloaded QuickBooks.exe file.
Observe the directions displayed on-screen.
Your Product and License numbers should be entered.
Click next after selecting Express.
Choose Install.