An industry-specific version of QuickBooks Desktop Premier is called QuickBooks Premier Manufacturing and Wholesale Edition. It has been created especially for manufacturers, wholesalers, and distributors who require a single platform to manage their inventory, Sales Order fulfillment, and manufacturing process. Pricing for a single user begins at $799 per year.
Save Time, Reduce Errors, and Improve Accuracy
Dancing Numbers helps small businesses, entrepreneurs, and CPAs to do smart transferring of data to and from QuickBooks Desktop. Utilize import, export, and delete services of Dancing Numbers software.
The greatest accounting program for small to medium-sized firms that aren't quite ready to upgrade to QuickBooks Enterprise is QuickBooks Premier, which is packed with cutting-edge capabilities. In addition to the Standard Edition, QuickBooks Premier has six industry-specific editions include General Contractor, Manufacturing and Wholesale, Nonprofit, General Business, Professional Services, or Retail and supports more users than QuickBooks Pro.
Although businesses in need of specific capabilities can greatly benefit from the industrial editions, if you're only utilizing the Standard Edition, the software is a little bit costly. Additionally, the product has a challenging learning curve and little customer assistance.
Pros & Cons of QuickBooks Premier Manufacturing and Wholesale
| PROS | CONS |
| --- | --- |
| From Sales Orders, Generate Invoices. | A third-party add-on is necessary for first-in, first-out (FIFO) accounting for inventory costs. |
| Automatically transfer the price and amount of raw materials to manufactured goods. | Inventory across numerous locations and the weight of the inventory for shipping cannot be tracked. |
| The average cost method is used to monitor cost of goods sold (COGS). | Cost-prohibitive for multiple users |
| Utilize comprehensive information at your disposal to effectively manage inventory and manufactured goods. | Compared to cloud-based tools, it is more challenging to share with an off-site accountant. |
Decision-Making Factors for QuickBooks Premier Manufacturing and Wholesale
Business Types Supported:
Pricing:
From $799 for one user to $1,999 for five users each year
Money-back Promise:
60 days after the date of purchase
Outstanding Qualities:
For manufactured goods, create inventory assembly.
Set unique prices for various customers, such as low prices for close friends and family or frequent customers.
Make manufacturing-related reports, such as ones that show profitability by product and sales by class and item type.
Track sales orders and POs
Customer Service:
Support options include live chat, chatbot, phone (make a request, and they'll call you), and online self-help tools.
Usage of QuickBooks Premier Manufacturing and Wholesale
Businesses that Require a Precise Inventory Count: You may keep track of the inventory you have on hand as well as the inventory that is assigned to sales orders, assembly, and purchase orders (POs).
Producers of Intricate Assemblies: The quantities of supplies, inventory, and labor required for a certain assembly can all be specified. Each time an assembly is finished, the costs are immediately passed through to the final product.
Companies with Unique Pricing Policies: Prices can be individualized for each consumer, each category of customer, or for specific sales.
Companies that Require thorough Sales Reports: Sales can be segmented by sales person, item, item category, client, and client type.
Pricing for QuickBooks Premier Manufacturing and Wholesale Edition
The cost of QuickBooks Premier Manufacturing and Wholesale Edition is the same as that of QuickBooks Premier's standard edition, which begins at $799 annually for one user. With each additional user, it grows.
$799 for one user per year
$999 annually for two users
$399 annually for three users
$499 annually for four users
$5,000 annually for five users
You must upgrade to QuickBooks Enterprise, Which supports up to 40 users, If you require more than five users.
New Features for QuickBooks Premier Manufacturing and Wholesale in 2023
Inventory Categorization: QuickBooks Premier 2023 enables you to divide your stock into groups or categories, making it easier for you to locate the items you require.
Cash Flow Hub: This tool enables you to create cash flow projections, monitor the cash conversion cycle, and measure working capital key performance indicators (KPIs). It makes use of your bank accounts and pertinent bank activities to estimate your cash flow so you can create thorough action plans.
Contactless Payments: With this, you may accept digital payments from a single card reader, and QuickBooks will record the transactions for you. You can pay with credit and debit cards, EMV chips, Apple Pay, Google Pay, and other methods.
Batch Payment Reminders: You can send several reminders to clients at once who are past due.
Customer Support & Usability of QuickBooks Premier Manufacturing and Wholesale
It isn't as simple to use as cloud-based tools because it is desktop-based software. But once you figure out where the features are, the platform will be simple to use. For instance, you may easily complete transactions by using a variety of tools from the Manufacturing and Wholesale menu, including accepting payments, making deposits, and Generating Sales Orders, estimates, and invoices.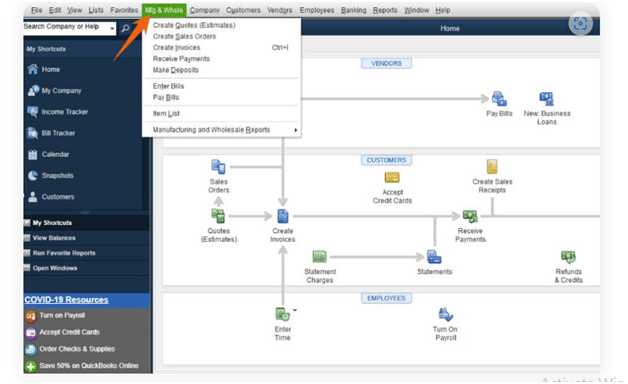 You will receive limitless customer support for no additional cost with your annual subscription. For shorter phone waits, it also offers call-back support and lives chat assistance. Although most support staff is friendly and helpful, there are differences in their levels of expertise with QuickBooks from person to person. It can be a problem for certain users that there isn't email assistance. The QuickBooks Community, an in-software Smart Help function, a resource hub, and other resources are nevertheless accessible.
Features of the QuickBooks Premier Manufacturing and Wholesale Edition
Because of its incredible development and plenty of comprehensive features, QuickBooks Premier competes favorably with its rivals. Here are some of the more noteworthy Manufacturing and Wholesale Edition Features:
1. Inventory Control
You can choose whether you wish to construct an assembly, a no inventory part, or an inventory part when setting up an item in your inventory. If the item is either sold or utilized in an inventory assembly, the item will track the average cost per unit to be used. A default sales price can also be set. The item screen offers details on units on hand, POs, and sales orders, as well as allowing you to specify a reorder point.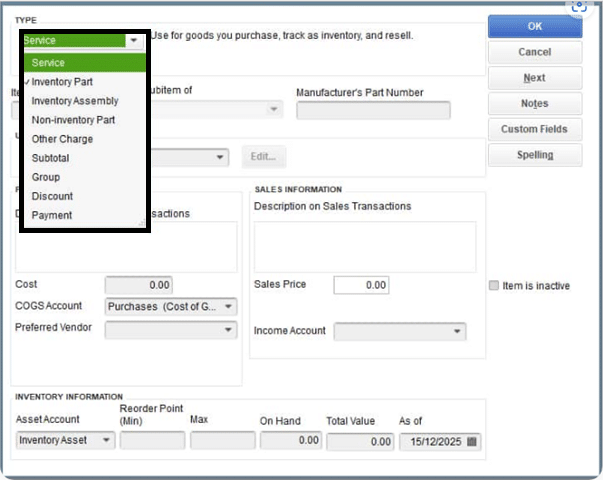 2. BOM Cost Monitoring
To manufacture a product, manufacturing businesses typically use and keep track of inventory and supplies. You can track the BOM cost of each product using QuickBooks Premier Manufacturing and Wholesale, which includes labor, overhead, and subassembly costs. It will update the labor and material costs automatically when it notices a change in the price of a particular part or component, doing away with the need for manual data entry.
You specify a BOM that lists all the precise components, including labor, and quantities that go into the manufactured good as part of the inventory assembly item. The BOM will give the complete cost of producing the good.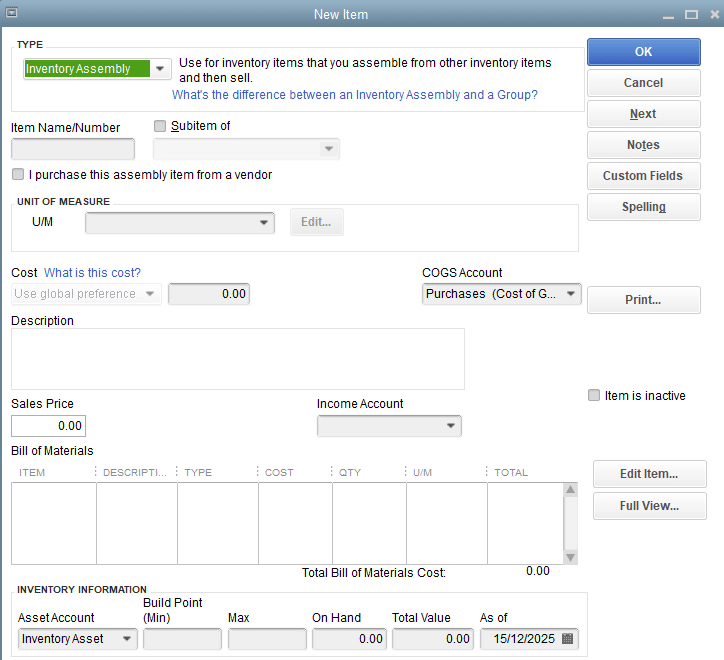 3. Create Assembly
The application will automatically subtract the components listed on the bill of materials from their respective inventory counts and add them to the inventory of manufactured goods when you indicate the quantity of products to be produced in the Build Assembly screen. The quantity of each necessary item is shown on the screen, along with the maximum number of goods you may produce based on the inventory's availability.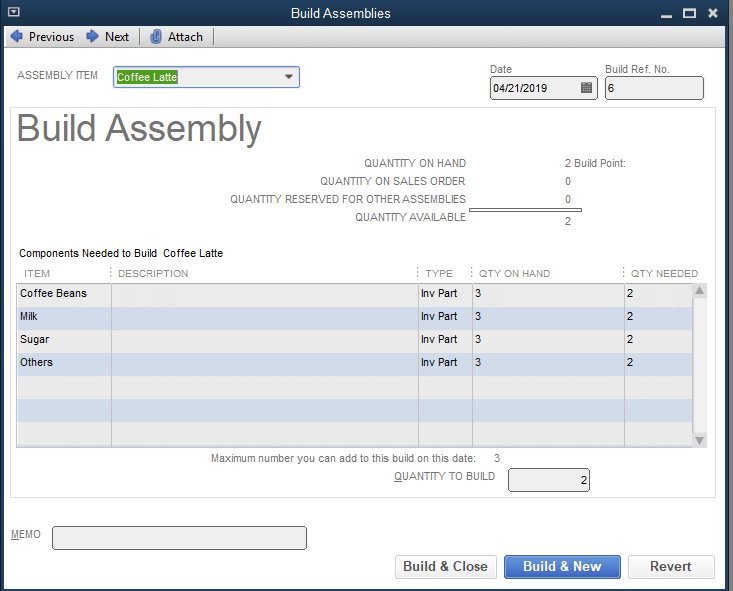 4. Billing based on Sales Orders
A sales order can be used to generate an invoice that can be printed or sent via email to the customer once an order has been completed. By selecting the Create Invoice button at the top of the sales order form, you can generate an invoice directly from a sales order item.
5. Reports tailored to Industries
QuickBooks Premier Manufacturing and Wholesale features some industry-specific reports in addition to the regular, strong reports that may be generated by the general business edition of QuickBooks Premier. These reports include:
Sales by Rep Detail: This will provide a list of invoices for the given time period, broken down by sales representative, which could be helpful when figuring out remuneration or bonuses.
Sales Per Customer Type: You can set up individual categories for your clients. You may, for instance, divide your clientele into retailers, end users, and homebuilders. You may view the total sales broken down by customer categories in this report.
Product Profitability: This gives the real revenue and expenses for the time period, broken down by each sold product. This can be used to determine which goods are profitable and which product categories require adjustments.
6. Buying Orders
For manufacturing companies, PO monitoring is crucial since it makes it easier for them to obtain the goods and supplies they need for production. Your merchants will know what goods or things you wish to order from them due to the PO form in QuickBooks Desktop. Once you know how much you must pay for each order, you can track it.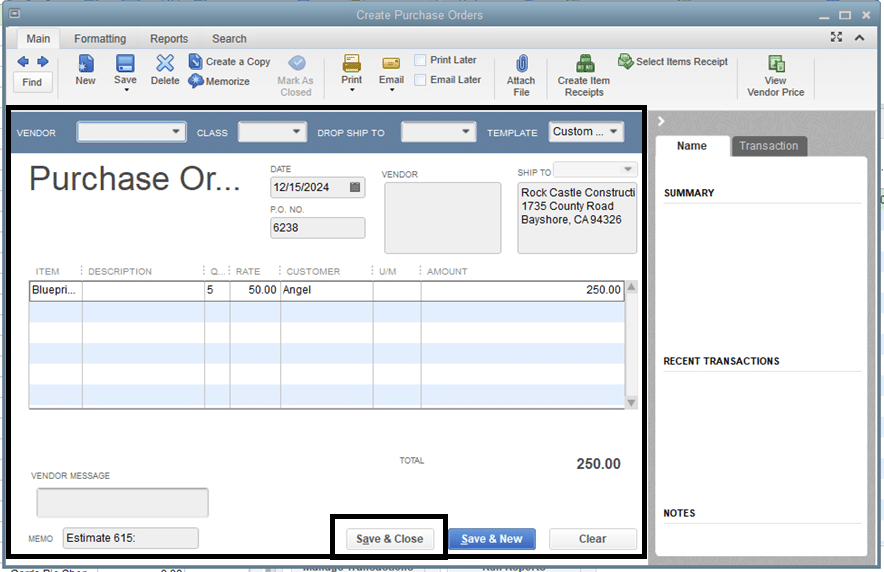 7. Sales Orders
You can generate sales orders as orders come in, removing inventory items from the quantity on hand and letting you know when to place another order or boost the output of manufactured goods. You can make selection lists, shipping labels, packing slips, and invoices using the sales order tool.
8. Customized Prices
For various customers, you can design custom pricing. For instance, you might discount certain products or orders for consumers who purchase in large quantities. Either a pricing rule that modifies the default price by a set percentage or a custom price level that provides a specific price for each individual item are both possible.
Scores on the Basis of Case Study
In order to conduct a more thorough evaluation of the accounting software we assess, our case study will do just that. A number of accounting-related factors, such as Bank Reconciliation, accounts payable and receivable, and inventory accounting, are used to evaluate and rank each piece of software.
The fundamental accounting functions in QuickBooks Premier Manufacturing and Wholesale Edition are identical to those in QuickBooks Premier's standard edition. You can see the below table for the results.
| | |
| --- | --- |
| Categories | Score (Out of 5) |
| Pricing | 1 |
| General Qualities | 4.5 |
| Payables Accounts (A/P) | 4.8 |
| Receivables Accounts (A/R) | 4.8 |
| Cash Management & Banking | 5 |
| Accounting for Projects | 5 |
| Sales Income Tax | 4 |
| Inventory | 5 |
| Reporting | 4.8 |
| Effortless Use | 3.9 |
| Mobile Apps | 0.5 |
| User Reviews | 4.3 |
| Overall Rating | 4.1 |
Conclusion
Specifically designed for the manufacturing and wholesale sectors, QuickBooks Premier Manufacturing and wholesale is a potent tool. Premier also gives you more freedom to adjust prices and improved inventory control in addition to all the bookkeeping tools. Although it's excellent desktop software, its complexity makes it difficult to fully utilize without a committed and knowledgeable accountant. So, if you face any problem, you can contact our Dancing Numbers professionals round the clock.
Accounting Professionals, CPA, Enterprises, Owners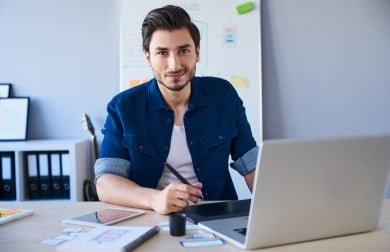 Looking for a professional expert to get the right assistance for your problems? Here, we have a team of professional and experienced team members to fix your technical, functional, data transfer, installation, update, upgrade, or data migrations errors. We are here at Dancing Numbers available to assist you with all your queries. To fix these queries you can get in touch with us via a toll-free number
+1-800-596-0806 or chat with experts.
---
Frequently Asked Questions (Faqs)
Is QB Premier Simple to Use?
In comparison to other of its cloud-based rivals, QuickBooks Premier has a famously difficult learning curve and requires significantly more effort to set up. The usage of QuickBooks Premier may be challenging for users without prior accounting experience, but with the right amount of time and work, it can be simple and gratifying.
What are the Additional Costs & Fees for QuickBooks Premier?
Before acquiring QuickBooks Premier, be aware of a number of additional expenses. You can subscribe to the QuickBooks Premier Plus Payroll package if you need payroll. Additionally, QuickBooks Payroll is a separate add-on that costs $500 per year plus $2 per employee every month. For $50 per month plus $2 per employee each month, you can also join up for the monthly payroll plan. One user is included with each QuickBooks Premier subscription. Your subscription can accommodate up to five extra users for a charge. Your annual subscription charge will increase by $300 per user for each additional user.
Although QuickBooks Premier is locally installed software, you can join up for Right Networks hosting if you require additional mobility. Cloud hosting from Right Networks begins at $59.99 per user per month.
Are QuickBooks Premier Safe and Effective?
Since QuickBooks Premier is locally installed software, you are primarily responsible for data security (unless you are using QuickBooks hosting). A list of antivirus and firewall programs that are compatible with QuickBooks Premier is provided by QuickBooks, along with online resources for understanding how to safeguard your computer.
For CPAs and other business owners that appreciate conventional, locally-installed accounting, QuickBooks Premier is a wonderful option because of its robust double-entry accounting, simple bank reconciliation, journal entries, a powerful chart of accounts, and more. Invoicing, time tracking, project management, expenditure monitoring, and just about any other function you may want are all included in the software.
However, for smaller organizations, the annual subscription rate can be a bit pricey. The costs soon mount when wages and extra users are included. Most customers, especially those who only intend to utilize the ordinary edition of the software, will discover that QuickBooks Desktop Pro meets their requirements at a lower cost. However, companies that need more users or want capabilities and reports tailored to their industry may find QuickBooks Premier to be worth the extra cost.
Would I Benefit from using QuickBooks Premier Manufacturing and Wholesale?
It's appropriate for you if you run a manufacturing business that needs to keep track of component costs and add those expenses to the price of an assembled product.