QuickBooks is well known for the organization of your data, transactions and book records. When it comes to reconciliation, QuickBooks becomes a more quick process to follow. You just need to match your list of transactions carefully. With easy to navigate, you get to finish this task more efficiently and with accuracy. Know how to reconcile banking accounts in QuickBooks.
Save Time, Reduce Errors, and Improve Accuracy
Dancing Numbers helps small businesses, entrepreneurs, and CPAs to do smart transferring of data to and from QuickBooks Desktop. Utilize import, export, and delete services of Dancing Numbers software.
All you need to do is to import your transaction to your QuickBooks account and keep it synced. Your credit card statements, bank transactions and more to count for. With such an advanced approach, you will get more time to plan your funds investment for your budding stage business.
Bank reconciliation is an important steps for a business as it needs accurate data of processed payments and deposits that have been made into the bank account. The reconcile statement will ensure to show you the difference between bank balance and book balance.
Be it any version or any advanced feature of QuickBooks platform, you can always avail the best quality support with us. Experts are available to solve your queries to ensure that you will run your business smoothly without having any issue.
Our tech support team is well versed with in-depth knowledge and ongoing trends. All you need to do is to describe your query and we will take it from there.
Steps to Reconcile Banking Accounts in QuickBooks
To start doing reconciliation of your account, you need to adhere the below mentioned steps: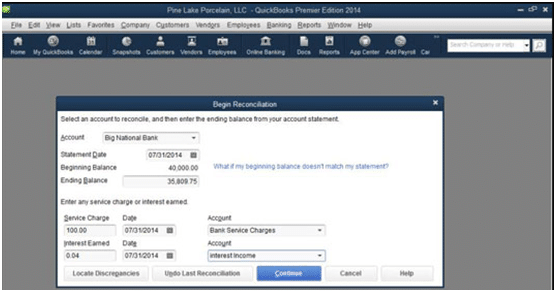 Point: 1 Choose the Banking → Reconcile command.
QuickBooks displays the Begin Reconciliation panel. Choose the account that you simply wish to reconcile from the Account drop-down list.
Point: 2 Use the Statement Date box to spot the ending date of the statement that your mistreatment in your reconciliation.
As it is often the case with date fields in QuickBooks, you enter the date in MM/DD/YYYY date format, or click the calendar button and use it to pick out the right date.
Enter the ending balance shown on your checking account statement within the Ending Balance box.
Point: 3 Use the service fee and Interest attained boxes to spot the number of any service fee or of any interest, the date of any such dealings, and also the account that you simply use to trace those charges.
For example, if your statement shows a service fee, enter the service fee quantity within the initial service fee box. Enter the date of the service fee dealings within the service fee Date box. Finally, opt for associate degree applicable account for pursuit service charges from the service fee Account drop-down list. (Bank charges, as an example, may be a sensible account to trace service charges.)
Similarly, use the Interest attained boxes to explain any interest attained on a business account.
Point: 4 Review the statement info.
After you enter info regarding the checking account, the statement date, the ending balance, and any service fee or interest attained info, take a flash to review the data and make sure that it's correct. You'll have a whale of a time adaptation associate degree account if the number that you're making an attempt to reconcile to is wrong.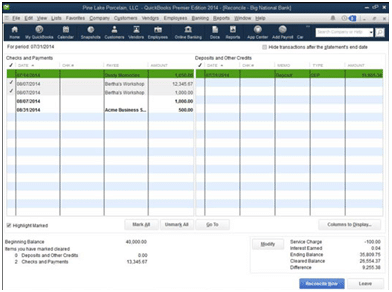 Point: 5 After you create positive that everything is o.k., click the Continue button.
QuickBooks displays the Reconcile window.
Point: 6 To establish checks and payment transactions that have cleared your checking account, click the transactions that have cleared.
The Reconcile window will be displaying the lists of transactions: It entails a listing of checks and payments, that will be visible on the left side, and a listing of deposits and various credits, that seems on the proper. After you click a dealing, QuickBooks marks the dealings with a tick, indicating that a dealing has cleared.
You can mark all the transactions in an exceeding list as cleared by clicking the Mark All button. To mark all the transactions in an exceeding list as uncleared, click the Unmark All button.
Use the Deposits and different Credits list to spot those deposit transactions that have cleared the checking account. You establish a cleared deposit dealings within the same manner that you simply establish a cleared check or payment dealings. You'll be able to click a dealing, that causes QuickBooks to mark the dealings as cleared.
In addition to it one also able to use the Mark All & Unmark All buttons to mark or unmark all the deposits and various credit transactions in just one instance.
If you understand that as a part of the reconciliation, you've incorrectly entered the service fee, interest attained, ending balance, or the other info, click the Modify button. QuickBooks re displays the Begin Reconciliation panel. Build the mandatory changes, and click on still come back to the Reconcile window.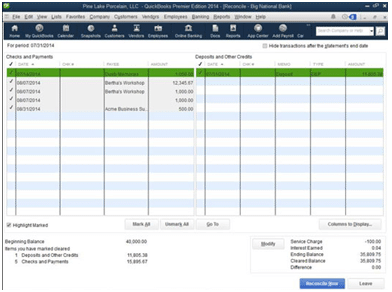 Point: 7 Verification of the cleared balance equals the ending balance.
If you provided correct info within the Begin Reconciliation panel, and you have properly known all the transactions that have cleared your account, the ending balance ought to equal the cleared balance.
Point: 8 While the end balance equals the cleared balance, you need to choose and click the Reconcile currently option.
QuickBooks are considered for better record keeping. It can also show you clear transactions as cleared and re-displays the Register window. If you can't reconcile your associate degree account, you'll be able to click the Leave button. QuickBooks saves your half-completed reconciliation in order that you'll be able to come later and end it.
This reconciliation process is very simple that anyone can learn in just one go. You need not have finance background for the same. We have tried to include all the possible information as much as possible. However, if you still face any issues, or you have any query please do not hesitate to ask the experts.
Accounting Professionals, CPA, Enterprises, Owners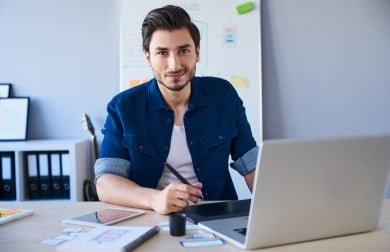 Looking for a professional expert to get the right assistance for your problems? Here, we have a team of professional and experienced team members to fix your technical, functional, data transfer, installation, update, upgrade, or data migrations errors. We are here at Dancing Numbers available to assist you with all your queries. To fix these queries you can get in touch with us via a toll-free number
+1-800-596-0806 or chat with experts.
---