QuickBooks Desktop Enterprise is created to help organizations that are growing in terms of size or encountering issues in managing intricate business aspects. Notably, it is regarged as the most robust and adaptable version of QuickBooks. Industry-specific features, reports, and capabilities comes along with these specialized editions.
Save Time, Reduce Errors, and Improve Accuracy
Dancing Numbers helps small businesses, entrepreneurs, and CPAs to do smart transferring of data to and from QuickBooks Desktop. Utilize import, export, and delete services of Dancing Numbers software.
With the help of QuickBooks Desktop Enterprise, you can easily get the access to an array of services, including payroll, payments, time tracking, point of sale, and a strong app ecosystem:
Ensures ease of doing a variety of tasks, Such as accounting, Management of Inventory, Reporting, Pricing, Job Costing, Payroll, Time Tracking, and more.
It encompasses the capacity of 1 million Customers, Vendors, and Inventory Items, 100,000 Classes, 45 Custom Fields, and 40 Users.
It provides remote access so that you can work from anywhere, At any time.
It has more control over user rights as compared to other QuickBooks product.
In case, if you want to use QuickBooks and require more capability, storage space for growing data, more list items, or more users, you may get benefits from the Enterprise's versatility. It is very simple to move up from Pro or Premier for other QuickBooks Update. The QuickBooks interfaces of the Enterprise will help you and your staff to transfer the data smoothly.
Key Features Overview of QuickBooks Enterprise
You can Easily Access Enterprise whenever and However you want.

In case you want to run your business in the cloud and want to connect all of your users, and receive anytime, anywhere access without investing into set up or network maintenance.

It helps in keeping track of history for your exploding data in order to give the financial information about your company.

The inventory items can be easily tracked in this like other QuickBooks Product, including hundreds of Clients, Suppliers, and Items.
With the help of high list limitations it is possible to do list of work easily like Accounts, Classes, Customer and Vendor Types, To Do's, Customer Messages, and other items.

QuickBooks Desktop Enterprise will help in controlling your holistic workflow.

You can control, Adjust, and automate your pricing, markups, and margin right inside of QuickBooks with Advanced Pricing, and by eliminating the need for human updates.
The tailored processes and reports include contractors, manufacturers, distributors, charities, professional service organizations, and retailers, industry editions etc.
With the help of end-to-end picking, packing, and ship functionality, you can manage inventory and sales fulfillment within QuickBooks.

With the help of QuickBooks most configurable reporting features, you can easily view data of your choice.

There are custom data fields in QuickBooks which is the comparable solutions. In case of growing business reporting, it combines reports from various company files.
You can get the insight detail of your company with the help of over 200 pre-built, scalable reports and it has the ability to design your own so that you can gain all details.
New Features in QuickBooks Enterprise 23.0
The detailed features of new version of QuickBooks Enterprise that is 23.0 are explained below:
1. Tracking of the Mileage
It helps in keeping the track of business travel mileage on your computer or on your smart phone so that you can bill clients more precisely and efficiently.
2. Cash Flow Hub
By using a single dashboard, you must keep track of your financial inflow and outflow of the services.
3. Categorization of Inventory and the Dates of Expiry
It helps in Creating up to four layers of inventory categorization in order to save time when reporting was done on things.
4. Transaction of Inter-Company
It has dashboard which makes simple to establish and monitor interactions between organizations.
5. Workflow Approvals for Bill and Purchase Order
With the help of customization bill and purchase order for workflow approvals, you can control cash flow, increase transparency, and assist in order to prevent fraud.
6. Banking Connections are Enhanced
You can easily avoid the importing of banking data manually and save time by using the direct feeds from the top customer as preferred instructions.
7. Enhancing of the Receivable Accounting Report
Now, Accounts Receivable Detail reports can be easily run more quickly in order to enhance the new performance.
8. Dashboard for the Payment Links
By sending a payment link it allows you to quickly collect all the payments for purchases which do not require invoices, and a new dashboard helps you to see their status of the payments.
9. Payments are Contactless
It helps in taking contactless payments with a single card reader and automatically it records the detail of them.
Workflow of the QuickBooks Enterprise 23.0
The workflow or user can interface with QuickBooks Enterprise in five steps:
Home Page
Customer Centre
Vendor Centre
Alternate Vendor Centre
Employee Centre
1. Home Page
The QuickBooks Enterprise home page i.e main page offers us a summary of all operations of QuickBooks. It is very easy to use features and tasks in order to access the programs which are commonly used. The primary tasks and their connections are displayed in a view of workflow. Users only need to click on a symbol of tasks in order to begin work. You may quickly configure QuickBooks by turning features on and off from a central location and have instant access to account balances in QuickBooks.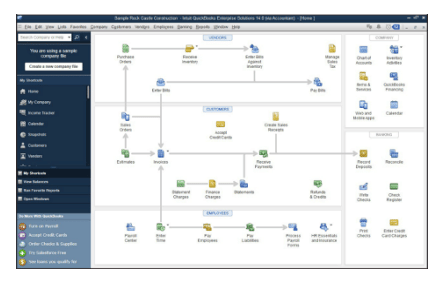 Following are the items which can be found on the home page:
Process section, which offers a graphical breakdown of important QuickBooks tasks and explained how they are relate, including crucial workflow steps (e.g., first you enter a bill, then you pay the bill). The consumer can click on any icon in order to complete a task.
Sample file indication, helps in alerting the user in case if they are in a sample file and it provides an option for them in order to create a new corporate file.
Using the account balance data which is accessible in QuickBooks, the account balances will display the account name and balances of credit card and bank accounts.
Linking back to the preferences page, the user may choose which features he want to turn on or off for the home page and the entire product by clicking the Customize QuickBooks link.
2. Customer Centre
In this it is easy to get the information, find and manage it in one location as it can be easily accessed and managed in that one location for all tasks and information which are linked to customer management. All of your customers and the precise amount you get are shown on one screen only. When you click on a customer's name, All the information of your customer is immediately visible. There is no need to switch to a different screen in order to get the necessary client contact information because it is all present in this one view, Which includes the customer's phone number, Fax Number, and Payment Terms. Contacting a customer who has not paid is simple when they are past due.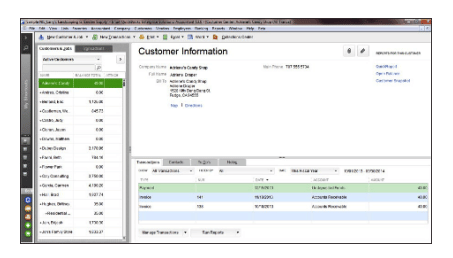 The first context there are three panes of Customer lists:
In Left, List Pane of the Customer
The choices are in the users hand in order to determine what will be appears in the other two windows. Additionally, the user can "maximize" the list of customers (and hide the other two panes). The user can also change the columns in this by enlarging the view and access other Customer Record Data, such as the Customer Account Number, ZIP code, Sales Representative, and Common Payment method.
In Top, Detail Pane of the Customer
A quick peek of the most crucial data which is pertained to the chosen by the customer. This data pane contains the customer's contact information as well as important details like the regular payment arrangements offered to this particular customer. This pane also gives access to a few important clients reports and two lines of free-form remarks that are specific to this customer. If you need to update any contact information, you may quickly edit it from this window.
In Bottom, Transaction Pane of the Customer
It gives the selected customer simple access to the transaction information. Users can choose a specific client in the left pane to view transactions for that customer in the bottom pane. The user can then sort and filter the transactions to see exactly what they want, including transactions of a certain category (for example, invoices), by status (for example, see only open invoices), and/or by date (for example, see only invoices from the most recent month). By clicking on the column headers, users may also choose which data columns to display, how to arrange them, and how to sort the data. To get all the information, double click on any transaction.
The second context is the one titled "Transaction Lists". The user can easily go to the context of transaction lists by utilizing the Transactions tab.
The list of transaction can context in two panes:
In Left Side, The Pane of Transaction Folder.
In Right Side, The Pane of Transactions.
If a user wants to examine all the unpaid invoices (for all the clients you work with), they would navigate to the Transactions List tab and choose the invoices which they wish to view. The user then had the option to sub filter the list of bills in order to see unpaid invoices. The right pane displays is a list of outstanding invoices.
A user can launch new tasks, such creating a client or job, from the toolbar in the customer centre. They can also produce new customer-related transactions, including New Quotes, Invoices, Sales Receipts, and more. The user can print any of the information in the Center's of any panes using the toolbar.
3. Vendor Centre
The Vendor Center operates in the same way as the Customer Center operates. The balances which are owed to each of your vendors can be seen here.
In case if you want to view the contact details and the past transactions for a particular merchant, then you have to click on their name.
In case if you want to check about the suppliers whom you owed money then you can filter the list of vendor.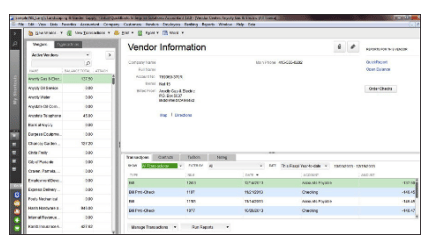 The filters which you can filter are:
All of the Vendors
Vendors Which are Active
The Vendors Which have Open Balance
For Advance Filtering it provides Custom Filter
By inputting the number of invoice and comparing the address of vendor with the invoice, a bill entry makes it simple to pay bills. It is simple to ensure that the address of the vendor will print correct.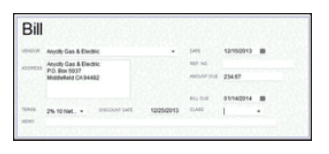 4. Alternate Vendor Centre
Alternate Vendors Center consolidates all vendor contact, item, and pricing information which help you to check prices in order to make sure that you're receiving the best deal. In case if you want some product immediately but that is out of stock then from here you can easily get in touch with alternative suppliers. With the help of Advance Inventory option it is very easy and simple for us to match vendor products with inventory.
You can quickly compare options with which vendor you want to work at the time when you want to buy. Once you set up your vendor list then you can prioritize up to four vendors with whom you want to work for the particular item.
For example if you want to purchase any product then first you have to add it in the list if it is not but in case if it is in the list then you have to select it. As you select the item, then click on the "compare vendor" icon, the vendor price lists and any vendors for that particular item from whom you bought that item in the previous year are displayed. Then, based on the price or other factors, You can select your preferred vendor for that item in that Purchase Order.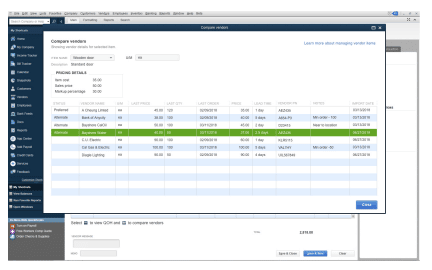 5. Employee Centre
Employee Centre also works like a Customer and Vendor Centers; it consolidates crucial information of staff onto a single screen. In case if you want to view the transaction detail of payroll 1 and the non- payroll transaction then for that you have to click on the name of employees.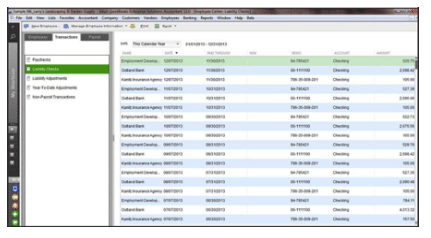 QuickBooks Enterprise 23.0 System Requirements
System Requirement
Client: Microsoft-supported Windows 10 (64 bit) or Windows 11 updates.
8.1 Windows.
For Window Server use version 2012, 2016, 2019, or 2022.
Client RAM: 8GB; 16GB
Server RAM (for Multi-user Purpose): 8GB (5 users), 12GB (10 users), 16GB (15 users), 20GB (20+ users)
2.4 GHz CPU; 2.5 GB recommended disc space Solid State Drive (SSD) advised for best performance.
Payroll, online features, and enterprise subscriptions all need connection to the Internet.
Access to the QuickBooks Desktop App
Product registration is necessary, and it is designed for screens with a resolution of at least 1280×1024.
Software Integration
The integration of Microsoft Word and Excel requires Office 2013-2021, or Microsoft 365. (32 and 64 bit)
Use Microsoft Outlook 2013 to 2019 and Microsoft 365, Gmail, Outlook.com, and other SMTP-compatible email clients to send estimates, invoices, and other forms.
Transfer data from Microsoft Excel 2013 through 2021, Quicken 2016 through 2022, QuickBooks Mac/Mac Plus 2021 through 2023, and Microsoft 365. (32 or 64 bit).
Requirement of the Browser
Management of Data
All PCI and PII data is encrypted using AES-1288 for operational security.
Operational Security
The program must be PCI PA-DSS certified and it is evaluated yearly as a application for payment.
QuickBooks Desktop Enterprise can be centrally located on a single server, and several users can access it from remote locations using LAN or WAN. As a result, you may maximize performance over lower bandwidth connections and avoid taking headache of to installing QuickBooks Desktop Enterprise on each user's PC.
Accounting Professionals, CPA, Enterprises, Owners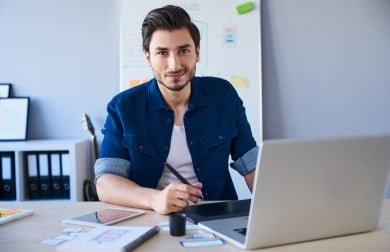 Looking for a professional expert to get the right assistance for your problems? Here, we have a team of professional and experienced team members to fix your technical, functional, data transfer, installation, update, upgrade, or data migrations errors. We are here at Dancing Numbers available to assist you with all your queries. To fix these queries you can get in touch with us via a toll-free number
+1-800-596-0806 or chat with experts.
---
Frequently Asked Questions (Faqs)
What are the Key Features and the Benefits of QuickBooks Enterprise 23.0?
Key Features and Benefits of QB Enterprise 23.0 are:
• Without sacrificing control you can grow.
• History of the Data
• You can view the data as you want to view it.
• In QuickBooks there is a end to end workflow.
• Access to cloud
• Add-Ons (As per your requirement)
• Tools for cash flow.
• Upgrades and Supports
What are the Industry Specific Editions in QuickBooks Enterprise 23.0?
The Specific Editions for industry are defined below:
• Wholesaler and manufacturer
• Contractor
• Non-Profit
• Retail
• Professional Services
• Edition of Accountant
What is the Workflow of the Order Fulfillment?
The workflow of the order fulfillment is:
• Receive the order
• Assign the Picker
• Confirm once the order is picked
• Now the item must be packed.
• Now mark it for shipping and print the label for shipping.
• Now the Inventory will be updated automatically as enterprise generates its purchase order.