QuickBooks Online Canada may be the only option for Canadians in need of robust accounting software. For Canadian small companies, QuickBooks Online Canada is a user-friendly, cloud-based accounting program.
With regard to its robust accounting capabilities, broad feature set, and plenty of connectors, QuickBooks Online Canada is comparable to the US version. Users of QuickBooks Online in the United States will recognize the software's interface and design immediately.
Save Time, Reduce Errors, and Improve Accuracy
Dancing Numbers helps small businesses, entrepreneurs, and CPAs to do smart transferring of data to and from QuickBooks Online. Utilize import, export, and delete services of Dancing Numbers software.
To manage a Canadian business, however, QuickBooks Online Canada also offers distinctive advantages. Both English and French versions of the program are available, and it supports both GST and HST. Customer service is just another aspect in which QuickBooks Online Canada excels above its American rival. Excellent customer assistance and alternatives are available from QuickBooks Online Canada. The restricted number of users is the sole drawback.
To find out if this program is a suitable for you or not then you have to read our whole QuickBooks Online Canada review article.
QuickBooks Online Canada Overview
Strong accounting skills, a wealth of features, 500+ integrations, and excellent customer service make QuickBooks Online Canada an amazing accounting system. For Canadian users seeking for a solution to manage their businesses, the program is perfect. With support for GST and HST and the option of English or French, QuickBooks Online Canada may be a fantastic solution for Canadian small businesses.
The software only has a few drawbacks, such as limited exporting choices and limited billing (although there are still many excellent invoicing tools and templates to select from). Also, the software is not the best option for larger businesses that require more than five users.
In the end, QuickBooks Online Canada is a respectable option for small business accounting. Try out the program for free for 30 days, then let us know what you think. We would love to hear from actual users as there aren't many customer reviews of the software.
QuickBooks Online Canada Pricing
There are three pricing plans in QuickBooks Online Canada. In all three plans payments are to be made in every monthly. You can't cancel any of the contracts and plans at any time. QuickBooks often offers the software on a discounted price on its website, so you should be sure to take advantage of any of the current promotions before you purchase it.
The cost of Essentials Plans is $ 40 per month and it also include everything from the Easy Start Plus:
Payable Accounts
Tracking of Time
Support for Multi – Currency
3 users
The pricing of the plus plan is $60 per month which includes everything from the essentials plans too:
Management of the Project
Inventory
Five Users
Some of the additional costs which are to be consider by you before purchasing of QuickBooks Online Canada.
Payroll: Payroll is an optional feature that you may add to QuickBooks Online Canada for a monthly fee of $20 + $3 per employee.
Payments of the QuickBooks: In case if you are looking for a provider of merchant account in order to accept the payments of online from your customers. You can sign up for the payments of QuickBooks. The cost of QuickBooks Payments is $2.9% + $0.25 per transaction.
QuickBooks Accountant Online: Your accountant can easily sign up for a free accountant-specific version of the QuickBooks Online so that they can easily collaborate directly with you in compare to your account.
The pricing of the plus plan is $60 per month which includes everything from the essentials plans too:
Management of the Project
Inventory
Five Users
Cloud-Based Or Locally-Installed
The QuickBooks Online Canada is the cloud-based software. There is no requirement for downloads or installation for it.
Requirement of the Hardware and Software's
QuickBooks Online Canada is the cloud-based software which is available on any device which is so long as long as you have the access of internet. There are multiple mobile apps which are available for iOS (11.2+) software and Android (4.1+) software. In case of Mac user's available software is a Mac desktop app.
Size of the Specific Business
QuickBooks Online Canada is made for the small company owners of the Canadian that want reliable accounting which is used to support for GST and HST, and a wealth of the functionality to operate and manage their enterprises. Businesses with five people or fewer can easily purchase the program in both the language that is French and English.
Several users are required for larger enterprises; the program is not the best option. Instead of counting only time tracking and only reports the users will be against your user limit, QuickBooks Online Canada has made an effort to make the program for a more attractive solution for the small enterprises. To limit user access, you may define the permissions of users. Additionally, a comprehensive audit history of every activity is available for you.
Method for Accounting
Both cash-basis and accrual accounting.
Cash Basis Accounting
Cash basis accounting is a type of accounting that documents cash transactions as they occur. As it is simple and easy to use that is why it is the most used type of accounting among sole proprietorships and small firms. It is extremely simple to put into practice in a company with no inventory.
The ease of cash basis accounting makes it beneficial. The cash basis is used to reports the system's real cash position rather than earned income which might provide a mistakenly optimistic image of its financial situation. A cash basis accounting system bases its net income only on the cash which is received. The cash foundation of accounting makes it simple for the smaller enterprises in order to keep track of their financial records.
Accrual Basis Accounting
The matching principle and the revenue recognition principle are two essential accounting concepts that are combined in accrual basis accounting. The matching principle states that costs must be recorded at the same time as the income they contribute to. According to the revenue recognition principle, income should be recorded as soon as it is received or realized, or whenever a firm takes the necessary steps to become entitled to the revenue.
The links between revenue and costs are made obvious by accrual accounting, improving profitability. Additionally, it provides a balance sheet's assets and liabilities in a more realistic manner. Due to these factors, the Securities and Exchange Commission (SEC) mandates accrual basis accounting for all publicly listed corporations as the sole technique permitted by Generally Accepted Accounting Principles (GAAP).
Ease of Use
An intuitive, up-to-date user interface makes QuickBooks Online Canada simple to use. Although the program is generally easy to understand, there are times when it can be challenging to discover particular functions and navigate. Additionally, if you run into any problems, there are many of excellent customer care solutions available.
Features of QuickBooks Canada Software
The regular edition of QuickBooks Online and QuickBooks Online Canada both include a wide range of features. An outline of what the software provides is given below:
Dashboard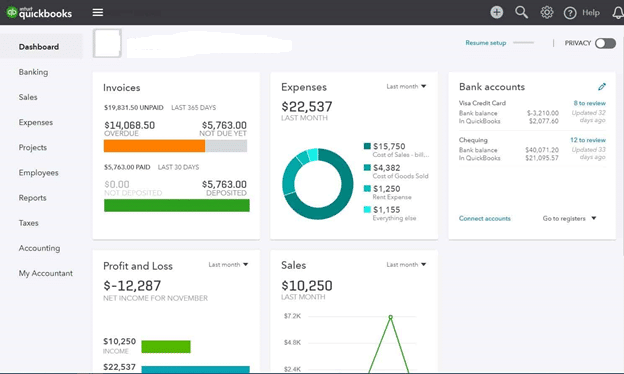 The financial data for your company may be seen in one location on the dashboard provided by QBO Canada. Charts and graphs are provided for Discover, Sales, Profit & Loss, Bank Accounts, and Invoices. You may quickly access QBO Canada's primary functions via the menu bar on the screen's left side. The top right corner also has links for easy access to other features, transaction searches, settings, help, and alerts.
Invoicing
QuickBooks Online Canada has five highly configurable invoice templates, albeit it isn't nearly as advanced as its regular equivalent. To assist with company automation, the program offers periodic invoices, progress invoicing, delayed charges, discounts, and invoice reminders. Your invoices may be used to directly receive payments. A sales dashboard is also available, where you can see all of your estimates, unbilled activities, past-due bills, active invoices, and settled invoices. Unlike with QBO's ordinary edition, there is sadly no method to schedule bills automatically.
Estimates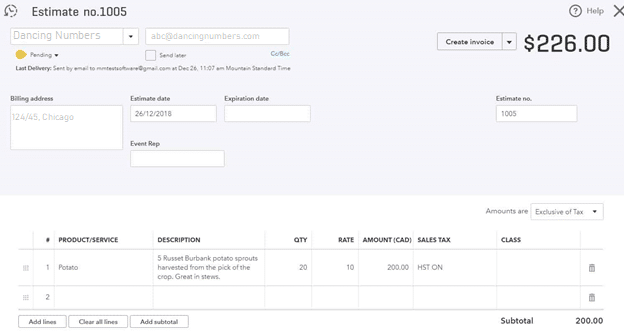 In QuickBooks Online Canada, creating estimates and turning them into invoices is simple. Additionally, you may change an estimate's status from pending to accepted, closed, or rejected.
Management of Contacts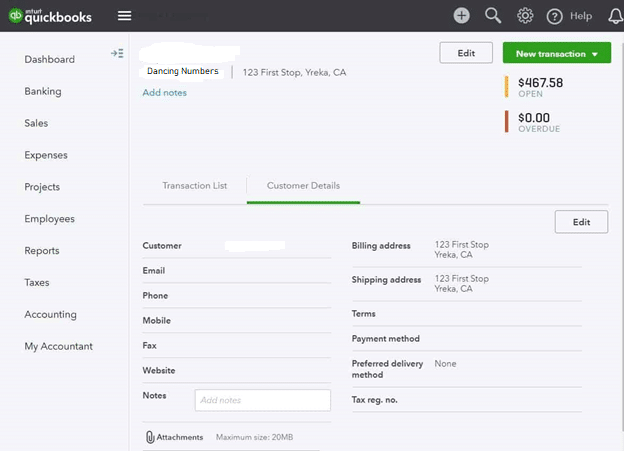 The ability to establish contacts and save essential contact details including name, organization, email, phone, fax, shipping address, and billing address is available. Internal comments, tax data, payment and billing details, and attachments are also available. Supplier management is also an option.
Tracking of Expenses
You may manually input costs or manually import expenses into the software. You can also link to live bank feeds. You may set up unique bank rules in addition to having QuickBooks Online Canada automatically match transactions.
Reconciliation of Bank
Reconciling your bank accounts is simple with QuickBooks Online Canada. A reconciliation report is another option.
Chart of Accounts
You can import your current chart of accounts into QBO Canada or use the default chart of accounts that is provided. Accounts can be added and modified at any time.
Payable Accounts (Essential and Plus Plan)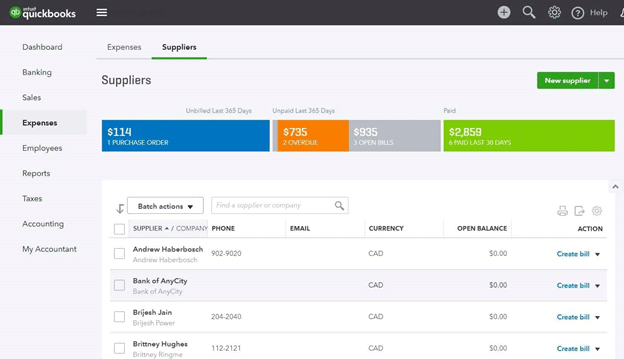 In QuickBooks Online Canada, you can effortlessly create invoices and track partial or complete payments. Your open bills, past due invoices, and recently paid bills are all displayed on the supplier's dashboard.
Checks
Directly from QuickBooks Online Canada, you can print and write checks.
Inventory (Plus Plan)
QuickBooks allows you to handle goods and services. You can write down the item's name, sales description, SKU, and price, among other essential details. You can update your inventory and establish inventory reorder points if you add goods to your inventory. You can quickly see which products are low on stock on the inventory dashboard. The capability of creating item bundles and the addition of photographs to products are the favorite features of all.
Management of Projects (Plus Plan)
To activate projects, you must access advanced options. As soon as it's enabled, you may develop projects and quickly see their profitability. Projects can have unbilled time, billed time, and transactions attached to them. The project cannot, however, be assigned to a worker or representative, and no distinct tasks may be made.
Tracking of Time (Plus Plan)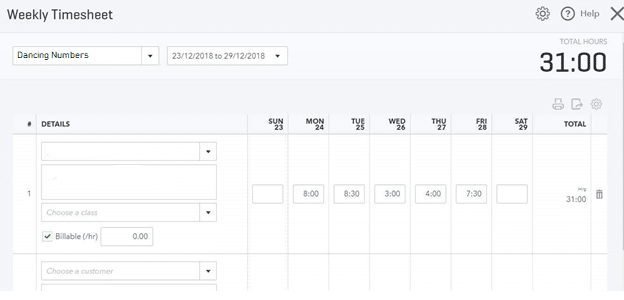 By inputting a single time activity or making a weekly timesheet, you may track your time in QuickBooks Online Canada. Time may be simply added to tasks.
Reports
With QBO Canada, you can choose from over 100 reports. Each plan's specific quantity of reports changes depending on the services you may access. These reports cover a wide range of topics, including accounting, sales, budgeting, cash flow, and more.
Budgeting
In QuickBooks Online Canada, budgets can be made on a monthly, quarterly, or annual basis. The budgets can be made entirely from scratch or already have QuickBooks data from a prior time period pre-filled into them. You may also run a number of budget reports.
Journal Entries
General journal entries are simple to write.
Purchase Orders
Purchase orders may be made, and they can be swiftly turned into bills. Additionally, you may instantly connect a single line item to a client or project.
Credit memos
In QuickBooks Online Canada, refunds and credit memos may be created.
Sales Receipts
In QBO Canada, sales receipts are an additional method of registering transactions. Sales receipts are used to record sales for which you have already received payment rather than producing invoices, which require additional time to get payment from your customers. Many eateries, hairdressers, and other similar companies would input daily sales in the program in this way.
Packing Slips
Packing slips may be created and printed in QuickBooks Online Canada.
Tracking of Class
To more precisely track various parts of your organization, you may define classes and locations in QBO Canada. Using class tracking, you can also generate more thorough reports.
Default Email Message
To save time, you may generate pre-written email templates for invoices, estimates, credit notes, sales receipts, statements, refund receipts, purchase orders, and invoice reminders.
Sales Tax
You may define default sales tax rates for customers and goods as well as design your own sales tax rates. You can rely on QBO Canada to assist you in making timely sales tax payments and returns.
Tax Forms and Support
Managing your GST and HST is made easier with QuickBooks Online Canada.
Multiple Currencies (Essential and Plus Plan)
Over 150 different currencies may be used with QuickBooks Online Canada.
Importing and Exporting
QuickBooks Online Canada allows you to import practically anything, and it makes it simple to import data by matching columns in your.csv files to QBO's data fields. However, the software's exporting choices are limited to reports and lists, which is disappointing.
QuickBooks Canada Customer Service & Support
Customer service is something that QuickBooks Online Canada may learn from its American counterpart. With several readily available help options and low phone hold times, QuickBooks Online Canada offers excellent customer service.
In contrast to the US version of the program, QuickBooks Online Canada provides email help as well as real chat support (instead of being limited to sales people as with QBO US). All of the support tools are easily accessible from inside QuickBooks Online Canada, and there is also a comprehensive help centre.
From 9 AM to 8 PM Eastern time, assistance is offered. Users of QuickBooks Online Canada have access to the following support options:
Phone: Contact QuickBooks support directly via phone. Response times, in my experience, are quick, and there is the less chance of wait which is very pleasant for a QuickBooks product.
Mail: You may also email QuickBooks help using this method. Usually, you received a response from emails within two hours, although the helpfulness of those answers fluctuated.
Live Chat: To get assistance, you may speak with a QuickBooks support agent.
In-Software Help: You may look for answers to your queries by clicking the help button in the upper right corner of the software. Searches will turn up related queries from the QuickBooks community as well as assistance articles from the help centre. Alternatively, you can select the alternatives for help through phone, email, or chat.
Help Centre: QuickBooks Online Canada includes a thorough help section with a large number of how-to articles and frequently asked questions.
University of QuickBooks: You may learn how to use the program at QuickBooks University, which is a collection of instructional videos.
Training in QuickBooks: Regular webinars are offered with topics including "Accounting 101," "Converting from QuickBooks Desktop to QuickBooks Online," "QuickBooks Online Tips & Tricks," and "Get Started with QuickBooks Online."
QuickBooks Pro Advisor: You may look for a certified QuickBooks Pro Advisor to employ by conducting a search.
Small Business Centre: There is a small business centre that offers business owners useful guidance on a variety of subjects, including managing a company, bookkeeping, productivity, being your own boss, and much more.
Social media: YouTube, LinkedIn, Facebook, Twitter, and QuickBooks Canada all have active profiles.
QuickBooks Online Canada Review
Positive Reviews
Excellent Feature Selection: QuickBooks Online Canada features a great feature selection and many of time-saving automations.
Easy to Use: A few users have said that the program is simple to use, and I also agree with them. With the exception of a few minor navigational hiccups, QBO Canada is incredibly well-organized and far simpler to use than its desktop competitors.
Saves Time: The program is frequently praised for its time-saving capabilities, which free up business owners to resume their favorite activities.
Ample Integrations: The software's have wide range of integrations, which include over 20 different payment processing choices.
Negative Reviews
Navigation is Difficult: Although the software is well-organized, at times it might be challenging to navigate. Functions aren't located in the places you'd anticipate, and many functions like estimates aren't available via the navigation menu, so you have to look elsewhere.
Limited Users: QuickBooks Online most costly edition only permits five users, which may make it unsuitable for bigger companies.
Mobile App issues: From the few reviews I did discover, it was evident that the mobile app frequently crashes and experiences issues. Some of the users reported that is unable to sign into the applications at all.
This blog includes all the crucial information that you require to understand QuickBooks Online Canada Review 2023 – Pricing and Features. For faster service and more information about QuickBooks Online Canada Review 2023 – Pricing and Features, get in touch with the team of experts right now by Live Chat or on phone. All hours of the day, the team will be committed to answering your inquiries.
Accounting Professionals, CPA, Enterprises, Owners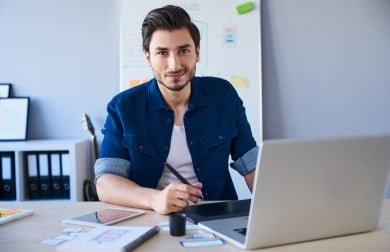 Looking for a professional expert to get the right assistance for your problems? Here, we have a team of professional and experienced team members to fix your technical, functional, data transfer, installation, update, upgrade, or data migrations errors. We are here at Dancing Numbers available to assist you with all your queries. To fix these queries you can get in touch with us via a toll-free number
+1-800-596-0806 or chat with experts.
---
Frequently Asked Questions
How Much is QuickBooks Upgrade 2023?
QuickBooks 2023 Desktop Pro Plus will cost $549 when it is released. $549 buys you QuickBooks 2023 Desktop Mac Plus.
Does QuickBooks Online Work in Canada?
QuickBooks Online Canada is made for Canadian small company owners that want reliable accounting, support for GST and HST, and a wealth of functionality to operate and manage their enterprises. Businesses with five people or fewer can purchase the program in both French and English.
Does QuickBooks Charge GST in Canada?
According to the province you choose when setting up sales tax in your work details, there are three different types of sales taxes supported by QuickBooks Self-Employed that you may include on your invoices: Goods and Services Tax (GST), Harmonized Sales Tax (HST), and Provincial Sales Tax (PST).