Cloud accounting software are extremely popular among small businesses these days as these software offer the easiest way to track the inflow and outflow of money. QuickBooks and Xero are two widely used software in this category. They have been extremely helpful for small businesses as far as streamlining the accounting activities is concerned. In this post, we would have comparative insights into how these platforms function with respect to certain important parameters. From these, you will be able to frame an informed opinion on which software would offer you a better value, with respect to your distinct business needs. Xero VS QuickBooks Online: Choose the Best.
Save Time, Reduce Errors, and Improve Accuracy
Dancing Numbers helps small businesses, entrepreneurs, and CPAs to do smart transferring of data to and from QuickBooks Desktop. Utilize import, export, and delete services of Dancing Numbers software.
QuickBooks Online: An Overview
QuickBooks Online is a browser-based version from QuickBooks Accounting, designed while keeping the interests of the small businesses in mind. You can access this application from anywhere and it supports up to 25 users at a time. It is quite popular for its intuitive interface and a variety of reporting functions.
The features offered by QuickBooks vary from one plan to another. You will get only the basic features in the Simple Start plan while advanced features such as inventory management, time tracking and bill payment are available with the plans higher up. You can connect QuickBooks easily with your banks for auto-reconciliation and setting rules and classifications. QuickBooks also provides a highly efficient customer and vendor management tool. With this, you will be able to attach documents like statements or invoices with any of your customer or vendor accounts.
Advantages of QuickBooks Online:
QuickBooks provides manifold advantages. Some of them are listed below
Can accommodate up to 25 users
Intuitive design
Excellent reporting capability
Easy to set up and use
Provides in-product support and product training
Facilitates easy monitoring of payments for year-end processing
Easy system navigation
Better-suited for mid-sized and fast-growing businesses
Disadvantages of QuickBooks Online
Some users have complained of slow program response time during the peak hours
Some additional features are not displayed on the main navigation screen
Accessing support from within the application can be difficult

---
Xero: An Overview
Because of its advanced features, Xero has made quite a name for itself. It is an easy to use, affordable and is a powerful platform. It was founded in New Zealand in the year 2006 and has since been a reputed accounting tool among the small businesses. "Beautiful business" is its tagline and it has really made accounting enjoyable. With its clean usability and younger brand image, Xero has been able to give QuickBooks a good run for their money. It has allowed the business owners to have a clear view of their accounting needs, have good control over their expenses , track project performances and maximize tax deductions.
Xero is optimized for mid-sized and small businesses. Therefore, large-scale organizations with highly complex requirements may struggle to get the most out of it. But, it is highly popular among startups, agencies, retail stores and other small businesses.
Advantages of Xero
Certain important advantages offered by Xero are listed below:
It offers 3 plans to provide scalability
All plans from Xero support unlimited users
Highly intuitive platform
Affordable pricing
Integrates with over 700 external applications
Easy to set up and use
Easy system navigation
Disadvantages of Xero
No application is one hundred percent perfect and Xero is not without its fair share of inherent drawbacks as well. Here, we list some of them:
The option of live customer support is not available
The mobile app of Xero does not offer all the features available in the full software version
Not the best for large businesses
---
Xero VS QuickBooks Online: Features Comparison
Both QuickBooks and Xero offer a plethora of offers , designed specifically for small businesses. The terminology between the features in both the products may vary, but, both offer prominent accounting features such as invoicing, electronic banking, bill management capabilities and payment acceptance, among others.
Features in Xero:
Xero groups its features into 5 main categories- Business, Dashboard, Projects, Contacts and Accounting. Its accounting dashboard would provide you a comprehensive summary of the business, including your total cash, invoices owed and bank balances. You can also customize the dashboard as per your preferences.
You will find most used features such as bills to pay, invoicing, services, products and purchase orders in the Business category. Xero provides intuitive and easy to use invoicing features. Its Invoices option provides a comprehensive summary of all invoices, along with their current status. The Invoice entry screen of Xero is shown below: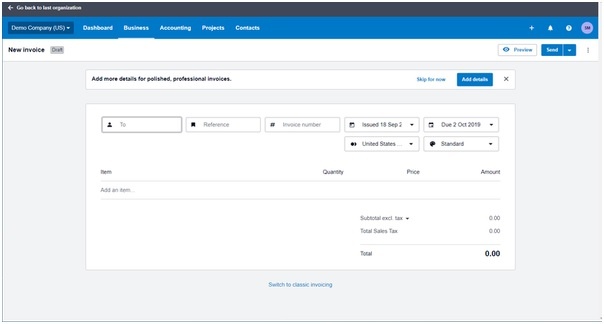 You would notice that the Invoice entry screen provides an uncluttered and clean look , with easy look-up options for most of the fields. You can send the completed invoices over email, along with online payment options.
You can manage all your banking transactions, financial statements and chart of accounts in the Accounting category. The Projects category will allow you to manage project with the time tracking feature. With the Contacts category, you can manage all contacts , including suppliers, contractors and customers from one location. Xero also provides powerful reporting features, with a plethora of management reports and financial statements.
The Xero mobile app is available for both the Android and iOS platforms. It facilitates managing common accounting tasks such as contact management, receipt management, invoice creation and bank reconciliation.
Features in QuickBooks Online:
QuickBooks Online also provides basic accounting features such as bill management, invoicing, electronic banking, payment acceptance etc. However, unlike Xero, it groups them into specific and meaningful categories, rather than dumping casually into one single category. Its central navigation screen helps new users to move around the features easily. Making an invoice entry in QuickBooks Online is pretty simple. It also allows you to add a bank account number or a credit card to the account of a customer. It facilitates speedy processing of such an online payment. A sample template of QuickBooks invoicing is shown below: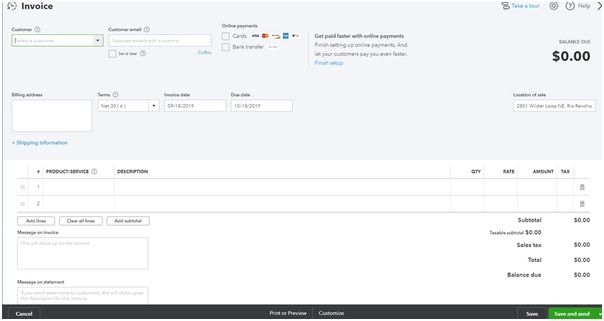 With QuickBooks Online, you get the option to apply customer payments automatically, after they are deposited. In the expense category, you can add vendor invoices and make them payment-ready. You can also manage vendors, payments and employees with the payroll option of Intuit. The QuickBooks Online Report Center is the central location where reports are processed. It includes a huge selection repository of management reports along with all kinds of basic financial statements.
From the above discussion, we can make out that it's difficult to put one platform over another, as far as features are concerned. Both Xero and QuickBooks provide similar features. Their dashboards efficiently summarize all functionalities and parameters to measure your business wealth.
---
Xero VS QuickBooks Online: Customer Support
Customer support is an important parameter to compare accounting platforms. Imagine you are in the middle of an important transaction and it is not posted even after a few attempts. This may lead to tensions and you will need prompt customer support to reduce your worries.
Xero says their accounting functionalities are simple enough to navigate. Therefore, the support services offered by them will be sufficient, whenever something goes wrong.
The customer support services currently offered by Xero are:
Knowledge Base
Help Articles
Email Support
Product Training
User Community
User Guides
In-product Help
The customer support services currently offered by QuickBooks are:
User Community
In-product Help
Help Articles
Knowledge Base
Product Training
Email Connect with a Support Agent
Talk to a Support Agent through Call Back and Messaging
QuickBooks would offer a lot of guidance all along the application. Question marks are provided in almost every screen and users can click on them any time to refer to the help section.
Because it provides live support facility, people may be tempted to give QuickBooks an edge over Xero, as far as customer support is concerned. But, if we think about the overall 'package', we are inclined to give Xero the edge here. Although both offer useful resources for self-service help, Xero additionally provides free online support, round the clock, for all the plans and time zones. Zero has their own employees in their customer support team, it is not outsourced.
When we talk about QuickBooks Online, their phone support is available between 6 A.M. and 6 P.M (Mon-Fri) and 6 A.M. and 3 P.M (On Saturdays) only. You will get preferential customer support, only if you use the QuickBooks Advanced plan. You will then be included into the QuickBooks Premium Circle.
When you are using an accounting software, you would always prefer receiving prompt support, in the most accessible manner. Xero's 24/7 support is better than QuickBooks in this front and this is the reason why we have put it over and above QuickBooks.
---
Xero VS QuickBooks Online: Ease of Use
Ease of use is an important parameter that may influence the preference of one accounting platform over another. Many people download demo versions to assess the ease of use of software before actually buying the full version.
Xero would suit you more if you prefer everything to be neatly organized in well-designed compartments. Unlike other software that allows adding things on the go, Xero needs you to set up everything completely before you can actually use the software. The main entry screen of Xero is shown below: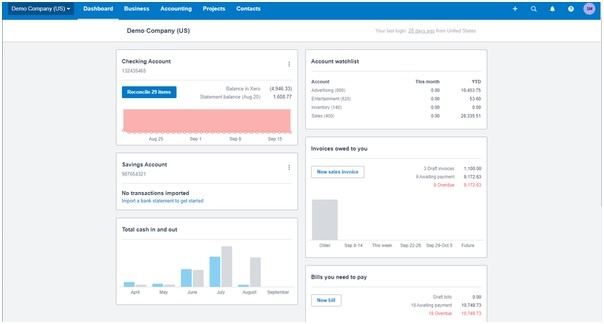 Here, at the top, you will see a menu bar through which any new user can navigate through and access all the system functions quite easily. You can access the HELP section from any of the data-entry screens. For new users, a demo company is also available where they can enter practice transactions, before working on the actual company data. Xero also offers a mobile app for both the Android and iOS platforms. However, it will not give you all the features available in the full version.
QuickBooks is known for its quick set up. You can feed only the basis information at the set up and add the rest on the go, as necessary. The Import Data function of QuickBooks provides a lot of ease for users who want to move the accounting data of their business from other application. In the QuickBooks Dashboard, the users can get a quick look of the features in a particular category by simply hovering over it. Here is how the QuickBooks Dashboard looks like: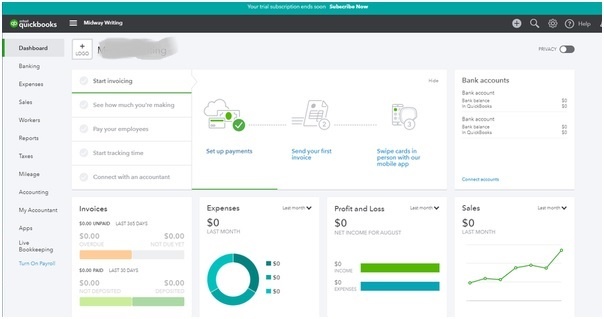 As you can see, the QuickBooks Dashboard displays pretty much the same information that is included in the Xero Dashboard. But, it also provides links to most used tasks such as payroll, time tracking and invoicing.
Summing up the discussion above, we would like to give an overall edge to Xero, as far as ease of use is concerned. We agree that QuickBooks provides better features in its dashboard. However, the data entry screens of Xero are more compact as compared to QuickBooks. Also, its billing and invoice modules require less initial data-entry.
---
Xero VS QuickBooks Online: Integration with Other Software
The ability of a software to integrate with external applications can enhance its functionality significantly. It also gives the users a lot of flexibility. Both QuickBooks and Xero provide seamless integration with a large number of apps.
Xero offers excellent integration capabilities with over 700 apps belonging to a number of categories. With Xero, you can get extended services from payment acceptance apps like GoCardless, PayPal and Stripe. It integrates nicely with other applications related to CRM, payroll, inventory, time-tracking, e-commerce, point of sale and so on.
QuickBooks offers seamless integration with over a hundred apps, making it extremely useful for small business owners. These apps include TSheets, PayPal, Bill Pay, Stripe and other popular apps related to CRM, payroll, inventory and time-tracking.
In our opinion, Xero wins in this category as it facilitates about 700 apps to integrate seamlessly with its core functions.
---
Xero VS QuickBooks Online: Pricing
Both Xero and QuickBooks offer similar pricing levels. Both offer three distinct pricing plans for their customers. While their mid-level plans are almost similar in scope and price, the Growing plan by Xero would cost you $32. At the same time, the Plus plan by QuickBooks Online is available at $35.
The current pricing offers of Xero are as follows:
Early Plan: $11 Per User Per Month
Growing Plan: $32 Per User Per Month
Established: $62 Per User Per Month
In the first two months, a discount of 50% would be applicable to the plans mentioned above. The Early plan is a basic one with limited capability only. With this, you can only carry out limited operations such as reconciling limited bank transactions, enter only 5 bills, send 5 invoices etc. the Growing plan will provide you unlimited bill processing and invoicing and also unlimited bank transaction capabilities. The Established plan would provide additional features such as project tracking, expense management and multi currency capabilities.
The current pricing offers of QuickBooks Online are as follows:
Simple Start Plan: $25 Per Month Per User
Plus Plan: $70 Per month, up to 5 Users
Advanced Plan: $150 Per Month, up to 25 Users
In the first 3 months, a discount of 50% would be applicable to the plans mentioned above. All the QuickBooks plans, including the Simple Start plan, include invoicing, expense and income tracking, estimates, payment acceptance, receipt organization and sales tax tracking. If you move to the higher plans, you will be provided other capabilities such as custom user permissions, inventory, accelerated invoicing, in addition to the basic features available in the Simple Start plan.
We would put QuickBooks Online in the winning position in this category. Although the accounting tools of QuickBooks come at a slightly higher price, the plans are more flexible as compared to Xero and they offer more features than the plans offered by Xero. Also, growing businesses prefer QuickBooks Online more for the scalability offered.
---
Both Xero and QuickBooks are user-friendly options with transparent and affordable pricing for small businesses and individuals alike. Both would help you manage your accounting processes efficiently. If you are looking for a winner between these two platforms, the decision would depend upon certain factors related to your business- the features it needs, your budget, the capabilities you require and so on. As we have notices from the discussion above, there are both similarities and differences between these two platforms depending on features, pricing, ease of use and integration capabilities. It is for you to decide how the differences will influence your business and which option would suit your business needs better.
While QuickBooks is the bigger and all-purpose accounting software for businesses of any size, Xero is more popular among small and new businesses. It is simple and quicker to set up. Also, new users can try their hands first with a demo company, without worrying about fiddling too much with their important company data. On the other hand, if you are a growing business, not bothered by complexity and are looking for a scalable option, QuickBooks may just be the answer for you. Also, with QuickBooks, you can sync better with systems like Square, PayPal and Shopify and QuickBooks is known to offer efficient inventory management. Overall, if you are looking for an 'all-within-one-roof' accounting solution, without too many external financial tools attached, you will definitely enjoy QuickBooks more.
Accounting Professionals, CPA, Enterprises, Owners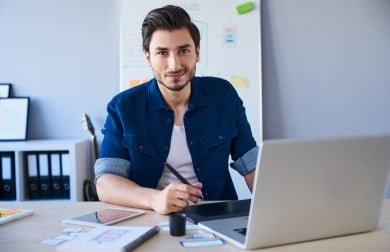 Looking for a professional expert to get the right assistance for your problems? Here, we have a team of professional and experienced team members to fix your technical, functional, data transfer, installation, update, upgrade, or data migrations errors. We are here at Dancing Numbers available to assist you with all your queries. To fix these queries you can get in touch with us via a toll-free number
+1-800-596-0806 or chat with experts.
---