Dancing Numbers is the SaaS-based software that provides you the services of import, export, and delete the lists and transactions to or from your QuickBooks account.
Import Credit Card Transactions into QuickBooks with Dancing Numbers is an easy-going process. You just have to follow few steps and the rest is done automatically by the software. It saves your time and money that you can spend somewhere else.
The import process is easy with Dancing Numbers. You can do the import any time whenever required. But why it is required? Import into QuickBooks is required when you changed your computer; you have got the file from someone else and many more reasons.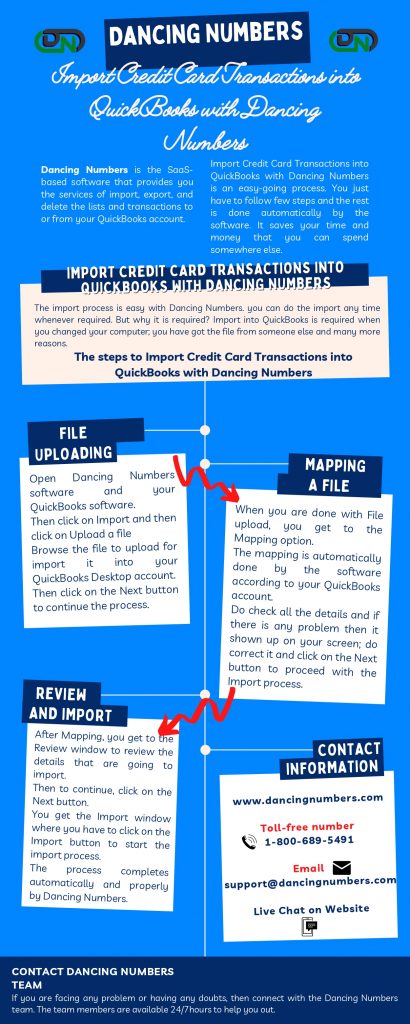 Steps to Import Credit Card Transactions into QuickBooks with Dancing Numbers
File Uploading
Open Dancing Numbers software and your QuickBooks software.
Then click on Import and then click on Upload a file
Browse the file to upload for import it into your QuickBooks Desktop account.
Then click on the Next button to continue the process.
Mapping a File
When you are done with File upload, you get to the Mapping option.
The mapping is automatically done by the software according to your QuickBooks account.
Do check all the details and if there is any problem then it shown up on your screen; do correct it and click on the Next button to proceed with the Import process.
Review and Import
After Mapping, you get to the Review window to review the details that are going to import.
Then to continue, click on the Next button.
You get the Import window where you have to click on the Import button to start the import process.
The process completes automatically and properly by Dancing Numbers.
If you are facing any problem or having any doubts, then connect with the Dancing Numbers team. The team members are available 24/7hours to help you out.