QuickBooks provides you with a unique way to manage the business with strategy and security. QuickBooks Online is also known for its best features. You can access QuickBooks online from anywhere anytime however, QuickBooks Desktop is widely used. Many users are using QuickBooks Desktop and while working they also need to convert QuickBooks Desktop to QuickBooks Online.
Save Time, Reduce Errors, and Improve Accuracy
Dancing Numbers helps small businesses, entrepreneurs, and CPAs to do smart transferring of data to and from QuickBooks Desktop. Utilize import, export, and delete services of Dancing Numbers software.
The below article informs you about the process of converting QuickBooks Desktop to QuickBooks online.
What are the Benefits of Converting QuickBooks Desktop File to QuickBooks Online?
Reports can be easily compared to the previous year to the current year.
Importing data to the online version is not chargeable.
How to Move QuickBooks Desktop File to QuickBooks Online
QuickBooks Online is used by every small and medium-sized business owner, also is one of the most useful editions. QuickBooks Online can be accessed from anywhere to make the work easier. Even you can back up the data anywhere anytime. Below are the methods to convert QuickBooks Desktop to QuickBooks Online.
Method 1: Verify Data
In this method first, you need to verify the data. To do so follow the below points
Go to File >> Utilities >>> Verify.
If there is any issue occurred while verifying the data then you will be asked to Rebuild the data.
After rebuilding the data, again verify to see if the issue has been resolved or not.
Method 2: Save Company file in QuickBooks Online format
Open the QuickBooks Desktop and create the company file copy which is compatible with the QuickBooks online. To do the same, go to options Files >>> Utilities >>> and finally go to the Copy Company files option for QuickBooks online. Now, save the file on your Desktop. It helps to create a new QuickBooks file with the extension "OE.qbw".
Method 3: How to import QuickBooks Desktop to QuickBooks Online
Once the above two steps are done then you can easily import QuickBooks Desktop Online via Internet explorer.
Go to option "Company" >>> select option "more" >>> and at last select Import QuickBooks Desktop Data.
Now select the option "File" which you want to import and let the process complete.
Once the importing process finished, you will get a confirmation email.
Convert QuickBooks Desktop File to QuickBooks online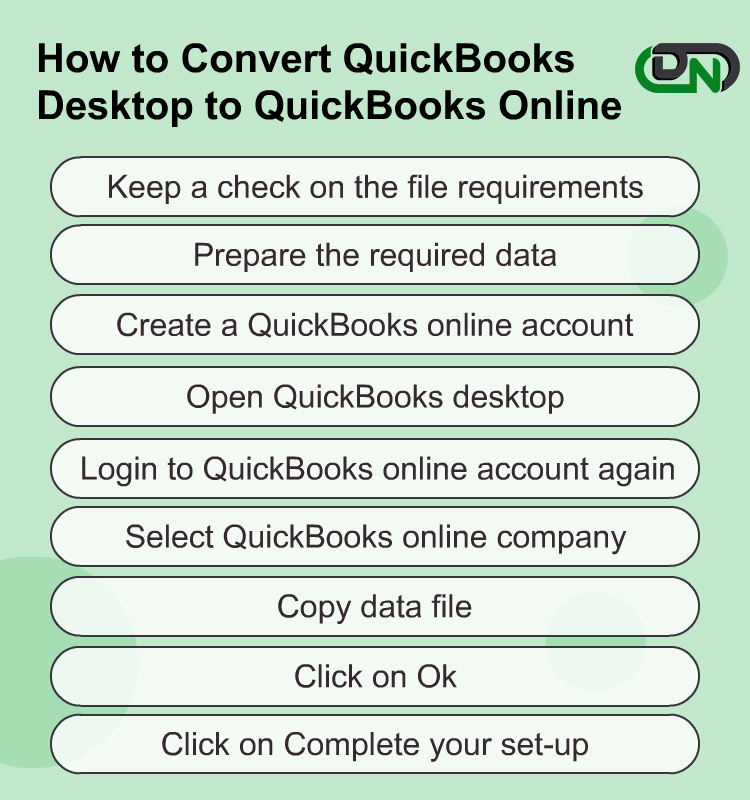 Step 1: Checking the File Requirements
You can import data to QuickBooks within 60 of subscription. If it is more than 60 days then try for the below steps.
Convert the subscription to 180 days.
Using the new email setup to QuickBooks Online subscription verify the data.
Step 2: Preparing the Data
Before proceeding ahead, finish all your outstanding tasks such as bank accounts, inventory, and payroll, etc.
Update your complete data before converting, here you can also delete the unwanted data.
Take the back up of your data in the data file. Now, in the QuickBooks Desktop file go to File option >>>backup company >>>Create local backup option.
Step 3: Create a QuickBooks Online Account
Once work associated with data finished, create a QuickBooks online account and provide the important data required such as email address, Name, mob number, and password.
When the above step is completed log out of the account.
Step 4: Open QuickBooks Desktop
After logging out, the new QuickBooks Online account open QuickBooks Desktop to export the data. Don't forget to download the recent update.
For that simply go to the Help menu and click on QuickBooks update.
Now, click on the Company menu and select Export Company file to QuickBooks online.
Step 5: Log in to QuickBooks Online Account again
After selecting Export company file to QuickBooks online after login to the new account. The system will ask you if you want to export your existing inventory.
You should be aware that QuickBooks online values inventory using the FIFO method which is (first in, first out).
The inventory will be calculated using the same method from the given start data if you click on yes to the value.
Step 6: Choose QuickBooks Online Company
Now from the drop-down select the QuickBooks online company where you want to import data
Step 7: Copy Data File
After selecting the company file, copy the data file there, which takes some time.
After copying all data you will get a notification and you need to click on OK.
You need to send an email confirmation regarding the same once your data is ready in QuickBooks online, also you need to ask to complete the setup.
Before start working on QuickBooks online check if the data has been exported properly. You may also run a profit and loss statement and balance sheet report then can compare with QuickBooks Desktop and Online.
You will get an email notification once data is ready.
Now, click on Complete your setup which takes you to log in to QuickBooks Online and review the data.
Accounting Professionals, CPA, Enterprises, Owners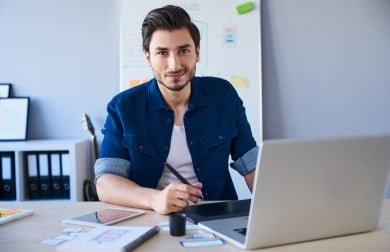 Looking for a professional expert to get the right assistance for your problems? Here, we have a team of professional and experienced team members to fix your technical, functional, data transfer, installation, update, upgrade, or data migrations errors. We are here at Dancing Numbers available to assist you with all your queries. To fix these queries you can get in touch with us via a toll-free number
+1-347-428-6831 or chat with experts.
---
Video Tutorial for Convert QuickBooks Desktop to QuickBooks Online
---
Frequently Asked Questions (Faqs)
What is a QuickBooks Online Account?
Accounts for QuickBooks Online can be accessed entirely online with a web browser. The sign-in and account information are separate from QuickBooks Desktop.
Does QuickBooks Online Sync with QuickBooks Desktop?
No, QuickBooks Desktop is completely independent of QuickBooks Online.
How much time it will take to move?
The size of your company file affects how long it takes to transfer your data to QuickBooks Online. Until the move is done, keeps QuickBooks Desktop running.
What occurs to the Data I Already Have in QuickBooks Desktop?
Simply copy the data to QuickBooks Online, and nothing changes. You will now enter fresh data into QuickBooks Online.
The data in your QuickBooks Desktop company file will still be kept by you, but you can only access it if your QuickBooks Desktop subscription is still valid. Learn how to move your QuickBooks Desktop file to QuickBooks Online.
How to Verify that Your Data is Imported Correctly?
Run a profit and loss or balance sheet report in both QuickBooks Desktop and Online, then compare the two.
How to Create a New Company File in QuickBooks Online?
Under your QuickBooks Online account, you can have multiple companies. You'll need a paid subscription for each company, but you use the same sign-in information for all of them. Here's how to add or create a new company.
How will Changing Inventory Methods Impact Your Business?
Using FIFO, QuickBooks Online calculates inventory costs as of the inventory start date. Existing transactions from this date forward are also subject to a FIFO recalculation. In order to prevent having to file revised tax returns, it is advised to choose an inventory start date that is the first day after your company's most recent tax filing period.
Additionally, you must inform the IRS of your new inventory costing method.
What do You need to do if You don't Bring over Your Inventory?
You can choose No, don't turn on inventory, and stop tracking quantity on hand during the move if you'd prefer not to use FIFO or switch on inventory in QuickBooks Online. Later, you can change these settings, but doing so requires creating new inventory items. If you require help with this decision then get in touch with your accountant.