Several vendors and businesses work together through QuickBooks Online. The problem, however, is the software doesn't provide the payee and payor with an appropriate connection for successful payment. This results in unpredictable cash flow and inaccurate payment information. Thus, Intuit brought forth a new service for QuickBooks Online customers- the Business Network.
Save Time, Reduce Errors, and Improve Accuracy
Dancing Numbers helps small businesses, entrepreneurs, and CPAs to do smart transferring of data to and from QuickBooks Desktop. Utilize import, export, and delete services of Dancing Numbers software.
In simpler words, the QuickBooks Business Network makes administrative tasks simpler and more efficient. It establishes a safe and secure connection to exchange payment information. You can also add or find other QuickBooks Online customers to your contacts. Read on for a quick overview of the QuickBooks Business Network.
What is the QuickBooks Business Network?
The QuickBooks Business Network is a new service for the online users of QuickBooks. It provides you with an enhanced ability to communicate and collaborate with customers, vendors and other businesses who are online members of QuickBooks. It also makes monotonous administrative tasks easier and simpler, thereby creating smooth business management for all.
How to Verify Business Contact Details?
Let's say you sent or accepted the QuickBooks Business Network request to your vendor. In that case, your customer-facing contact details are visible to your vendor or customer. Keep the contact information updated so your network contacts have accurate information.
Here's How to Verify Your Business Contact Information:
Sign in to QuickBooks Online Account.
Click on 'Accounts and Settings' from 'Settings'.
Choose the tab that says 'Company'.
Update the details as and when required.
Save and click on 'Done'.
The existing users of QuickBooks Online can find details such as your website, ZIP code, city, state, and company name in the QuickBooks Business Network. Information such as your phone number, business email, and street address is visible only after you send or accept a request.
How to Add Contacts to the QuickBooks Business Network?
You can use the QuickBooks Business Network search to get hold of the contacts of eligible QuickBooks Online customers. All you have to do is select the option 'New Customer' or 'New Vendor' in QuickBooks Online.
Steps to Add Contacts in the QuickBooks Business Network:
You will find the field 'Company Name'. So, type the name of the business you are looking for. The results from the QuickBooks Business Network will appear right away.
Choose a business from the list that appears. The contact details will appear in the form.
City, state, name of the website, and ZIP code of businesses appear after you have followed all the above-mentioned steps. Contact details such as the email of the business, street address, and phone number are hidden unless you send or accept a network request.
Also, the information you see hasn't been verified by QuickBooks and is provided by the businesses solely. You shouldn't try to change the information in any field using a link. That would otherwise hamper the connection with QuickBooks Business Network and not let you see the updated network information.
You will find a Save and send request option at the bottom of the form. Click on it to complete the process.
The customer or vendor list is updated the moment you finish the process. The business also gets an email request to share its contact information.
You can send invoices to their QuickBooks account or see the business's details once you accept the request.
What are the Key Features of QuickBooks Business Network?
Here are the main features of the QuickBooks Business Network:
Improved Accuracy of Contact Information
The QuickBooks Business Network automatically updates your contact information for your clients or vendors. Thus, you don't have to waste time entering each detail manually or correcting possible data entry errors.
Integrated Accounts Payable Automation
The new automation feature in the QuickBooks business Network converts your invoice into an email and bills automatically. You can then review and send the bill.
A Searchable Directory
You can search for thousands of businesses on the QuickBooks Business Network. It makes adding a new contact or sending an invoice more convenient.
Safety of User Data and Information
QuickBooks is serious about its user's safety and privacy. Thus, it keeps all the details in its Network database system secure within the QuickBooks ecosystem.
Connection with other QuickBooks Users
You can get access to customer-facing business information only if you are a member of the Network. Also, you can deactivate the visibility button to make your business undiscoverable.
How to use the Automation Feature?
Okay, here is an interesting overview of the QuickBooks Business Network.
It provides you with the Accounts Payable (AP) Automation feature. You already know that the QuickBooks Business Network lets you send invoices to a business once it accepts your network request. The automation feature converts the invoice into an email and makes it appear in your QuickBooks account automatically as a bill. Thus, you can further review, save and pay on the basis of that bill.
The feature also lets you receive invoices automatically. However, you have to accept their network request to receive the invoices.
How to Manage QuickBooks Business Network Visibility?
Do you not want your business to be seen by certain customers? The QuickBooks Business Network lets you do that too. You can change the visibility of your business network using the following steps:
Sign in to QuickBooks Online Account.
Click on 'Accounts and Settings' from 'Settings'.
Choose the Advanced option.
Click on QuickBooks Business Network and hit the option that says OFF.
Click on Save. Now click OK
What Exactly Happens When you Turn the Visibility of Your Business Network off?
QuickBooks Online users will not be able to find your business when they search for businesses on the QuickBooks Business Network. But, you can search for your contacts on the QuickBooks Business Network. Also, it lets you accept network requests and get their contact information.
Remember the contacts you added before deactivating the visibility can still find you on the QuickBooks Business Network. They can send invoices to you and receive the same from you using the QuickBooks Business Network. After the deactivation, they will not see the updated contact information once you change the account settings.
The Simple Start customers will not be able to get access to the AP automation feature just yet. It is also unethical to use QuickBooks Business Network for marketing or any other activity that breaches the Intuit Terms of Service. You can see and connect with users located in the same geographical location.
QuickBooks Business Network provides a safe space for businesses, clients, and vendors to exchange payment information. Besides simplifying the process of creating invoices, it also provides you with access to other businesses in the network and creates bills from invoices automatically.
Accounting Professionals, CPA, Enterprises, Owners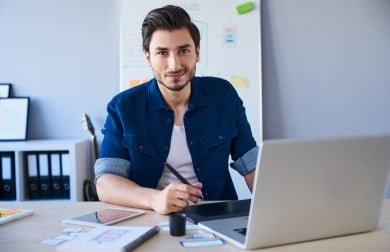 Looking for a professional expert to get the right assistance for your problems? Here, we have a team of professional and experienced team members to fix your technical, functional, data transfer, installation, update, upgrade, or data migrations errors. We are here at Dancing Numbers available to assist you with all your queries. To fix these queries you can get in touch with us via a toll-free number
+1-800-596-0806 or chat with experts.
---
Frequently Asked Questions (Faqs)
What's unique about the QuickBooks Business Network?
The QuickBooks Business Network makes it 10X easier for QuickBooks online users to collaborate or do business with each other seamlessly. The QuickBooks online users will also be able to communicate with QuickBooks vendors through the QuickBooks Business Network. It lets you import bills to the vendors or predict their cash flow automatically.
Can I Search for a Member of the QuickBooks Business Network Community?
Yes, The QuickBooks Business Network lets you do so. Once you sign into your account, you will find a search box that says 'company name'. So, type the business name that you are looking for in the QuickBooks Business Network. You can add them to your network or send a request. You can see their contact details once they accept your request.
What information can other QuickBooks Online Customers see about my Company?
They can see the name of your company, city, ZIP code, state and website address. However, details such as your business email ID, street address and phone number are shown only if you accept the users network request. Go to Account > Settings to change or confirm your customer-facing contact information.
How does the Customer-Facing Business Contact information Work?
This is where the best part about the QuickBooks Business Network comes into play. Intuit takes care of the monotonous and administrative tasks for you using your customer-facing business details. The tasks include creating bills, filling in invoices, filling out contact forms and more. That means, with QuickBooks Business Network, you can focus on the bigger picture of your business hassle-free.