One of the key features of QuickBooks is to play an ancillary role in tracking the expenses and income of your organization. But at times, the need would be arising to move further to the basic account-based tracking performance.
To excel for this objective, QuickBooks class tracking becomes quintessential. The QuickBooks online class tracking tools are specifically designed to be user-friendly and allows you have better control over the various categorizations under expenses.
It is also known to be time-saving and increases efficiency output.
What is QuickBooks Class tracking?
The main element of the QuickBooks Class Tracking tools to assist you in providing a personalized way of tracking certain expenses, managing accounts, evaluating frequent expenses, and categorization expenses that are being shared across multiple accounts and are not associated with a specific type of account.
On QuickBooks, one can easily create classes for specific transactions that are necessary to be grouped exclusively. Once done, you would be able to track each of the account balances by their labels such as office, department, location, and other associative properties you are entitled to.
Undoubtedly, QuickBooks Class Tracking helps you to organize your business in a much more efficient manner.
How can I turn on Class Tracking Tool on QuickBooks?
This article would further guide you in detailed steps to enable the class tracking tool on QuickBooks:
Step 1: Browse to the 'Preferences' section under the Edit menu.

Step 2: Tap on the 'Accounting' icon.

Step 3: Take your cursor to the Company Preferences.

Step 4: Locate the Use Class Tracking box and check it and click OK.

Step 5: Move to the Menu Section and select the lists which you wish to track.

Step 6: Tap on the 'Class List' option that helps you to set up categories for the expenses.

Step 7: Select 'New' for creating a new class.

Step 8: Choose your desired expenses for the new class created in Step 7.

Step 9: Add a name related to the specific class which you created and finish the procedure.
After you have created the classes, you now need to understand the complete utilization of the tracking class tool for your transactions.
Here are the steps to follow the same:
Step 1: Open 'Blank Invoice' and select a customer.

Step 2: Locate the class field next to the customer's name.

Step 3: Tap on the drop-down list and choose the invoice of your interest (This step is to be followed only when an entire invoice is allocated to the same class). Allocation of separate classes individually for each of the line items is also possible.
On QuickBooks, one thing that you must remember is that not every invoice template would be including a column for the classes.
However, it possible to add on the templates by choosing the invoice form which you would be wanting to change and select the 'Customize' option under the Toolbar.
Once you have performed this, next you would be able to add classes designated under the column section. But to ensure this, make sure that the window for customization data layout is open.
How to Create Types on QuickBooks Class Tracking?
Very similar to the creation of classes, the steps involved for creating types fall along the same line. The steps involved to create Types on QuickBooks Class Tracking is mentioned below:
Step 1: Move to the Lists Section and hit the Customer & Vendor Profile Lists, and choose the 'Type' which you want.

Step 2: Repeat the same instructions that were specified for creating classes.
Note: the 'types' don't appear on any transactions and are mostly created for personal use, thereby saving it in the documents.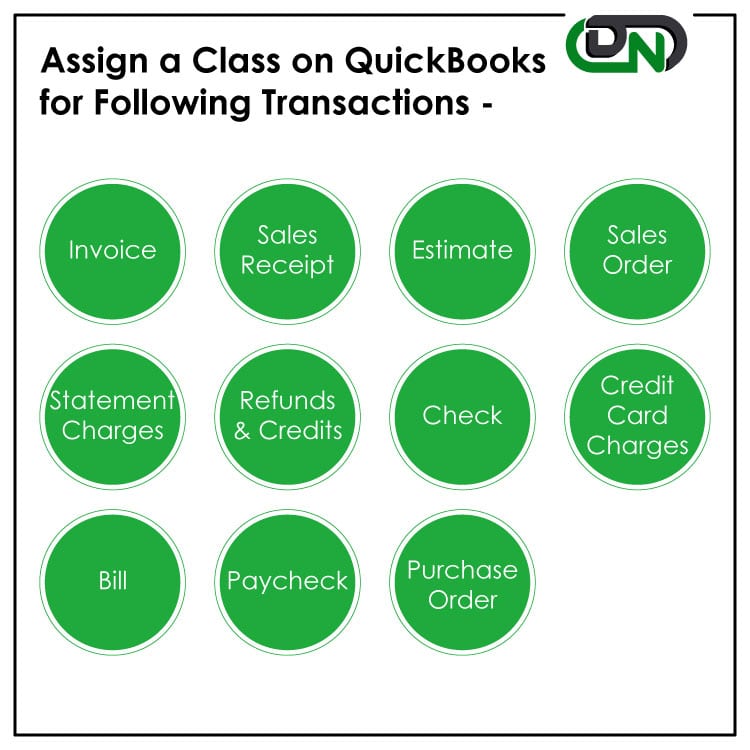 To What kind of Transactions I can Add a Class on QuickBooks?
Assigning a class on QuickBooks can be done for the following types of transactions:
Invoice
Sales receipt
Estimate
Sales order
Statement Charges
Refunds and credits
Check
Credit card charges
Bill
Purchase order
Paycheck
Hope this elaborative article has now guided you effectively in how to take leverage of the class tracking tool on QuickBooks.
---
What are the kind of Reports I can fetch from the Class Tracking Feature?
Majorly two kinds of reports can be found on QuickBooks and are dedicatedly designed for tracking the class-based transactional activities; these are Profit & Loss by Class and Balance Sheet by Class.
How can I fetch Reports from QuickBooks for class-based transactional activities?
For fetching reports from QuickBooks for class-based transactional activities, follow the steps mentioned below:
Step 1: Locate Reports menu under 'Company & Financial' section.
Step 2: If you wish to filter for other reports for incorporating a class column, you need to create a QuickReport for individual classes.
Step 3: For creating a QuickReport for individual classes, browse to the Lists section and choose Class List. Tap on a graph or report.
Can I use Classes for Multiple Categories?
No. Do not use classes for multiple categories. For eg. If you are using classes for a specific department, make sure that you do not use classes for various locations.