QuickBooks Desktop is one of the renowned accounting software for small businesses. It manages payroll, customers, inventory, and everything in between. A set of automated accounting and bookkeeping tools called QuickBooks. QuickBooks Desktop is a suite of programs with features for budgeting, paying bills, receiving client payments, processing payroll, and more that are specifically made to assist medium and small businesses.
Save Time, Reduce Errors, and Improve Accuracy
Dancing Numbers helps small businesses, entrepreneurs, and CPAs to do smart transferring of data to and from QuickBooks Desktop. Utilize import, export, and delete services of Dancing Numbers software.
You must enter bills in a different window before you can pay them in QuickBooks. On the home page, click Enter Bills. It might be challenging to work with vendor discounts and credits in QuickBooks; let us guide you through these phases in the bill-pay procedure. Multiple payment options, including check, credit card, and online bank payment, are available through QuickBooks. To help you avoid paying bills late, QuickBooks offers the following three reports: Unpaid Bills Detail and A/P Aging Summary and Detail. You can enter future-payable transactions in QuickBooks, such as expenses spent, materials bought, or services rendered by a vendor. You can keep track of all your accounts payables in this way, knowing which bills need to be paid.
QuickBooks Desktop for Mac
Daily accounting tasks are automated with QuickBooks Mac Plus 2022 so you can concentrate more on your business than your books. Customers and accountants adore the QuickBooks Desktop for Mac platform because:
Place all of your business's finances in one place.
Invoices, sales receipts, estimations, statements, and purchase orders that are customizable.
To help you make wiser decisions, monitor business performance.
With managed spending, we can help you maximize tax deductions.
A comprehensive list of QuickBooks add-on services, including point of sale, payments, and payroll.
Customer Support of QuickBooks Mac
Unlimited live customer support from industry professionals is included in your Mac Plus subscription at no extra charge.
Save time by quickly finding assistance through improved searchable information or from our sizable user community.
By communicating with live professionals as needed, you can have more flexibility with your schedule.
Added comfort of a call-back option will allow you to focus on running your business instead of waiting on hold.
If you need assistance fixing broken or damaged files, have access to QuickBooks data recovery service for peace of mind.
Features of QuickBooks Mac Plus 2022
Track products, costs of commodities, and get alerts when inventory levels are low.
Inventory can be easily adjusted to accommodate for loss, theft, and shrinkage.
To keep track of what is on order, create purchase orders.
Benefits to Work on QuickBooks Desktop for Windows and Mac
1. Payroll in QuickBooks Desktop
With QuickBooks full integration of payroll, you may easily pay employees via checks, direct deposit, or both methods. Additionally, it is simple to create, submit, and send W-2s and 1099s. Paychecks in three simple steps: Add hours, give time your approval, and pay your team. You can calculate your federal and state payroll taxes in QuickBooks. The most recent federal and majority of state payroll tax forms are automatically filled out. Just click on e-file thereafter.
2. Payments in QuickBooks Desktop
With QuickBooks Desktop Payments, customers can pay their online invoices instantly rather than having to phone in their credit card information or send us checks in the mail. Get paid 1.5 times more quickly when customers pay online. Send invoices via email and receive payments via mobile and web. Additional cost need to pay for the same. Don't waste any more time waiting for checks to arrive in the mail. Accept payments using ACH, cards, and e Checks. Most deposits are made the next day. You can also pay an extra 1% and instantly receive your money, even on weekends, holidays, and late at night.
3. Point of Sale for QuickBooks Desktop
QuickBooks integration of sales and inventory makes managing your business easier than ever. With seamless e-commerce connectivity, contactless payments, multichannel inventory management, and much more, it is designed for your retail business-both online and offline. Accept all payment methods, including mobile, contactless, and gift cards. Users online and offline businesses can be managed in one location. The latest hardware comes in more colors and has more streamlined designs, and it is built for maximum power and minimal space. A new flip stand, more tablet options, and contactless payments all help to speed up checkouts. More ways to handle sales, inventory, and customer data from anywhere in the store are made possible by new tablet possibilities. Give clients access to immediate, personalized discounts and rewards.
4. Checks & Materials
Keep all of your checks secure in one place and let QuickBooks fill in the details. QuickBooks Printable Checks help you save time. It is specifically made for QuickBooks in order to keep a single copy of every check record. Your checks can automatically fill up by QuickBooks. Supplies to keep your company operating efficiently contain Check Value Packs, Deposit Slips and Security Envelops. As proof of payment for bills and payroll, keep a check stub. Business-sized checks printed three on a sheet for quicker printing. Smaller checks and stubs that appears professional. Manual slips are offered. Customize for a more polished appearance. No need to write addresses by hand.
Process to Pay Bills in QuickBooks Desktop for Windows and Mac
Discover QuickBooks Desktop for Windows and Mac's bill payment procedures. After entering the amount, you owe your vendors into QuickBooks Desktop, you may settle your payables by going to the Pay Bills window. You can also use a vendor's discount or credit toward your bill payment to lower the overall amount owed. Pay your bills with cash, not a check. If you don't, the bills are left unpaid and open, which results in false financial reporting. Here's how to properly pay a bill.
Choose Pay Bills from the Vendors menu.
From the dropdown list, choose the appropriate accounts payable account.
To pay the bills listed in the table, check the appropriate boxes. You must keep in mind that you have to choose Clear Selections or Select All Bills to mark or unmark each bill in the list.
Set any credit or discount that you wish to give on the bills.
If your merchant offered you a discount for this transaction, choose this option.
If your seller gave you a credit that you used to lower the total of your bill, choose this option.
Mention the date on which you made the bill payment.
Pick a Payment Option:
If you intend to write the check by hand, choose Assign check number tab while writing the check. To print the check, choose to be printed option, or add it to the list of checks to print.
Credit Card: You can pay bills with credit cards and print a payment stub afterward.
Bill Payment Online: QuickBooks allows you to pay your vendor invoices immediately online. Additionally, it automatically logs your payment so that your reports are correct.
Bank Payment Online: The payment processor will print and mail a check to the employee in the event of an online bank payment. If you wish your name and account number to be provided together with the bill or credit reference number, you can choose Include reference number option.
Even if you're not paying with a physical check, you can choose Check and then assign check number from the payment options of Cash, Debit or ATM card, PayPal, or EFT. The check number field can be left empty or filled up with the form of payment.

After doing all this, you have to simply click on Pay Selected Bills.
Now, you just need to press done button or if you have further bills to pay, choose Pay More Bills instead of done tab.
In QuickBooks Desktop, paying bills is a typical step in the accounts payable workflow. You can visit Account Payable Workflow to view a complete list of workflows and other vendor-related transactions.
What are the Tips for Sending a Paper Check by itself?
You can mail paper checks using QuickBooks Online. However, you may also pay by physical check that you personally mail or deliver if that's what you choose to do. You should follow these procedures.
Select Pay Bills: Click new option on your main dashboard. Select the Pay bills quick link under the Vendors tab.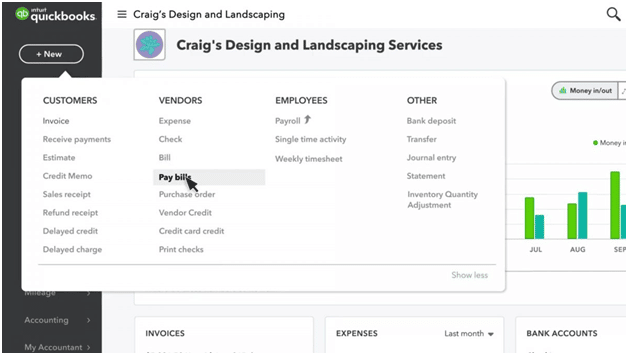 Put Your Check Details Here: Next, choose your bank account and the date on which you'll be making your payment. You should fill out the Starting check no field with the proper check number for handwritten checks. Put a check in the Print later box if you wish to print the check within QuickBooks Online.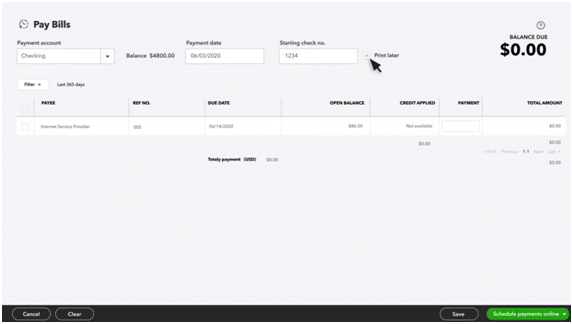 Choose the Bill You Wish to Pay: You must match this payment with an existing bill in QuickBooks Online after entering the check's data. If you haven't entered the bill yet, you should do it right away (following the steps outlined earlier). However, if it has already been added, just check the box to the left of the bill to choose it.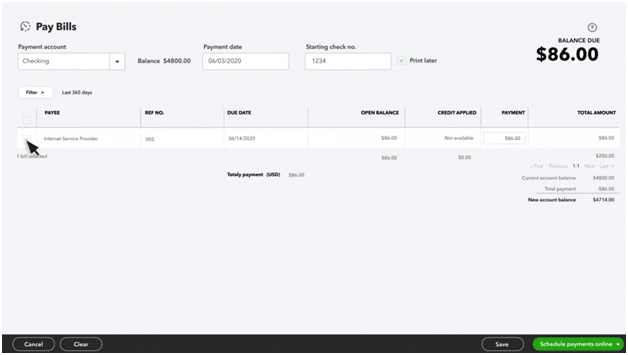 Print and Save Your Check: You can now select Schedule payments online option after adding all the check-related information. You'll be given two choices. Hit on Save and print option to print the check from QuickBooks. However, choose Save and close if you'll be mailing a handwritten check instead.
Save Your Bank Transactions: According to the instructions provided, you should select Bank Transactions tab and then match the check payment to the appropriate bill.
What are the Steps for Using QuickBooks Online to Pay Bills?
The procedure is very easy to understand. With QuickBooks Online, you may pay your vendors directly from your bank account for free by direct deposit or paper check. Debit or credit cards are an additional option. These are the procedures you must follow in order to pay bills in QuickBooks Online, regardless of your payment preference.
Go to the Pay Bills Window: The Pay Bills link can be found in two locations in your Dashboard. The first location is in the shortcuts menu that was mentioned in the bill entry instructions. Selecting the sizable new button at the top of the page is the second option to start paying a bill. Under the Vendors page, you may access Pay Bills from there.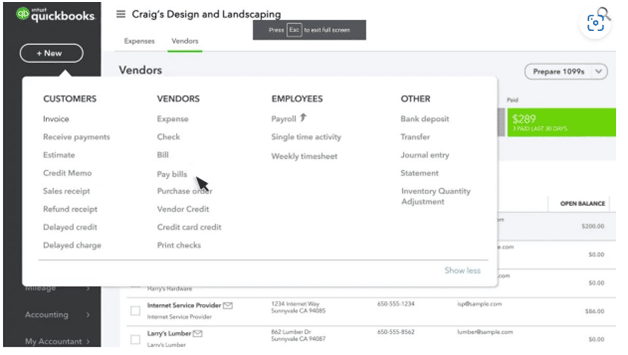 Choose Your Bill: Find the particular bill you want to pay in your list of bills. Schedule payments online option can be chosen by checking the box on the left.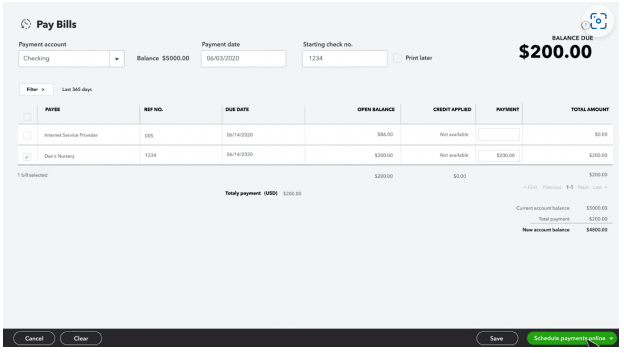 Select a Payment Method: The next step is to choose your payment method. Payments made with a debit card or bank account including checks on paper, are totally free. However, there is a processing fee for credit cards of 2.9% + $0.25 for each transaction.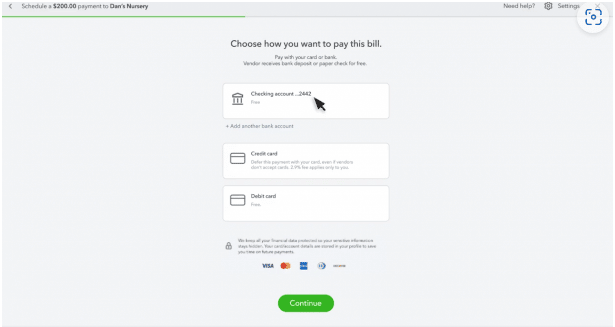 Choose between Paper Checks and ACH for Bank Payments: You can select between Direct Deposit and a physical check on a separate screen if you wish to pay bills in QuickBooks Online directly from your bank account.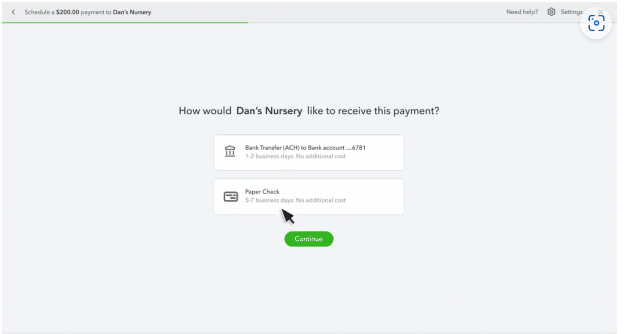 Your costs will remain the same whether you select an ACH or paper check. Both choices are cost-free. However, bank transfers are quicker, with an anticipated arrival time of 1-2 business days, whereas paper checks normally take 5-7 business days.
Select a Payment Date: After that, a calendar will be displayed for you to choose the date, you want your money to be sent. You want your payment to be sent at this time, but it won't be received until after that. You can see an anticipated arrival time for your bill at the bottom of the calendar for scheduling.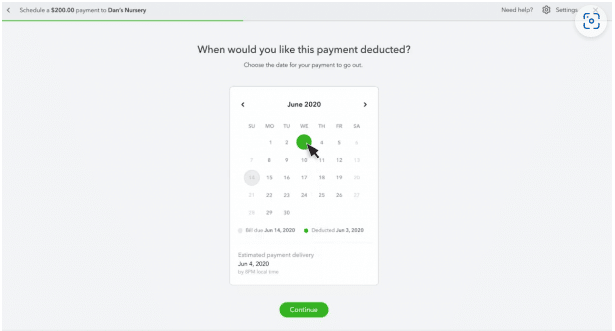 Review and Confirm the Payment You have Scheduled: Your work is nearly finished once you've chosen your payment date. After that, if you'd like, you can leave a memo along with your bill. Alternatively, you can bypass it and go straight to the Review & Confirm screen. Check the specifics of your bill payment one last time to ensure that everything seems correct. You can choose Confirm and Schedule Payment option if it does.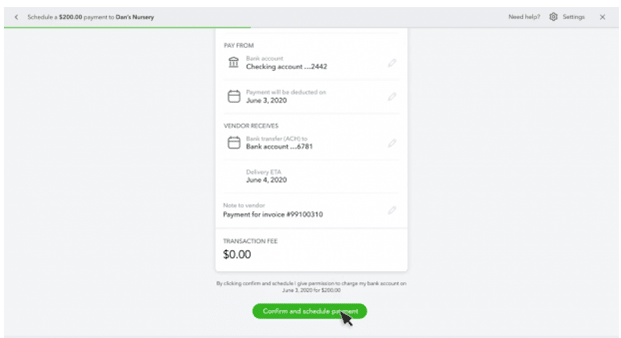 Save Your Bank Transaction: You still have some work to do. After the transaction is complete, the last step in the procedure is to reconcile the bank payment with your bill. You must go to your Bank Transactions tab to accomplish that.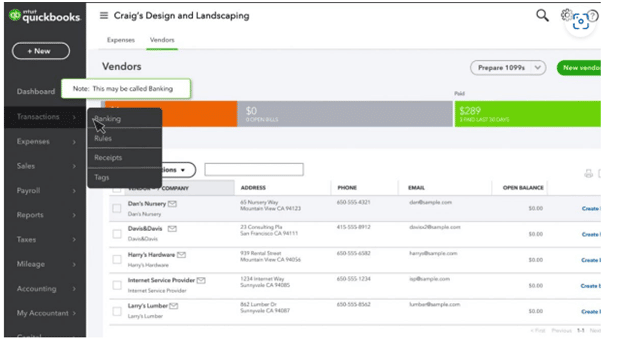 You can view a list of every transaction that QuickBooks downloaded from your bank on this page. QuickBooks may detect a potential matching record if one of your transactions has the same value as a recent bill and will display a green book if it does.
Now, you need to simply choose Match from the Action option on the right to proceed. That's all, and then Just now, you finished the entire process of entering and paying bills in QuickBooks Online.
We hope that you are now confident enough to start paying your bills in QuickBooks Desktop for Windows and Mac. Not only may this save you time, but it could also point up costs that need to be cut back or eliminated. Tips of our experts can be useful if you're experiencing financial stress due to payments or other business-related expenses. Our Dancing Numbers team of professionals can take care of your bookkeeping and deliver the accounting reports you require.
Accounting Professionals, CPA, Enterprises, Owners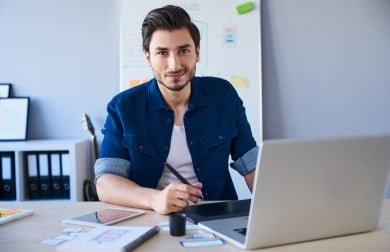 Looking for a professional expert to get the right assistance for your problems? Here, we have a team of professional and experienced team members to fix your technical, functional, data transfer, installation, update, upgrade, or data migrations errors. We are here at Dancing Numbers available to assist you with all your queries. To fix these queries you can get in touch with us via a toll-free number
+1-800-596-0806 or chat with experts.
---