With the QuickBooks platform and zeal of the organizations to stay upskilled, has brought some new terminologies to the table. Another advanced feature to be considered is Fixed Asset Manager.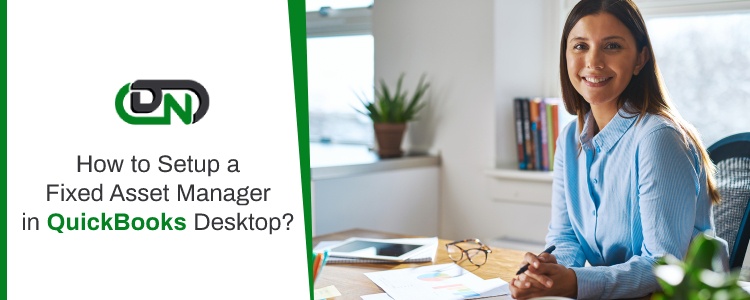 This Fixed Asset Manager (FAM) is known to be a feature that is available in QuickBooks Desktop. IT enables you to compute the depreciation of fixed assets based on the given standards by the IRS. This advanced feature will bring some other tech-term that you should be familiar with. Those terminologies are:
Depreciation Methods
Predefined Reports
These above mentioned tabs are the part of Fixed Asset Manager to assist you for better management of your asset information.
Note: Please be informed that FAM is only available in QuickBooks Desktop versions including Premier Accountant, Enterprise Accountant and Enterprise. See steps for setting up a Fixed Asset Manager.
Advantages of FAM QuickBooks:
Here are some of the advantages of this feature to count for.
You will be getting the accurate calculation of the depreciation of your business assets.
The track record of assets can be maintained.
Intimation of proper journal entries will become more easy.
Various depreciation forms and the reports can be generated in an efficient manner.
In order to setup the QuickBooks Fixed Asset Manager (FAM), few of the information will be required:
Name of the company
Company Address
Account chart
Contact details of the company
Income tax form
Federal Tax details
Details of business assets and their value.
Steps to Setup the QuickBooks Desktop Fixed Asset Manager (FAM):
You need to follow these steps to start using the QuickBooks Desktop Fixed Asset Manager (FAM):
Step 1.

Set-up of the Income Tax Form

In any context, setting up the form of your income tax is considered to be a vital step. It helps FAM to track asset depreciation in an appropriate tax line that complies with the given industry standard.

If you are just starting from scratch, then you need to create your QuickBooks Desktop company file.
From the No Company Open window, click on Create a new company and then click on Detailed Start.
On the Easy Step by step prompt Interview describing how your company is organized? window, select your income tax form.
Finish creating your company file.
If you already have an existing data file on the QuickBooks Desktop, then please refer to these steps:
From the Company menu click on the My Company tab.
Then, you need to click on the Pencil Icon and Select Report Information.
You finally need to Choose the income tax form best suited for your business and select the OK button.
Step 2.

Setting up a General Ledger (G/L) Account in QuickBooks Desktop

Depending on your business preference, you can either choose to track your assets using the Minimal account setup, where you get to maintain a limited number of accounts that are used or you can also choose the Ideal account setup where individual accounts are set up per fixed asset.

In addition to the asset account, FAM also posts depreciation to the specific Depreciation (Expense) account and another entry is also there to offset the Accumulated Depreciation in the account. It is important to have a specific General Journal (G/L) account created before you decide to use FAM for the first time. Here are the steps you can follow to add a general ledger account in QuickBooks Desktop:
First of all, you need to sign in to the QuickBooks account.
Go to the Gear icon at the top, then click on Account and Settings.
You need to select the Advanced tab.
In the Chart of Accounts section, you need to click on the Edit (pencil) icon.
You should check Enable the account numbers and Show them as well.
Click on the Save Button and then hit Done.
Step 3.

FAM Client Wizard

For opening the FAM Client Wizard, You need to go to the Accountant menu and select Manage Fixed Asset. Then, you need to choose the option which is most appropriate to your business. There are following available scenarios to choose from:
Creating a new Fixed Asset Manager Client: This is for the first time users.
Transfer of a prior year Fixed Asset Manager client: This is available for revisiting users.
Reconnection of the Accountant's Review Copy with Fixed Asset Manager: This option will enable you to add current year assets into the company file.
Restorage of a current fiscal year QuickBooks on Fixed Asset Manager Client file: This option allows a Fixed Asset Manager Backup file to be restored.
Step 4.

Add Asset in Fixed Asset Manager

Usually, when you have FAM and QuickBooks Desktop, these two platforms can sync with each other and import the available information on an automatic basis. This particular stage described in this section is only applicable if you have not set up your fixed asset accounts yet in QuickBooks Desktop or if your preference is to transfer all required information from FAM to QuickBooks Desktop. You need to add an asset to FAM:
Select Add from the toolbar;
Select F4 from your keyboard; or
Select Add Asset from the Asset menu.
Once the asset is added, you can use the top portion to add required information of the asset such as federal form used to report depreciation, description, and general ledger accounts that were created in QuickBooks Desktop.
You can also use the lower portion to add depreciation calculation information including as cost, tax system, and depreciation method.
All of this can appear to be overwhelming though every step has been explained. But do not worry at all as at Dancing Numbers we understand this and have a team of experts to handle all of it. You just need to connect with them and ensure to mention your detailed query and our personnel will come up with the best suited solution for your business.
---
Need Some One on One QuickBooks Assistance?
---