QuickBooks let you Import Timesheets entries for estimating employee working time. It helps to reduce time-wasting and also boost work productivity. Let's understand through this article how to import TimeSheet Entries into QuickBooks Desktop. Make sure you have enabled timesheet service located in the service page window of QuickBooks below Payroll Settings.
Save Time, Reduce Errors, and Improve Accuracy
Dancing Numbers helps small businesses, entrepreneurs, and CPAs to do smart transferring of data to and from QuickBooks Desktop. Utilize import, export, and delete services of Dancing Numbers software.
Import Timesheet Entries in QuickBooks Desktop:
Open QuickBooks
To start the importing process, you have to locate the Manage Employees option
Choose Import Timesheets located on the payroll dashboard
Search the drop-down button and select the timesheets source
Click QuickBooks Custom file Upload to import created timesheet; it is a time import function which permits the timesheet importing from CSV files.
The format of the timesheet is not fixed. Here are the requirements:
The file should be in CSV or TSV format
There might be only single timesheet entry per line
Must contain Starting date, Ending date /Time and Units
Employee
Choose the file you need to upload
Once uploaded, you are permitted to set the date format of the preferred file
After this, you need to configure the data type for every column
You can view the highlights of the initial lines of columns to get a reference for the column matching
Map the file columns corresponding to each QuickBooks fields
Once done the column mapping, start the Import
At last, check whether the timesheets need any standard approval workflow or whether they are automatic gets approved
Select Import to start the process
If there arise any interruption in the process then you can re-upload, reconfigure to solve the issue
On successful completion of importing, you can save the file for the future use
Discover and select the link named Save the format and give a name
Hit on Save timesheet format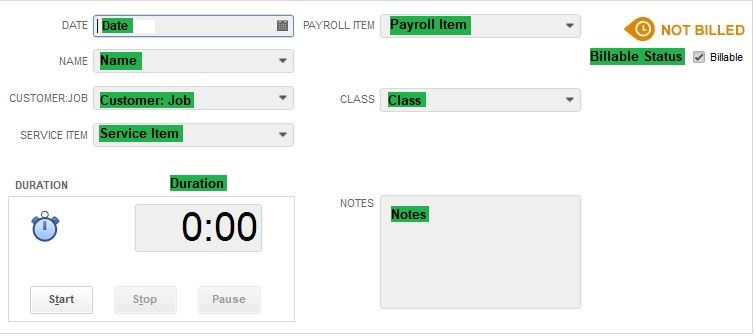 The in-depth Description of the Fields in Timesheets format for Mapping:
Fields

Format

Description

Txn ID

ID

It shows the reference number associated with time entry; this field is useful for modifying time entries that are already existed in QuickBooks

DATE

DATE

It contains the date of the time entry

Customer

STR 209

This field represents CustomerRef, i.e., full customer or customer job of the billing time. If BillableStatus is set as Billable, then CustomerRef is needed.

Payroll Item

STR(31)

Each payroll wage element is described and named a payment scheme, For instance, Regular-pay or Overtime pay. In QuickBooks, a timesheet represents a payroll wage item only if it meets the specific criteria. The name is mentioned in the QuickBooks Employee list, and the preference named Use time data to create paychecks is enabled on in the payroll info window. This window provides information regarding that employee in QuickBooks

Service item

STR(159)

This service item field describes services that a business charges on individual purchases. For instance, consulting hours, specialized hired labor, and professional fees. In the time entry message, there is ItemServiceRef, which displays the work type. If CustomerRef is not specified, then no ItemServiceRef is required.

In case the Billablestatus is enabled to Billable, then Time Entry should contain both Item Service item & customer.

Entity Name

STR 209

It is a remarkable/mandatory field. It refers to the Employee name, as mentioned in QuickBooks. Often contain FirstName and LastName, however, can be reversed according to the preferences. If the name and ZA doesn't match then, it will create a new employee.

Duration

Time

It is also a mandatory field. It contains the time spent while performing the work. The format will be hh: mm, for example, 1:30. When the time is found in a decimal form, then you can use the Excel formula to convert it. The formula is TEXT(<cell in decimals>/24,"[h]:mm"),

It restores the cell in decimals along with the cell reference, including decimal hours.

Notes

STR(4095)

Extra information

Class

STR159

This class field is used to categorize the transactions. It should be same as in QuickBooks

Billable

BOOL

It is a former field; If IsBillable is set to true, the track time should be billable. You have to include CustomerRef and ItemServiceRef for generating an invoice. If the status of Is Billable is false then there no invoice will create

Billable Status

Enum

Three values are accepted; they are Billable, NotBillable, and HasBeenBilled. If the billable status is enabled, then there must be a Customer and Service item.
So, I hope the above Guidance helps you to import the Timesheet Entries into the QuickBooks Desktop. Stay updated with this website to read more informative blogs regarding Import and Export data in QuickBooks.
Accounting Professionals, CPA, Enterprises, Owners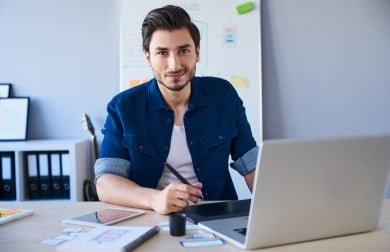 Looking for a professional expert to get the right assistance for your problems? Here, we have a team of professional and experienced team members to fix your technical, functional, data transfer, installation, update, upgrade, or data migrations errors. We are here at Dancing Numbers available to assist you with all your queries. To fix these queries you can get in touch with us via a toll-free number
+1-800-596-0806 or chat with experts.
---